1969 Chevrolet Camaro RS/SS 489 Restomod Coupe
The Chevrolet Camaro is an automobile manufactured by General Motors under the Chevrolet brand, classified as a pony car, and some versions also as a muscle car. It went on sale on September 29, 1966, for the 1967 model year and was designed as a competing model to the Ford Mustang. The car shared its platform and major components with the Pontiac Firebird, also introduced for 1967.
First-generation Camaro debuted on a new rear-wheel drive GM F-body platform and would be available as a 2-door, 2+2 seating, coupe or convertible with a choice of 250ci inline-6 and 302ci, 307ci, 327ci, 350ci, or 396ci V8 powerplants. The Camaro was touted as having the same conventional rear-drive, front-engine configuration as Mustang and Chevy Nova. In addition, the Camaro was designed to fit a variety of power plants in the engine bay. The first-generation Camaro would last until the 1969 model year.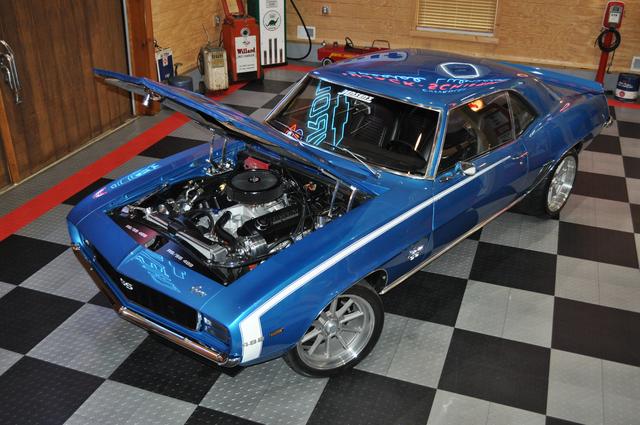 Who wouldn't love a Lemans Blue '69 Camaro that's powered by a 489 cu in. Big Block Chevy fully custom built and dyno-tuned by Jensen's Engine Technologies! It's backed by a Tremec TKO 5-Speed Manual Transmission that shatters the Earth's Crust especially at wide-open throttle! Don't underestimate the power of an old-school Big Block…assembled with Brodix High Performance Aluminum Cylinder Heads, Comp's XTREME Energy Solid Flat Tappet Camshaft, and MSD 6AL Ignition, the torque of this engine is definitely not for the faint of heart! Despite the talk about its performance capabilities, this car still runs on pump gas and is super street friendly!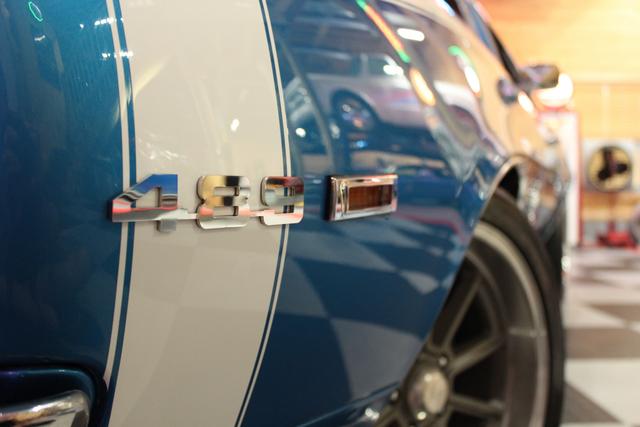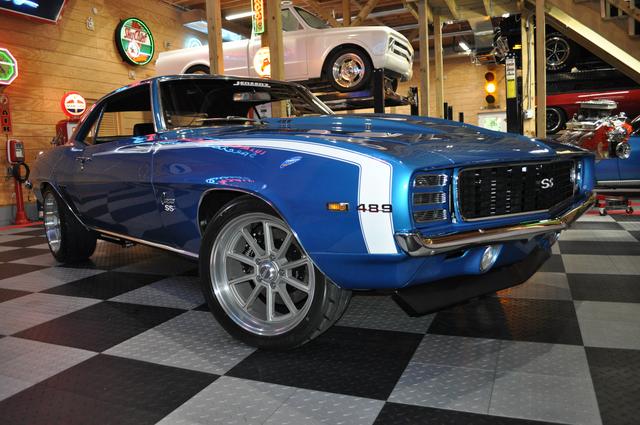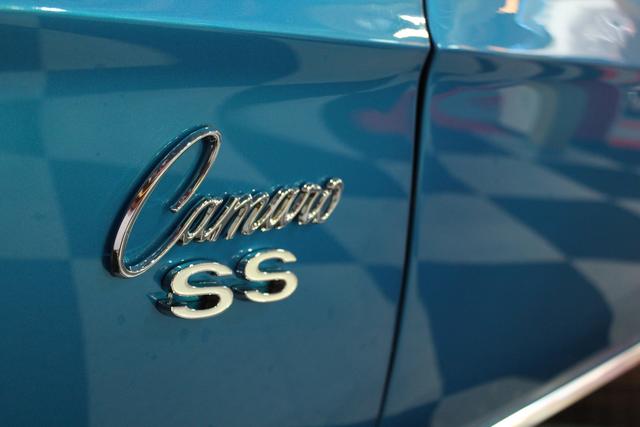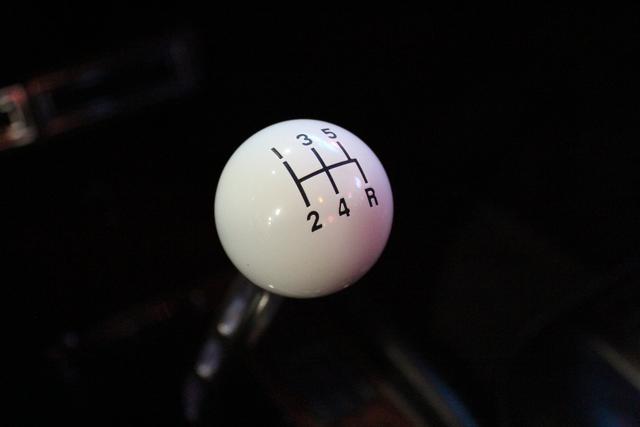 Equipped with Power Steering and Wilwood Front Disc Brakes, you know you can not only go fast but be able to drive it comfortably like a modern car. The full custom Auto Meter gauge cluster kit makes it so much easier to drive on the road than factory gauges. For one you can now see at night as all of the gauges are backlit with high-powered light bulbs! They are super responsive and accurate unlike many cars equipped with the factory mechanical gauges that wear out over the many years. This car also comes with a 3″ Binder of Receipts and Documents that were kept during the car's build! Below are some photos of what you get!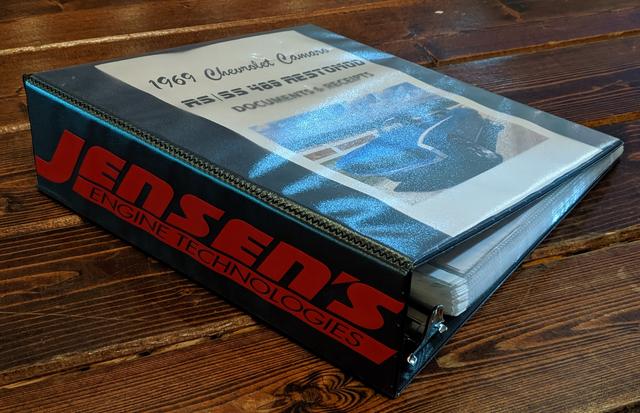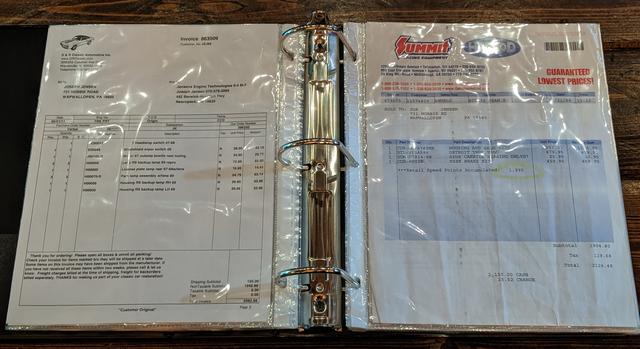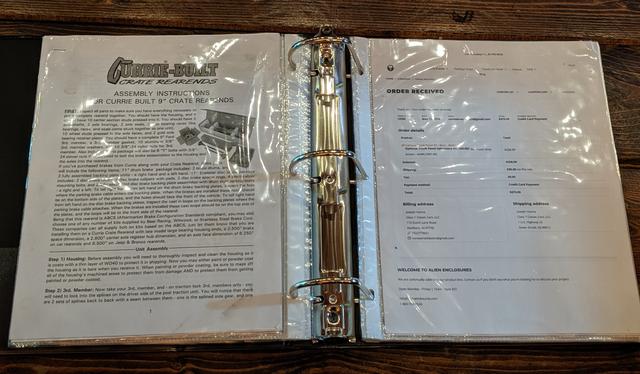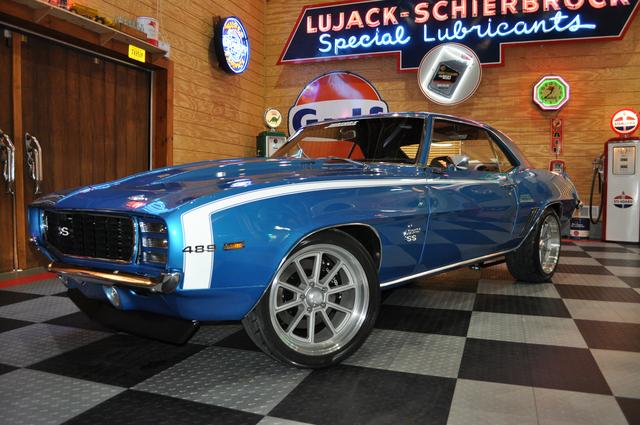 The Takeaway:
Please keep in mind that this car is a complete restomod with none of the factory drive-train components and therefore cannot verify it to be an original RS/SS, RS, or SS born car. Although this car looks absolutely stunning, please understand that this is almost a 50 year old car with imperfections. As with all classic cars, it may need a few odds and ends down the road as you begin to drive it more often but still nonetheless an iconic and one of the most sought-after classic cars that you will be proud to own and very happy to drive in!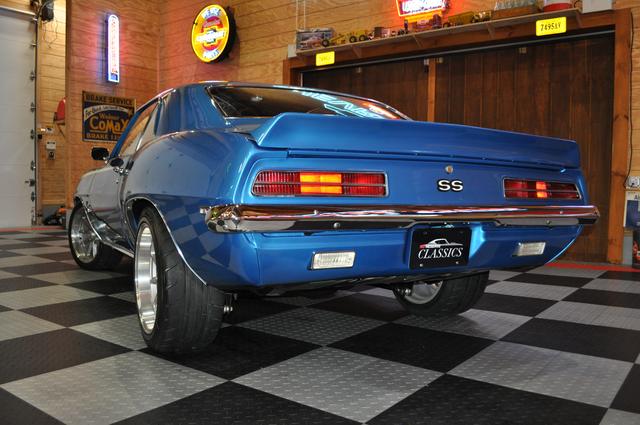 Under the Hood/Engine Bay:
Completely Detailed Engine Compartment
Jensen's Engine Technology Custom Built 489ci Big Block Engine:
Custom Jensen's Engine Technologies Valve Covers

489 Cubic Inch 8.0L Monster Big Block Chevrolet

FULLY Built from HEAD to TOE by Jensen Engine Technologies

But not just assembled...this engine was COMPLETELY machined with extreme precision and attention to detail! The block saw a complete bore, line hone, deck, and was fully squared away before seeing any internal parts to ensure the most reliability and performance!

Dyno-Tested and Tuned and makes 466.05 Horsepower and 520.13 lb/ft of Torque AT THE WHEELS!!!!

What does this mean? You can quietly cruise on the highway in 5th Gear Overdrive OR smoke your tires in your lower gears with this crunching 489 Torque City Big Block Chevy!

From Jensen's Engine technologies, this engine is rated to produce 600 horsepower at the Crank! Between drivetrain power-loss, this engine STILL produced 466 Horsepower and a whopping 520 lb/ft of Torque DIRECTLY FROM THE TIRES!

GM Stamped 7.4L Engine Block

Bored/Stroked by Jensen's Engine Technologies to a Massive 8.0 Liter MONSTER!

Painted in High-Temperature Chevrolet Orange

Fully CNC Ported and Machined Aluminum Brodix Rectangular Port LF480 Cylinder Heads that smoothly carries its Air and Fuel straight to the combustion chambers!

What makes CNC Cylinder Head Porting so great???

CNC aluminum ported heads allow for a more consistent porting design, flow and repeat-ability that just isn't available on cast iron heads. Not to mention the weight savings and thermal cooling of the aluminum heads vs the cast iron cylinder heads!

10.5:1 Compression Ratio allows for use of pump gas yet still keeping high performance in the picture!

Factory Big Blocks used VERY low compression ratios for emissions purposes back in the day somewhere in the number of 8.5:1 or lower. This only gives the driver terrible fuel mileage and little if any performance for any heavy duty application.

COMP CAMS Mechanical Flat Tappet Camshaft that powers the valvetrain on this Jensen Powered Monster!

Whopping .598"/.598" Lift

Massive 252°/260° Duration at 0.050" Tappet Lift

Yet a Street Friendly 110.0° Lobe Separation that lets you idle nice and smoothly

Grind:  CB XS290S-10

106.0° Intake Center Line

SRP Forged Aluminum Dome Top Pistons

FAR Superior to your typical Cast or even the Hypereutectic Pistons which are known to crack and shatter VERY easily under hard conditions.

A hypereutectic piston has a lot of aftermarket hype for being stronger than Cast but little is it known these pistons are very brittle and can fragment from a small amount of detonation. There is absolutely nothing better or safer than a FORGED Piston! Don't be fooled by engines and cars equipped with these types of pistons! They offer very little benefit over cast!

Not only were high performance pistons installed, but even high performance HAND FILED piston rings were included as part of this custom engine build. This maximizes your combustion chamber sealing as it is filed to match its use/application.

Callies Performance Compstar 4340 Forged Steel Crankshaft

Under heavy load and throttle, this crank will NOT break or crack unlike a typical cast crank found from most factory engines!

This bottom end can take PLENTY of use and abuse without issue

Callies Performance Compstar Forged H-Beam Connecting Rods

THE STRONGEST Engineered Connecting Rod available

Much superior to a typical I-Beam Rod and resists bending from excessive cylinder pressures!

ACL Race Series Bearings were used to keep this engine's rotating assembly spinning nice and smoothly with precision clearances that were customized PRECISELY for this engine and application.

High Performance Double Roller Timing Chain grips the camshaft and crankshaft sprockets as best as possible to ensure the most reliable valve timing!

Dual Chrome Engine Breathers

Polished Billet Aluminum Mechanical Fuel Pump Block Off Plate On Engine Block

Chrome Timing Chain Cover

Internally Baffled, Aluminum, Deep Sump Oil Pan

Increased engine oil capacity for additional oil cooling and to make sure the oil is always at the oil pickup to prevent oil starvation and engine failure!

Solid Engine Mounts

Power Bond Racing Harmonic Balancer

NEW High Torque Starter Motor

No hesitation when starting this monster!

Power Steering with a Brand New Power Steering Gearbox

This vehicle has power steering , which allows for easy maneuverability at all speeds, unlike the manual, non-assisted manual steering systems that were so common back in the 1960s!! 
Transmission

:
FULLY REBUILT Tremec TKO-600 5-Speed Transmission

Featuring All NEW: Synchronizer Rings, Bearings, Seals and Fluid

NEW Clutch Disc and Throw-Out Bearing

This FRESH Transmission allows you to blaze tires through low gears or quietly cruise on the highway in 5th Gear Overdrive.
BRAND NEW Wilwood High Output Master Cylinder

Adjustable Proportioning Valve that allows you to adjust your own rear disc brake bias! No worries, this has been preset!

Applies massive amounts of brake pressure with improved brake feel to ALL FOUR DISC BRAKE calipers to get this 489 Big Block Camaro to stop with ease!

BRAND NEW Polished Billet Aluminum Hood Hinges with Stainless Steel Struts

No more flimsy, wobbly, hood shaking when you open and close the hood on those cheap aftermarket knock offs!!


NEW Chrome Hood Latch/Striker/Spring

NEW Hood Insulation Pad

NEW Optima Red Top Battery

Relocated to Trunk for better weight distribution!

NEW Battery Cable Installed – 0 gauge wire

NEW Double Location Power Cable Fuses

Increased safety of electrical system with a primary and secondary over amperage protection!

NEW Billet Battery Tray Assembly

NEW Billet Fender Braces

NEW Under Cover Innovations Filler Panel

For not only the clean, show car appearance, but also as a performance enhancement! When you first open the hood, the Black Anodized panel sets this car apart from the ugly, gaping opening as seen on others.

While closing off this unsightly area, the enclosed area now helps to force the air flow through the Be-Cool radiator to help in engine cooling and increasing power!

Intake:
Edelbrock Aluminum Performer RPM Air Gap Intake Manifold

The open air space from the Air-Gap design separates the runners from the heat of the lifter-valley cover. So, the air/fuel mixture stays cooler all the way to the heads, which produces a denser charge for more power.

Runners are tuned to move the power band to an area that let's this 489 produce the massive amount of torque that it has down low.

Proform 750 CFM Mechanical Secondary Carburetor

Jensen's Engine Technologies built this 489 Big Block with this particular carburetor because of the following performance features:

Solid Billet Throttle Base-plate

Screw-In Air Bleeds

High Performance Down-Leg Boosters

High Rate Airflow Section Design

Adjustable Secondary Airflow Cam Bracket

Timed and Full Vacuum Ports

Power Valve Blowout Protection

Overall, this carburetor features a plethora of adjustability options, easy maintenance, easy use, and most importantly, quick startups and throttle response!

What does all this add up too? Easy:  dyno proven horsepower and torque  gains!

NEW Spectre Extra Flow Air Cleaner

This assembly includes the Extra-Flow Filter Lid, which increases filter area and allows it to outperform standard closed lids.

Designed to provide greater performance than ordinary paper filters by increasing air flow into the engine. Even more air flow to the race style carburetor!!
Exhaust:
Hedman Full Length, Long Tube Headers with collectors

Dual 3" Pypes Stainless Steel Exhaust System with X-Pipe

Stainless Steel Exhaust Clamps

Dual Electronic Exhaust Cut-Outs
Ignition System:
MSD 6AL Ignition Box

Features a Capacitive Discharge Box which provides an extra strong and powerful spark to ignite every horse possible!

Beats any old conventional Points or even HEI Ignition System commonly found on these cars which reduces efficiency and performance.

Additional benefits such as quicker ETs, easier starting, reduced plug fouling, and even increased fuel economy can be expected with the 6AL's intensified high energy multiple sparks!!

MSD Pro-Billet Distributor

Special oil tract improves lubrication to the distributor and camshaft gear.

With easy tuning capabilities and increased oil flow to the distributor and gears helps increase the distributor's service life and reduces friction to increase power!

Lightweight Billet Aluminum Construction saves weight when compared to conventional steel distributors!

MSD Blaster 2 Ignition Coil

Produces high voltage output for stronger and more consistent spark!

Moroso Ultra 40 Sleeved 8.65mm Ignition Wires

Highest spark energy transfer

Highest EMI/RFI suppression

Highest horsepower gains possible

The pro-billet distributor, high energy ignition coil, and high performance plug wires combined with the MSD 6AL ignition box, make this is one of the best ignition systems available on the market today!

Fuel System:
Holley High Flow Electric Fuel Pump Features:

Lightweight design, ability to tolerate contaminated fuel

Holley fuel pumps are powered by a long-life, heavy-duty, sealed-dry motor.

With redesigned flow passages, improved durability, reduced amp draw, and eliminated pulsation, which provides a higher, more consistent fuel flow to maximize engine performance.

Inline Fuel Filter After Fuel Pump

Inline Fuel Filter Before Carburetor

Braided Stainless Steel Fuel Lines at carburetor

Adjustable Fuel Pressure Regulator at carburetor

Electric fuel pump, double filtration, adjustable fuel pressure regulator gives the engine increased performance, ease of starting and easy flexibility to tune!
Cooling System:
Be-Cool Aluminum, Multi-Core, High Performance Over-Sized Radiator

NEW Polished Billet Aluminum Radiator Cap from Billet Specialties

NEW Aluminum Over-Flow Tank

Flex-blade mechanical fan

Flexible fan blades allow for increased air flow when engine speed increases, and returns when at lower rpm for improved engine performance and fuel mileage!

ALL NEW Cooling System Hoses

with Stainless Steel

Clamps

NEW Core Support and NEW Bushings

NEW Chrome Thermostat Housing

Engine Accessories:
Billet Specialties Polished Billet Water Pump Pulley

March Performance Billet, Single Wire, 140 AMP High Output Alternator

 Polished Aluminum with Gloss Clear Powder Coat

Mirror like shine and easy maintenance!!

Billet Alternator Pulley/Fan

NEW Air Conditioning System with ALL NEW COMPONENTS!

Polished A/C Compressor with March Billet A/C Clutch Cover

ALL NEW Engine Belts




Exterior:
Le Mans Blue Basecoat-Clearcoat paint that shines like glass!

Fully wet sanded, buffed, compounded, polished, and Ceramic Coated for that ultimate car show ready appeal!

Mirror shine across the entire body!

Ceramic Coated Paint

Ceramic Coatings

, unlike sealants and waxes, which sit on top of the paint as a sacrificial layer that break down pretty quickly, are not chemical resistant and offer no additional strength to the paint.

Ceramic coatings are different, as they infuse particles of ceramic into the pores of the clear coat and cross link with the paint.

Infusing ceramic into the paint increases the slickness of the paint, and improve resistance to chemical etching, while enhancing the gloss of the paint and keeping your car cleaner longer!

White SS Hockey Stripe that is a TRUE Painted Stripe underneath the clear coat rather than a cheap sticker decal

SS Badges with Morris Classic Concepts Custom CNC Machined Polished Stainless Steel 489 Emblems on BOTH the Hood and the Front Fenders!

All New Polished Stainless Steel/Chrome Trim and Moldings:

Wheel Arch Trim

Windshield Reveal Trim

Window Belt Trim

Quarter Glass Molding Trim

Rocker Panel Moldings

Rear Windshield Reveal Molding

Quarter Moldings

"Shark Fin" Quarter Panel Louvers

NEW Chrome Door Handles

NEW Chrome Mirror Assembly

NEW Chrome Front and Rear Bumpers

2" Cowl Induction Style Hood

With hidden "Sleeper" Shift Lift in Cowl

Never miss a shift when putting this car through its paces!

RS/SS Trim Package:

NEW CORRECT Hideaway Front Headlights

NEW CORRECT  RS Lower Reverse Lights BELOW Rear Bumper/Valance




D80 Spoiler Package that features a Front Lower Spoiler and Rear Spoiler

Exterior of this car has been thoroughly sorted out, even down to the minor items always overlooked! Such as:

Stainless Steel Button Head Front Cowl Hardware

Re-conditioned Rear License Plate Holder

Exterior Lighting:
One of the things that most of these cars lack is visibility at night. We just upgraded this car with a super high visibility and high power modern LED bulb and ballast kit with brand new Projector Style Housings!

Projector style headlights magnify your high power LED's for increased night time visibility as opposed to regular reflector style which shines the light but not far.

The great things about these are not only are they super bright but they last a lifetime, require less power to function, and don't get nearly as hot as a standard halogen or sealed beam housing which is what a '69 Camaro came with from the factory.

Not only were the headlight bulbs upgraded, but the ENTIRE HOUSINGS were fully replaced with brand new reflective housings that also have Halo rings lit by high power LED's for that modern Pro-Touring look!

LED Headlights are great! But what about those parking lights that sit below the bumper? We didn't stop there...

We removed those ugly dim amber bulbs from the park/turn signal housings and put in custom White/Amber Switchback technology LED bulbs!

A switchback LED bulb is a custom type of light bulb that operates as one color under steady voltage and changes color under pulsating voltage.

When you turn the headlights on this car, you will now have what appears to be fog lights that actually match the same color as the headlights but beneath the bumper! However, hit the turn signal and it flashes amber so you can eliminate the need for a separate housing and still remain street legal.

We see a lot of people change out light bulbs on their daily drivers to white LED's but the problem is in most states you can't have flashing white lights so that's where a switchback style LED works best!!!

NEW Parking Lamp Trim Rings

NEW Front License Plate Bracket

Wheels/Tires:
NEW American Racing Draft Wheels

One piece

Flow Forged Wheel – not cast

These Flow Formed wheels combine the strength and weight savings of forged wheels for added handling and overall vehicle performance!!

All Wheels with NEW Nitto NT05 Tires

These tires have large outer shoulder tread blocks to provide more consistent contact with the road for a high-level of predictable cornering. Perfectly matched with the QA1 adjustable suspension to emphasize road response, traction, handling and high-speed capabilities that this car is capable of!!





Interior:
Complete Black Interior – Fully Detailed and Cleaned with Many New Parts and Accessories Throughout

NEW Black Dash Pad

Factory Style Black Vinyl Bucket Seats with Headrests

These seats were just completely recovered, re-foamed, and repaired for excellent support and cushion!

Factory Style Black Vinyl Door Panels

Factory Style Black 80/20 Loop Carpeting

ALL NEW Black Vinyl Sun Visors and Brackets and Bushings

Factory Correct Bedford Grain Black Headliner

Aftermarket Seat Belts

NEW Custom Made Trunk Trim Panels from Alien Enclosures

Cleans up trunk interior appearance

Custom Black and Gray Vinyl Trim Coverings

Reduces noise and resonance from the trunk noise and protects quarter panels from damage!

Overall finishes the trunk for that show car appearance!


Body By Fisher Aluminum Door Sill Trim Plates

NEW Custom FULLY Adjustable Clayton Machine Works Custom Graphite Powdercoated Billet Aluminum Clutch, Brake, Gas Pedal Assemblies!

Matching Parking Brake Pedal Cover!

For that COMPLETE Pro-Touring appearance and feel, and they feature lightweight graphite Powdercoated aluminum construction for increased vehicle performance!

NEW Inner and Outer Window Felts that keeps the windows centered and well-supported!

NEW Interior Dome Light Lens and Chrome Base Assembly

Factory Correct Front Window Cranks

NEW Rear Window Crank Handles

BRAND NEW Eddie Motorsports Custom Billet Aluminum SS Steering Wheel

Factory Correct Interior Door Release Handles

BRAND NEW Lokar Polished Billet Aluminum Shifter, Shift Boot, and Chrome Ring Bezel that controls this fully rebuilt Tremec TKO-600 Transmission!

This is the most essential component for giving a positive feel to the driver when slamming through gears at the track or just cruising down the road!

NEW Factory STYLE 5-Speed White Shift Knob

NEW Seat Hinge Arm Covers

Reconditioned Ash Tray

NEW 12V USB Dash Charger in place of your old cigarette lighter!

Charge your phone in 2019 with this custom feature!

BRAND NEW Heating, Ventilation and Air Conditioning System that BLOWS OUT ICE COLD A/C and WARM HEAT for ANY Season!!

ALL NEW MODERN  A/C Components were used throughout!

Polished Sanden Style A/C Compressor with March Performance Clear Powdercoated Polished Aluminum Clutch Pulley Nose Cover

Gives a show ready clean finishing touch to your custom A/C System!

A/C Condenser Unit

A/C Evaporator System was is neatly tucked away underneath the dash rather than a bulky heavy box inside the engine compartment!

Improves aesthetic appeal and HVAC Functional Performance!

NEW Drier/Accumulator Unit and ALL NEW O-Rings, Fittings, Barrier Hoses, and Clamps

THROUGHOUT

!
Sound System:
BRAND NEW Pioneer DEH-S4120BT AM/FM/Aux Bluetooth Radio that let's you listen to your favorite tunes while cruising with your smartphone or MP3 player such as iPhone/Android/iPod devices!

With this Pioneer's potent amplifier, 13-band Equalizer and two pairs of pre-amp outputs at your disposal, you will sure hear every note in perfect sound quality!

Equipped with hands-free Bluetooth Phone for safe, comfortable, easy driving!!

BRAND NEW Focal K2 Power 165 KRC 6.5" Speakers in CUSTOM Kick Panels!!

2 Way Coaxial Speakers

Outboard crossover with adjustable tweeter level control

Adjustable aramid fiber inverted dome tweeter

K2 composite sandwich cone for high power handling and extremely detailed sound

Rigid, and non-magnetic zamak basket

Butyl rubber surround for consistent long lasting performance

2 Way Adjustable Tweeter Position

Cross Overs

Focal is considered one of the leading audio system components manufacture in the world!! These speakers allow for high resolution sound when cruising down the road, listening to your favorite music!

NEW Custom Kick Panels

These kick panels are the easiest way to provide excellent sound quality, and show car appearance!

These kick panels also allow for use of the Parking Brake Pedal, not like the cheap aftermarket knock-offs that interfere with the pedal operation, resulting in frustration and damage to your kick panel!!

Center Console:
BRAND NEW OER GM Restoration Parts Certified Reproduction Complete Center Console Kit with 

all brand new components

:

Upper & Lower Center Console Shell

Correct Flocking Included in Storage Area

Console to Floor Mounting Bracket

Manual Console Shift Plate with Wood Grain

5-Speed Console Shift Pattern Plate

Shifter Tunnel

Forward Console Plate with Correct Woodgrain

Forward Console Plate Emblem

Console Lid with Flocking

Console Lid Mounting Hinge

Console Lid Spring

Rear Console Ash Tray Lid

Ash Tray Lid/Hinge Pins

Rear Console Ash Tray Insert

Rubber Stoppers for the Console & Ash Tray Lids

Console Mounting Hardware

Console Seat Belt Clip


Instrument Panel:
AutoMeter Pro-Comp Custom Instrument Panel Gauges that were installed into a customized direct-fit AutoMeter Gauge Pod that makes these gauges almost appear as they came with the car from factory.

Not only are these gauges very accurate and have quick response, but they are ALL electronically controlled that utilize digital signals directly from the engine's sensors as opposed to running mechanical lines throughout the inside of the car which is known to be hazardous and dangerous!

With this gauge cluster, you get much more than the factory would have ever offered!

Water/Coolant Temperature

Voltage

Tachometer

Speedometer

Oil Pressure

Fuel Level Gauge

Custom Grey Backing Color and Orange Needles for High Visibility – quick and easy to read while driving!







Chassis/Underbody:
Chassis:
Fully Painted and Completely Detailed!

Hotchkis Custom Subframe Connectors that tie in the front and rear suspension which has been known to be a factory flaw for the F-Bodies even up to the 4th Generation Camaro!

Increase Chassis Stiffness for improved handling

Resists twisting of the chassis

No concerns about the Big Block Torque Monster engine twisting this chassis!

NEW Front Inner and Outer Bumper brackets

NEW Chassis/Body Bushings
Drivetrain:
489 Cubic Inch Chevrolet Big Block

Built By Jensen's Engine Technologies!!

As previously mentioned, this car is indeed equipped with a FULLY REBUILT Tremec TKO-600 5-Speed Transmission

ALL NEW Synchronizers, Bearings, Seals and Fluid

ALL NEW Clutch Disc and Throw-Out Bearing

Custom Driveshaft

Connects the massive 489ci BBC through the TKO600 to the Custom Rear End
Rear Axle:
NEW Custom Built Currie Ford 9" Rear End Housing with Upgraded Performance Rear Disc Brakes

NEW Axles

Detroit Truetrac Differential

The Detroit Truetrac is an excellent all-around differential that can handle the torque supplied by this 489 cubic inch monster, yet still give you great drive-ability.

The Truetrac doesn't use the typical clutch or spring type of mechanical assemblies to provide that near locking state. Instead, a set of helical gears rely on torsion to provide the torque to the wheel with the most traction.

This makes for a great all-around differential because there are no wearing parts, it is completely maintenance free, and with all of that being said, it still spins both tires just like any classic muscle car should!

Custom Rear Axle Breather

Brake System:
4 Wheel Disc Brakes that allows this 489 Cubic Inch Big Block Monster to stop very rapidly and with ease!

ALL NEW Wilwood Front Disc Brakes and Hydraulic Master Cylinder with Adjustable Proportioning Valve that allows you to set Rear Brake Bias

NEW Wilwood 6-Piston High Performance Forged Billet Aluminum Front Calipers

NEW 2 Piece, Drilled and Slotted Brake Rotors



NEW Stainless Steel Braided Brake Hoses

NEW Wheel Bearings, Hubs, Flanges, Calipers

Rear Disc Brake Conversion with Operational Parking Brake
Front Suspension:
NEW QA1 Adjustable Front Coil Over Shocks

Adjustable Ride Height, Spring Rate, Single-Way Adjustable Shocks that allow you to set your comfort level (rebound and compression in a single knob!) with 18 different positions!

NEW Upgraded Front Sway Bar

NEW Polyurethane Sway Bar End Links

NEW Sway Bar Bushings

NEW QA1 Upper and Lower Control Arms – Tubular Construction

Stiffer, stronger and lighter then factory style weak stamped steel!

These control arms are Proudly Made in the

US of A

with high quality state of the art CNC Machinery on Jig Fixtures for the BEST Alignment Characteristics and Adjust-ability!

NEW Upper and Lower Ball-Joints

ALL NEW Upper and Lower Control Arm Bushings were also pre-installed from QA1 which means you can be sure these will not fail on you!

NEW Wilwood Front Hub/Bearings/Wheel Flanges

BRAND NEW Idler Arm


Rear Suspension:
Multi-Leaf Rear Suspension

Adjustable High Performance CalTracs Traction Bars that COMPLETELY ELIMINATE Wheel Hop!

Much better design unlike your traditional "Slapper Bars" that use a rubber snubber that smashed into the spring to control your traction.

This is not a consistent way to keep the car in control as it has no adjustability or predictability!

Features Full Pre-load Adjust-ability

FULLY Eliminates Spring Wrap-Up

Powdercoated Gloss Black Finish

This custom rear suspension setup provides no wheel/axle hop on hard launches, by keeping the axle from rotating, which in turn keeps a consistent pinion angle.

What does that mean? Improves the 60ft times at the track and lets you smoke your competition!!!
Fuel System:
Holley High Performance Electric Fuel Pump

Don't have to wear out your battery cranking the engine over until the mechanical fuel pump finally brings fuel to the carburetor. EASY STARTING!

NEW Fuel Level Sender to work with Custom Instrument Cluster Gauges

No second guessing how much fuel you have left!

High Flow Dual Fuel Filters

Make sure only clean fuels reaches the double pumper carburetor feeding this monster!
Exhaust System:
Pypes High Flow, High Performance 3" Dual Exhaust System with X-Pipe Crossover!

X-Pipe provides for increased exhaust flow, and correct balancing of engine exhaust –

for that awesome thunderous sound of the Monster Big Block Chevrolet!!

Stainless Steel Exhaust Pipes

Increased durability and longevity of the system!

Stainless Steel Exhaust Clamps and Hardware

No more having to cut off broken, cheap, rotted exhaust hardware!

Dual Electronic Exhaust Cut Outs

Allows for the full all out race car noise, yet while being able to hit a button and return to a quiet street car, and then back again!




[tab-area5]
Related Listings
Sold

$50,200

Sold

$36,100

Sold

$35,000

Sold

$54,000

Sold

$36,000

Sold

$40,800