1969 Chevrolet Camaro SS LS3 Pro-Touring Restomod Coupe
No Reserve Classics is very proud to present to you this completely nut/bolt restored Pro-Touring '69 Camaro that is just built for cross-country driving. This car fulfills the dream of classic muscle, high performance, luxury, and handling all into one package. LS3 Corvette Power, 6-Speed Manual Transmission, Custom Stitched Leather Interior, Touchscreen Radio, Power Windows… you name it this car has it! There is plenty to be said about this car that we are confident it will be exactly what you are looking for. The days of carbureted cast iron Small Block's and Big Block's are over. The new age All Aluminum LS is the way to go and truly transforms the way a classic muscle car performs across the board between street cruising, acceleration, high end horsepower, mid-range torque, weight, and even the handling! Easy startups, reliability, modern precision tuning, and modern fuel mileage are just some of the things you will see with an LS-Swapped Muscle Car like this.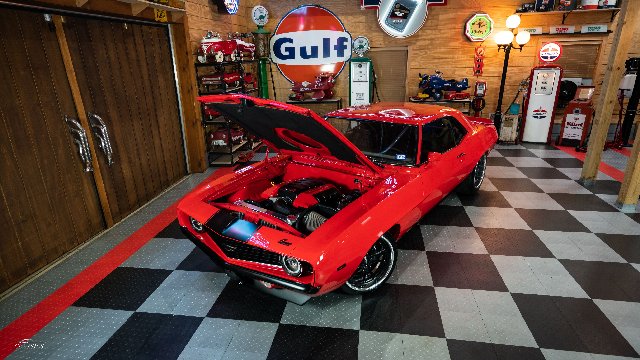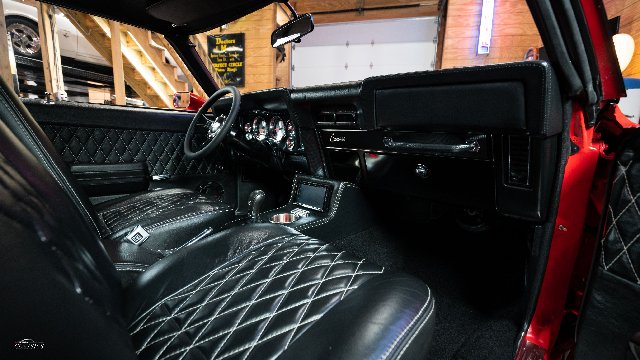 Doesn't stop there! Custom Budnik G10 Staggered Wheels sets the aggressive stance on this beautiful '69 Camaro. TCI (Total Cost Involved) Engineering Full Tubular Subframe and Chassis keeps this car tight as can be yet provides exceptional comfortability for cross-country driving. Ripping around corners at high speeds is easy with it's full adjustable coil-over suspension, Hydraulic Rack and Pinion Power Steering, and high performance Sway Bar. Ultimately, the TCI Tubular Chassis is one high quality, stiff chassis that transforms this car's flawed factory subframe into an unquestionably high performance street machine.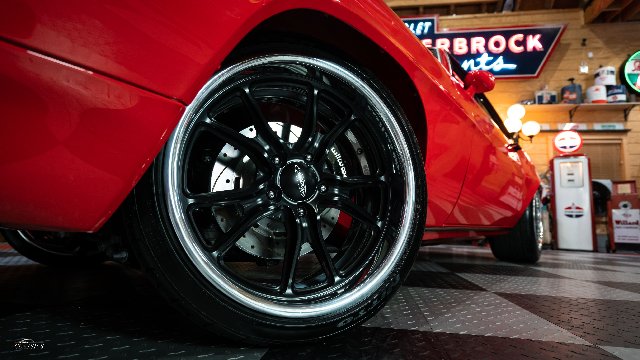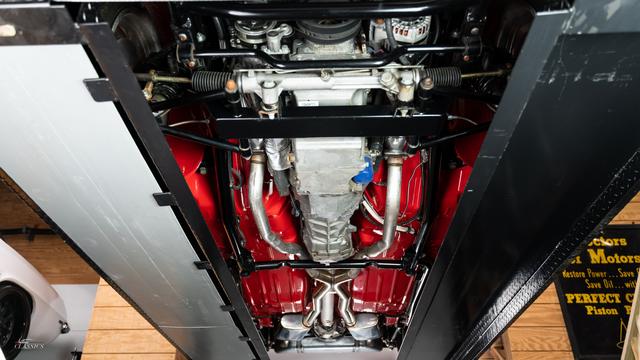 Now do not stop here. There is lots to be said about this car that we haven't covered here. Keep reading about what makes this LS-Swapped Camaro so special and why it should be in your driveway today!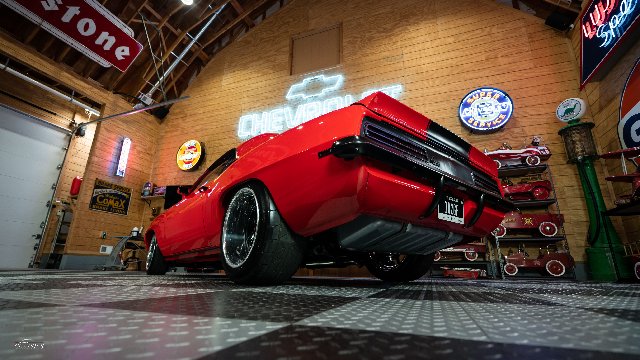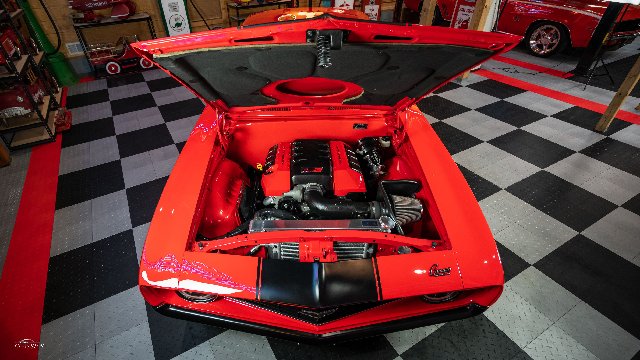 Fully Detailed Engine Compartment with Completely Painted and Finished Inner Sheet Metal that matches the body color and presents this LS3 as a daily driver and a show car!
Completely Shaved and Wire Tucked Engine Compartment for some real serious Show Quality Car!
During the restoration, this car received a customized firewall that is seldom seen on even some of the most baddest builds out there just because of how much work it is! The entire firewall was smoothed out, flattened, and painted for that ultimate modern appearance.

It complements this LS3 Engine Bay just right. No more factory wavy sheet metal with those unappealing cutouts and uneven surfaces.
This firewall isn't just some cheap glue-on type panel that you can obtain for less than $100. This panel was professionally welded and installed before any paint/body work was completed. It's so clean it almost appears as though this car received a smooth firewall right from the GM Factory back in 1969!

High Performance 6.2L ALL ALUMINUM LS3 Engine:

Factory Rated at 430 horsepower, this LS Motor transforms the way this '69 Camaro not only accelerates, but handles with its massive weight reduction when compared to a conventional Cast Iron Small Block or Big Block.
Overall this engine is set lower in the chassis to improve center of gravity

This isn't your basic factory LS motor from a Chevy Tahoe or GMC Suburban...this is a real ALL ALUMINUM LS3 that was fully upgraded to produce A TREMENDOUS AMOUNT of RELIABLE Torque and Horsepower!

Not to mention you can cruise on the highway in 6th Gear and get excellent fuel mileage. 

Large weight reduction in the Aluminum LS1 versus the older cast iron Small Block and Big Block engines these cars are typically equipped with

Less weight, increases overall vehicle performance, and has an impressively large improvement on how this Camaro now drives!!

Painted Black and Red Engine Cover with Black Chevrolet Emblem and Billet LS3 Emblem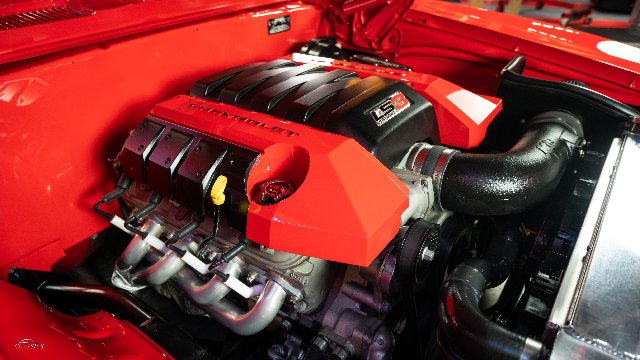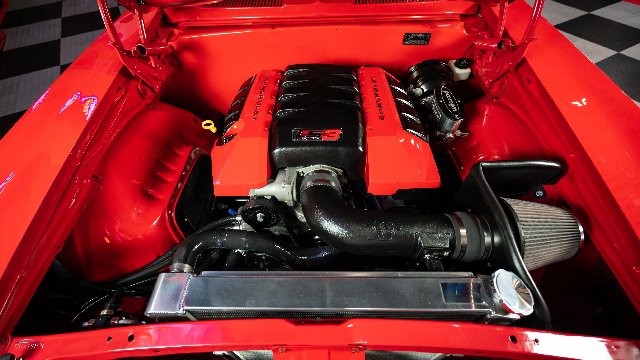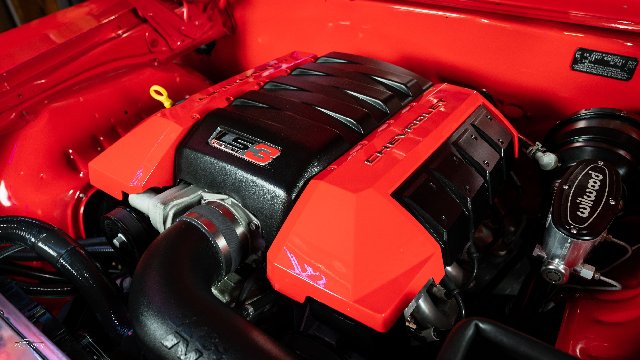 Tremec T-56 6-Speed Manual Transmission that lets this incredibly powerful yet street-able LS3 roast tires through 3rd gear yet will quietly cruise on the highway in 6th Gear

Mated to a Hydraulic Clutch, this Drivetrain beats the old years of those heavy mechanical clutches that have tons of travel and give you one tiresome leg workout!
Such a night and day difference between the clunky 3/4 speeds of the 1960's and the crisp, clean, and positive response of the modern day gearbox!

The additional gears help in making this Camaro not only a serious performer, but also getting great fuel mileage while cruising!
The Hydraulically Operated Clutch makes shifting through this 6-Speed and absolute breeze!!!
Increased reliability, easy maintenance, and great clutch modulation!!

Another great key feature of the LS Platform is the modern Coil Over Plug design which allows for increased performance, additional tuning and easy maintenance!

No more messing with sloppy, poor performing distributors, or points systems of the 1960's!!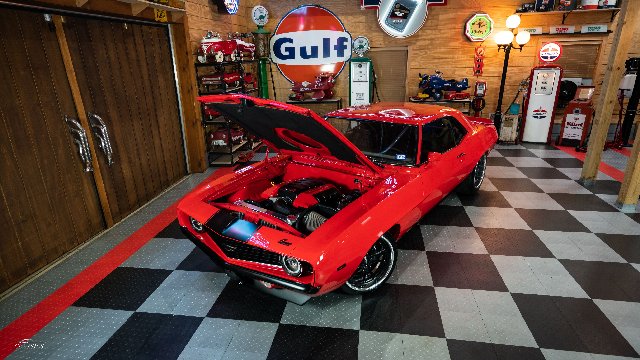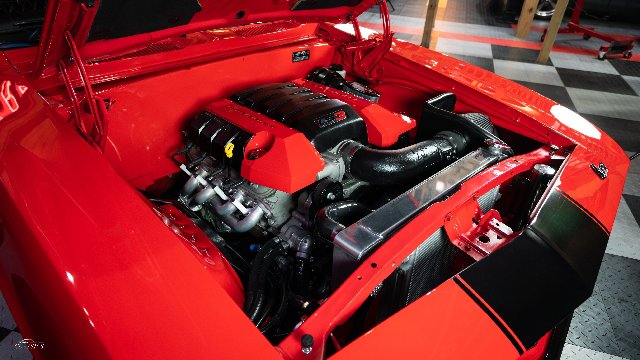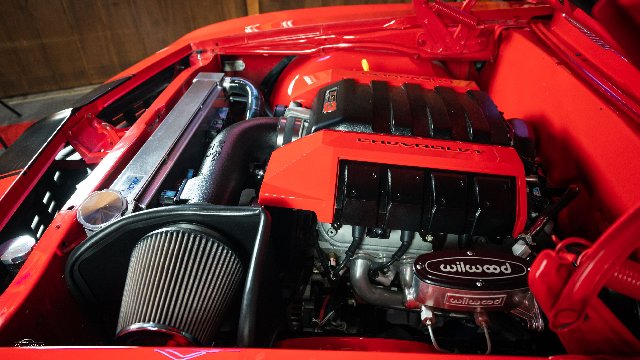 K&N High Performance Cold Air Intake

Replaces the original restrictive factory air filter and intake housing. This allows this Camaro to breathe in more air, which leads to more horsepower and better acceleration until redline!

Over-Sized High Performance Multi-Core Aluminum Radiator keeps this ALL ALUMINUM LS3 running cool on those hot summer days!

Flex-a-Lite Thermostatically Controlled Electric Cooling Fan which provides greater reliability, yet, is electrically powered, which no longer robs your engine of horsepower!!

4-Wheel Wilwood Power Disc Brakes with Wilwood Polished Billet Aluminum High Output Master Cylinder

All New Brake Lines for the Best Stopping Performance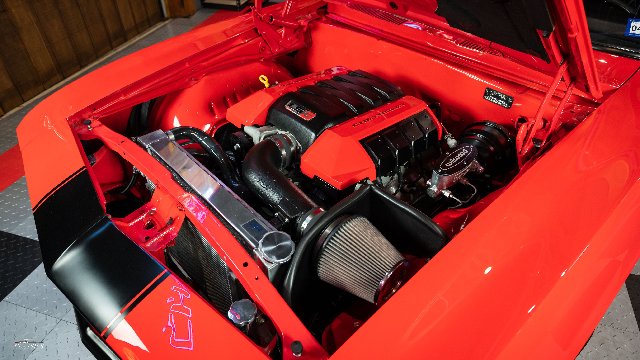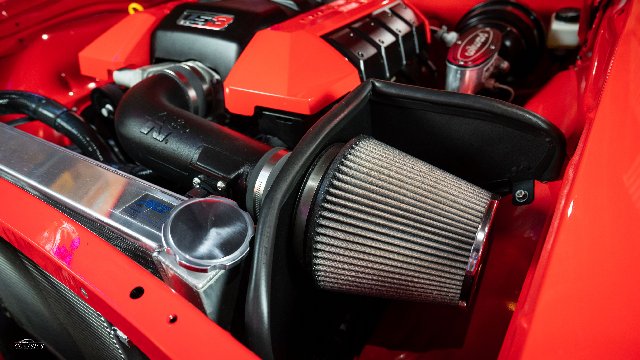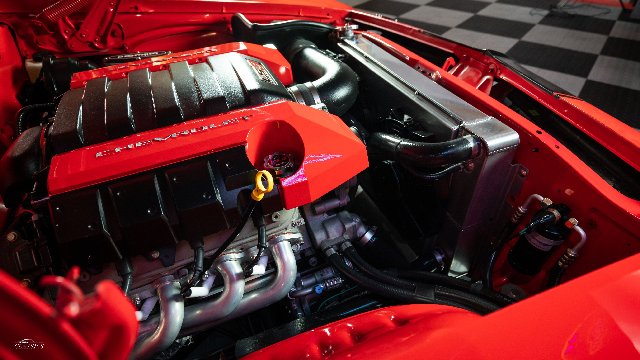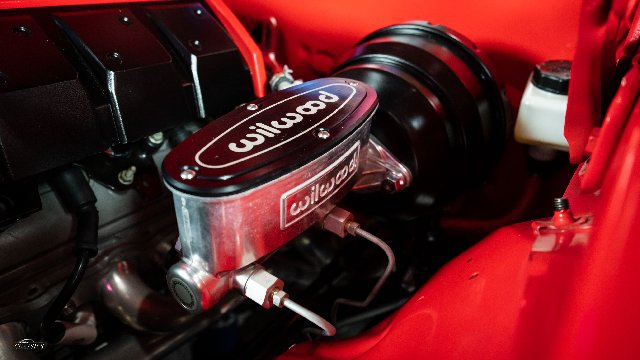 Custom Mandrel-Bent Ceramic Coated Full Length Exhaust Headers

Long tube headers allow for a greater performance and a more equalized performance from the engine, while enhancing the amazing thunderous roar from this LS3 All Aluminum Generation 3 Small Block Chevrolet!

Modern Hydraulic Rack and Pinion Power Steering System with Type II Series Pump
Modern Serpentine Accessory Belt System - no more slipping v-belts that takes away performance from your accessory drive
ALL NEW Braided Stainless Steel Power Steering Hoses
RainGear Hidden Window Wipers that is mounted BEHIND the Firewall. 

Cleans up the firewall and provides a much improved functionality over the factory Delco Wiper Motor while maintaining an extremely clean engine compartment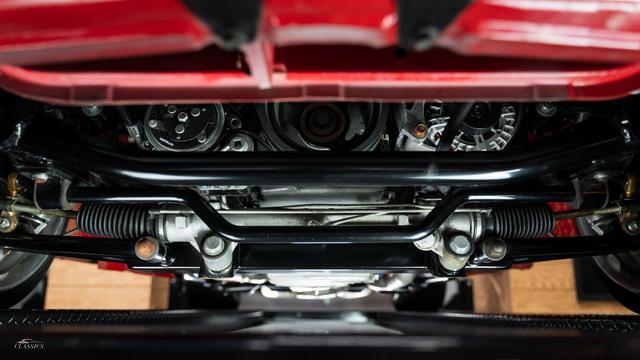 Complete Vintage Air Retrofit Air Conditioning and Heating System that has no problems creating ice cubes on the hottest days or providing exceptional heat during the cold winter months which allows this Camaro to be a truly year-round vehicle!

One of the largest improvements since the yesteryear's cars has been the improvement in the heating and air conditioning systems.
This Vintage Air System is using the best of today's technology and brings it into this Camaro!
The Vintage Air system has a very clean installation for a show quality finish and without the unsightly evaporator boxes of the 1960's!
Features all new components from your Control Panel and Knobs to your Hidden Evaporator Unit to the Drier, Plate and Fin Type Condenser, Sanden Style High Output 508 Compressor, Barrier-Type Hoses, Modern R-134A Refrigerant, Compressor Oil, down to the O-Rings!
Any of these cars from the factory with A/C were equipped with the unobtainable R-12 Refrigerant which the average consumer cannot purchase any longer from the auto parts store. Not to worry! As previously mentioned, this kit uses ALL R-134A Components for ease of maintenance and will meet local, state, and federal regulations!

Custom Chevy SS Engine Cover
Custom Chrome High Output Alternator and Bracket Assembly
Custom Red Spark Plug Wires
Paint is matched under the hood!

Brand New Under-Hood Insulator Pad

Modern CS130D Case Produces Lots of Current at Low RPM for the best charging efficiency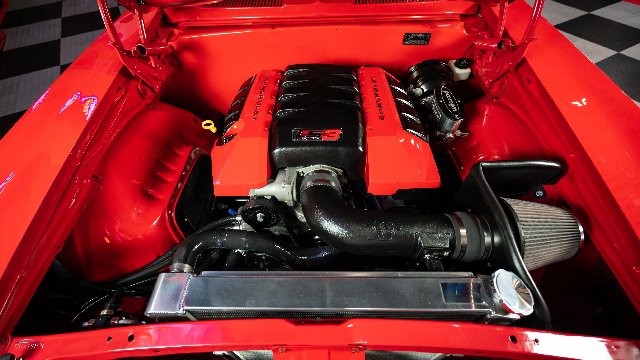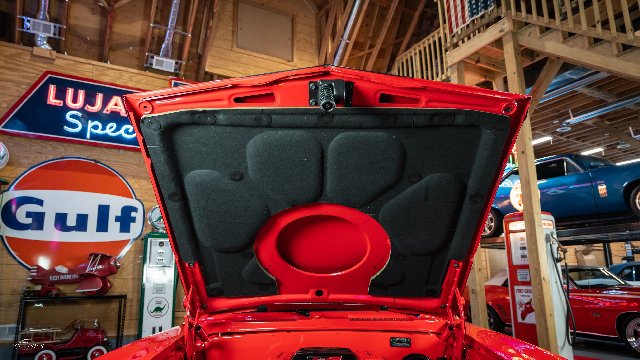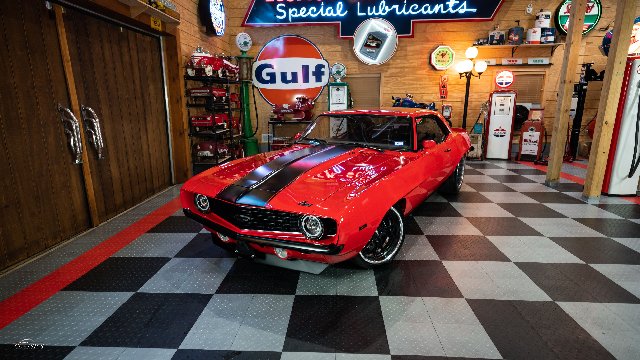 Beautiful Red Basecoat-Clearcoat Body Color that just underwent a complete Wet Sand, Buff, Polish, and Detail to Shine Like GLASS!!
Single Matte Black Stripe that runs from the front to the back of the car

This stripe matches all the chrome trim that has been painted Matte Black, as well as flows with the custom interior design within the car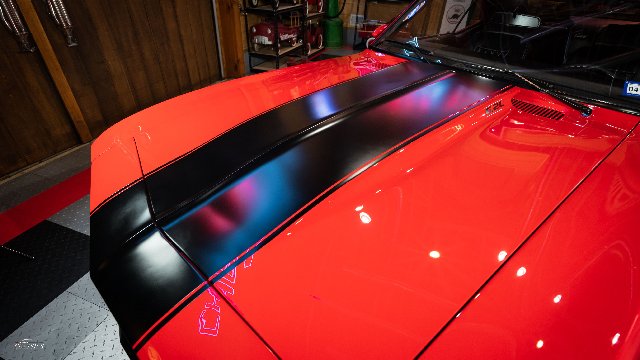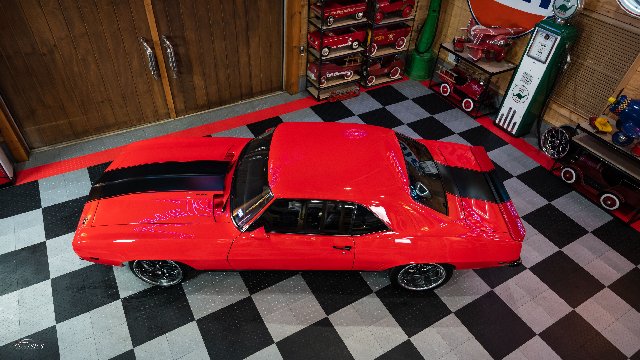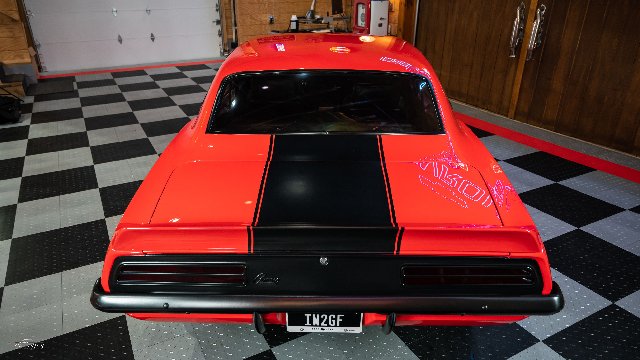 Budnik G10 Multi-Piece Custom Forged Wheels that let's this Camaro sit at an unbelievably perfect Muscle Car stance!

Beautiful Pro-Touring Staggered Setup with 18x9 "in the Front and 18x13" in the Rear!

When a build entails lots of suspension modifications and other alterations, cast wheels simply will not work.

Wheels make or break the car:

If all that intricate work was done and finished off with a set of off-the-shelf wheels, it's almost guaranteed they're going to rub, will give the car a terrible stance and appearance, produce negative performance results, or just a combination of all of these things. The builder did the right thing and invested into a custom set of wheels tailored JUST for this car!

Nitto Ultra High Performance Street Tires grips this road just right!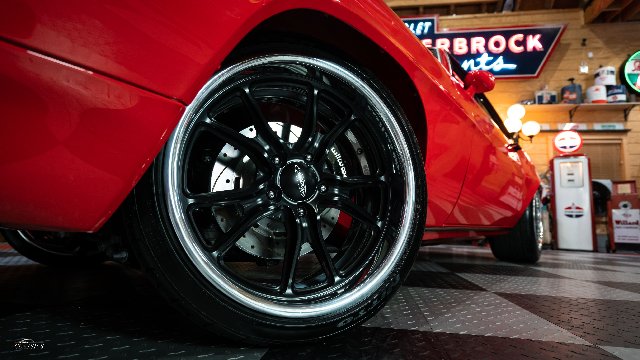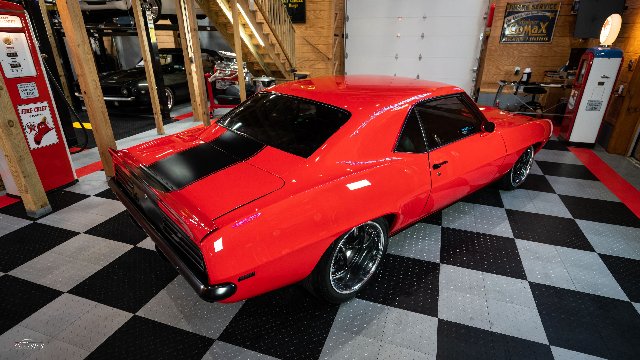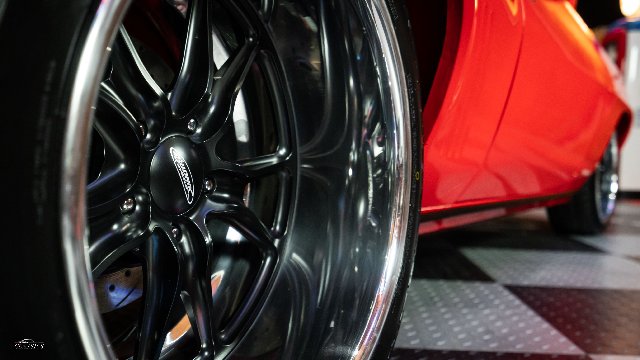 Bullet Side View Mirrors

Brand new Chrome Trim that has been painted Matte Black

Drip Rail Moldings
Window Trim Moldings
Window Wipers
Front and Rear Fenders Turn Signal Bezel
Front Chevrolet Emblem
Door Handles with Polished Stainless Steel Door Lock Cylinders
Front Bumper
Rear Bumper

Blacked-Out Factory Style Tail Pan

All New Weatherstrip Seals from Doors to Roof Rail to the Quarter Windows down to the Trunk!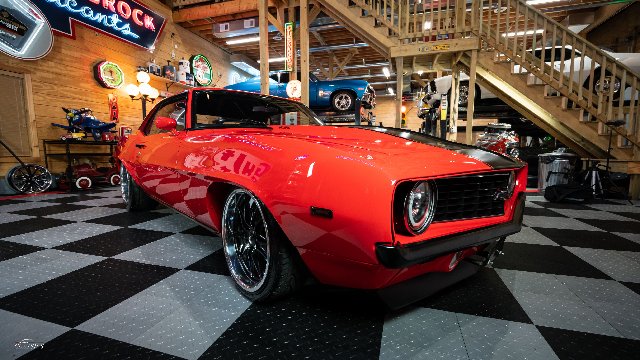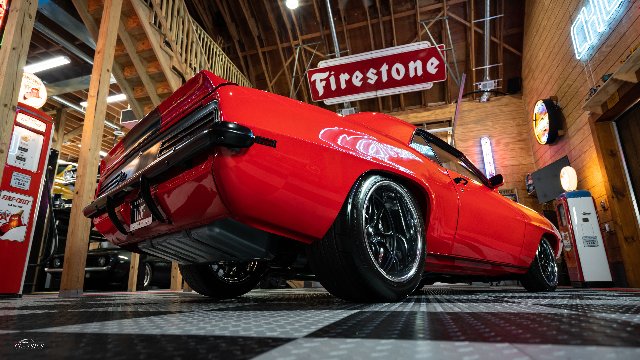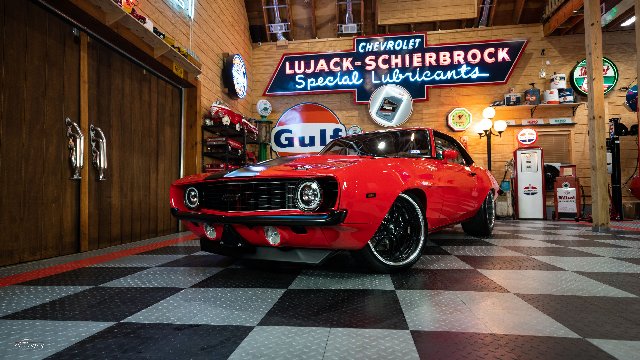 Custom Quarter Panel Louvers

- another modern alteration/restomod-modification here! From the factory, the louvers featured a chrome bezel that adds a simple accent to the side of the car. In the 5th Generation Camaro, these louvers were reintroduced as a tribute to the highly sought-after '69 Camaro.

On this particular '69 Camaro, they were completely removed to keep this Camaro's side profile extremely clean from any distractions! Subtle yet completely custom

As previously mentioned, this car features a 4-Wheel Wilwood Power Disc Brake Conversion that stops on a dime! Some of the exterior components of this Braking System that is proudly shown are the Custom Wilwood Multi-Piston Billet Aluminum Black Powdercoated Calipers and High Performance Drilled and Slotted Rotors!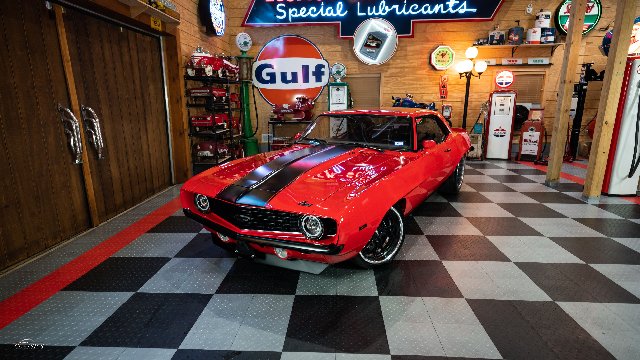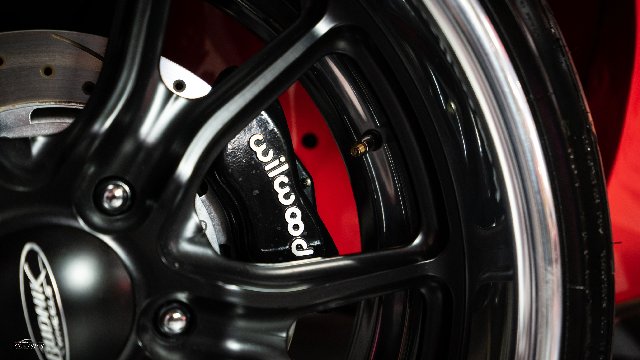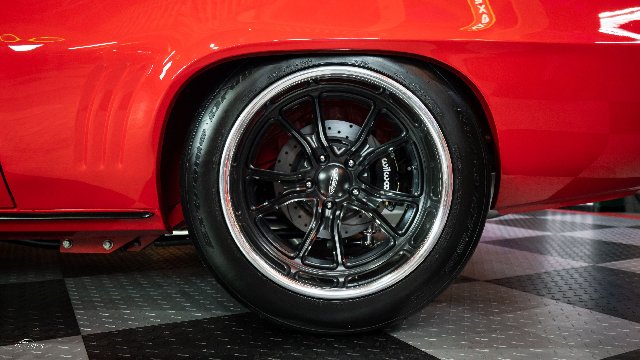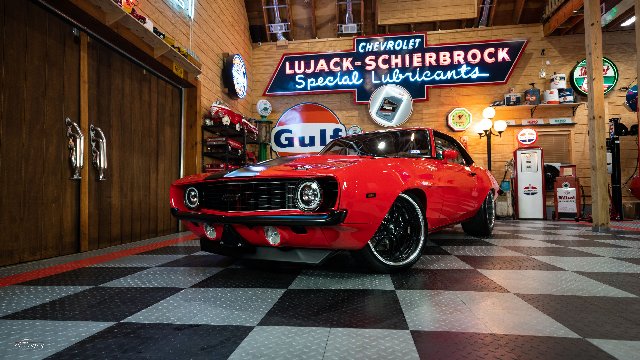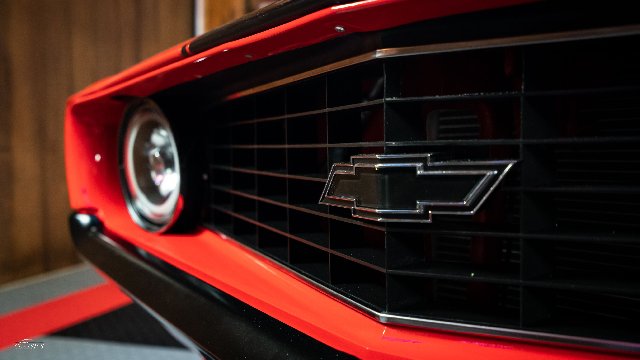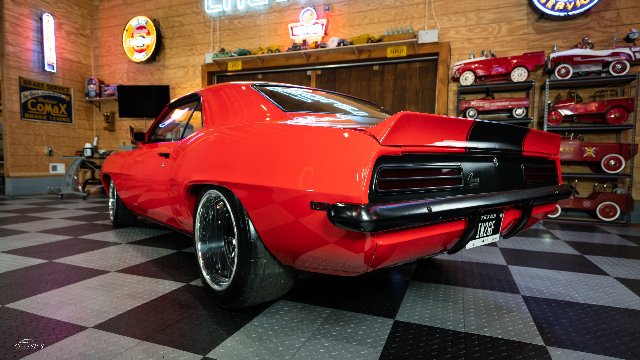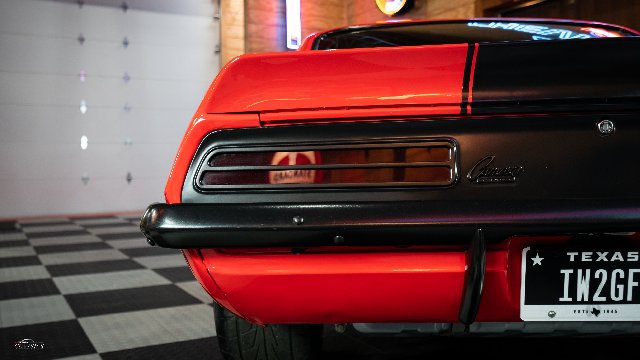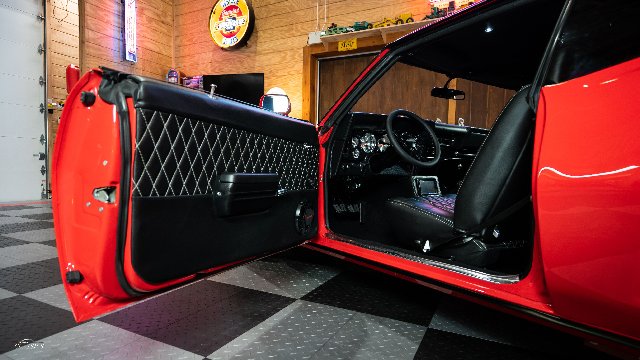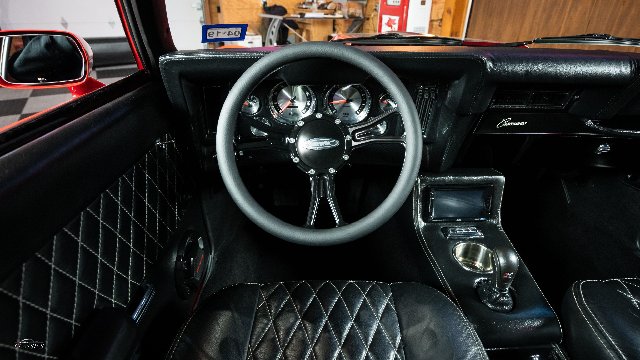 Fully Detailed Custom Black Leather Bucket Seat Interior that stands out like no other!

Yes, you did read that correctly...this car's interior is crafted from REAL Leather! Not Vinyl, Not Pleather, REAL Genuine HAND-STITCHED Leather!

Every square inch of this Camaro's Interior has been completely customized or restored for the most sporty yet luxurious feel and appeal!
The seats aren't just Black Leather seats taken from a car at a junkyard...they were completely customized for this particular '69 Camaro

Features a Genuine Black Leather with Custom White Contrast Diamond Stitching

Not only are the front seats done with all of this custom Leather and White Stitching, but the rears were also done to complete this Camaro's Interior from Front to Back!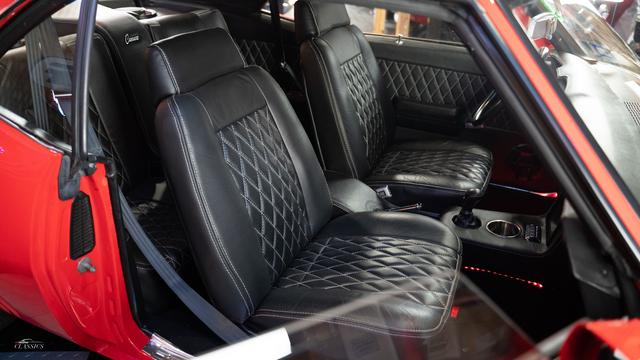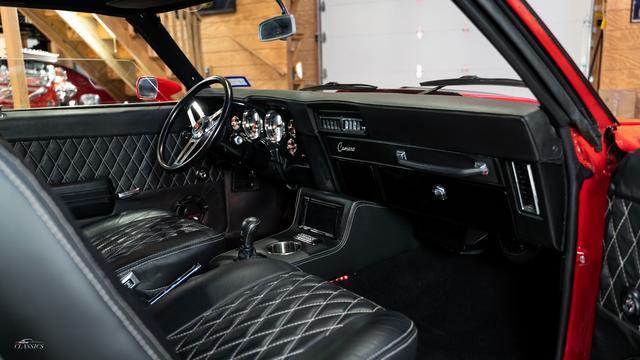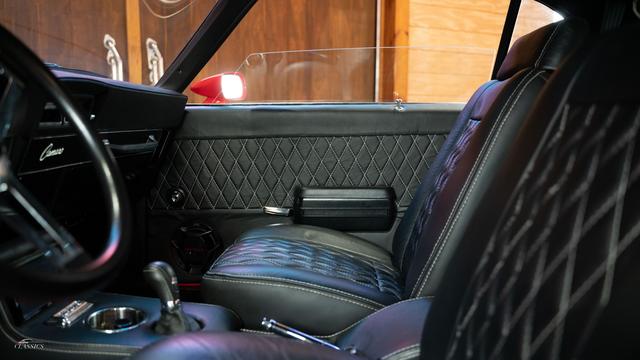 Custom Budnik Wheels Black Leather Steering Wheel that matches with the Wheel Design!
Carbon Fiber Dash Bezel fitted with a FULL RANGE of AutoMeter American Muscle Electrically Driven that displays all necessary information with complete cutting-edge accuracy and precision!

Full Range Speedometer and Tachometer, Fuel Pressure, Water Temperature, Oil Pressure, Voltage, and Fuel Level!
Takes all of the information from this LS engine and was properly adapted to these AutoMeter Gauges for that complete conversion

Ididit Black Tilt Steering Column Touch Remote Starting System

Keep your keys in your pocket and touch the steering column 3 times to give life to this beautiful car. 

As previously mentioned, this car is indeed equipped with a Complete Vintage Air Retrofit Air Conditioning and Heating System that has no problems creating ice cubes on the hottest days or providing exceptional heat during the cold winter months which allows this Camaro to be a truly year-round vehicle!

All new components down to the O-Rings! Features easy to slide controls unlike the factory that are notorious to corrode over time, bind, and break apart.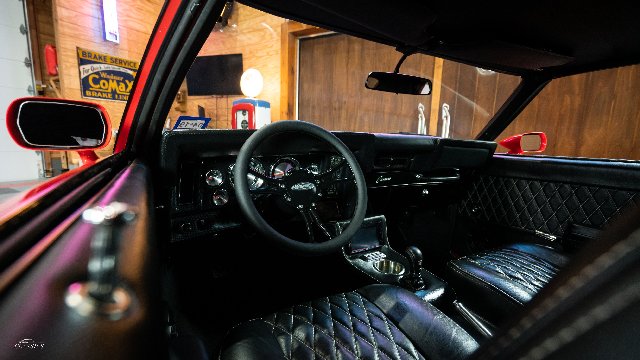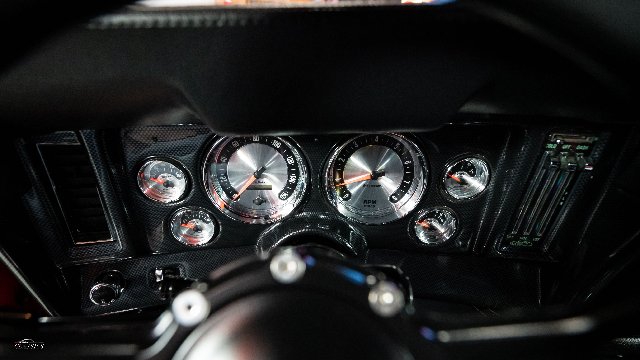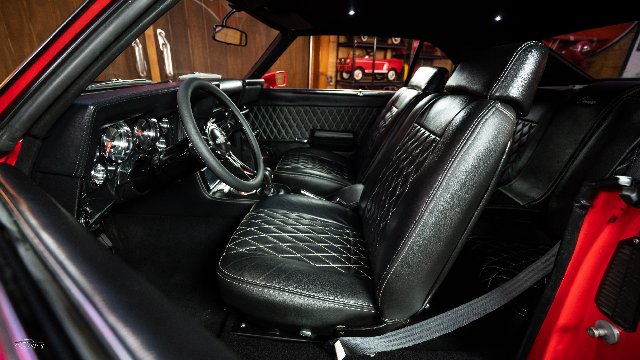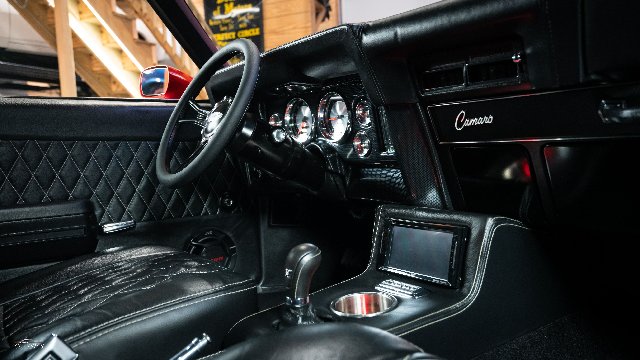 Custom Door Panels Front and Rear that truly transforms the look of this 1969 Camaro by incorporating the White Diamond Stitching all throughout the interior. Added padding gives this car a luxurious, yet very modern look that feels great!
Custom Handmade Center Console that Features a Complete JVC Double DIN Touchscreen Radio, Hurst 6-Speed Shifter, and Modern Power Window Switches AND a Cup Holder for that precision pro-touring feel and FUNCTION. 

This Custom Handmade Center Console was built upon the idea of having the single stripe down the body of this car as the center console flows through the car, fans off in the backseat, and continues the stripe onto the trunk. Very design oriented car with plenty of attention to detail

Full Custom Sound System that Features a 4-Channel Component Speaker System, a JVC DRVN Audio High Power Subwoofer, TWO HIGH POWER Memphis Amplifiers, and Custom Tweeters in the Door Panels for that Ultimate Range of Sound that plays any kind of music just right.

From the Custom Package Tray Speakers to the Door Panel Speakers, you can be sure you will get the best sound quality possible.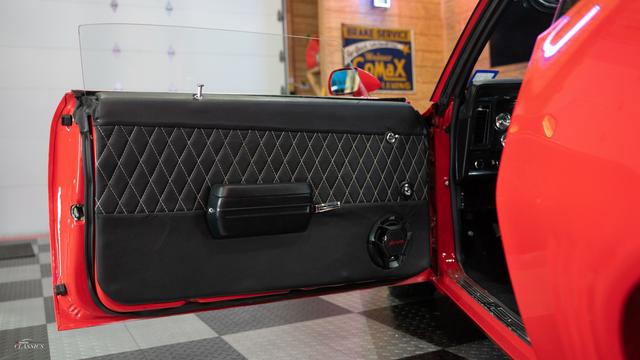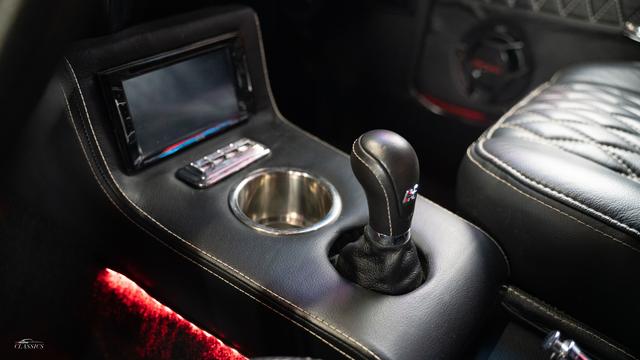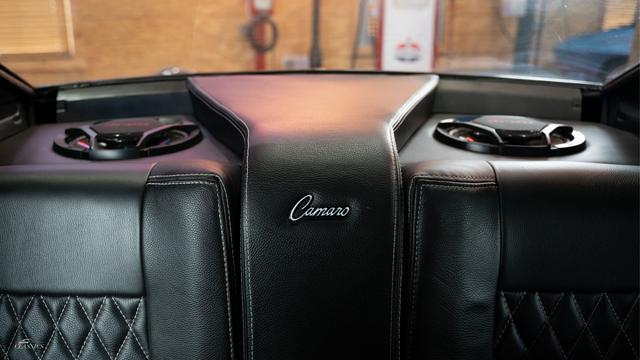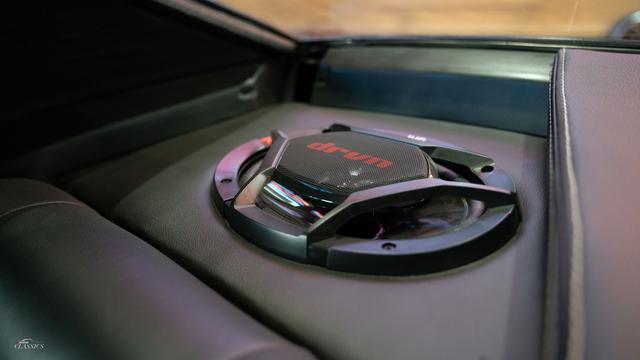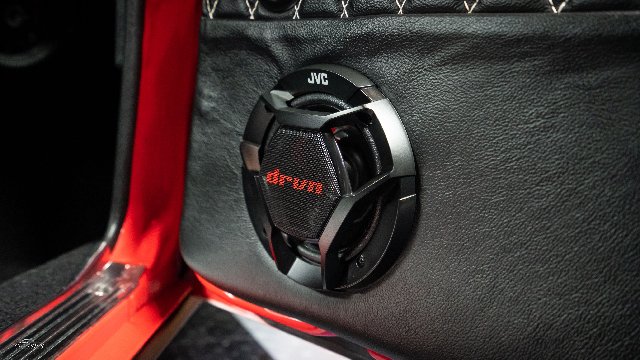 New Rear View Mirror

Body By Fisher Polished Aluminum Carpet Door Sill Plates

New Correct Bedford Grain Sun Visors

New A-Pillar Moldings and Headliner Moldings

Fully Replaced Factory Style 2-Piece 80/20 Loop Carpeting that looks astonishing!
Fully Replaced Factory Style Bedford Grain Headliner that looks spectacular!

Instead of the original style Dome Light, we've added 4 LED spotlight bulbs that lit up the interior much more efficiently than the old factory style lighting system

It doesn't stop here, the Trunk is a masterpiece in its self! Fully upholstered with high quality fabric and panels, every inch of this car is astonishing.

Battery neatly tucked away in the trunk behind this panel kit for that ultimate clean engine compartment and overall improved weight distribution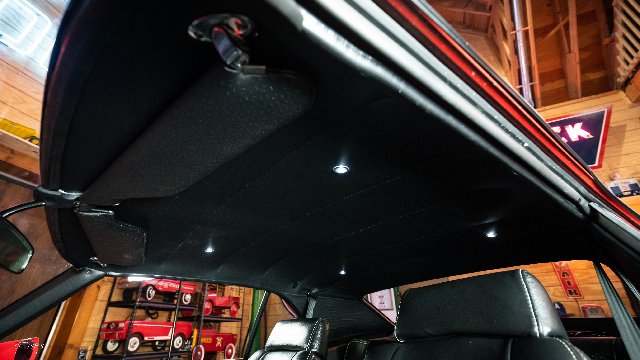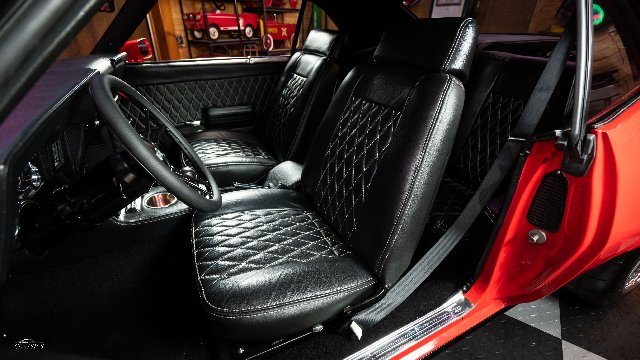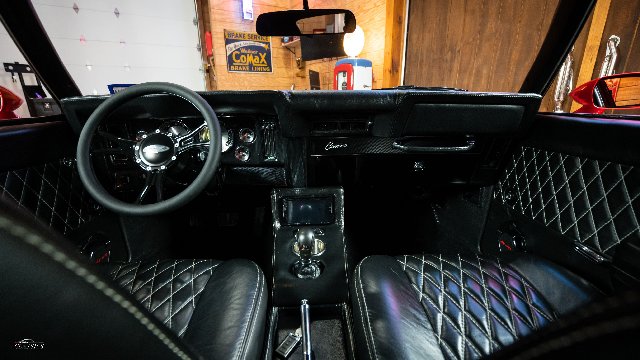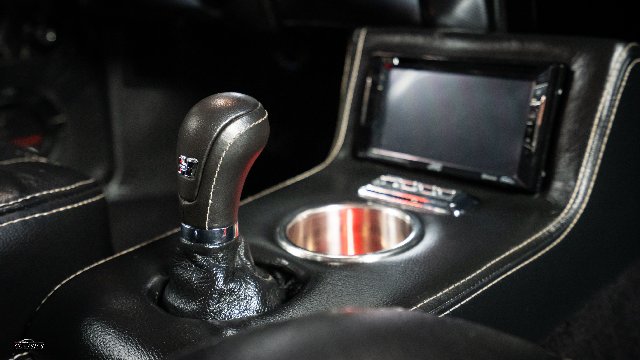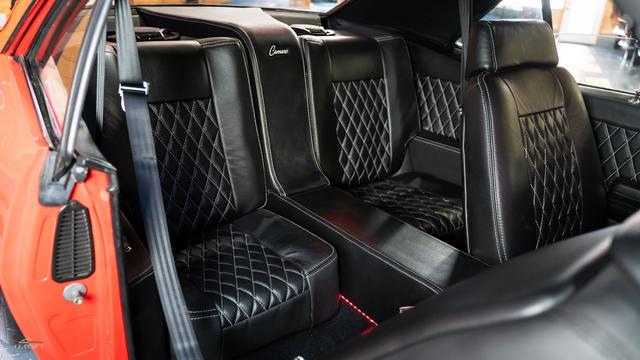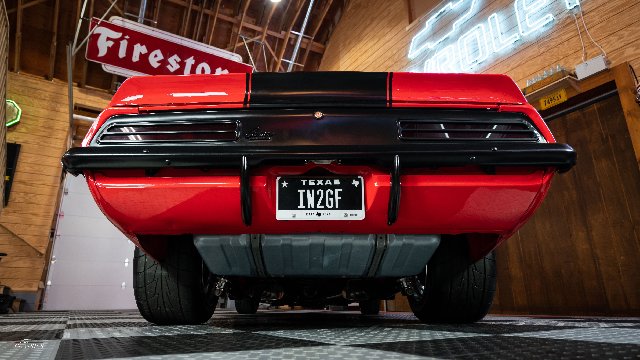 Fully Nut/Bolt Rotisserie Restored Underbody that was fully customized with the same basecoat paint work as the exterior of the body for that ultimate show car finish and protection!

TCI (Total Cost Involved) Engineering Full Tubular Subframe and Chassis

All Control Arms, Steering, and Sway Bars are completely redesigned and re-engineered to improve the handling this car really needs to complement the LS3 Drivetrain.
This car truly handles like a modern exotic sports car with its 4-Link Coil Over Rear Suspension from TCI!

No more sagging leaf springs that limits this Camaro's handling capabilities to that of a truck. This opens up a completely different world of possibilities when it comes to handling, comfort, and drivability.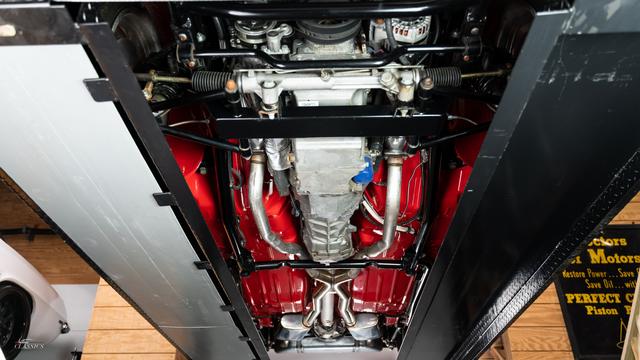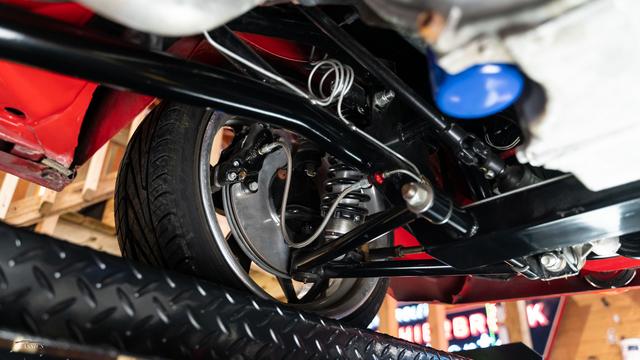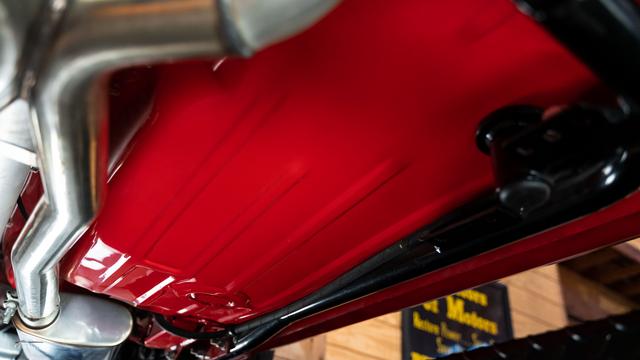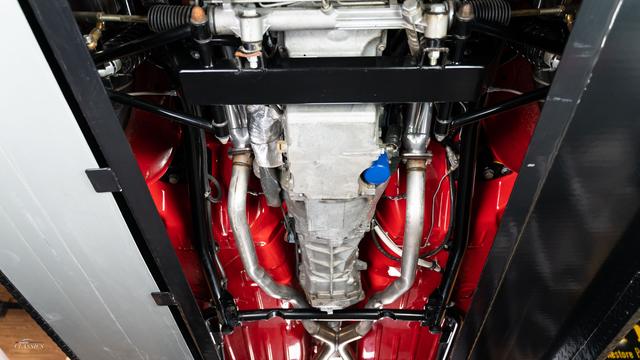 Hydraulic Power Rack and Pinion Steering that truly transforms this Camaro into a car with luxury!

These cars came with conventional power or manual steering that constantly requires self-correction while on the road and does not give the driver (or the passengers) a very positive feeling about the road.
Instant crisp response just like a modern car
Massive weight reduction increases performance and handling capabilities
Allows turning to be made without much effort or revolutions of the steering wheel!

Custom Fabricated Full Length Exhaust Headers Lead Directly into this Custom Fabricated 2.5" Dual Exhaust System that let's this LS3 roar!

TCI Tubular Subframe Connectors keeps this chassis in check and completely eliminates body roll and flex!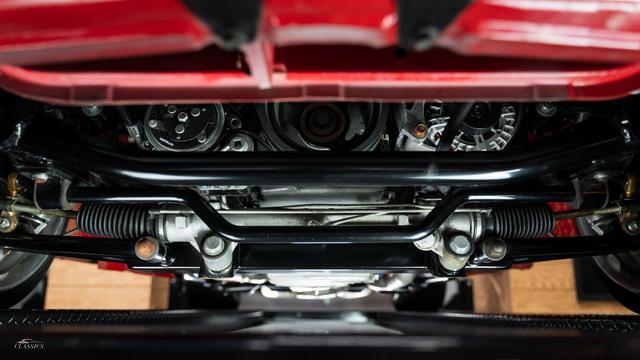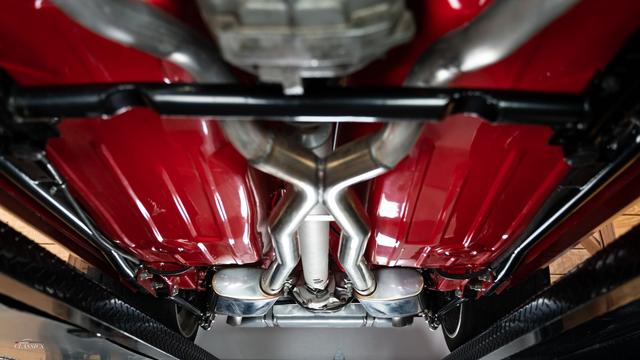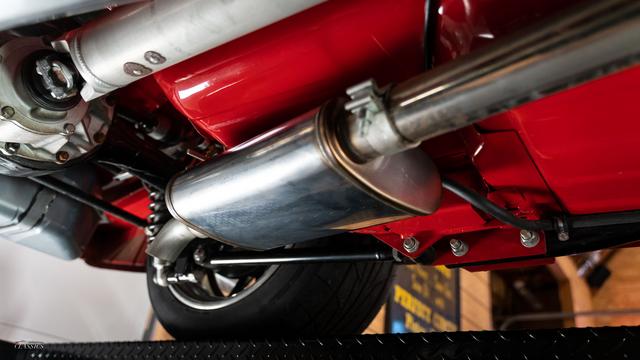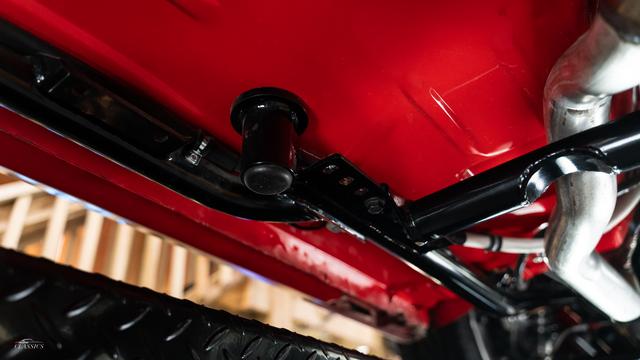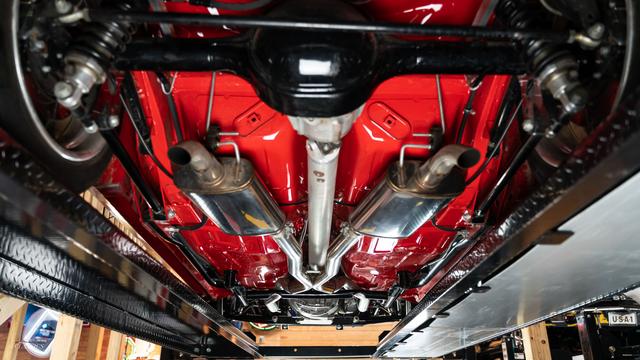 As previously mentioned, this car is equipped with a Tremec T-56 6 Speed Manual Transmission that lets this incredibly powerful yet street-able LS3 roast tires through 3rd gear yet will quietly cruise on the highway in 6th Gear!
Going fast is great but how about stopping this fast car?

This car was fully upgraded with 4-Wheel Wilwood Power Disc Brakes Front and Rear! Features High Performance Billet Aluminum Calipers that are Powdercoated Red as well as Drilled and Slotted Rotors for extra stopping power and custom appeal!
Another great addition to the Disc Brakes is the added Brake Shield that prevents all the hard to clean dust from getting into every crevice inside the wheel

All Suspension Components from the Control Arms to the Tubular Chassis itself, down to the Sway Bar and Tie Rod Ends were all Powdercoated for show stopping quality looks and the ultimate protection from corrosion! 

Powdercoating Technology is the same type of coating material used on custom wheels that keeps them looking fresh since day 1.

It completely beats painting the parts as paint is a liquid that dries and can easily chip off. Powdercoat is applied as a dry powder and is melted onto the metal surface via heat.

This adds a ton of protection to the finish and can be customized with any type of color or finish. This particular car was finished in red to match the body color!

Polyurethane Transmission Mount

Braided Stainless Steel Hoses and Lines throughout for ultimate longevity and pressure demands!

Fully Adjustable Heim-Joint Style Sway Bar End Links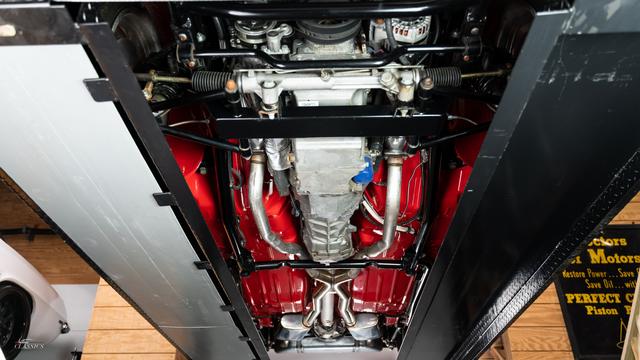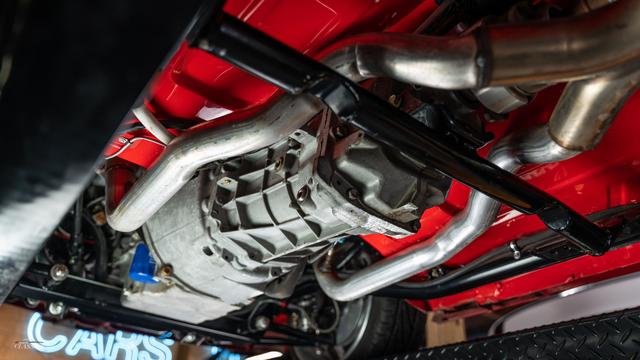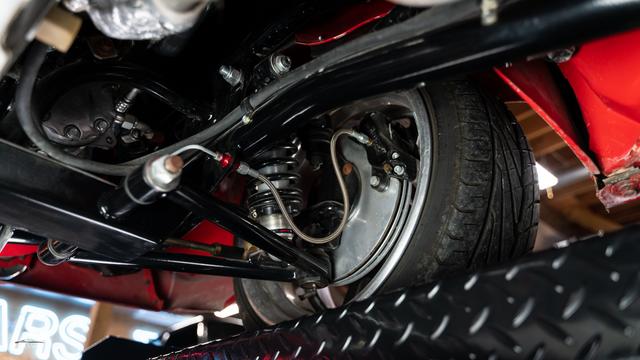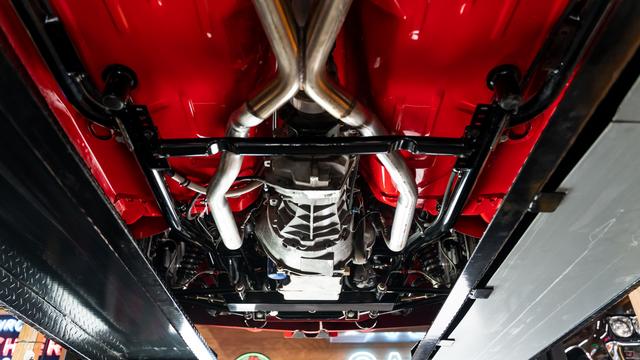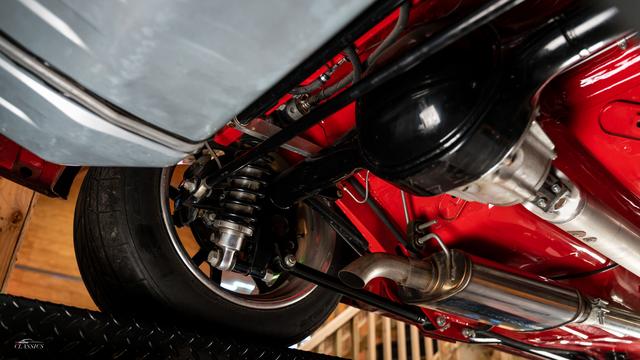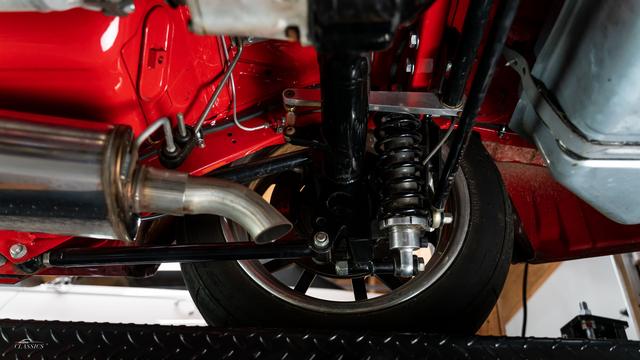 Custom Fabricated and Painted Ford 9" 'Posi' (Limited Slip) Rear End that spins both of these custom Budnik Forged Wheels during any type of burnout!

Not only does a Limited Slip Rear End provide a two-wheel burnout but provides better traction as both wheels are directly receiving power from the drivetrain which gets the car to grip better on acceleration and around turns.

Custom Fabricated Polished Stainless Steel Fuel Tank that feeds this LS3 the required fuel it needs to startup, cruise, and throw you back in your seat at any time!

Custom Made Wilwood Rear Disc Brake  with Fully Adjustable Parking Brake Cables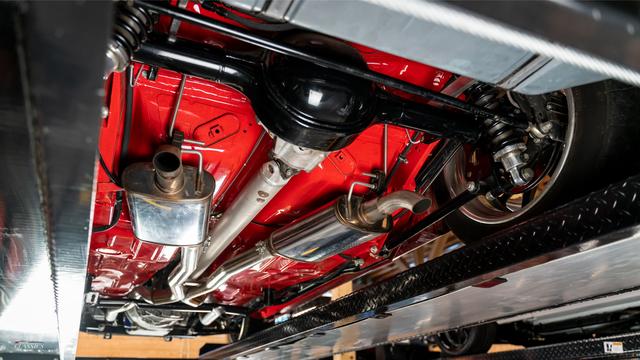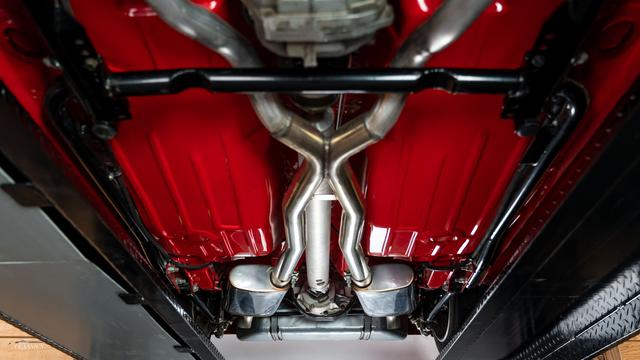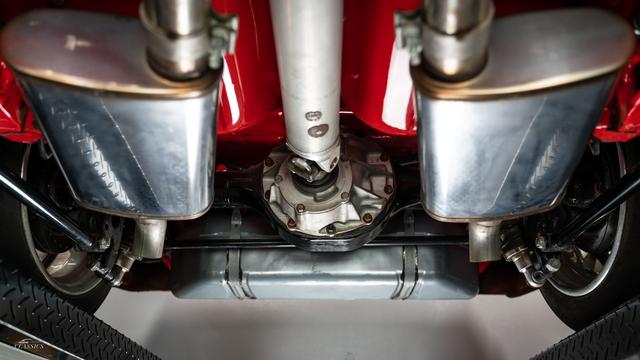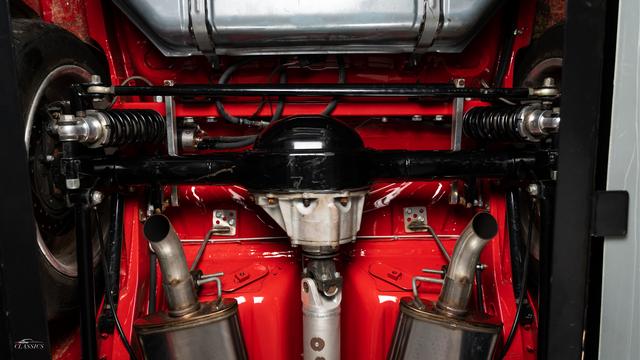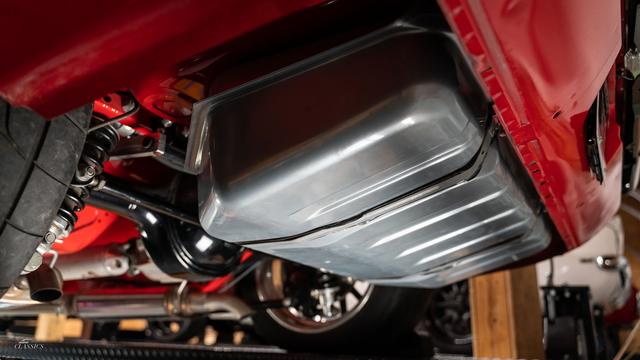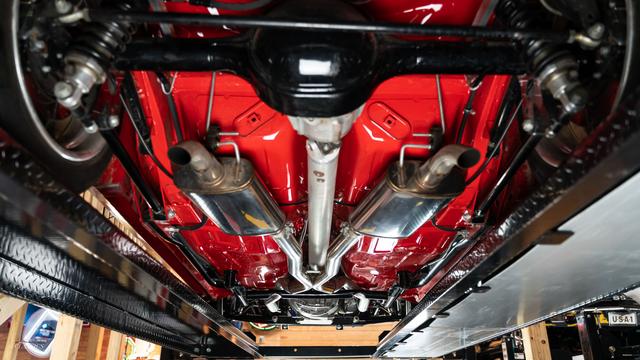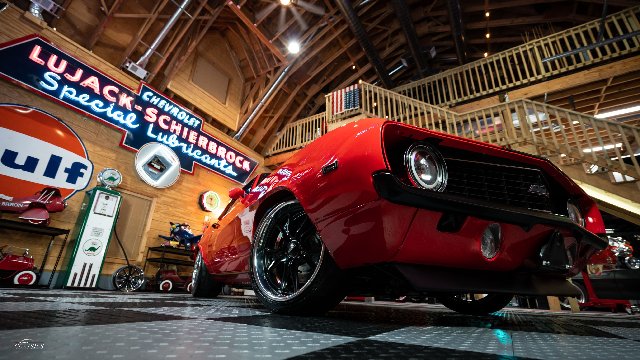 Overall this Pro-Touring Camaro presents itself with show-stopping looks and appeal and drives incredibly well with all of the upgrades it has seen. However, please keep in mind that this car is a complete restomod with none of the factory drive-train components and therefore cannot verify it to be an original RS, SS, or RS/SS born car.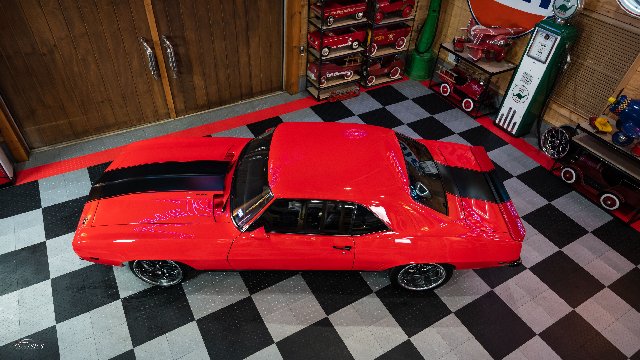 Although this car looks absolutely stunning, please understand that this is still a 50 year old car with imperfections as it wasn't restored yesterday and has some mileage since the build. As with all classic cars, it will need odds and ends down the road as you begin to drive it more often but still nonetheless an iconic and one of the most sought-after classic cars that you will be proud to own and very happy to drive in!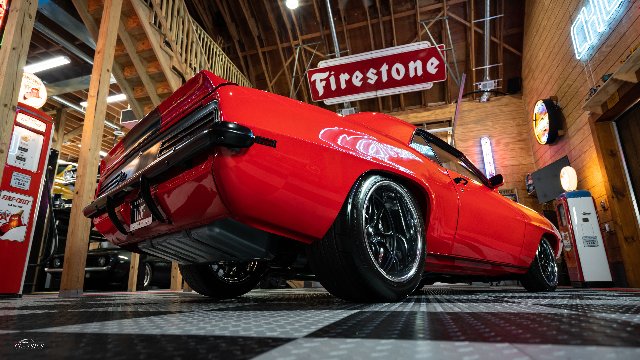 Related Listings
Sold

$50,200

Sold

$36,100

Sold

$35,000

Sold

$54,000

Sold

$57,350

Sold

$36,000

Sold

$40,800