1969 Chevrolet Camaro Z/28 Tribute Restomod Coupe
The Chevrolet Camaro is an automobile manufactured by General Motors under the Chevrolet brand, classified as a pony car, and some versions also as a muscle car. It went on sale on September 29, 1966, for the 1967 model year and was designed as a competing model to the Ford Mustang. The car shared its platform and major components with the Pontiac Firebird, also introduced for 1967.
First-generation Camaro debuted on a new rear-wheel drive GM F-body platform and would be available as a 2-door, 2+2 seating, coupe or convertible with a choice of 250ci inline-6 and 302ci, 307ci, 327ci, 350ci, or 396ci V8 powerplants. The Camaro was touted as having the same conventional rear-drive, front-engine configuration as Mustang and Chevy Nova. In addition, the Camaro was designed to fit a variety of power plants in the engine bay. The first-generation Camaro would last until the 1969 model year.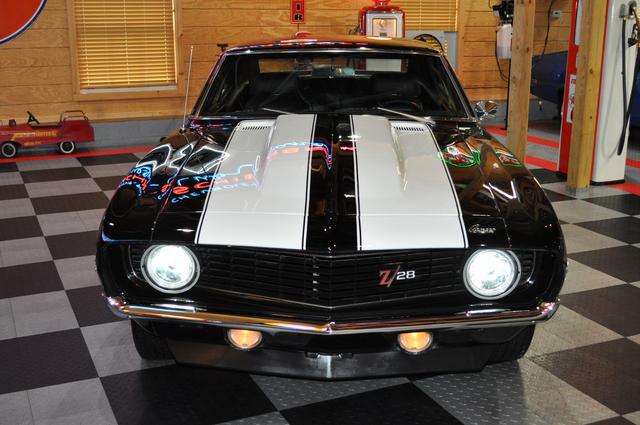 No Reserve Classics is proud to present this highly optioned 1969 Z/28 Tribute Restomod dressed in black with white stripes  – a true "Tuxedo" appearance!! This car is the ultimate classic to be able to drive to local car shows and cruise nights with as it has just been freshened up and underwent a complete detail from head to toe! A rebuilt Chevy 355 powers this Z/28 Restomod and plants the tires to the ground with its Tremec TKO-600 5-Speed Trans and 8.5″ 10 Bolt Posi Rear End! You can't go wrong with a classic set of Rally Wheels and White Lettered Tires! These are the wheels that started it all! Keep reading to find out why this car is like no other!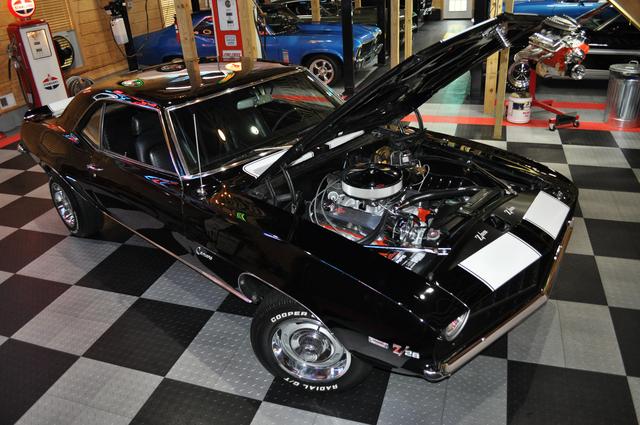 Please keep in mind that this car is a complete restomod with none of the factory drivetrain components and is not a factory-born/original Z/28 as it was born from the factory as an X44 code car.  Although this car looks absolutely stunning, please understand that this is almost a 50 year old car with imperfections. As with all classic cars, it may need a few odds and ends down the road as you begin to drive it more often. It's still nonetheless an iconic and one of the most sought-after classic cars that you will be proud to own and very happy to drive in!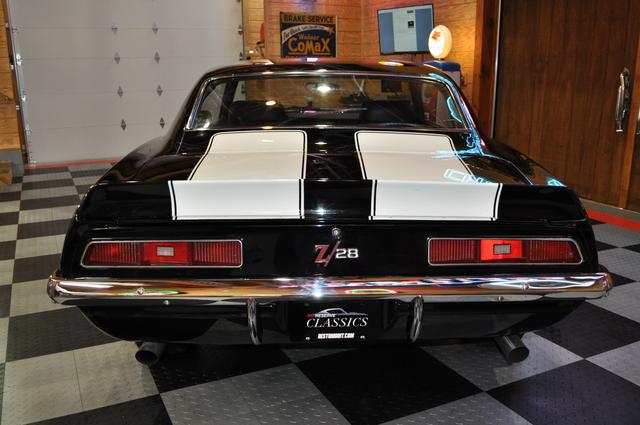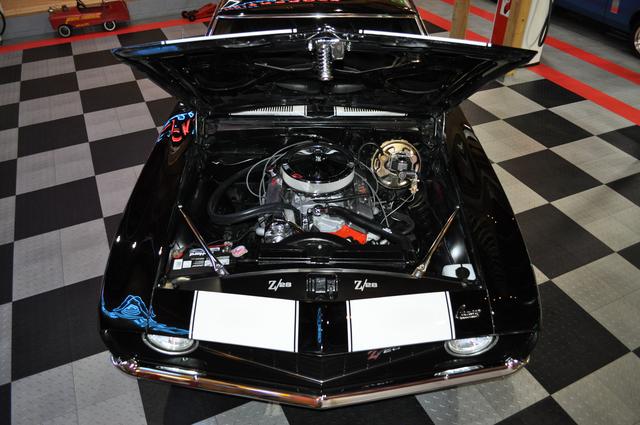 Fully Detailed Engine Compartment that has been fully sanded down and repainted semi-gloss black for a fresh look!
This Camaro is powered by a 355 Small Block Chevy that starts right up and runs strong!
Mated to a Brand New Tremec TKO-600 5-Speed Overdrive Transmission that gives you modern drivability and lets you cruise quietly on the highway
Custom Undercover Innovations Black Anodized and Etched Z/28 Filler Panel
Factory GM Style Cast Iron Spread Bore Intake Manifold with Heat Riser Choke  and NO EGR!!
Intake Manifold topped of with a  Rochester 4 Barrel QuadraJet with Heat Riser Choke

Carburetor Covered with Brand New Proform Parts Chevrolet Chrome Air Cleaner with New Air Filter Element

Brand New Proform Parts Chevrolet  Valve Covers - Polished Aluminum
Full Length/Long Tube Exhaust Headers
Power Steering that steers this car effortlessly!
Power Front Disc Brake Conversion that stops this car on a dime
Engine Cooling System Updates/Upgrades

New 160º F Thermostat and new Chrome Thermostat Housing and Gasket
Flex-fan with New Fan Shroud installed behind Larger Hi-Performance Radiator

Keeps This Hot Little Small Block Cool Under The Collar!!
New GM Factory Style Radiator Upper And Lower Hoses
New GM Factory Style Heater Core Hoses With New Clamps

Updated/Upgraded Ignition System

HEI Ignition System  - HEI Distributor with Vacuum Advance
No more Painful Points Ignition System to leave you stranded on the side of the road!
8mm Hi-Performance Spark Plug Wires
New Spark Plugs and Fresh Tune Up

New Chrome Alternator with Billet Pulley and New Chrome Alternator Bracket
Brand New Starter that spins this Chevy right over!
Chrome Fender Support Braces
Brand New Chrome Hood Latch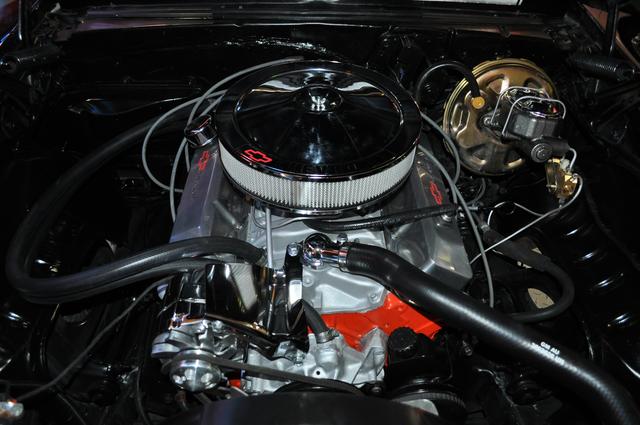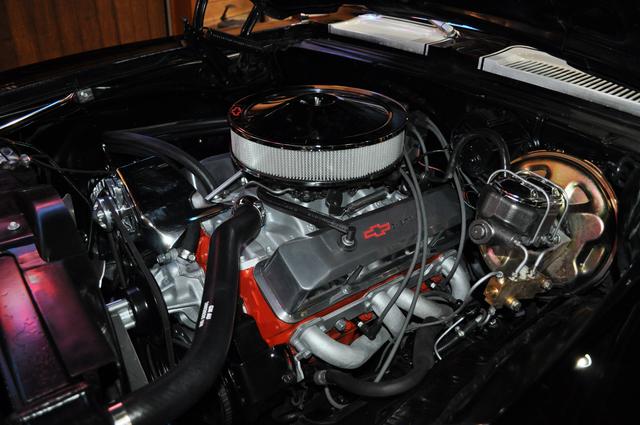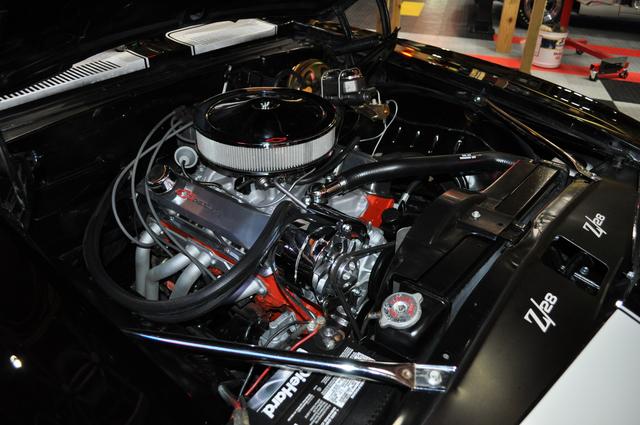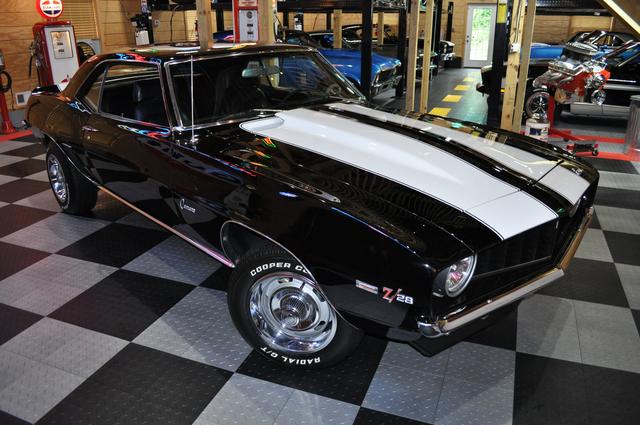 Dressed in Tuxedo Black - black base coat, with clear coat with contrasting White Stripes that was recently detailed, wet sanded, buffed and polished to perfect mirror shine!!
Classic 15" Rallye Sport Wheels gives this vehicle an instant iconic feel of how great the 60's Camaros were back in the day!
Front Grille was just replaced and painted to match the body color!

One of the best features about a 1969 Camaro is the mean and aggressive front nose of the grille as opposed to the earlier year models.

One of the things that most of these cars lack is visibility at night. We just upgraded this car with a super high visibility and high power modern LED bulb and ballast kit! 

The great things about these are not only are they super bright but they last a lifetime, require less power to function, and don't get nearly as hot as a standard halogen or sealed beam housing which is what a '69 Camaro came with from the factory.
Not only were the headlight bulbs upgraded, but the ENTIRE HOUSINGS were fully replaced with brand new reflective housings that beat the old sealed beams.

New Head Lamp Bucket Shrouds
Z/28 Trim & Emblems
X44 Trim Tag
Front and Rear D80 Spoiler package distinctly sets this car apart with its menacing look/stance
2" Cowl Induction Style Hood
Very Sharp and Contrasting Chrome Accents:
Front and Rear Chrome Bumpers with Rear Chrome Bumper Guards

Chrome Exterior Door Handles
Chrome Side View Mirror
Polished Stainless Steel Drip Rail Molding Trim that outlines the gorgeous deep black paint

Brand New Quarter Window Moldings and Seals
Polished Stainless Steel Rocker Panel Moldings
Polished Stainless Steel Front and Rear Windshield Reveal Moldings
Correct Shark Fin Trim Louvers

Fun Fact:  '69 was the first and only year that Camaro's came with this slick design on the quarter panels. It wasn't until the 5th Generation Camaro that the design was used again making the '69 Camaro so unique from any other year.

Polished Stainless Steel Wheel Well Moldings
All of these subtle details sets this vehicle apart from others!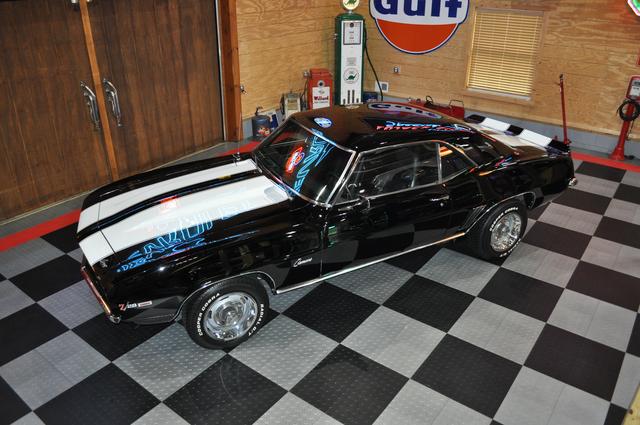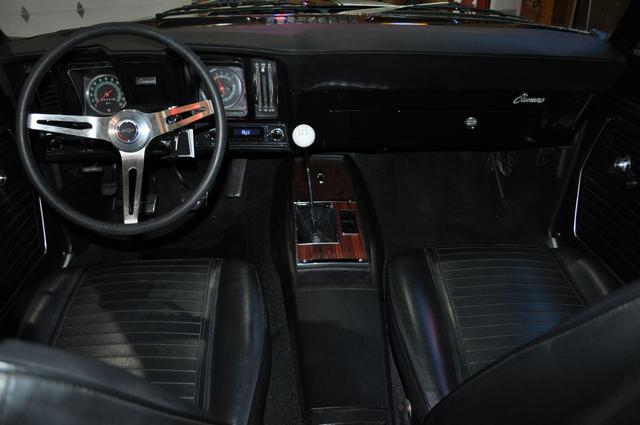 Freshly Detailed Black Vinyl Interior that looks and feels great

New GM Restoration Parts Reproduction Black Vinyl Dash Pad
Black Vinyl Front Bucket Seats with Head Rests
Black Factory Style Bedford Grain Headliner
Black 80/20, Two Piece Loop Carpeting

Factory Style Door Sill Trim Plates

Correct "Body By Fisher" Emblems

Brand New Custom RetroSound USA Laguna Radio

With AM/FM/Aux!

Makes connecting your iPhone/iPod or Android Phones extremely easy!!
Rear 6x9 Speakers let you crank the radio while cruising down the road

New Center Console Assembly with Wood Grain Forward Trim with Emblem
Hurst 5 Speed Shifter and New 5 Speed White Shift Knob

It has become rare to find Camaros with desirable options such as this!

3-Spoke Factory Style Comfort Grip Steering Wheel with Polished Stainless Steel Spokes and a Classic Chevy Bowtie Emblem
Brand New Instrument Cluster Housing and Bezel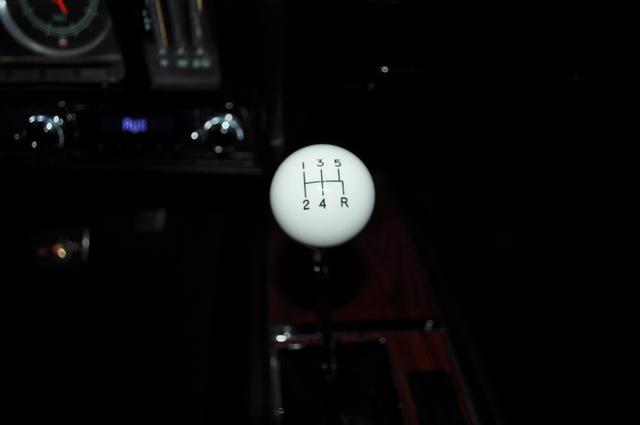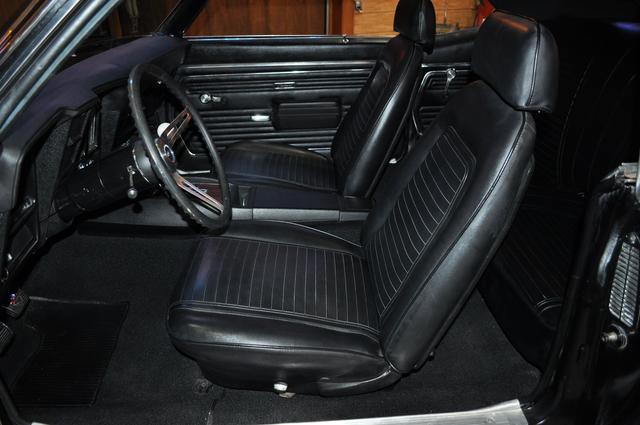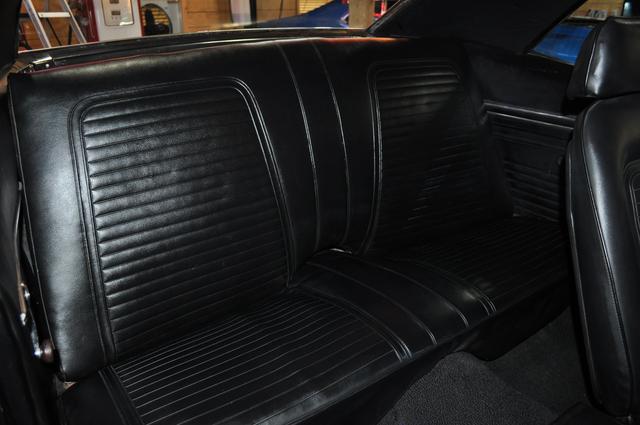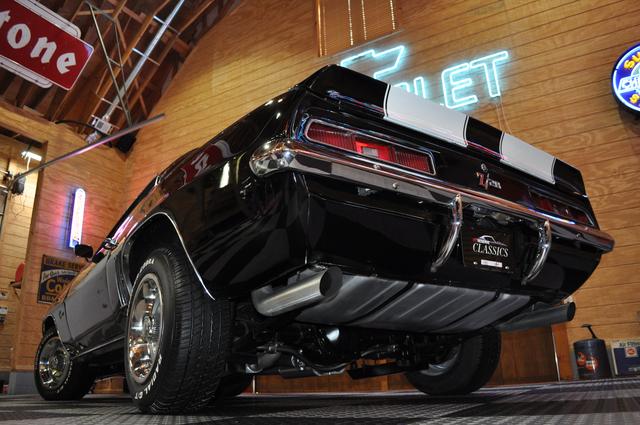 Fully Detailed and Repainted Underbody that has undergone a full cleaning and repainting to protect this car from road debris and elements as much as possible!
Chevy 355 Small Block Chevy
Added to the Front Sway Bar of the car is also a Custom Rear Sway Bar that stabilizes the rear section of this car and plants the tires around corners!
Brand New Fuel Tank, Sending Unit, and Strap Kit!

Keeps this engine running with fresh, uncontaminated fuel!

Rear Traction Bars helps prevent dangerous wheel hop under hard accelerations!
The Tremec TKO-600 5-Speed trans leads into a 10 Bolt Posi Rear with recently replaced gearing inside. No one-legged burnouts with this car!
Subframe Connectors help increase chassis to body rigidity and prevent body flex and twisting as the car is driven.

This was a factory flawed design that was never corrected by General Motors.
Even up to the 4th Generation Camaros were not equipped with subframe connectors and still suffered from body flex and twisting motions that are known to damage critical suspension components and even vehicle alignment!
A small investment and simple fix yet very important for the F-Bodies!

2.5" Flowmaster Dual Exhaust System with Full Length Headers that produces that Classic American V8 rumble that everyone loves!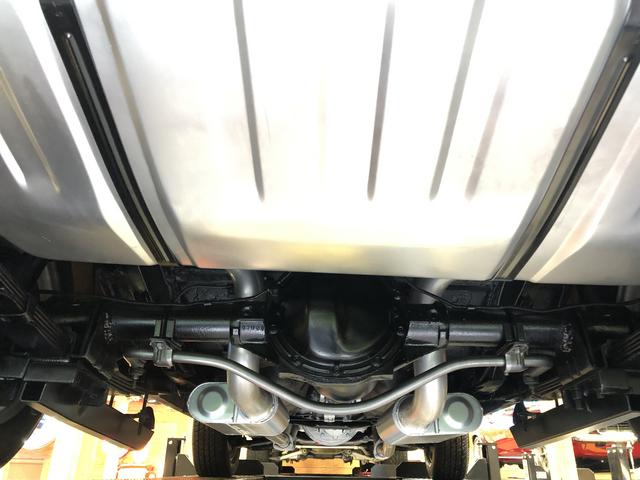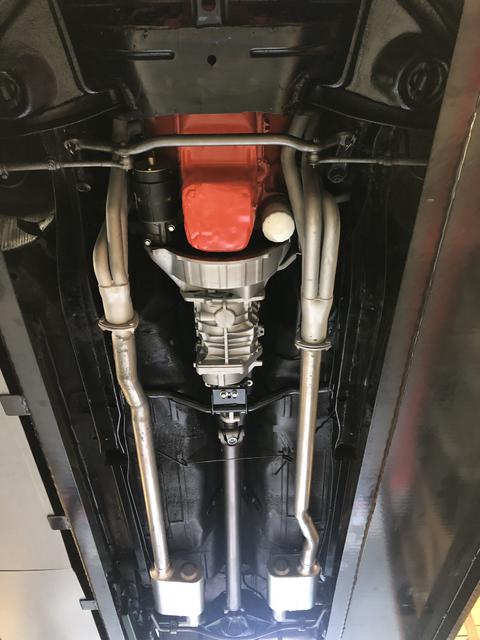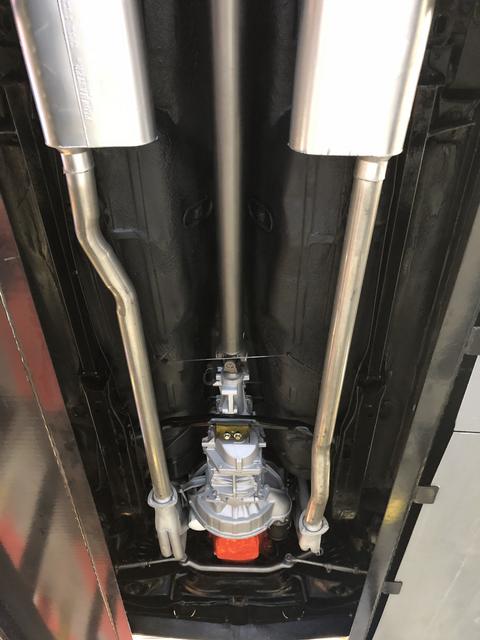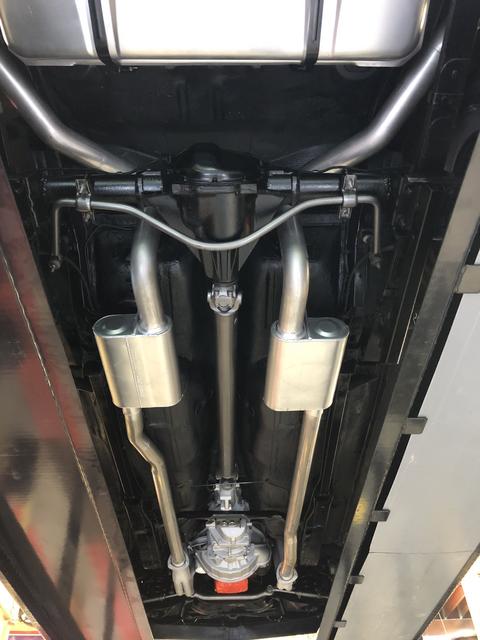 [tab-area5]
Related Listings
Sold

$50,200

Sold

$36,100

Sold

$35,000

Sold

$54,000

Sold

$57,350

Sold

$36,000