1969 Chevrolet Camaro RS/SS LS1 Pro-Touring Restomod Convertible
No Reserve Classics is proud to present to you this beautiful Hugger Orange 1969 Chevrolet Camaro RS/SS Pro-Touring Restomod Tribute! Always dreamed of owning a classic and iconic American Muscle car with the sound and performance of a new Corvette? Well, you're in luck because this Camaro is that exact car! This car is a FULL RESTORATION build and when purchased you will receive all the documentation that shows the process from beginning to end! This car started as a rust-free car prior to the restoration, and we have the documentation to prove it! The body is in fantastic condition with the original panels, with no holes welded in the floor or the trunk prior to the restoration. Even the underbody of this particular car is in an extremely pristine condition that anyone would be more than happy to prop a few mirrors underneath at any local car show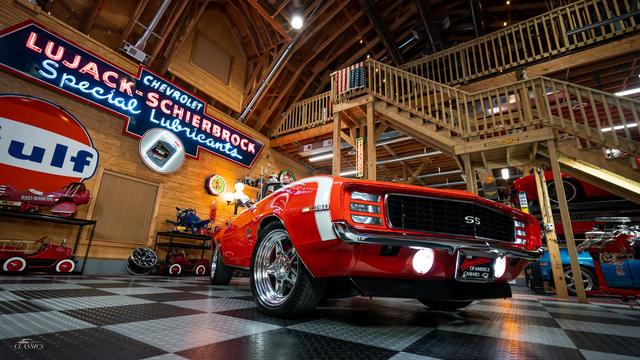 Powered by a High Performance Upgraded Fuel Injected 5.7L LS1 Engine that is mated to the L460E 4 Speed Automatic with Overdrive, this car well exceeds the Torque and Horsepower of a Big Block yet has the highway fuel mileage of a modern car! Quietly cruise in Overdrive or put your foot down to the floor and throw you and your passengers back into your seats upon wide open throttle! Quick acceleration combined with amazing handling and performance is one of the perks of having a factory ALL ALUMINUM LS Engine with the modern OBD II ECU to keep it running top notch!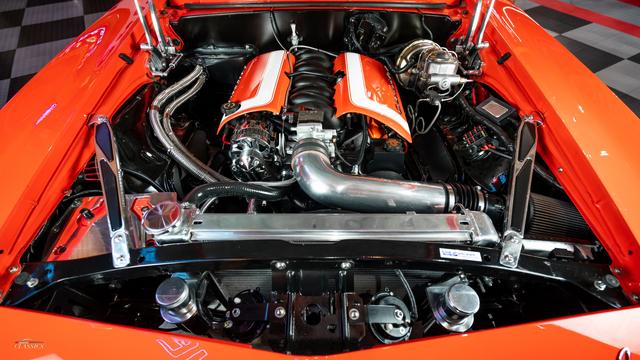 Comfort is not even a question about this car, an extremely comfortable suspension that'll glide over anything on the road, power steering, power brakes, and a completely new ProCar Deluxe White Interior! This car is all about looking good, feeling good, and driving even greater! I've personally had the pleasure to drive this car. And this Camaro is the perfect mix of vintage and modern while still keeping its classic appearance and appeal. It has all the modern amenities that you'd want from a brand new car that you can jump in and drive in cross country with complete comfort, ease, and reliability.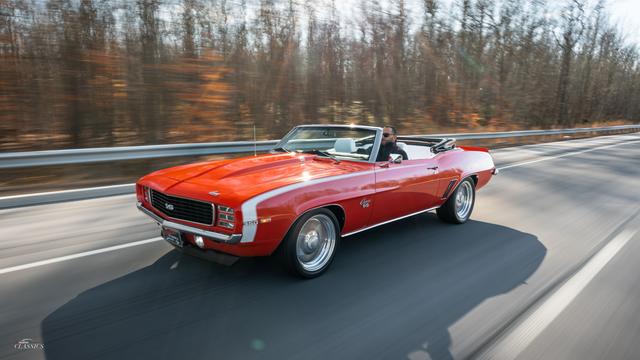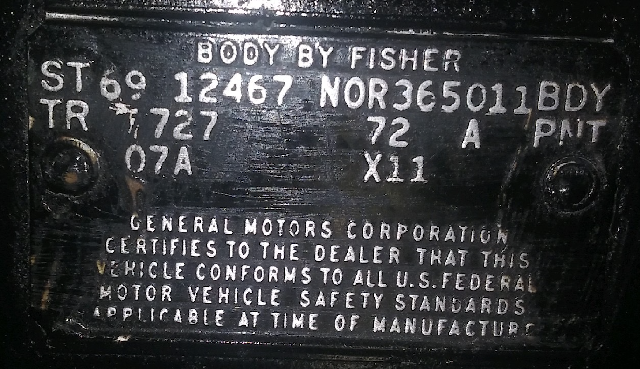 This is an Original Code 72 Hugger Orange 1969 Chevrolet Camaro, AND this car will come with all the documentation that came from the restoration process. From parts, services, and much more, all of this will be included within a 3″ Binder of Receipts and Documents during the build!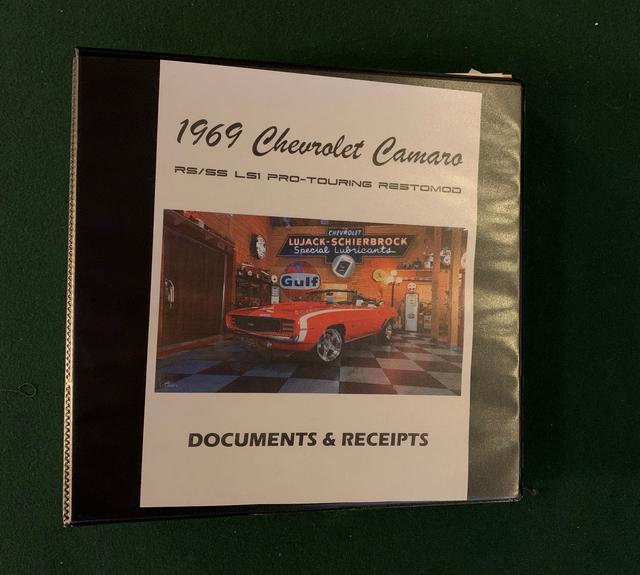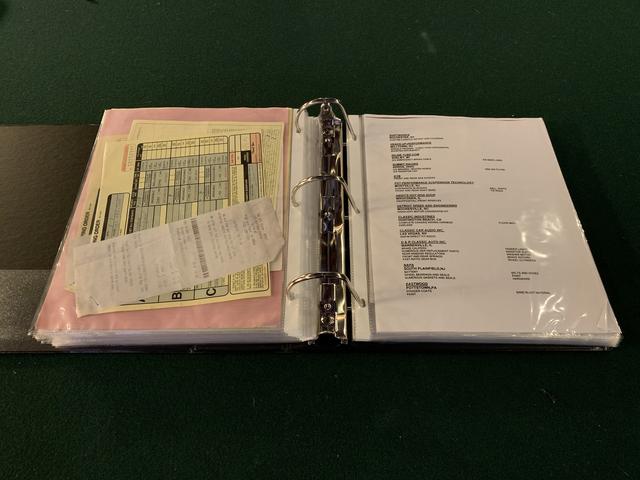 WATCH OUR VIDEO AND LEARN ALL ABOUT THIS BEAUTIFUL CAMARO!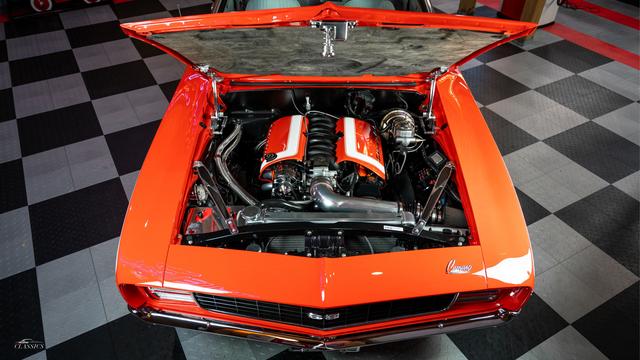 High Performance 5.7L All Aluminum LS1 Engine:

 Take control of the road whenever you decide to mash the throttle, as there is a TREMENDOUS AMOUNT of RELIABLE Torque and Horsepower that right beneath your feet.
Large weight reduction in the Aluminum LS1 versus the older cast iron Small Block and Big Block engine that these cars are typically equipped with
Less weight on the car increases the overall vehicle performance, and has an impressively large improvement on how this Camaro now drives!

4L60E 4 Speed Automatic Transmission with Overdrive

Drive this car comfortably wherever and whenever without any issues!
Cruise around town with the Overdrive feature on this transmission, or put your foot to the floor and take off!

Smoothed Painted Black Firewall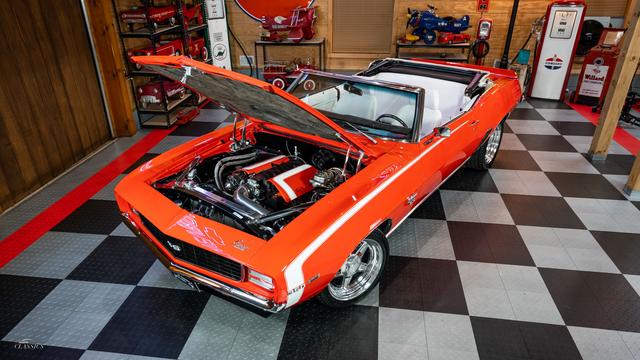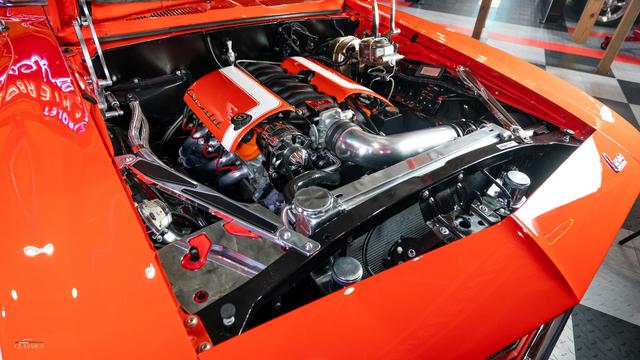 Classic Industries Custom Brake Booster, Power Brakes and Wheel Cylinders
Stainless Steel Brake Lines
Equipped with the D&R Close-Ratio Steering Box

This will add handling characteristics to your car's steering, as well as reducing the driver's effort to enabling the steering wheel to be more responsive to small changes in direction

High Performance Polished Full Length Exhaust Headers
Griffith Aluminum Radiator with Electric Fan keeps the engine running cool on those hot sunny days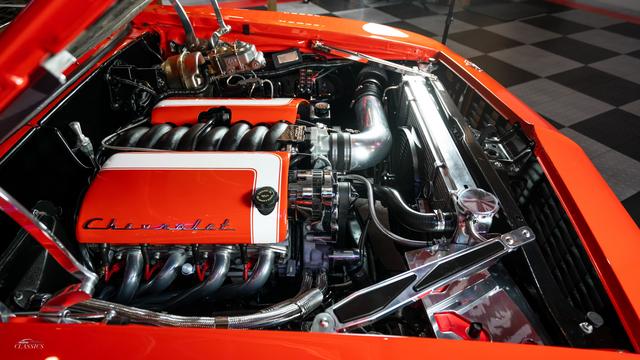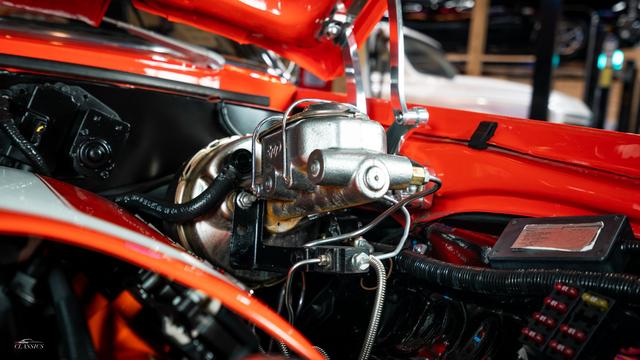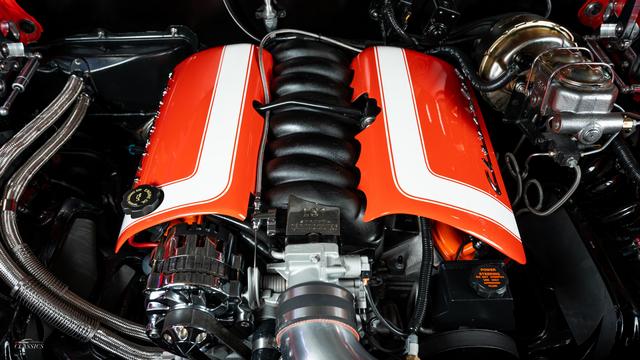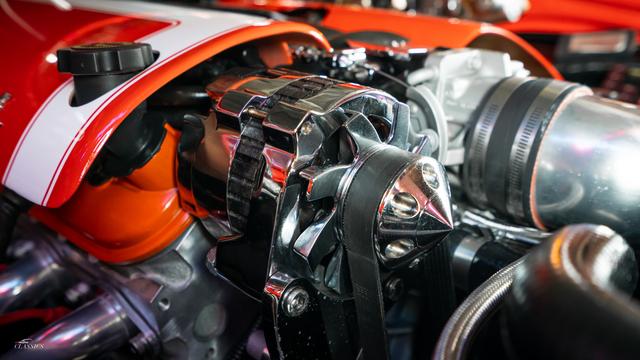 Everything has been meticulously polished inside the engine compartment for that show-stopping appeal on this Camaro, and it fits so nicely together!

Chevrolet Script on Valve Covers
High Power Output Alternator
Griffith High Performance Electric Radiator
Radiator Cap
Battery Tray
Billet Fender Braces by Eddie Motorsports
Billet Hood Hinges by Eddie Motorsports
Heater lines
LS1 Intake Manifold Emblem
Air Intake Piping
High Performance Headers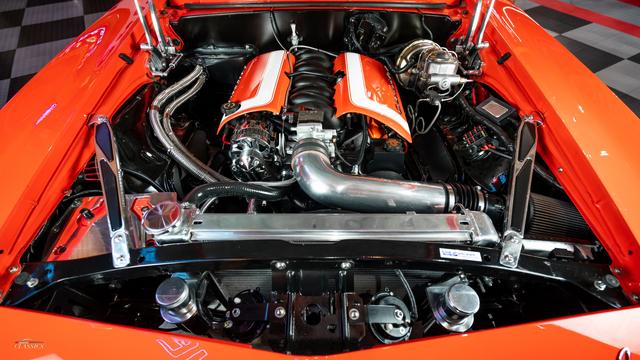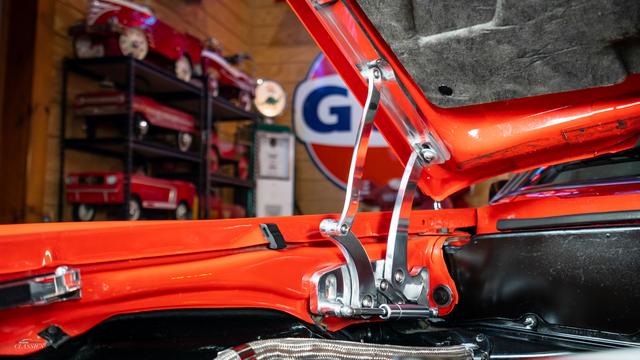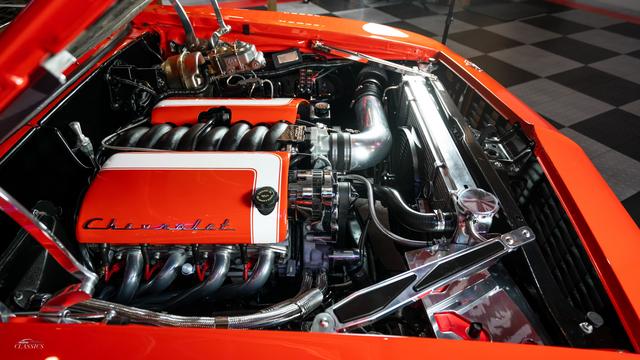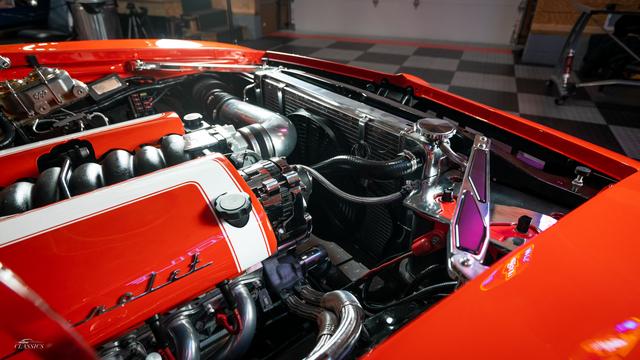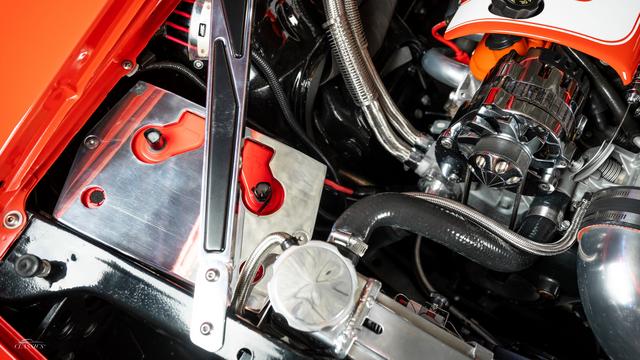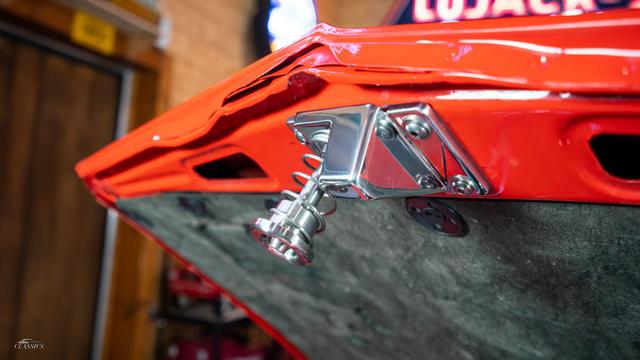 New Wire Harness with Updated Blade Fuses from Classic Industries
Detroit Speed Headlight Motors

Replaces the antique vacuum-operated design of the RS Hideaway Headlights and makes them become fully operable through electricity! No more stubborn headlight doors when driving this car

HyperTech ECU Programming
Abbot Enterprises Speedo and Tachometer Conversion to retain the original factory gauge cluster with new school technology
Custom Painted Hugger Orange with White Stripes and Chevrolet Script Valve Covers

Really small detail for a car of this caliber, but matching the valve cover with the car's appearance is a bold show quality choice!

Paint is matched underneath the hood and is equipped with the proper insulator pad and fasteners!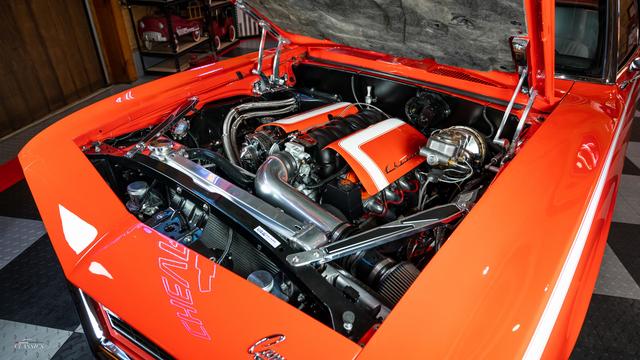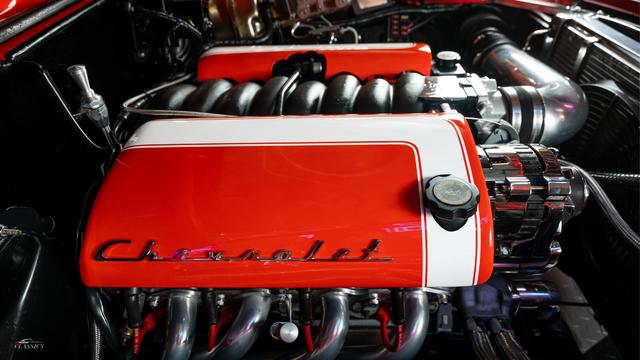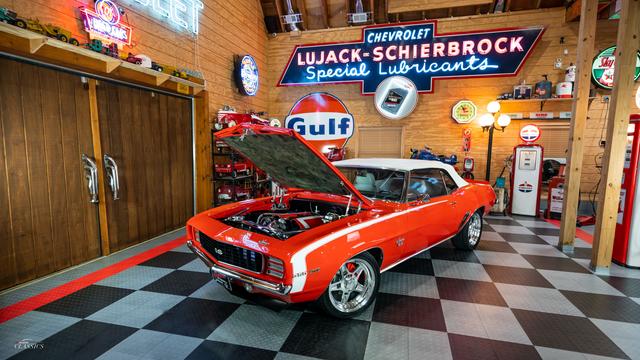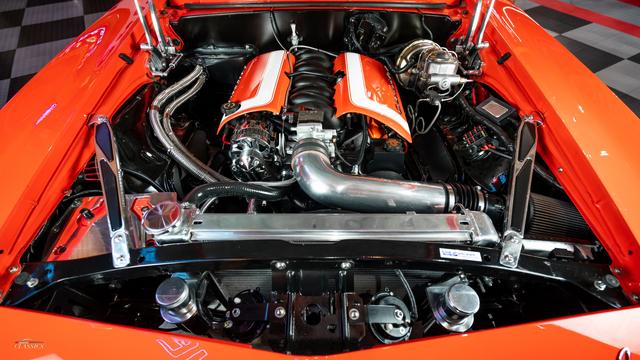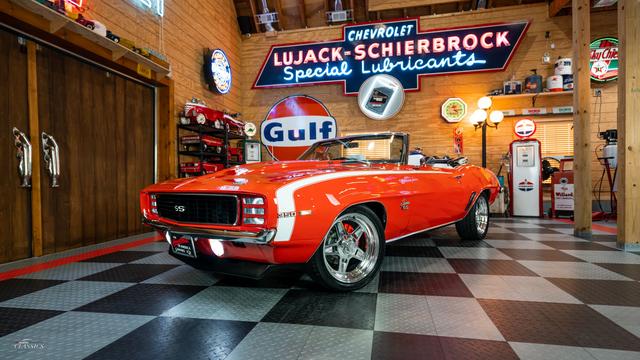 Beautiful Hugger Orange Basecoat-Clearcoat Paint with PAINTED White Stripes that shines like glass!

Fully wet sanded, buffed, compounded, polished for that ultimate car show ready appeal!

This car is equipped with brand new Billet 2 Piece Forged Weld Racing Wheels that have been polished to perfection and are wrapped in Bridgestone High Performance All Season tires

These wheels are a great addition for the classic car look and perform on the streets even better with these high performance tires! Grip the road tight through any corner, but still have the functionality for a smooth comfortable ride

NEW Baer Front Calipers combined with NEW drilled and slotted rotors

Calipers are paint matched Orange, while the lettering remains White to continue on the theme of Orange with a hint of White all throughout this beautiful Hugger Orange Camaro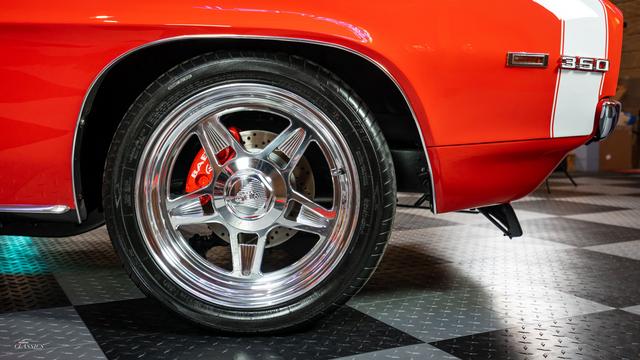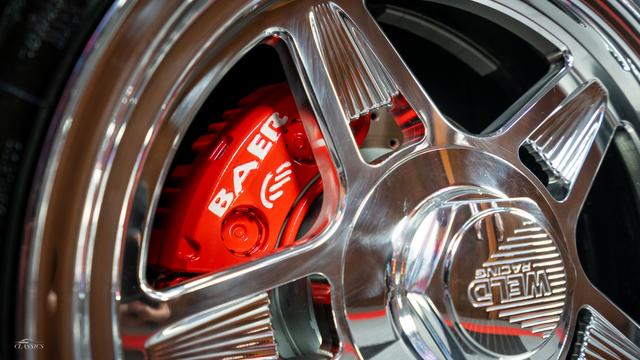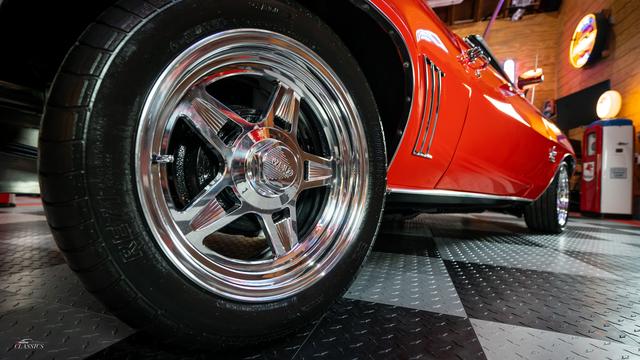 Equipped with the RS/SS Trim Package

New CORRECT Hideaway Front Lights
New CORRECT RS Lower Reverse Lights BELOW Rear Bumper/Valance
A lot of the times, you see Camaro's with only the RS Hideaway Front Lights, but this is a TRUE highly optioned RS/SS car!

RS Polished Billet Tail Lights
D80 Spoiler Package that features a Front Lower Spoiler and Rear Spoiler
Chrome Front and Rear Bumpers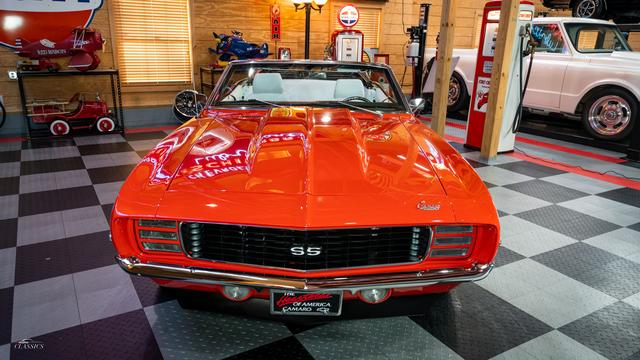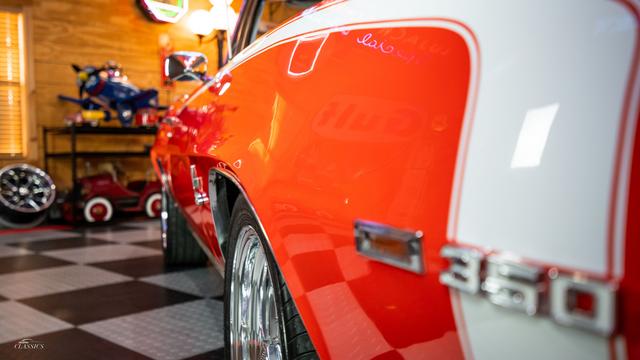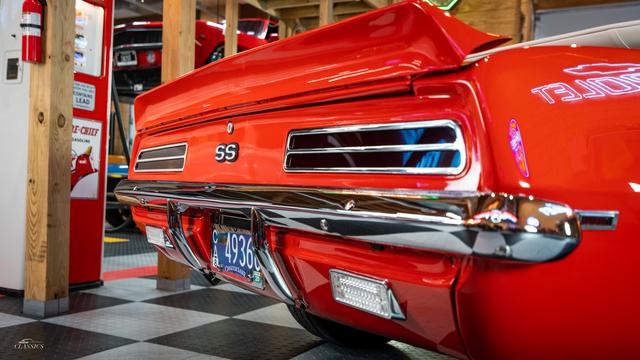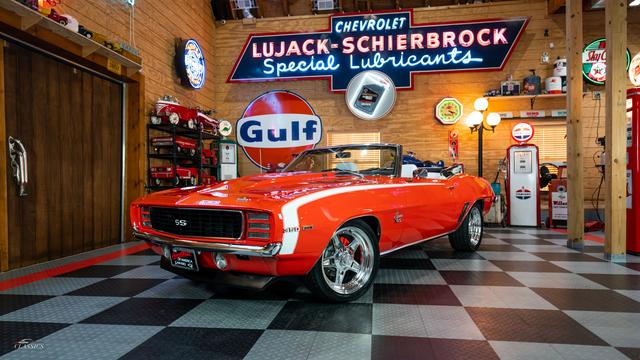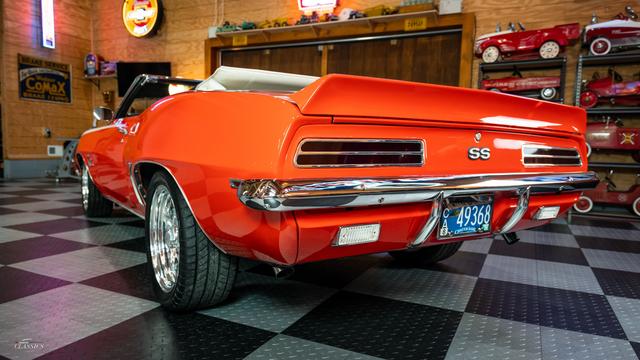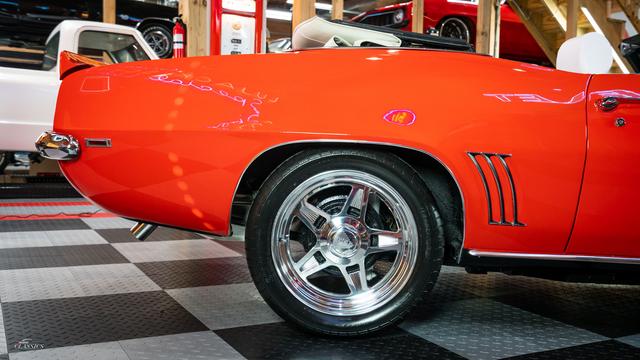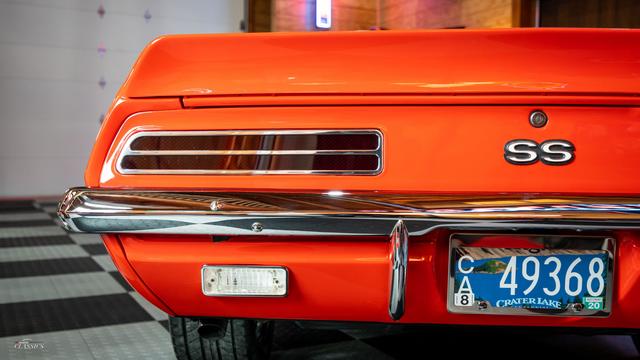 All New Polished Stain Steel, Chrome Trim, and Moldings

Wheel Arch Trim
Windshield Reveal Trim
Window Belt Trim
Quarter Glass Molding Trim
Rocker Panel Moldings
Rear Windshield Reveal Moldings
Quarter Moldings
Dual Side View Chrome Mirrors
Chrome Exterior Door Handles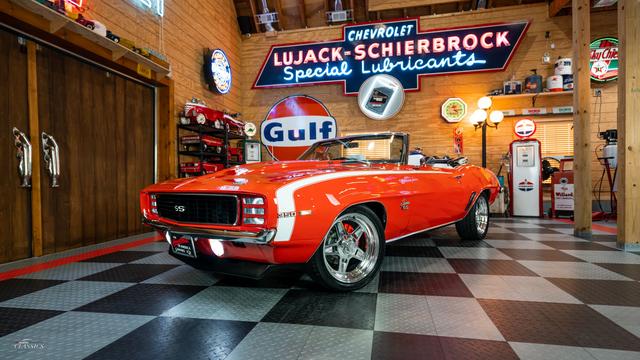 Detroit Speed Electric Rally Sport Headlight Doors opens and close with ease!
NEW Custom Smoked LED Headlights with Halo Ring Daytime Running Light!

One of the things that most of these cars lack is visibility at night. We just upgraded this car with a super high visibility and high power modern LED bulb and ballast kit!
The great things about these are not only are they super bright but they last a lifetime, require less power to function, and don't get nearly as hot as a standard halogen or sealed beam housing which is what a '69 Camaro came with from the factory.
Not only were the headlight bulbs upgraded, but the ENTIRE HOUSINGS were fully replaced with brand new reflective housings  lit by high power LED's for that modern Pro-Touring look and modern visibility on the roads!

LED Headlights are great! But what about those parking lights that sit below the bumper? We didn't stop there...

We removed those ugly, dim amber bulbs from the park/turn signal housings and put in custom White/Amber Switchback technology LED bulbs!
A switchback LED bulb is a custom type of light bulb that operates as one color under steady voltage and changes color under pulsating voltage.
When you turn the headlights on this car, you will now have what appears to be fog lights that actually match the same color as the headlights but beneath the bumper! However, hit the turn signal and it flashes amber so you can eliminate the need for a separate housing and still remain street legal.

We see a lot of people change out light bulbs on their daily drivers to white LED's but the problem is in most states you can't have flashing white lights so that's where a switchback style LED works best!!!

All Lights are Correctly Working from Headlights (High and Low Beam), Sidemarkers, Parking Lights, Turn Signals, Tail Lights, Brake Lights down to the Reverse Lights! How many 50 year old cars can you confidently say that about?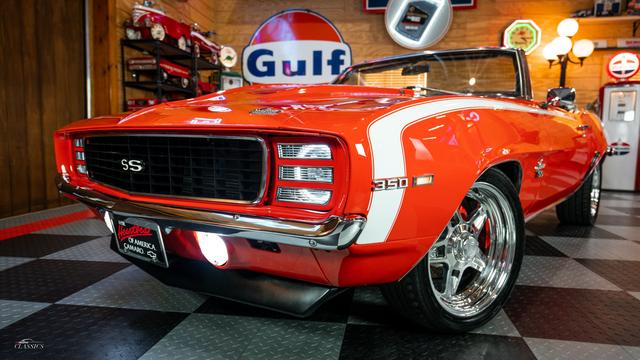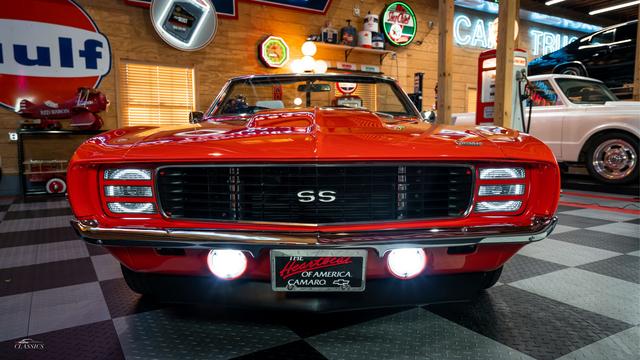 All New Weatherstrip Seals from Front to Back

Keeps any sort of weathering out from the inside of the car to protect this car's pristine condition

Amazing Body Fitment all throughout the whole car

Doors can be easily opened or closed with no rubbing issues or struggle

All Glass is in Excellent Shape so you can see anything while driving crystal clear
2" Factory Style Cowl Induction Hood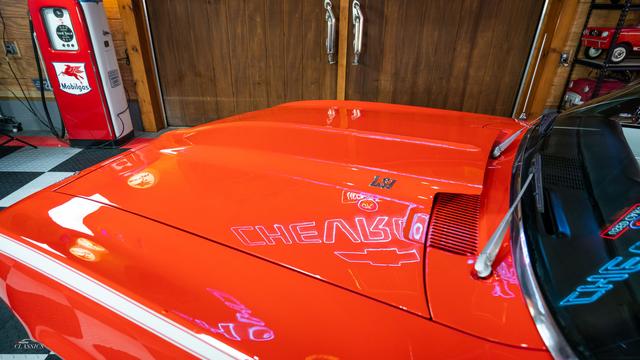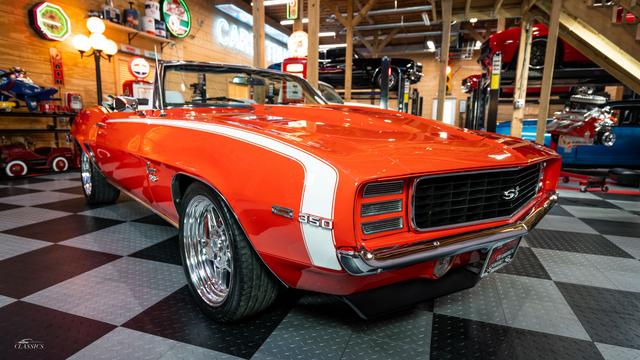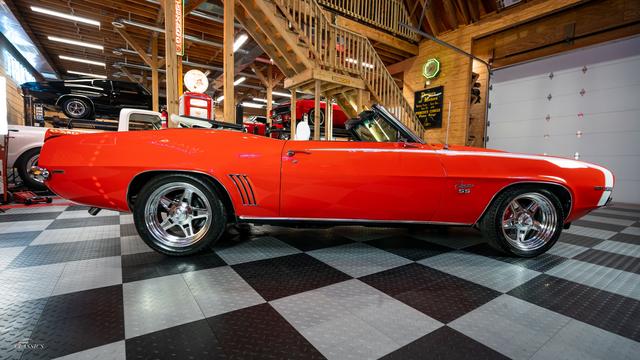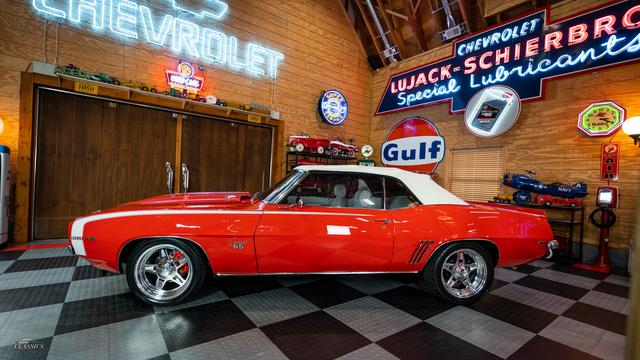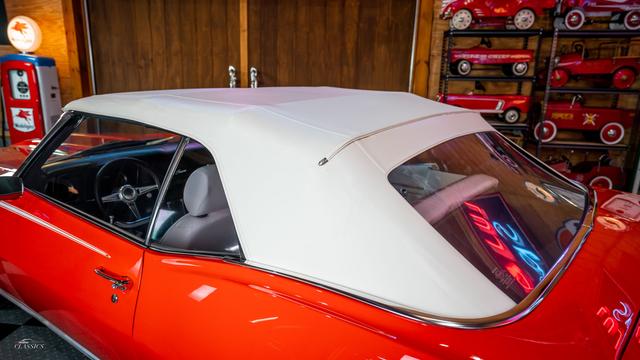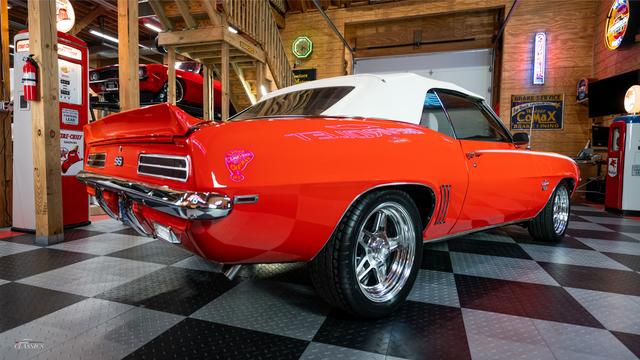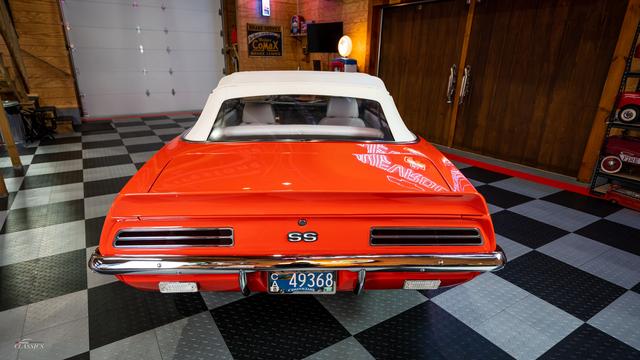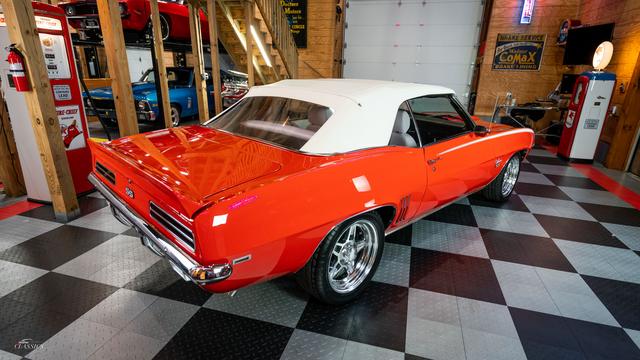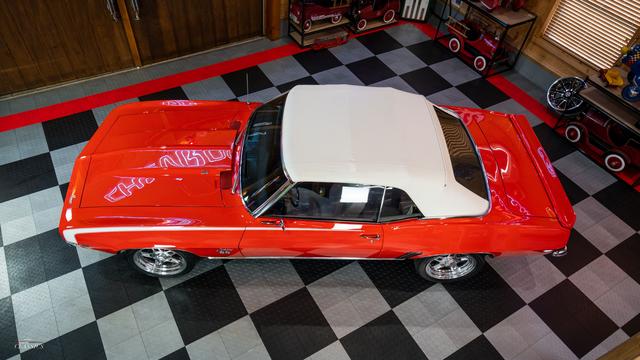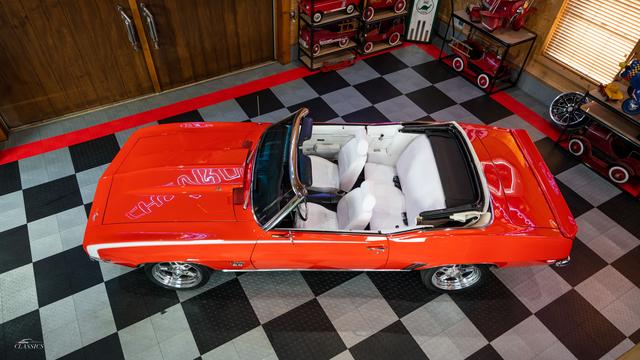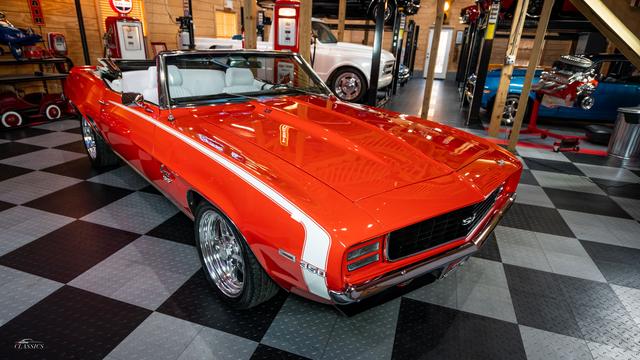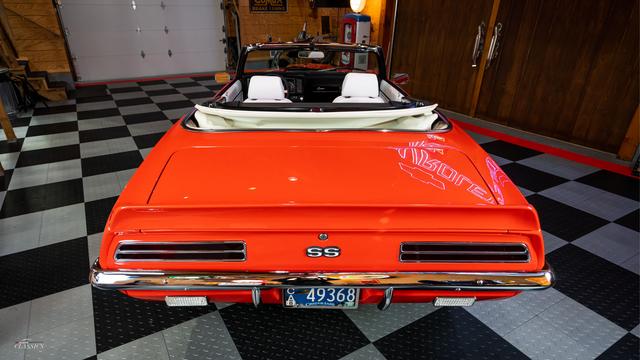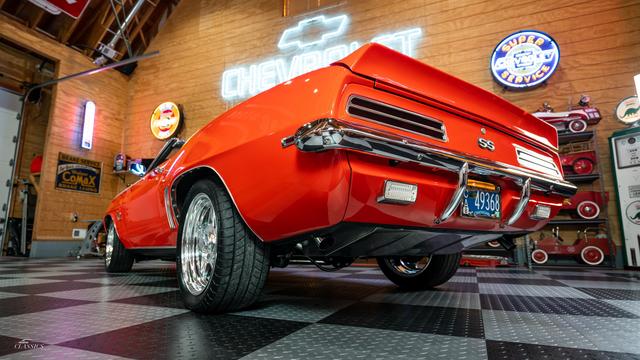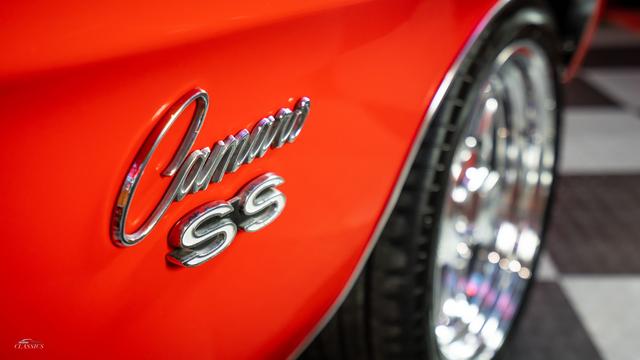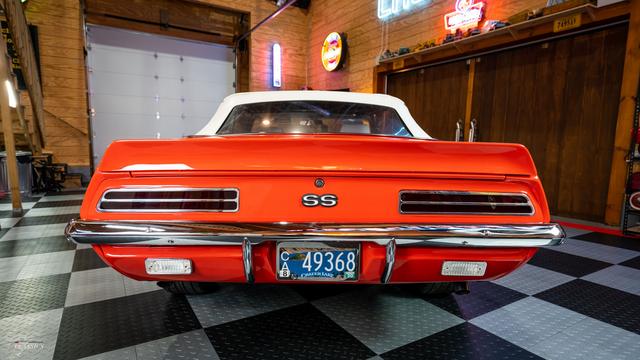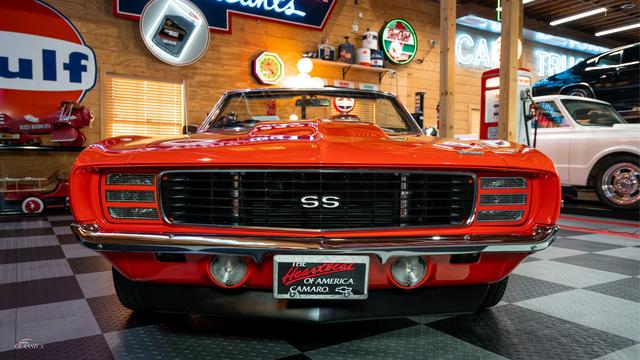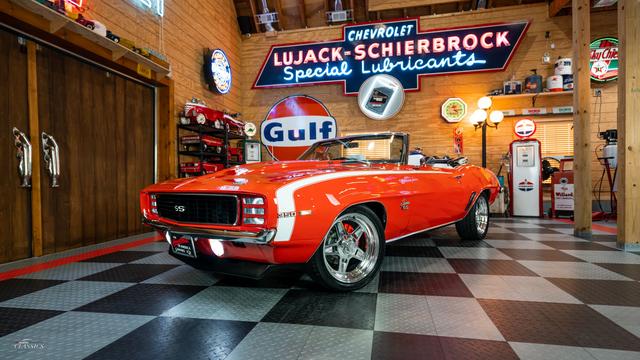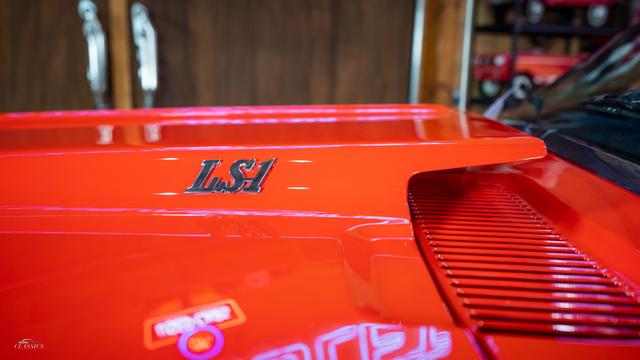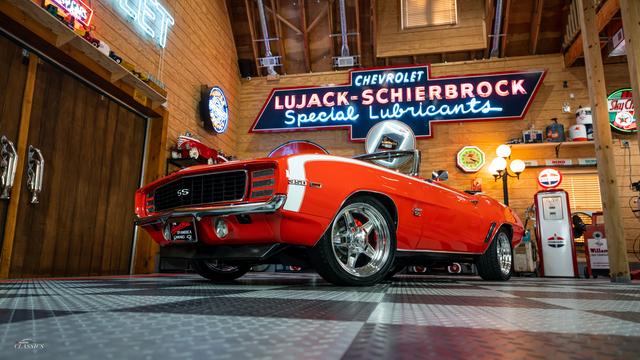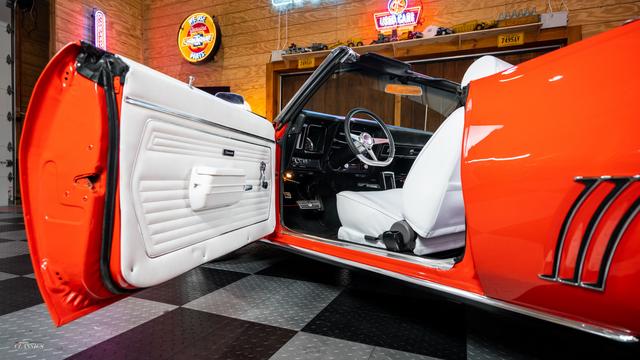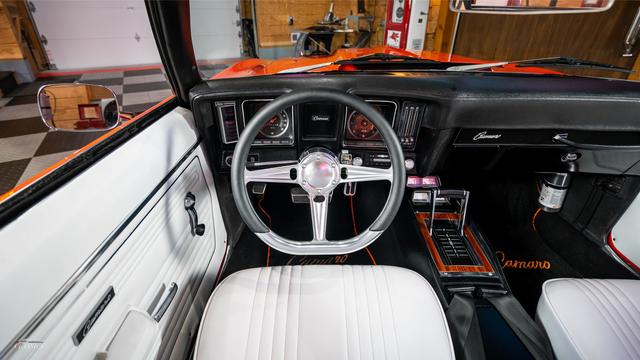 Beautiful and Mint Procar by SCAT White Vinyl Interior

Front Seats and Rear Seats have been refurbished to completely look as original as possible yet still keep you comfortable when you're out and about through the town
Door cards were also made custom to match the ALL WHITE interior appeal
Front, Rear Seats and Door Cards are all in Like-New Condition!
Seats can be adjusted forwards, backwards, or reclines with ease!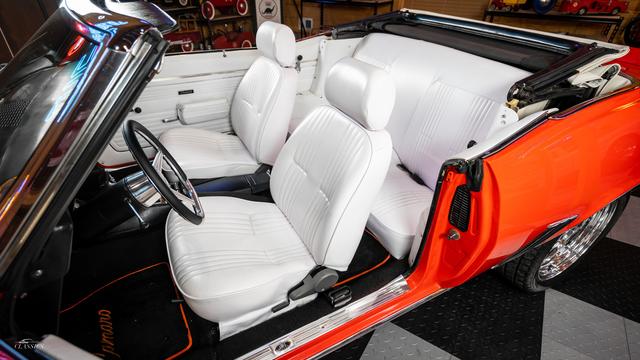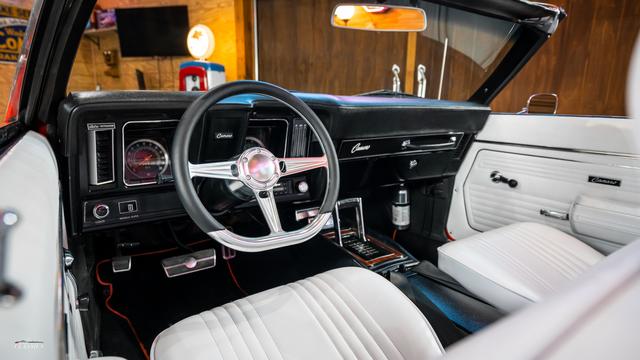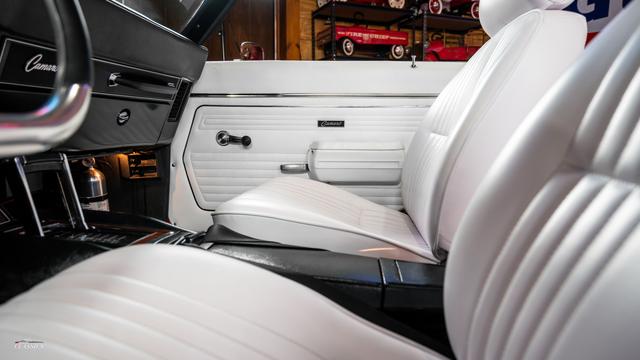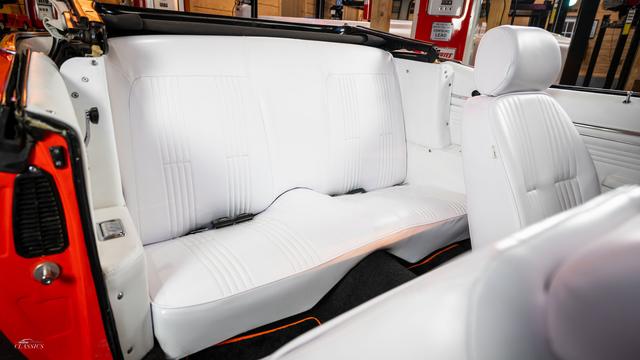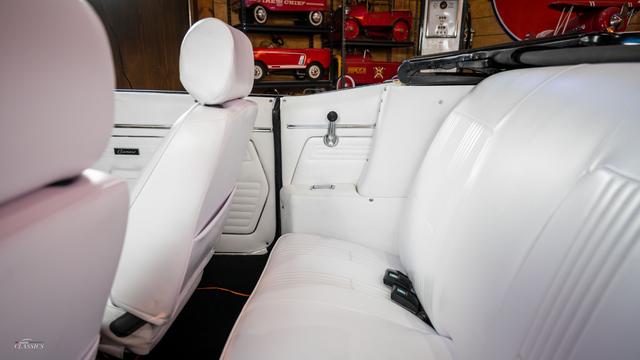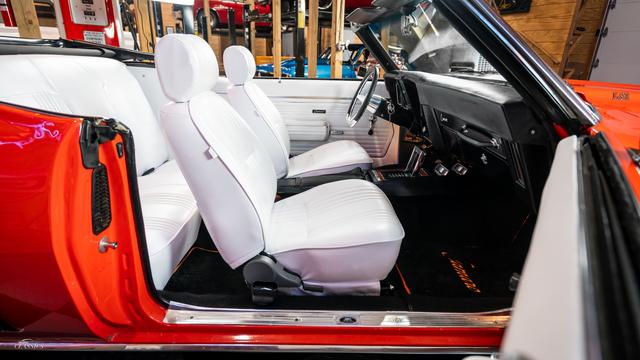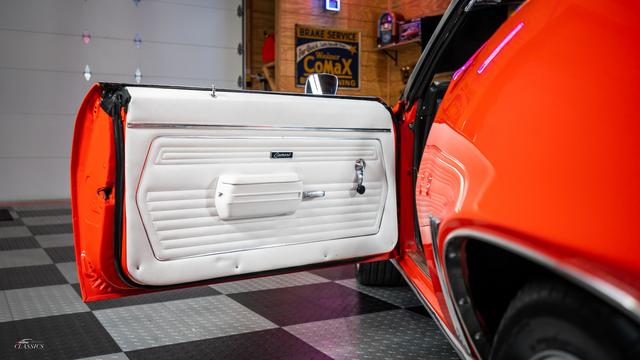 Factory Style Speedometer and Tachometer that has been converted for the modern day LS Motor and Electronic Transmission application
Comfortable Leather Wrapped D-Shaped Billet Steering Wheel
Factory Styled Automatic Horseshoe Shifter that has been retained to keep the factory appeal with the 4-Speed modern transmission with overdrive
Factory Center Console Rally Gauge Package in Mint Condition!
Custom Front and Rear Floor Mats with Embroidered Orange 'Camaro' and Trim that Matches the Exterior Paint Color
Brand New Dash Pad
Upgraded Retro Sound Factory Style Radio with AUX

Upgraded Speakers that sound phenomenal. Even better when you can enjoy playing your own music and cruise to your tunes!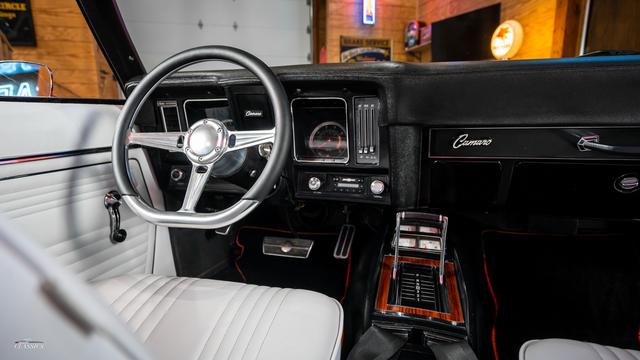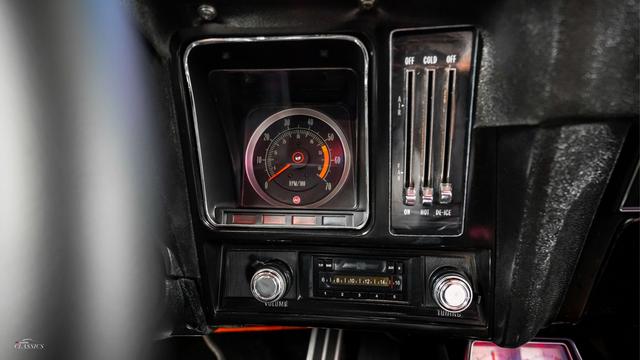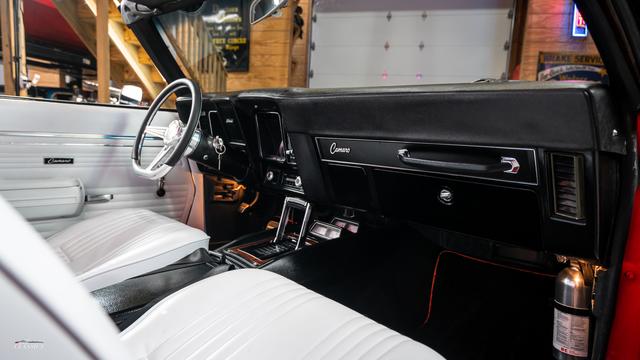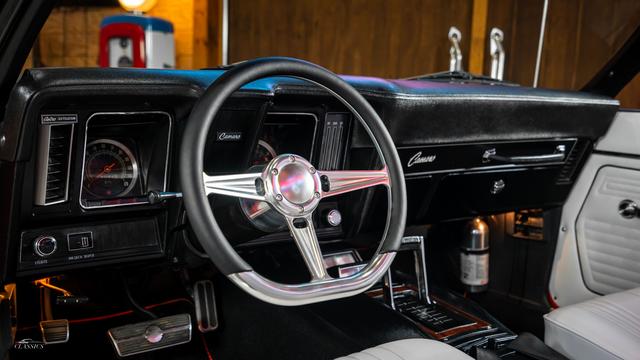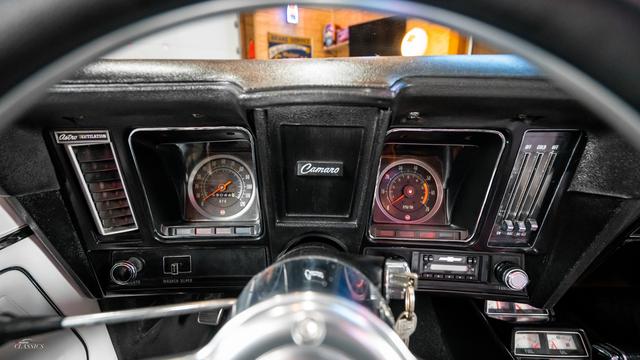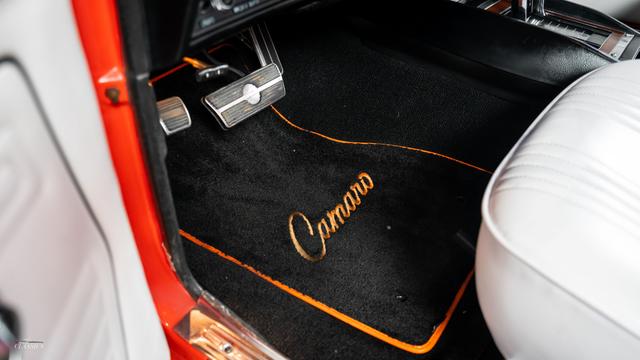 Windows Rolls Up and Down With Ease
Blasts Heat and has a Functioning Defrosters for those Early Morning Start-Ups right before you head out!
Convertible Top is in great condition!

No rips, tears, or any signs of wear especially on the inside. No issues when the convertible top is up or down!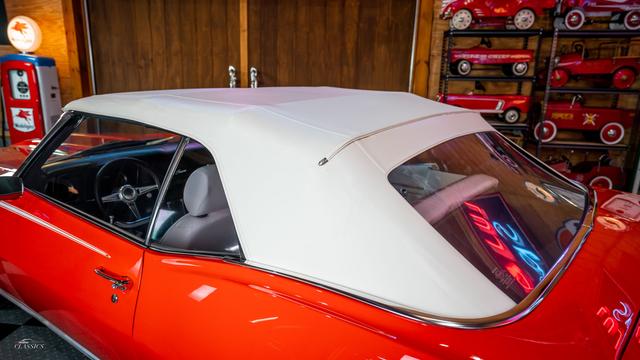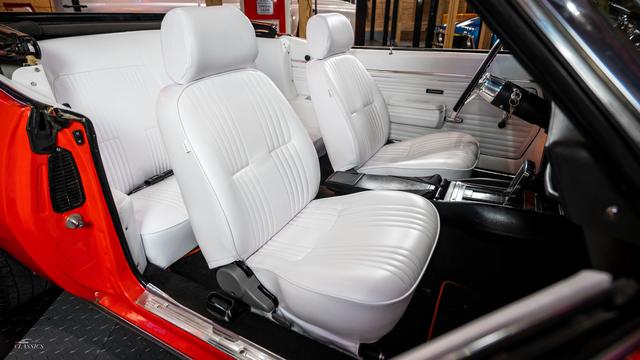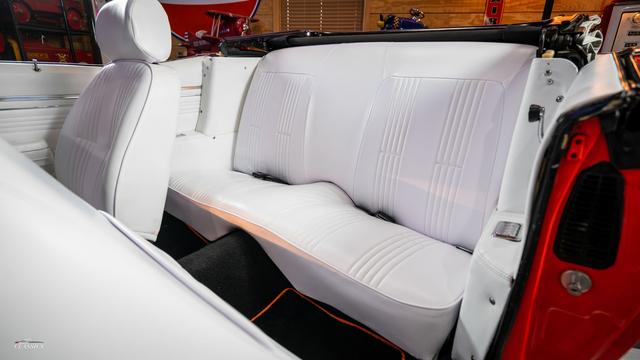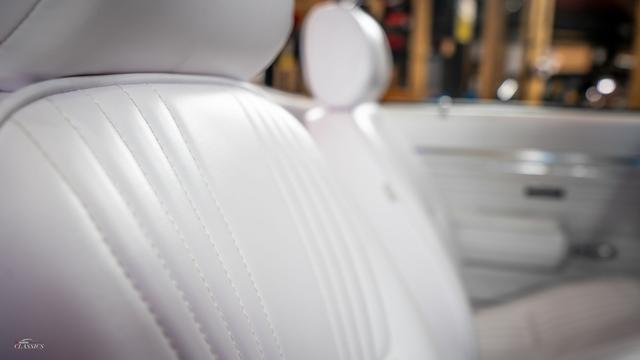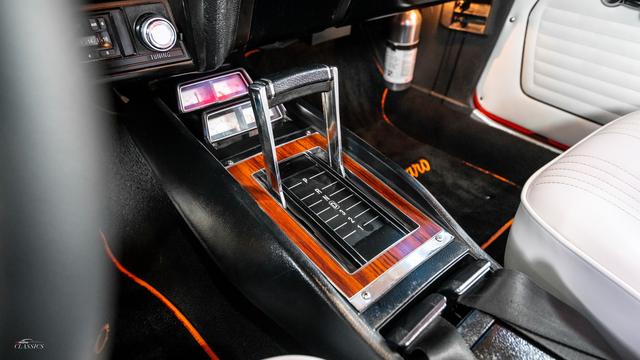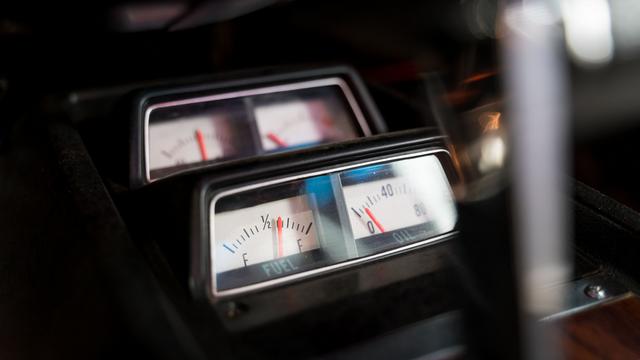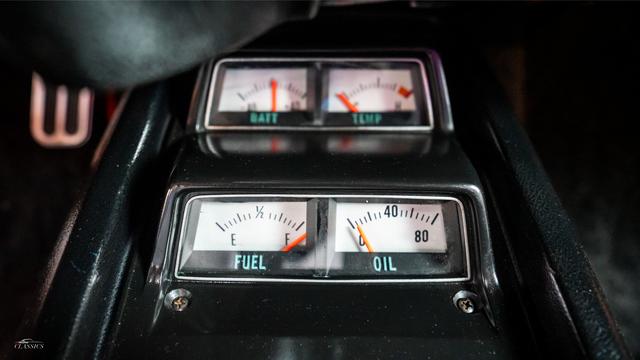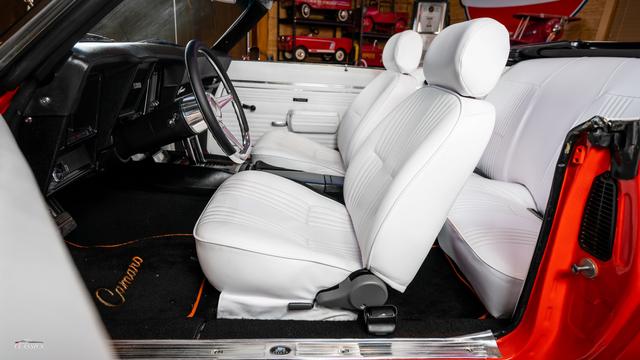 Trunk is in excellent condition with a paint match lid, and correct splattered paint with spare tire cover

Another great addition to this well-kept trunk is the extremely rare Camaro Convertible Cocktail Shaker Vibration Dampener. These were factory installed at all four corners of any First Gen Camaro Convertible as counter weights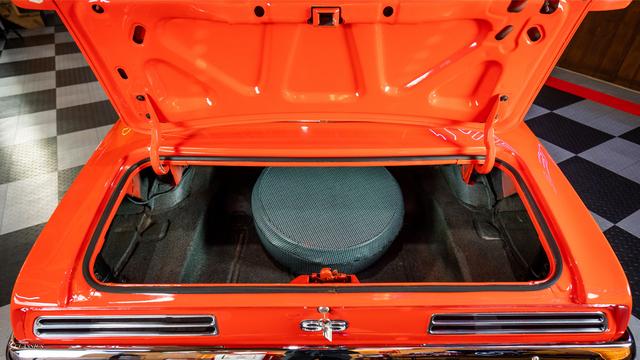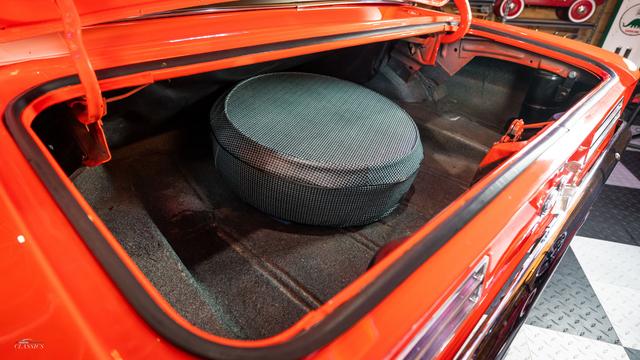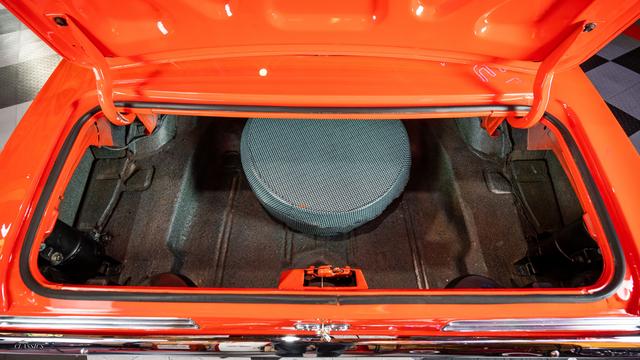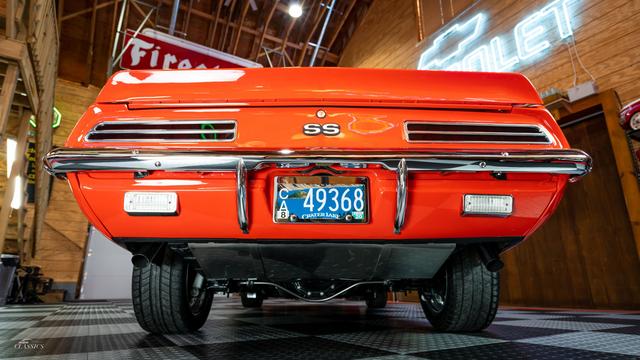 Fully Detailed Underbody from Front to Back that has been completely refurbished with new parts and accessories
Energy Suspension with Polyurethane Bushings that delivers a smooth and comfortable ride
Heidt's Hot Rod Dropped Tall Spindles
Brand new D&R Springs and Tie Rods all throughout
Full Length High Performance Headers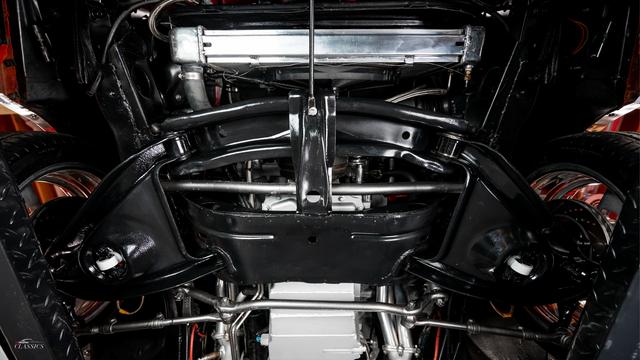 As previously mentioned, this car is equipped with NEW Baer Front Calipers combined with NEW drilled and slotted rotors

Color Matched Orange with White Lettering
Combine this with power braking, this car will have absolutely no issue braking in any situation!
New Stainless Steel Braided Brake Hoses

Power Steering that allows you turn this car with ease

Whether it's a spirited drive through the corners or steering into a parking space, this car's power steering makes it a breeze!

Upgraded Polyurethane Engine Mounts
As previously mentioned, this car is equipped with a 4L60E 4 Speed Automatic Transmission with Overdrive

Drive this car comfortably wherever and whenever without any issues, a very reliable transmission!
Cruise around town with the Overdrive feature on this transmission, or put your foot to the floor and take off!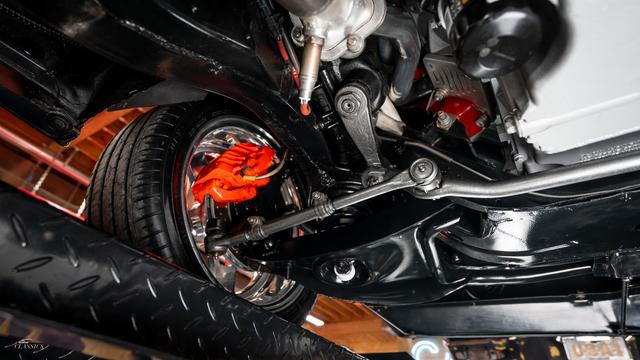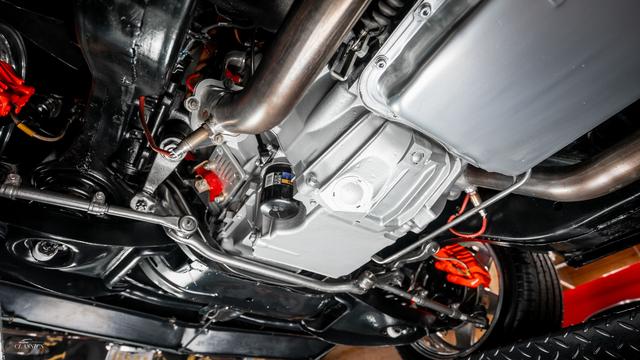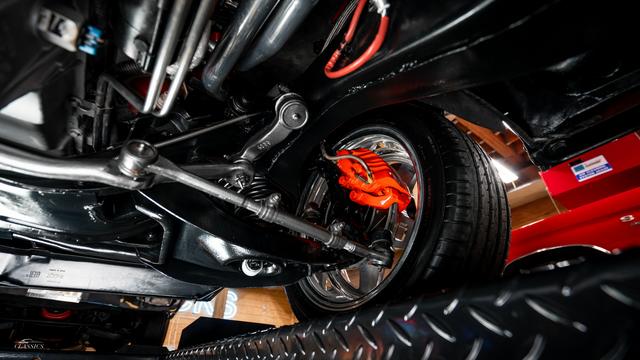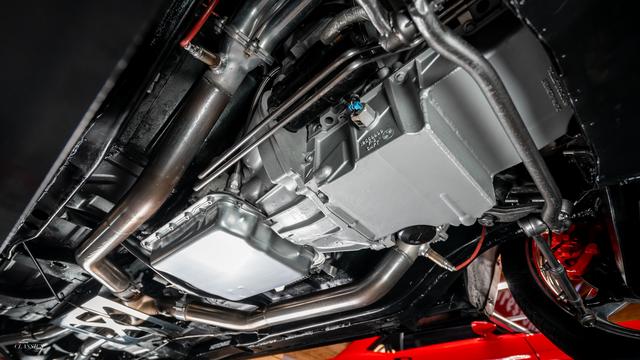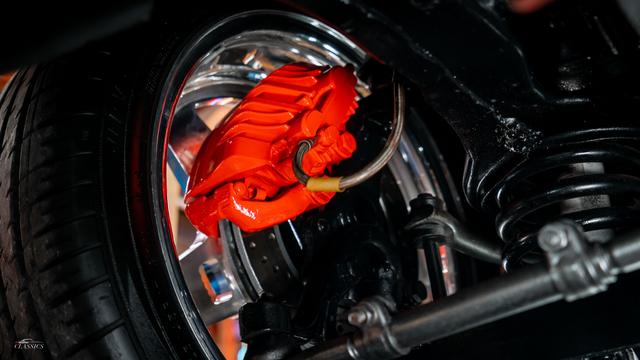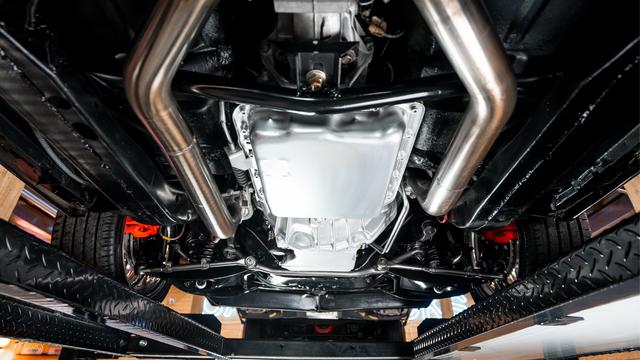 Hotchkiss Frame Connectors

These tie in the front and rear suspension which has been known to be a factory flaw for the F-Bodies
Increases Chassis Stiffness for improved handling
Resists the twisting of the chassis

No concerns about this LS1 Torque Monster engine twisting this chassis!

Hotchkiss Cross Frame Support for added rigidity
Beautifully Painted Underbody that anyone would be happy to put mirrors underneath at any car show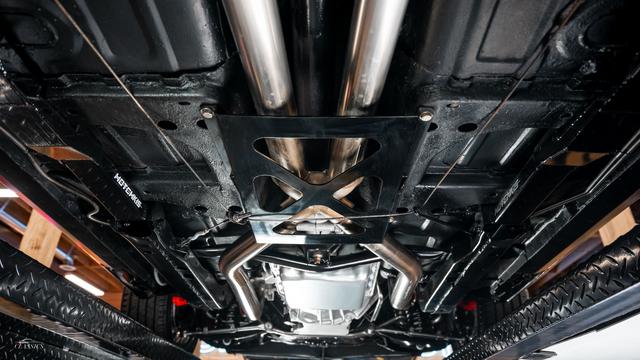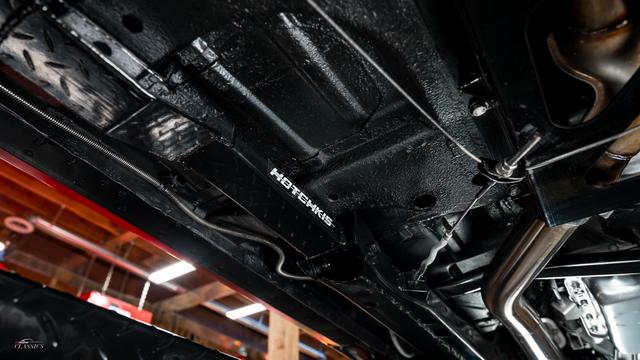 12 Bolt Posi (Limited Slip) Rear End that sends power to BOTH wheels especially during a smokey burnout just like any Classic American Muscle Car should!
Full Magnaflow 2.5" Stainless Steel Exhaust that allows you to hear how that LS1 roars
Energy Suspension Rear Sway Bar helps keep this car stable when cornering
KYB Front and Rear Gas Shocks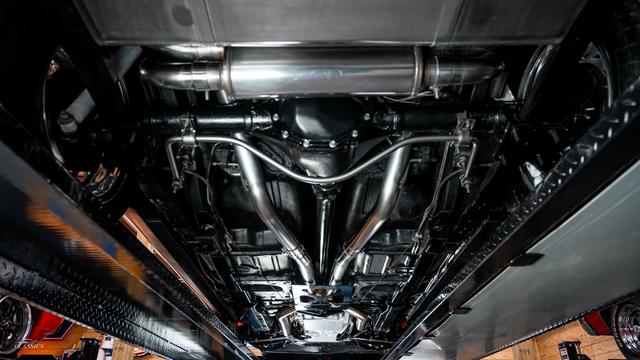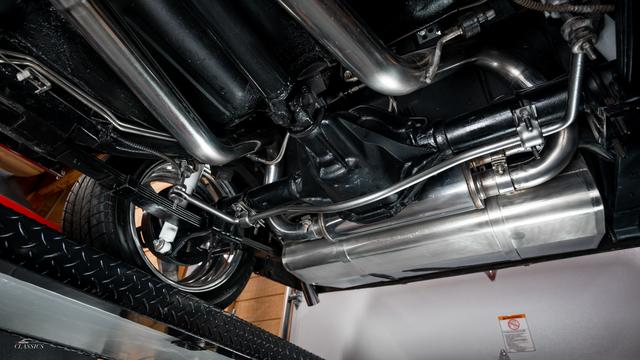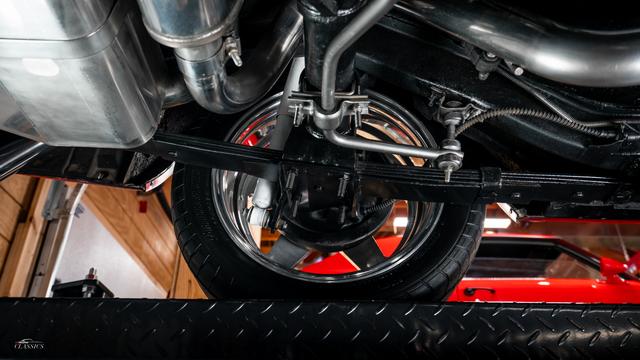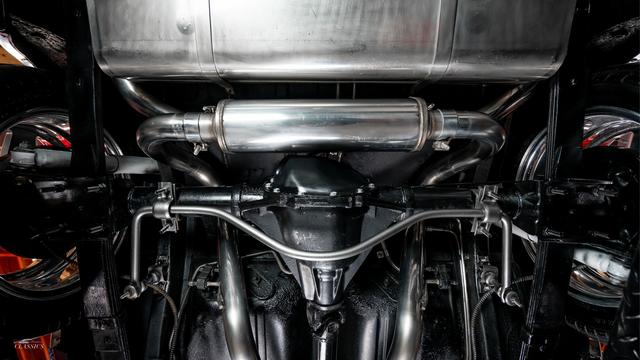 Fully Functional Parking Brakes
Rock  Valley Stainless Steel Gas Tank that supplies this LS1 with the proper amount of fuel at all times!
Tube Tech Custom Stainless Steel Lines
Walbro High Flow Electric Pump inside the Tank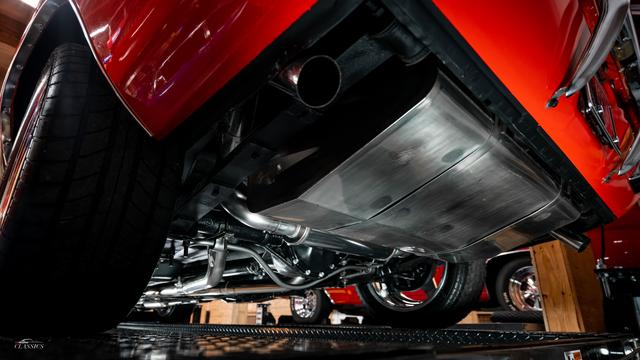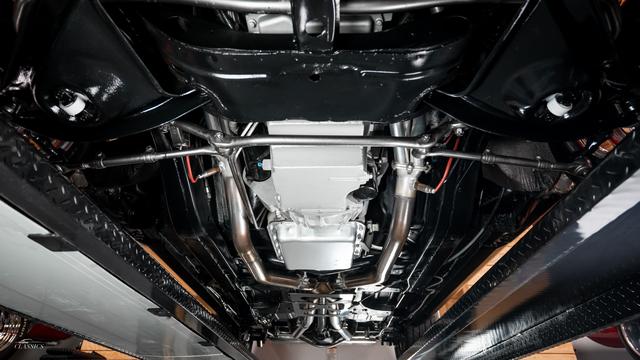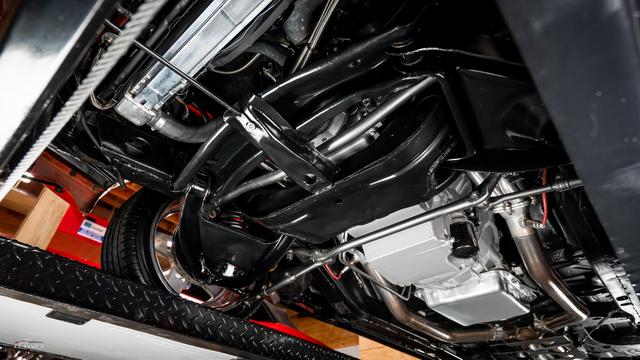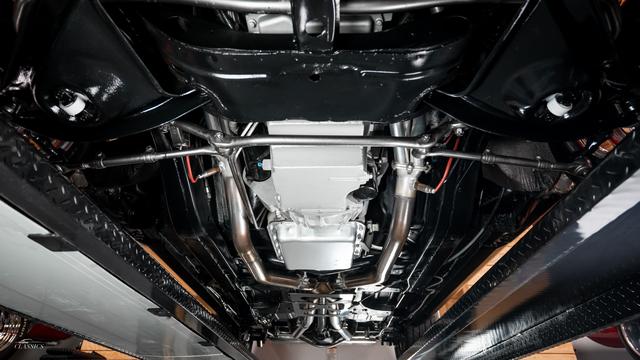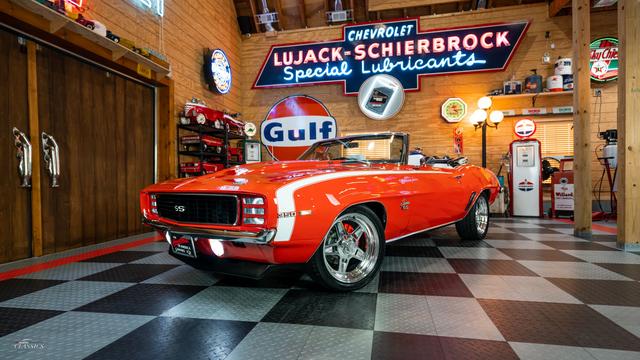 Overall, this 1969 Camaro SS LS1 Restomod can be presented as such a stunning car at first glance. A car of this caliber is extremely hard to find, but we at No Reserve Classics are excited to put our finishing touches on this car with a full detail to make this car shine even more, a few goodies on the inside and out, and a bunch more great additions. You'll be amazed on how far we'll go in order to bring the Perfect Camaro to your driveway! It's our goal to give show-stopping looks combined with comfortability and performance in every car that leaves our very own showroom.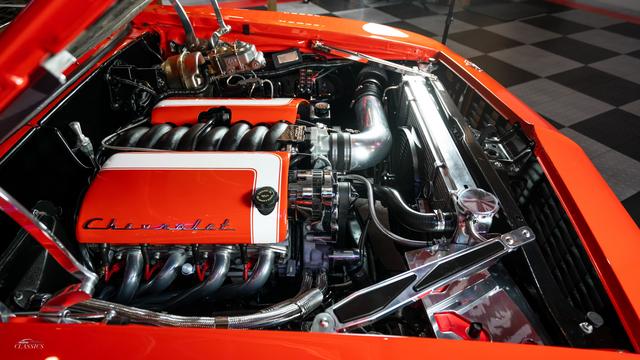 Although this car looks absolutely stunning, please understand that this still is a 50 year old car with imperfection. As with all classic cars, it will need odds and ends down the road as you begin to drive it more often but still nonetheless an iconic and one of the most sought-after classics that you will be very proud to own and very happy to drive in!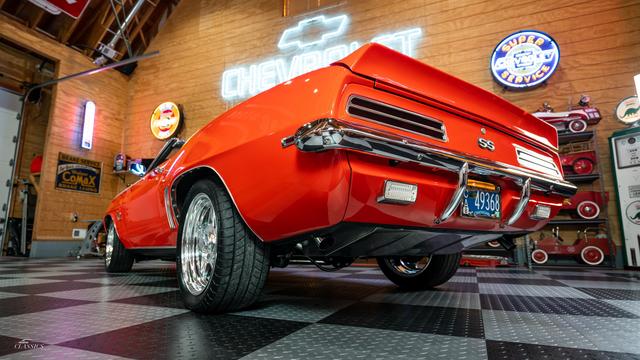 Related Listings
AVAILABLE

$69,995

Sold

$44,050

Sold

$35,150

Sold

$37,550

Sold

$41,300

Sold

$50,000

Sold

$49,150

Sold

$35,600

Sold

$35,700