1969 Chevrolet Camaro SS 396 Tribute Project Coupe
The Chevrolet Camaro is an automobile manufactured by General Motors under the Chevrolet brand, classified as a pony car, and some versions also as a muscle car. It went on sale on September 29, 1966, for the 1967 model year and was designed as a competing model to the Ford Mustang. The car shared its platform and major components with the Pontiac Firebird, also introduced for 1967.
First-generation Camaro debuted on a new rear-wheel drive GM F-body platform and would be available as a 2-door, 2+2 seating, coupe or convertible with a choice of 250ci inline-6 and 302ci, 307ci, 327ci, 350ci, or 396ci V8 powerplants. The Camaro was touted as having the same conventional rear-drive, front-engine configuration as Mustang and Chevy Nova. In addition, the Camaro was designed to fit a variety of power plants in the engine bay. The first-generation Camaro would last until the 1969 model year.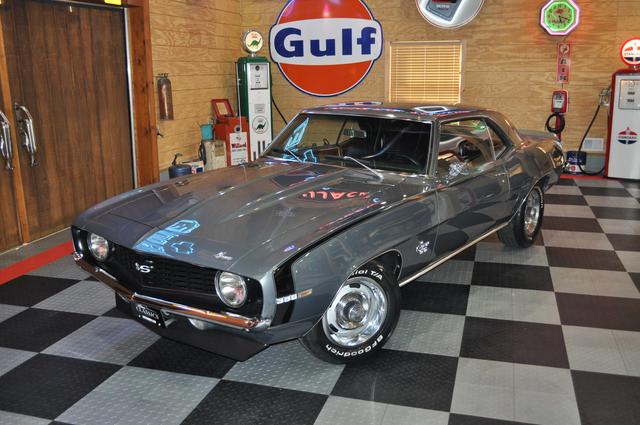 No Reserve Classics is proud to present this 1969 Camaro for sale! If you're the kind of guy or gal that likes tinkering on cars and would enjoy a classic that is simple the work on, then say no more! This 396 Big Block Chevy powered Camaro is a complete running and driving car with lots of fresh components to get you started.  It starts up, runs, steers, and stops with ease and is the perfect candidate for light restoration work or a foundation for an all out pro-touring car! It's strong TH400 Automatic Transmission sends the Big Block power to the ground with its heavy duty Ford 9″ Rear. It is painted basecoat-clearcoat Gray with a Black Bucket Seat Interior. Decked out as an SS 396 with an overall factory appeal, we are sure this car can please anyone and still turn heads anywhere you go.
Keep reading to see why this Camaro may be the perfect car for you.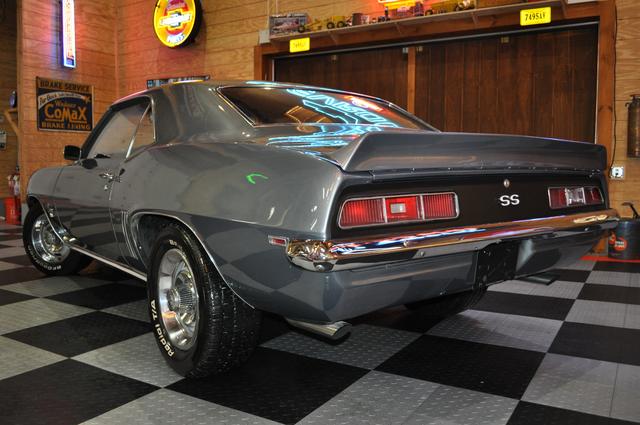 To briefly sum this car up, this 69 Camaro is a great bang for your buck. It is a perfect foundation for anyone looking to drive a car as they work on it or take it to the next level and craft a pro-touring build. This is a great opportunity for any kind of person to own a car that they've always dreamed of! With that being said, it is a 50 year old car that seems to have been extensively driven on the east coast. It's seen road salt and inclement weather as any car back in the day would have. It has some rock chips, bubbles, and rust areas that could use some correction but nonetheless is a very solid and straight car. We encourage any potential buyers out there to please give us a call at (732) 277-9021 or write to us at info@noreserveclassics.com with any questions or concerns. Thank you for your interest!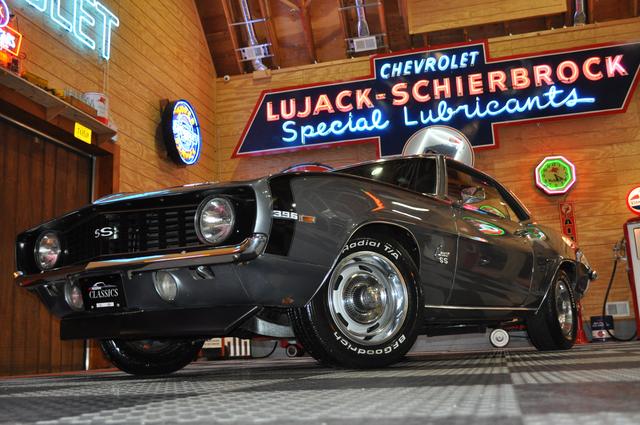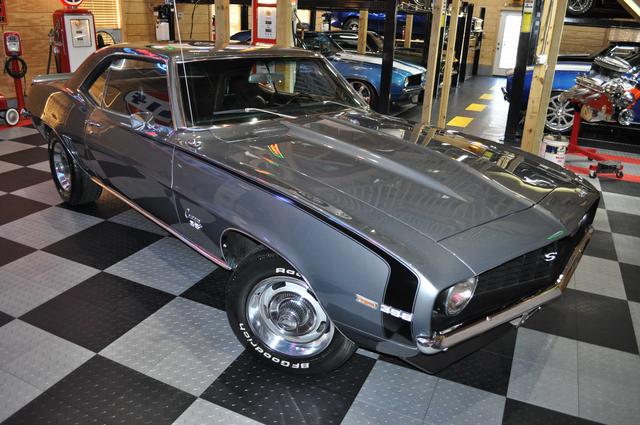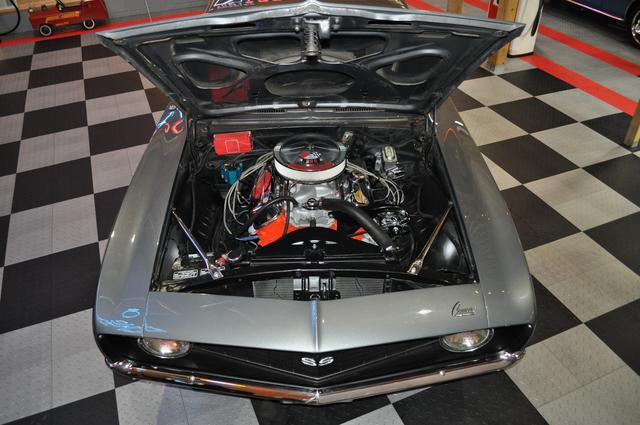 Freshly detailed engine compartment with lots of new accessories and appearance options
396 Big Block Chevy that has underwent a light rebuild and starts right up and runs great! At idle, this engine produces 60 psi of Oil Pressure which tells you right off the bat this is engine is running healthy.
This car features a classic concrete drivetrain combination between the Big Block Chevy and TH400 Automatic Transmission that gets you right in gear!
CDI (Capacitive Discharge Ignition) System with a high performance ignition coil and Pro Comp Billet Distributor, this engine fires without any hesitation!
Brand New Chrome Valve Covers and Moroso Perm-Align Valve Cover Gaskets
Weiand Stealth Air Strike (Air Gap Style) Aluminum Dual Plane Intake Manifold that allows this engine to produce excellent mid-range torque and horsepower
Holley 3310 750 CFM Vacuum Secondary Carburetor with Manual Choke that fires this engine right up and has excellent crisp throttle response!
Chrome Carburetor Fuel Line
Chrome High Output Mechanical Fuel Pump
Brand New Polished Short-Style High Volume Water Pump
Brand New Tuff Stuff Chrome Power Steering Pump
Brand New High Output Chrome Alternator, Fan, and Pulley
Chrome Radiator Cap
Chrome Fender Braces
Braided Accel Spark Plug Wires
Dressed with L78 Air Cleaner Decals
Brand New Air Cleaner Filter Element
New Upper Radiator Hose
Brand New Chrome Valve Cover Breather
Gear Reduction Style Starter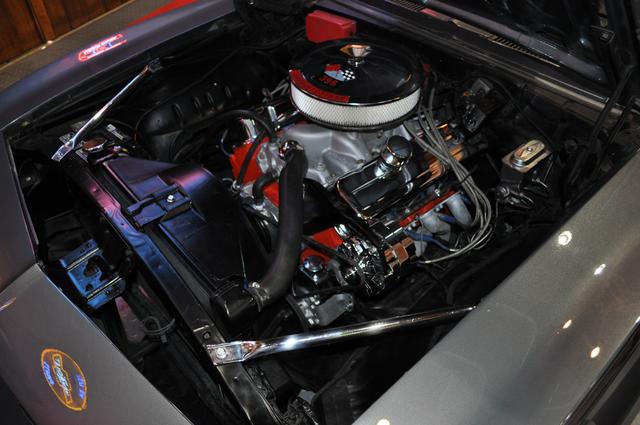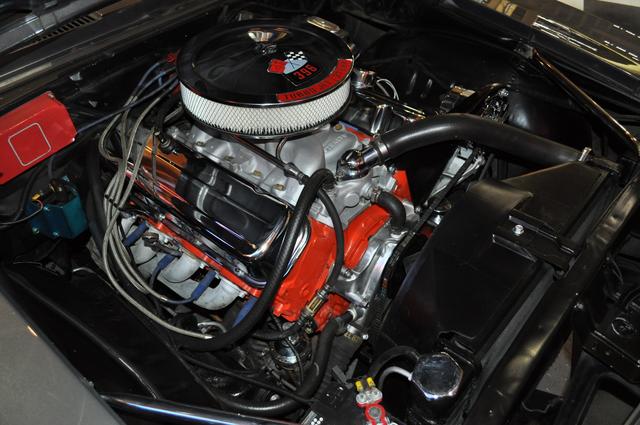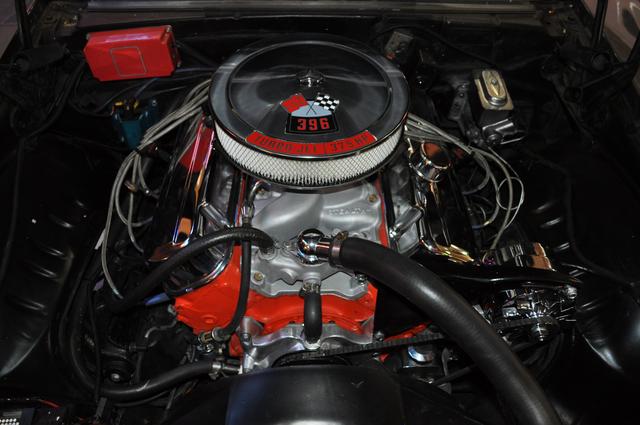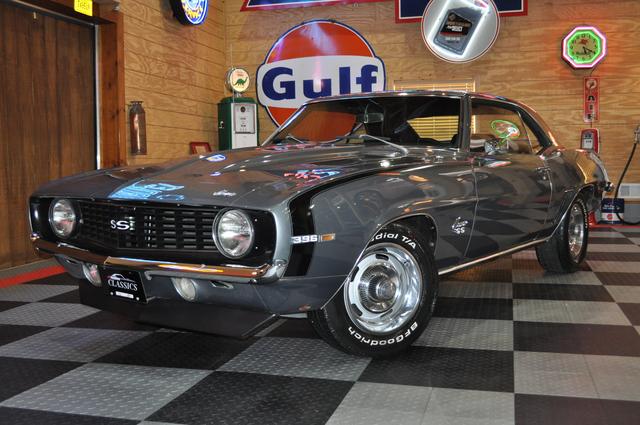 Freshly detailed exterior that makes this car shine like new. All paint work was detailed with a full buff, compound, polish, and wax! The chrome and trim underwent hand polishing to bring out the beautiful luster that classic cars are known for.
Basecoat/Clearcoat Gray Paint that shines beautiful and is an excellent color choice for this car.
SS 396 Trim
Super straight fender and door gaps
These doors open and close nice and smoothly and require very little effort to be shut! Something rare in a 50 year old car!

You'd be surprised how many classic cars there are with improperly adjusted doors that require you to slam them in order to get them to close. Let alone most of the time they won't even line up properly!

Windows roll up and down with ease and line up well
New 396 Front Fender Emblems
New SS Front Grille Emblem
Blacked-Out Big Block Tail Panel - This was done from the factory to separate the Big Blocks from the Small Blocks! With this car you can proudly show that you are indeed Big Block equipped!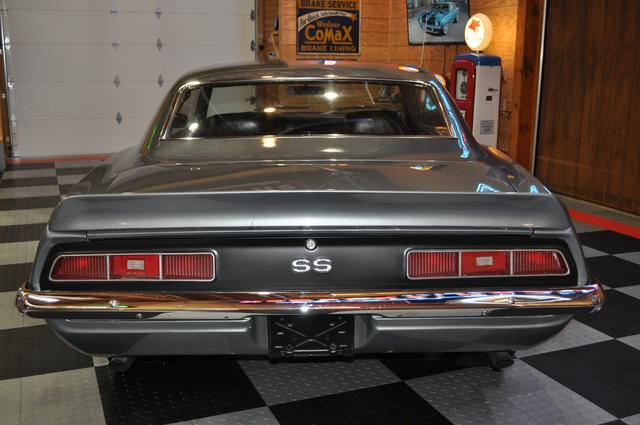 2" Steel Cowl Induction Hood with Painted Underside!

Most body/paint shops only paint the exterior section of the hood and leave the underside in primer. Moisture likes to collect inside the pockets of the hood and penetrates right through the primer leaving you with corrosion.
This hood in particular was painted underneath to try and prevent that as much as possible.

Brand New SS Black Hockey Stripe

Decal just like the factory!

Iconic 15" GM Rally Wheels with BFGoodrich Radial T/A White-Lettered Tires that gives this car that popular factory appearance that everyone loves!
All trim around the car is present and was just hand polished to bring out the nice luster this car has
Brand New Rocker Panel Moldings
Brand New Front Grille
Brand New Polished Wheel Well Trim on all four corners
D80 Spoiler Package with Brand New Front Spoiler
Brand New Chrome Front Bumper
Headlights (High and Low Beam) - Fully Working!
Turn Signals on all four corners - Fully Working!
Sidemarker Lights - Fully Working!
Brake Lights - Fully Working!
Front and Rear Parking Lights - Fully Working!
Hazard Lights - Fully Working!
How many 1969 Camaro's can you find for an affordable price like this with as many working components as this particular one? Not many at all!!!
Even the windshield wipers are still functional!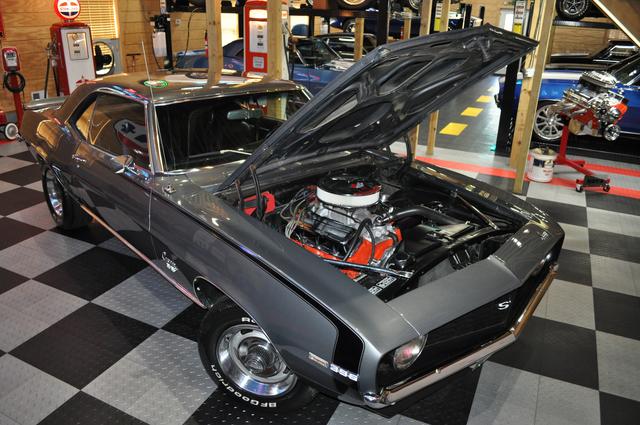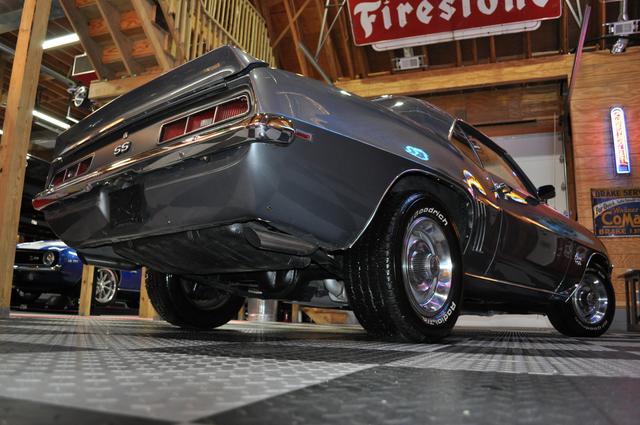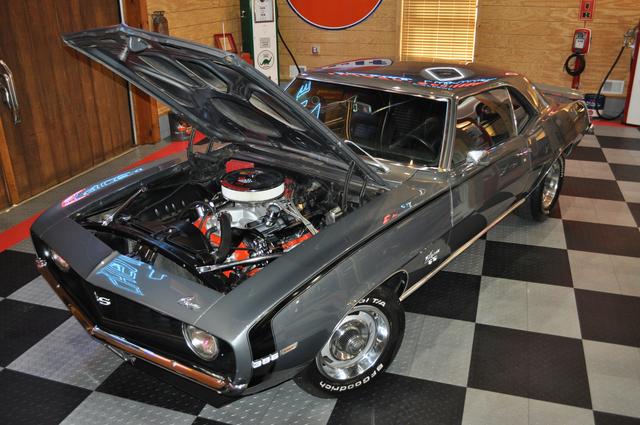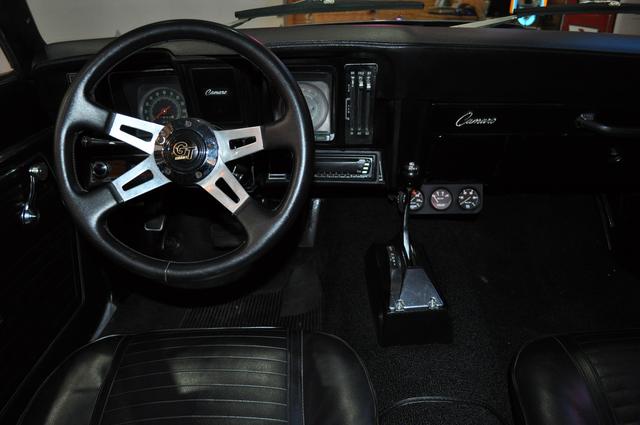 Freshly detailed interior that is very functional and clean with many new and original components
Black Bucket Seats with headrests that are super comfortable

One of our employees is 6'5" and has said this car is one of the few that he did not feel crammed when sitting in the driver's seat. It fits super well and everything is in reach.

Door panels are all present with all trim, door handles, and window cranks
All dash gauge lights are working as well as the dome light and courtesy light switches!
Brand New OER - GM Restoration Parts Certified - Black Factory Style 2-Piece 80/20 Loop Carpeting
Gauge Cluster Set with Oil Pressure, Coolant Temperature, and Voltage gauges were installed and are fully working. Even the lights work when the headlights are powered on!
Working Emergency/Parking Brake
Body by Fisher Aluminum Carpet Sill Plates
Working High Beam Floor Dimmer Switch
As previously mentioned, the windows on this car roll up and down with ease!
Hurst Pro-Matic 2 Ratchet-Gate Style Shifter with shift indicator!
JVC AM/FM Radio that works phenomenal and sounds great with its rear deck speakers!
Headliner looks to have been replaced and was done exceptionally well! (see photo below)
All sun visor and rear view mirror equipment still in place!
Brand new Black Vinyl Dash Pad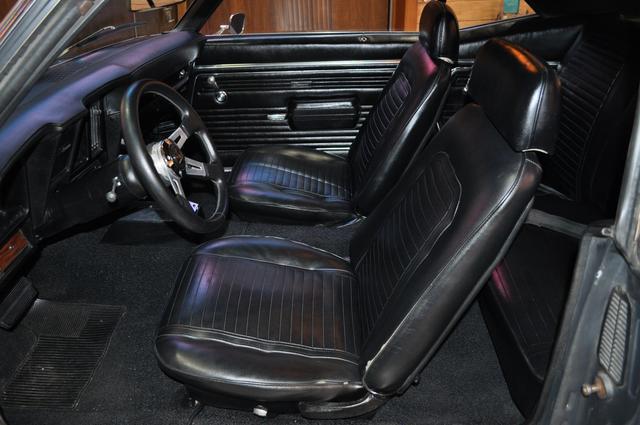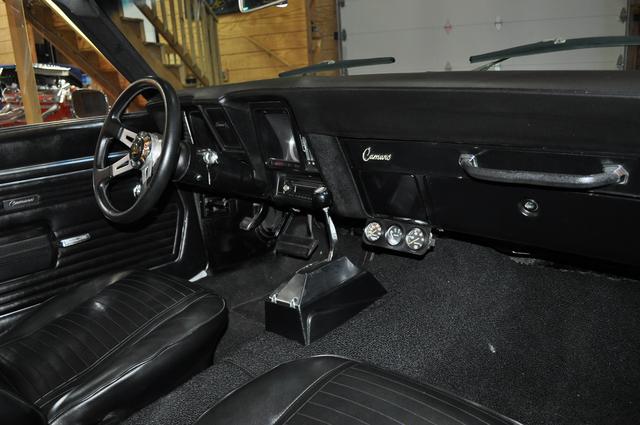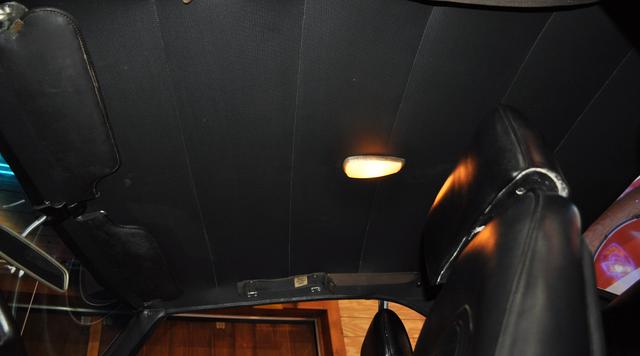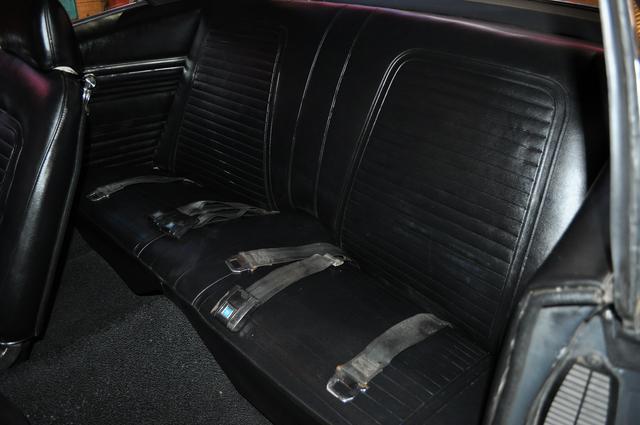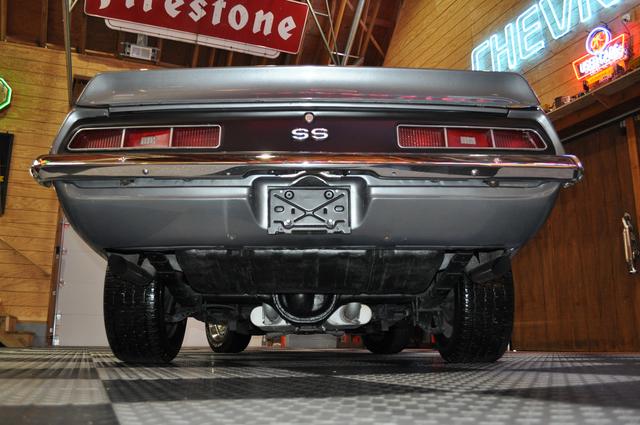 Fully detailed and undercoated underbody that looks stunning and is super clean
Full Length High Performance Exhaust Headers that lead into a ground thumping Flowmaster 2.5" Dual Exhaust System with an H-Pipe Crossover. This setup lets this 396 Big Block Chevy breathe its lopey American horsepower!
Factory TH400 Automatic Transmission Stamped Steel Pan
Brand New Chrome Torque Converter Dust Cover
High Torque/Low Profile Gear Reduction Starter
Welded Subframe Connectors for added chassis rigidity and protects this car from body flex
Ford 9" Rear End with Multi Leaf Spring suspension

The Ford 9" Rear is arguably one of the best rear ends out there as it is very robust and super easy to service. The ring and pinion removes as one complete unit and is not built into the rear end housing making gear swaps or inspections painless.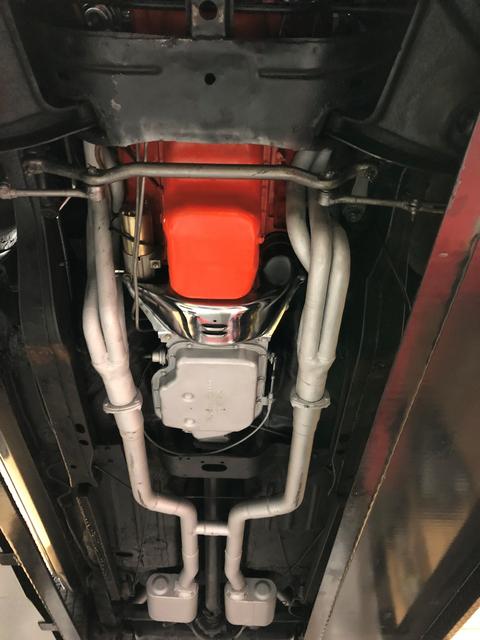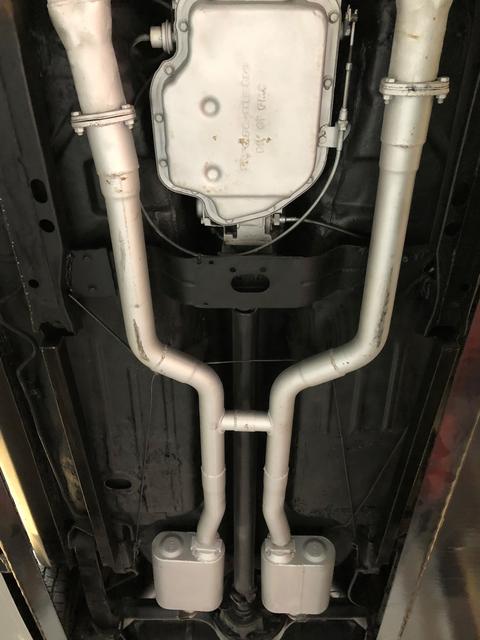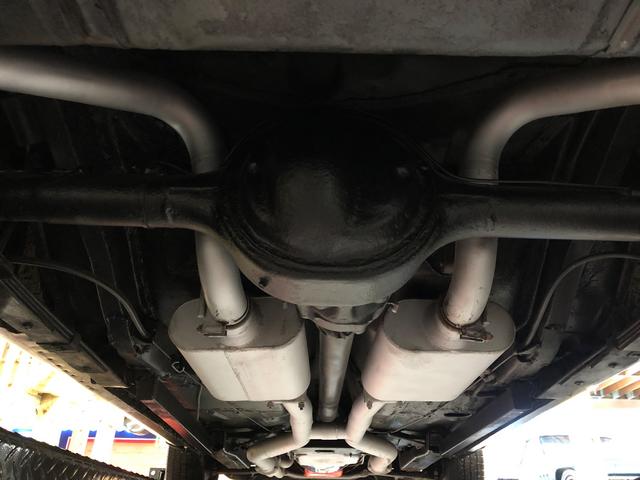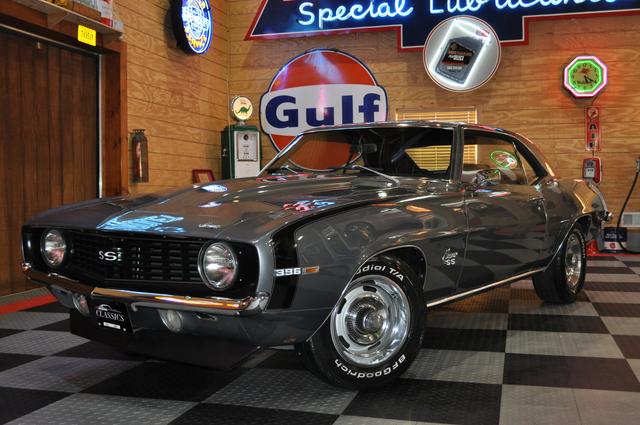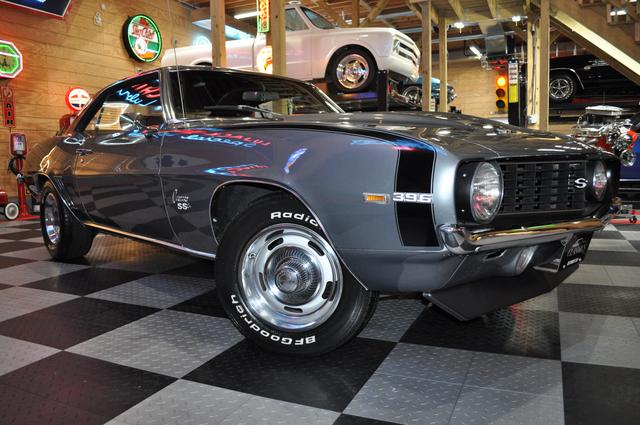 [tab-area5]
Related Listings
NEW ARRIVAL

$97,750

Sold

$36,100

Sold

$35,000

Sold

$54,000

Sold

$57,350

Sold

$36,000