1969 Chevrolet Camaro RS/SS LS2 Pro-Touring Restomod Coupe
The Chevrolet Camaro is an automobile manufactured by General Motors under the Chevrolet brand, classified as a pony car, and some versions also as a muscle car. It went on sale on September 29, 1966, for the 1967 model year and was designed as a competing model to the Ford Mustang. The car shared its platform and major components with the Pontiac Firebird, also introduced for 1967.
First-generation Camaro debuted on a new rear-wheel drive GM F-body platform and would be available as a 2-door, 2+2 seating, coupe or convertible with a choice of 250ci inline-6 and 302ci, 307ci, 327ci, 350ci, or 396ci V8 powerplants. The Camaro was touted as having the same conventional rear-drive, front-engine configuration as Mustang and Chevy Nova. In addition, the Camaro was designed to fit a variety of power plants in the engine bay. The first-generation Camaro would last until the 1969 model year.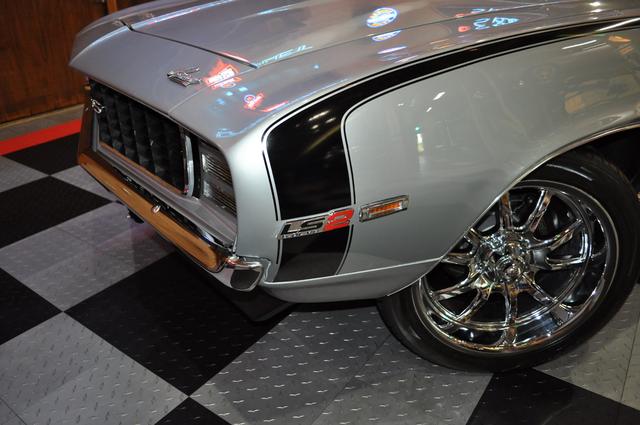 Ever dreamed of owning a cool classic car that starts up and has the power and sound of a new Corvette? No Reserve Classics is proud to present this fully frame-off rotisserie restored pro-touring 1969 Camaro RS/SS. This restoration was fully photo and receipt documented and organized into two 3″ Binders. The binder of the receipts was category separated making it easy to reference any information on the car's restoration. Tons of receipts from popular restoration supply companies that include Eckler's Automotive, BelAir Bob's, and Summit Racing Inc. ensure that the parts that were used are of very high quality next to that of the original GM parts. Powered by a fully-built and modern fuel-injected LS2 6.0L Engine and a 4L60E Automatic-Overdrive Transmission, you bet this car is meant for speed and even cross-country driving.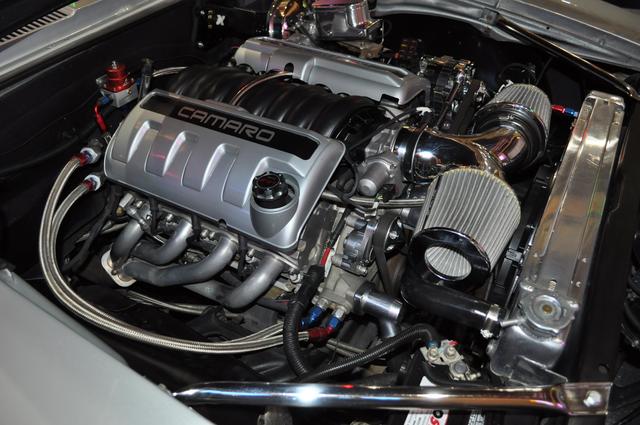 Sure, anyone can throw a new engine and transmission into a car, but that's not the only thing that makes this car so unique and awesome to have. This car was just also freshly painted Code 69 Cortez Silver and was given black hockey stripes and a blacked-out tail panel. From a fresh drivetrain, suspension, braking system, wiring system, exterior chrome and trim, all the way to the interior and fully-upholstered trunk with a sound system, you bet this car was a no-expense spared restoration with only the finest attention-to-detail. Bear with us as we try to cover everything this car features in this listing. You can also check out our walk-around and test-drive videos below to get a better understanding of all the cool modern features this car consists of.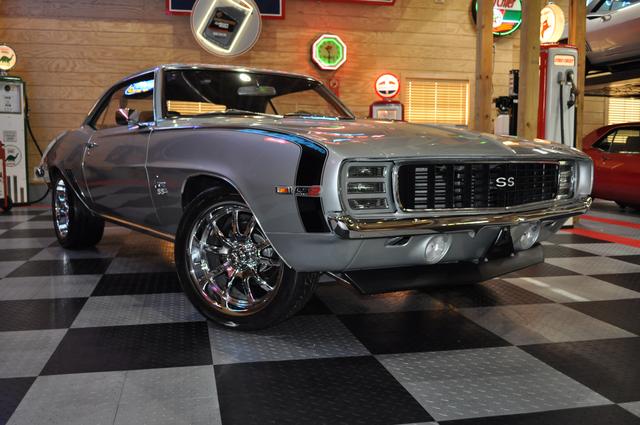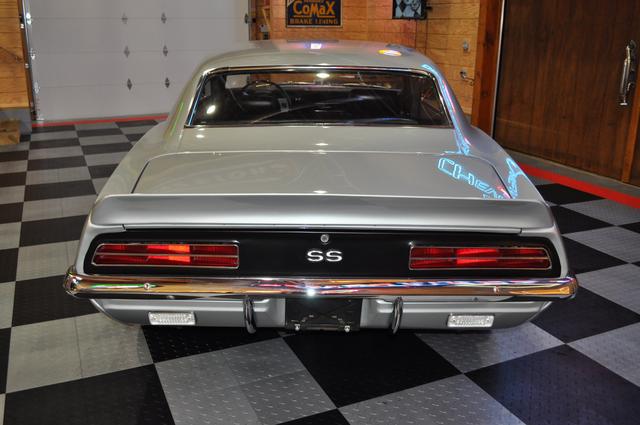 To briefly sum this car up, this 1969 Camaro is the quintessential classic muscle car that you've been looking for. Whether you have a collection that you want to add this car to or even take this car cross-country driving, this car is built for just that. Not to mention you can't ask for anything better than an old-school muscle car with the sound of a newer Corvette!
We encourage any potential buyers to please visit this car (if possible) as seeing it in a picture is just not going to do this car any justice. Please understand that this car was not frame-off restored yesterday and may have some imperfections. As with all classic cars, it may need a few odds and ends down the line as you begin to drive it more often but we would still be very proud to own and drive this car every day and know for sure you would be too.
If you'd like more information, have absolutely ANY questions/concerns, or would like to purchase a similar car, please contact Joe at (732) 277-9021 for more details!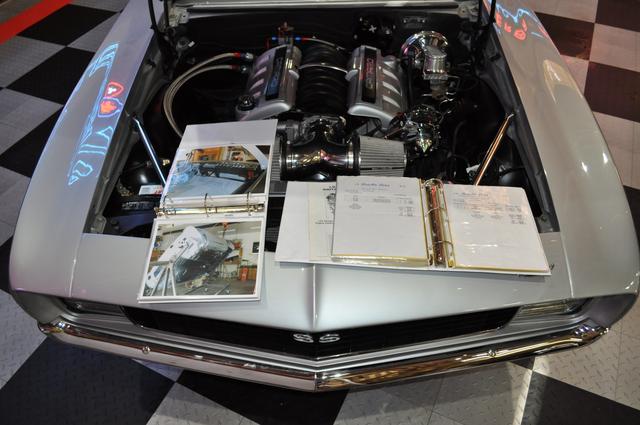 Engine compartment was just completely detailed and cleaned for a fresh look
The powerhouse of this Camaro is an ALL-ALUMINUM Fuel-Injected 6.0L LS2 that was pulled from an '06 GTO with only 24k miles on it. The engine was disassembled and fully-built and pushes 404.4 Horsepower and 374.6 lb/ft of torque AT THE WHEELS! It was fully tuned and dyno'd three times on a Dynapack Hub Dyno at East Coast Supercharging in Cream Ridge, NJ. The new owner will be able to proudly present the true power level this Camaro makes. Click the dyno video below to see this car in action!

Hub Dyno's are much more superior to a conventional Roller Dyno due to the simple fact that the power level is read directly from the spinning axle. The worry of tire slippage or freak accidents of the car falling off are long gone with this style system. Not to mention it is far more accurate!
To give you a better idea, a factory LS2 in a 2006 GTO was rated at 400 hp and 400 lb/ft of torque AT THE CRANK. We're not talking small upgrades here...

Comp Cams Hydraulic Roller Camshaft was swapped into this engine with the following specifications:

.595/.598" Lift
232/234° Duration at 0.050" Lift
Lobe Separation Angle of 112°
Matching valve springs were also assembled into the cylinder heads to accommodate this new wicked cam!
The 799 Cast Aluminum Cylinder Heads were fully disassembled and CNC ported and polished to maximize smooth airflow!
Throttle Body was also fully ported and polished to again maximize the flow and volume of the air intake!
10.9:1 Compression Ratio (still runs on pump gas!)
To get an idea of what an all-aluminum engine means...a factory carbureted cast-iron Generation 1 Small Block Chevy 350 can weigh up to over 700 lbs with accessories and exhaust manifolds! Now, a factory ALL-ALUMINUM LS2 weighs in at around 443 lbs.! That is nearly half the weight for an engine that has 14 cubic inches more of displacement! The 500 hp that this LS2 is putting out is definitely not for the faint of heart as it isn't lugging a lot of weight around like a heavy full-sized Cadillac with a Big Block would.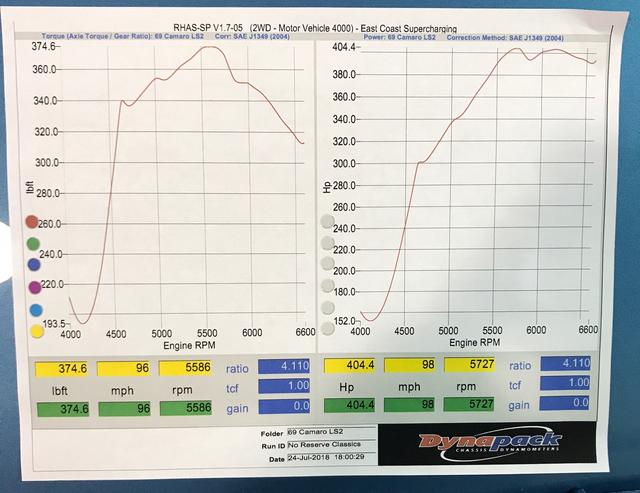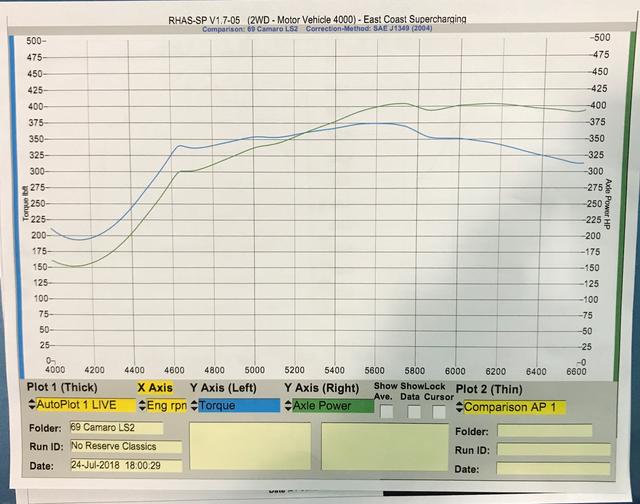 Backed by an Automatic-Overdrive 4-Speed 4L60E Transmission, this car is a blast to drive on the highways as the RPM's are not screaming high like almost every other car that has a TH350 or TH400 3-Speed transmission giving you poor gas mileage. Don't you worry though, this car still has a ton of power ready to send to the rear wheels upon acceleration. Truly the best of both worlds!
Also featuring a full 4-Wheel Power-Disc Big Brake Kit from SSBC, this car stops on a dime!

In the engine bay, you will find a full-polished Aluminum high-bore/high-output master cylinder with finned cap and vacuum-style brake booster.
Unlike most Camaro's out there with a stock-style cast-iron/steel upper-braking system, this brake kit from SSBC is an Aluminum kit that takes a lot of weight off of the front-end allowing this car to accelerate quicker and even adding better fuel-mileage!

Fully Polished and TIG Welded High Performance 4-Core Aluminum Radiator with a high-speed electric fan that keeps this car running cool on a hot summer day!
Braided Stainless Steel Transmission Coolant Lines with Anodized Aluminum High-Pressure -AN Fittings
Brand New Ribbed Serpentine Belt
Brand New Heater Core & Heater Core Hoses
Braided Stainless Steel Fuel Supply and Return Lines with Anodized Aluminum High-Pressure -AN Fittings
Full MSD Ignition System with Brand New Spark Plugs, Ignition Coils, Plug Wires, and Wiring Harness!
Aeromotive Fuel Pressure Regulator
Custom Ceramic Coated LS Shorty Exhaust Headers
Chromed Out Serpentine Pulley & Accessory System that adds a very nice custom touch to the engine bay
Brand New 105 Amp Chrome Alternator
Custom Cortez Silver Painted Ignition Coil Covers with hand-cut scripted 'Camaro' badges
Custom LS2 Oil Fill Cap
Polished Aluminum Water Thermostat Housing
Chrome Spectre Air Intake and Filter Assembly
All Stainless Steel Brake Lines were added for maximum protection against corrosion
Polyurethane Engine Mounts
New Windshield Wiper Motor
Brand New Polished Stainless Steel Radiator Overflow Tank
Chrome Fender Support Braces
Radiator Core Support was replaced during the restoration and professionally painted for ultimate long-term protection
New Radiator Core Support Bushings
New Replacement Style Horns that sound loud and clear!
All fresh wiring in the engine compartment ensures everything is working properly as it should!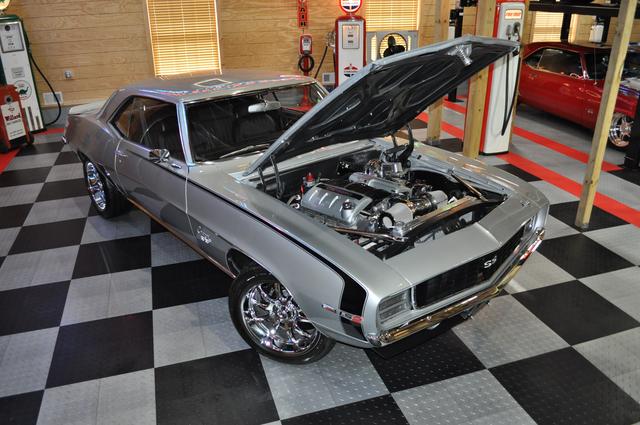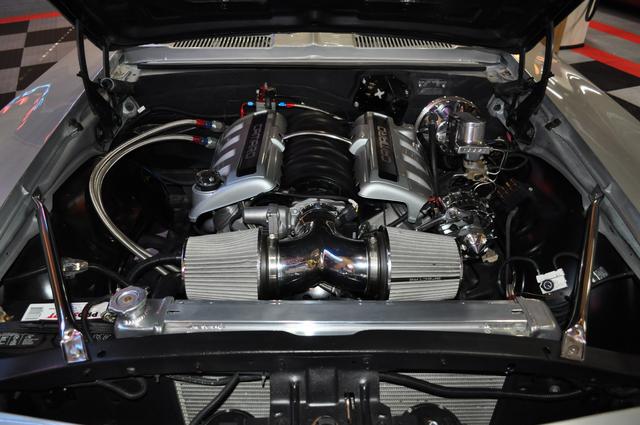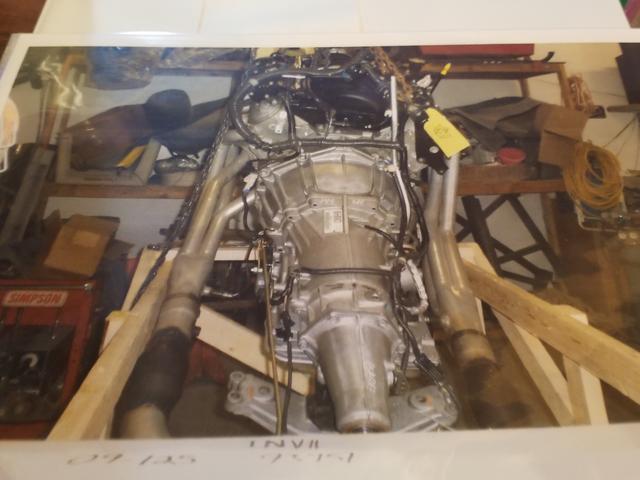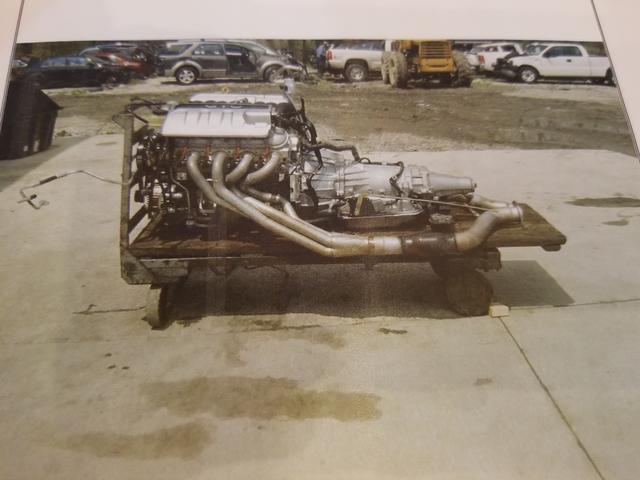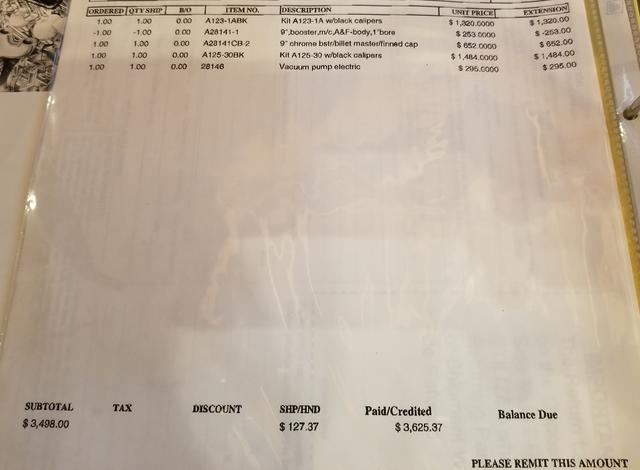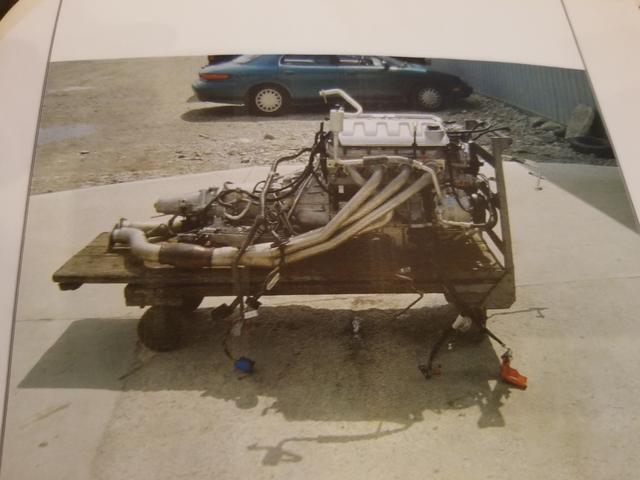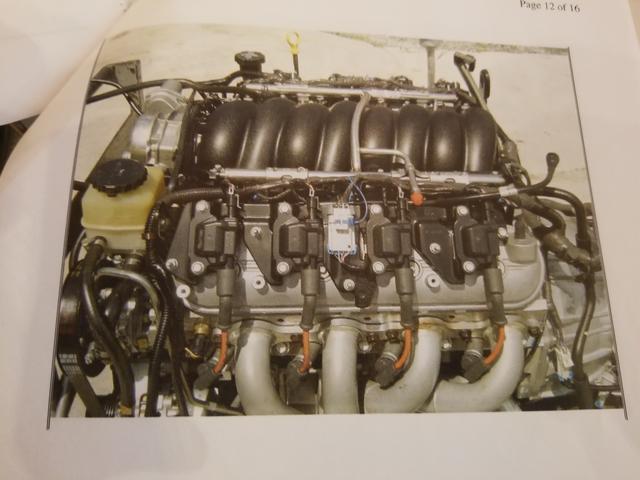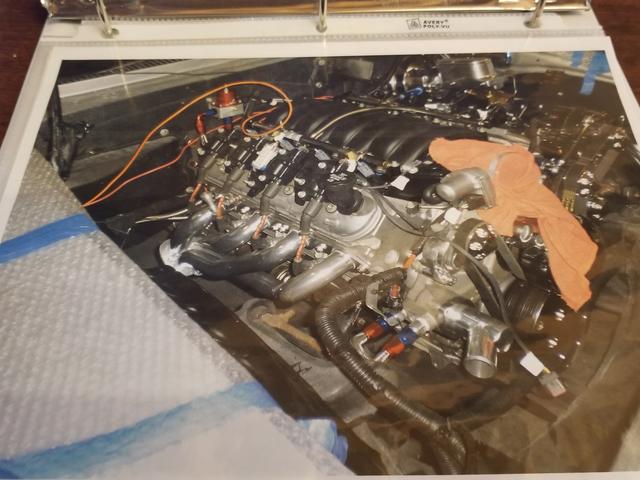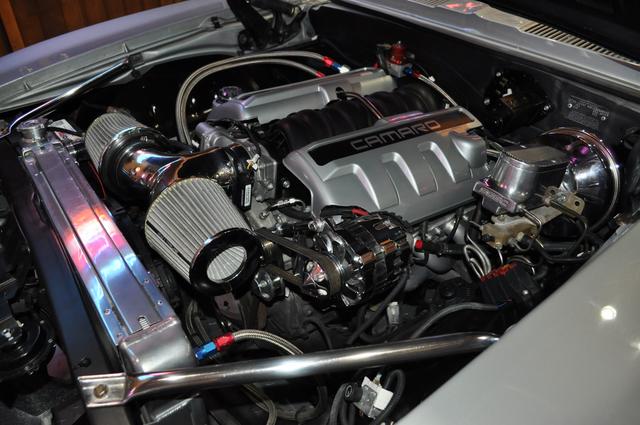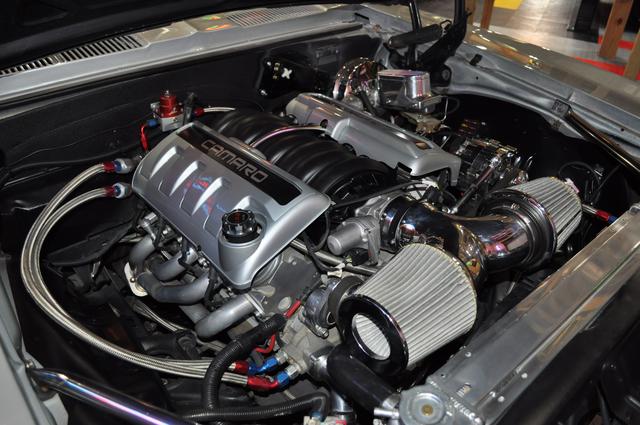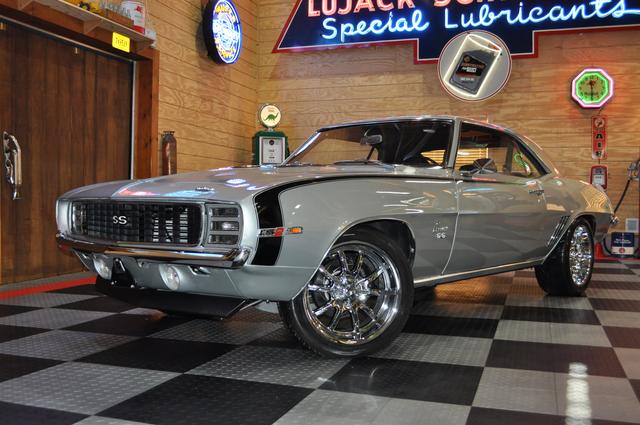 Fully detailed exterior (multi-stage wet-sand, buff, compound, polish, and wax) that brings out the shine on this beautiful car!
By purchasing this car, we are also including a very high-end gentle/soft polyester indoor car cover to protect the exterior of the car. 
The car was given a fresh basecoat-clearcoat Cortez Silver paint job with Black Hockey Sport Stripes and a Blacked-Out Tail Panel
Original X11 Code Car with almost all new sheet metal inside, outside, and underneath the car!
BRAND NEW 18" Staggered Custom Multi-Spoke Chrome Pro-Touring Wheels that gives this car a sick matchbox-car looking stance!
These rims are wrapped in BRAND NEW Staggered General G-Max Tires (275-40/18 & 245-45/18)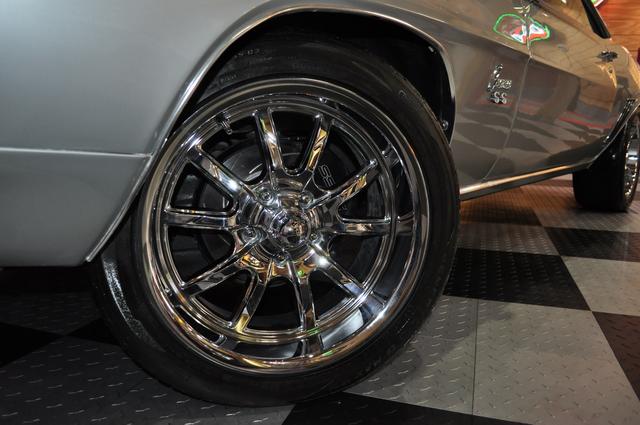 As previously mentioned, this car comes with tons of receipts and photos of the frame-off rotisserie restoration. These photos show the extensive sheet metal work that was performed to get this car back to being structurally intact. Some of the structures that were replaced are shown in the receipts and photos and include the following:

Rear Frame Rails

Inner/Outer Rockers

Firewall Panel

One-Piece Floor Pan

Complete Trunk Assembly

Rear Inner/Outer Wheelhouses

Interior Dash Section

Lower Cowl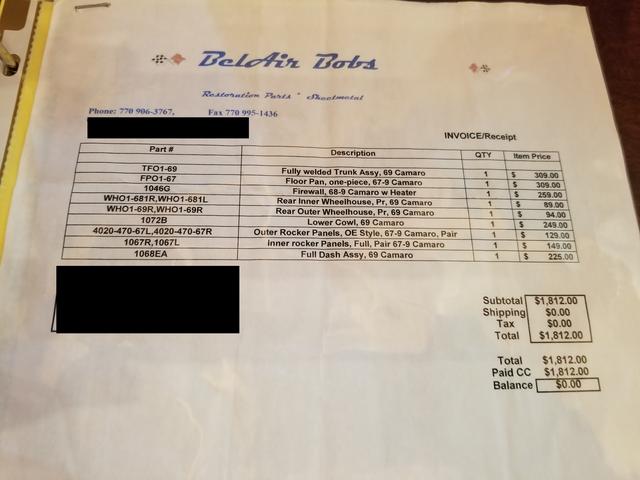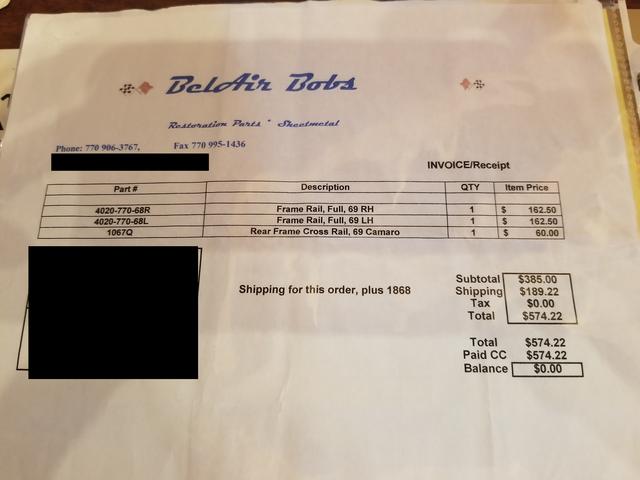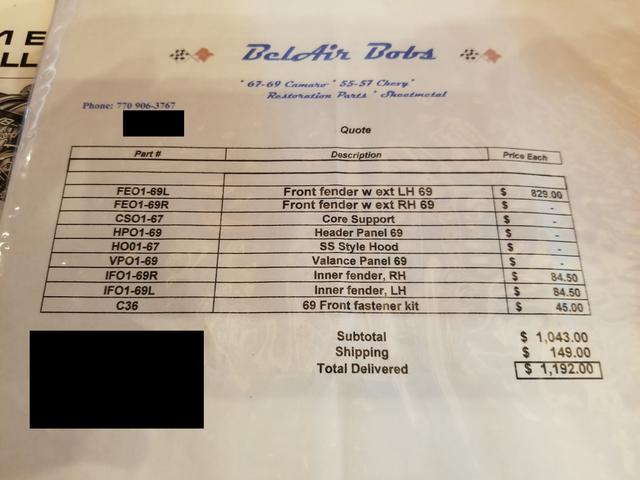 Detroit Speed Full Electric Hidden Headlight System with new Headlight Buckets that was installed on the car and works phenomenally!

For the 1968 and 1969 year models, GM created a vacuum-assisted hidden headlight door system to their line of RS Camaro's contrary to the 1967 model where they were electrically-operated. This system utilized the vacuum that the engine produced from the intake stroke of each cylinder to open and close the headlight doors. A great idea in theory, the system had a plethora of components that were constantly failing. This consisted of dry-rotted vacuum hoses, faulty relay switch, and even a poor-running engine could cause the system to not operate correctly. If the engine was not properly tuned up, it could create poor vacuum and therefore the headlight doors may open very slowly or not even open at all! Over the years, many people would disconnect the entire system and operate them by hand. This just isn't practical...who wants to pull over on the side of the road and open their headlight doors so you can see?

In today's day and age, Detroit Speed Inc. introduced the idea of a full electronic conversion kit which eliminated all the factory vacuum-operated components. This kit uses an electric motor on each of the headlight housings to open and close the doors which takes the clutter out of the engine compartment and now has very little room for failure. They are much more consistent and operate much better than the factory system. It's becoming a very popular and desirable feature across restorations and builds of first-gen Camaro's.

New Front Grille, Headlight Bezels, and Surround Trim

Grille was also painted Cortez Silver to match the exterior color of the car which is usually left in black primer when replaced

Door Latches and Hinges were all replaced during the restoration

New Custom LS2 Front Fender Emblems

Polished Stainless Steel Lower Rocker Panel Moldings were replaced

All Polished Stainless Steel Wheel Well Moldings were replaced

Quarter Panel Shark Fin Louvers were replaced

All New Chrome Sidemarker Bezels were installed

All headlights, park lamp lenses, sidemarker housings, tail lamp lenses/bezels, and reverse light lenses/housings were replaced during restoration for a fresh clean look. Most of these exterior parts become faded over the years giving a dull patina but not on this Camaro!

Front and Rear Chrome Bumpers were replaced and recently polished to shine like a mirror!

Rear Chrome Bumper Guards were installed and also shine like a mirror

Carriage Bolts for the Bumpers were also replaced

New Chrome Side View Mirrors

All New Polished Stainless Steel Front & Rear Windshield Reveal Moldings

Polished Stainless Steel Drip Rail Moldings were fully replaced

Roof Rail Weatherstrip Channels were replaced

All weatherstripping seals inside and outside the car were replaced during this frame-off restoration such as trunk weatherstrip, hood to cowl seal, roof rail weatherstrip, quarter window seals, hood bumpers, door weatherstrip, etc.

All Inner and Outer Window Felts were replaced

New Chrome Quarter Window Moldings

Brand New Exterior Chrome Door Handles

Body By Fisher Polished Aluminum Carpet Sill Plates

All the glass around the car was replaced during the restoration with tempered glass for modern safety.

New Chrome SS Hood Louvers

All lock cylinders (doors, trunk, ignition, and glove box) and keys were replaced with brand new ones

New Factory Style Polished Stainless Steel Wiper Arms/Blades

All new emblems around the car giving this car a day 1 appearance!


SSBC 4-Wheel Big Disc Brakes with Black Powdercoated Multi-Piston Calipers and Slotted Rotors for superb stopping power and a slick modern look!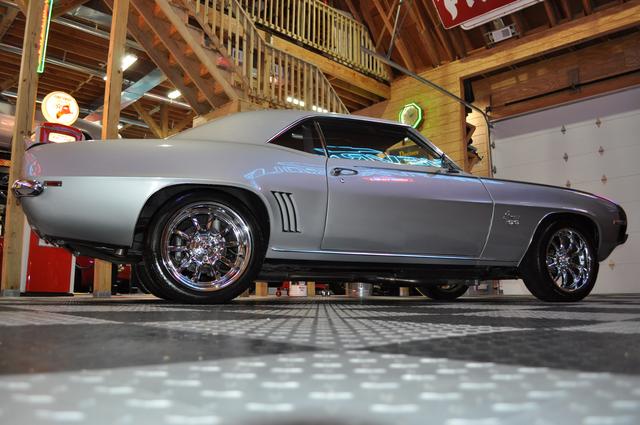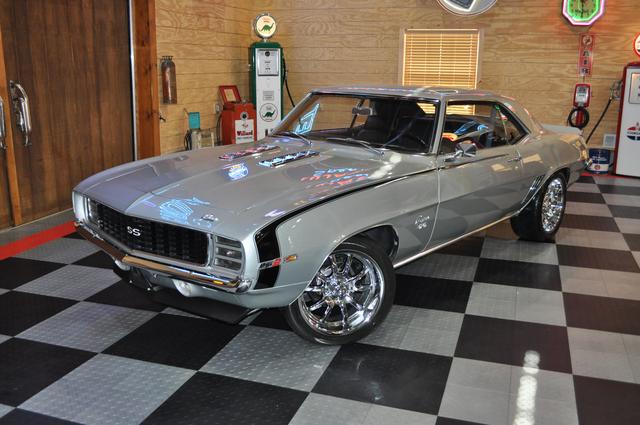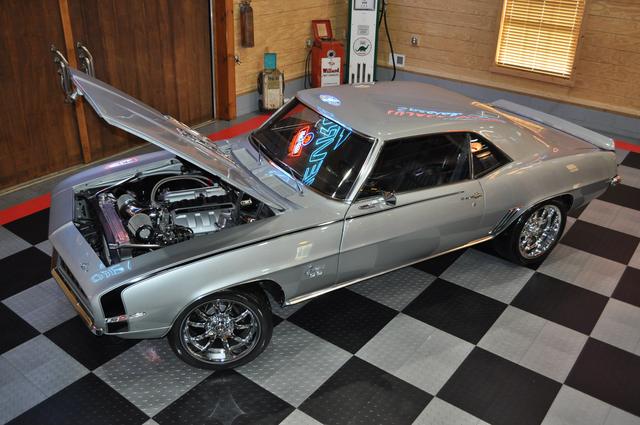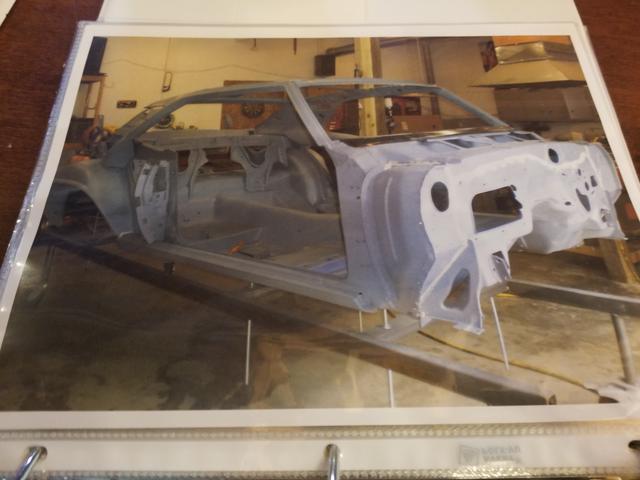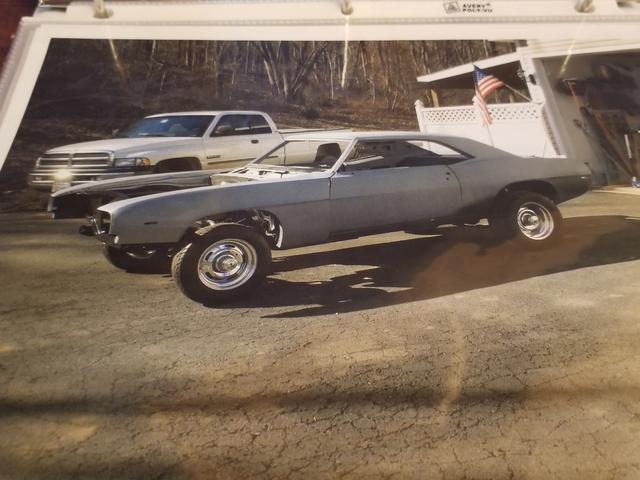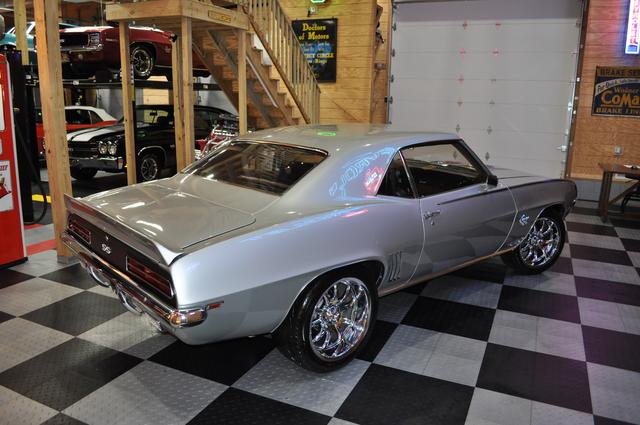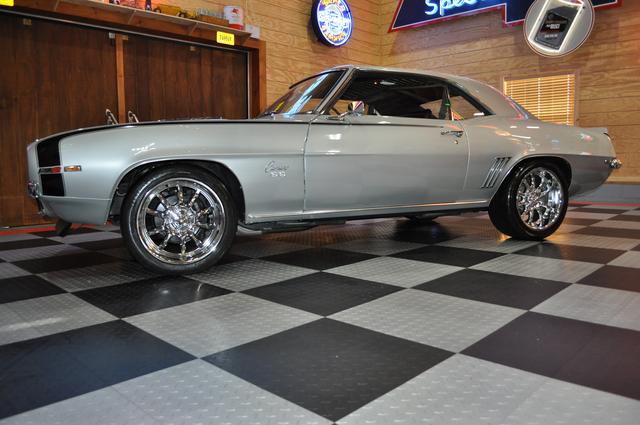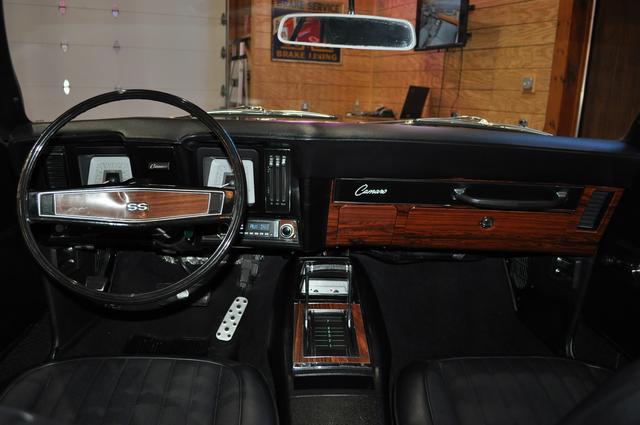 Full Black-Woodgrain Deluxe Interior that was fully restored with almost all new components and was just freshly cleaned and detailed!
Freshly Re-Upholstered and Re-Foamed Deluxe Front Bucket Seats and Rear Bench Seat done by Atlas Auto Trim & Upholstery in New Jersey. They are super comfortable and were redone very nicely with new springs, foam, and covers.
All new dash components such as a molded urethane dash pad, ash tray assembly, glove box, dash vents, woodgrain bezels, emblems, etc.
Front and Rear Deluxe Door Panels are all new to the car along with all new trim and moldings giving this interior a very fresh look
Fully Replaced OEM Grain Headliner and Sail Panels with fully operational brand new dome-light

All headliner bows and moldings were replaced during the restoration

Beautifully replaced Factory Style Black 80/20 Molded Loop 2-Piece Carpeting

Brand New OER Replacement Console Gauge Lenses
Highly Desirable and Sought-After Fully Replaced Center Console with Automatic Staple Shifter that has been custom fit with a Shiftworks 4-Speed Automatic Conversion kit to work with the 4L60E Transmission!
Dakota Digital VHX Series Complete Dash and Center Console Custom Gauge Kit that looks amazing and is fully functioning!

Because of the modern fuel-injected LS2 and electronic transmission, adapting factory gauges would be a hassle. These very expensive aftermarket gauges take full advantage of what this car has to offer.

The system is a full solid-state unit meaning there is no mechanical parts to fail. It is all computer-controlled and retrieves all of the engine/transmission signals and health directly from the ECU (Engine Control Unit). It displays transmission gear selection, speed, RPM's, coolant temperature, oil pressure, and voltage all from a simple plug-n-play control module. It even has a Check Engine Light feature just like a modern car so you know if there is an issue. Factory gauges from a '69 Camaro NEVER came with all of these features

All of the gauges have LED backlights for modern visibility and long-lasting life. The speedometer even has a small digital screen to read out vital information the ECU puts out.

As previously mentioned, this kit features a full 0-160 MPH speedometer, 0-8K Tachometer/RPM Gauge in the dash. In the center console, there's a Fuel Level gauge, Oil Pressure gauge, Coolant Temp gauge, and Voltage gauge.

American Autowire Complete Fuse Panel and Front to Rear Wiring Harness was installed to completely replace all of the 50 year old, factory chewed-up and frayed wiring.

All electrical components within the car are functioning because every single strand of wire was replaced which is super rare to come across in classic cars. This fuse panel kit is MADE IN THE USA and utilizes solid thick gauge copper-core wiring unlike some cheaper aftermarket systems using cheap thin Copper-Plated Zinc wiring.

Even most cars on the market claiming to be restored still retain a factory fuse panel and wiring harness that has all oxidized connectors and frayed wiring which can be a fire hazard!

This fuse panel is a modern style system that uses blade-style fuses rather than the old glass bulbs which ensures a safe closed connection and consistent operation. The fuses are clearly labeled and are super easy to replace just like a new car!

Steering Column was fully disassembled and rebuilt with all new components such as wiring, bearings, horn contacts, cancelling cam, turn signal switch, etc. to ensure reliable steering and functionality which is rare to come across on many restored classic cars.
Factory Replacement SS Deluxe Woodgrain Steering wheel with, as previously said, fully working horns! These reproduction steering wheels are super expensive compared to aftermarket replacements!!
3-Point Shoulder Harness Seat Belts were installed on the front seats for modern safety on today's roads!
RetroSound 200W Direct-Fit Radio with 6x9 Phoenix Gold Speakers in the package tray and a Polk Audio DXi 1000W Subwoofer in the trunk was totally customized and installed in this car. This system sounds absolutely amazing!

For those who are not aware of what this type of radio is, it is a custom direct-fit modern radio that does not require any trimming/modification of the factory dash carrier. It looks like an original radio at a glance, but upon closer examination, you will find it is a fully digital radio with AM/FM and USB/Auxiliary Input for your iPhone/Android smartphones. For those of you who use MP3 players such as iPods, iPads, or similar devices, it is fully compatible!
Back in the day, a lot of people would hack up the dash to be able to fit an aftermarket radio which makes us cringe...Thankfully, this isn't a problem anymore in 2018!

As just mentioned, the trunk was customized with the Polk Audio DXi 1000W Subwoofer and Amplifier to match and fully upholstered with Cherywood paneling to match the interior and black carpeting skirts to add a clean elegant touch to the car!
Polished Billet Aluminum Headlight Switch Knob
Rear View Mirror, Pillar Post Moldings, and Sun Visors were all replaced during restoration
Kick Panels and Door Jamb Vent Grilles were replaced adding to this high-dollar no expense spared restoration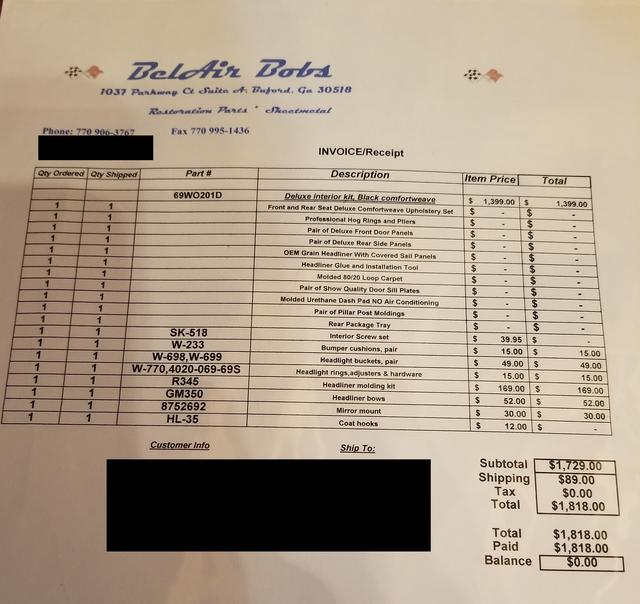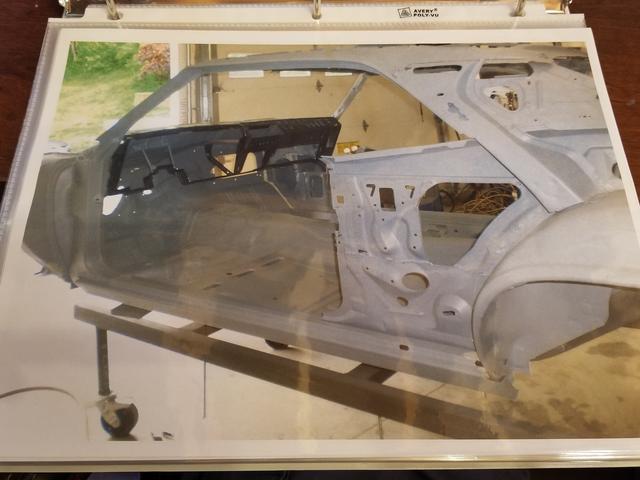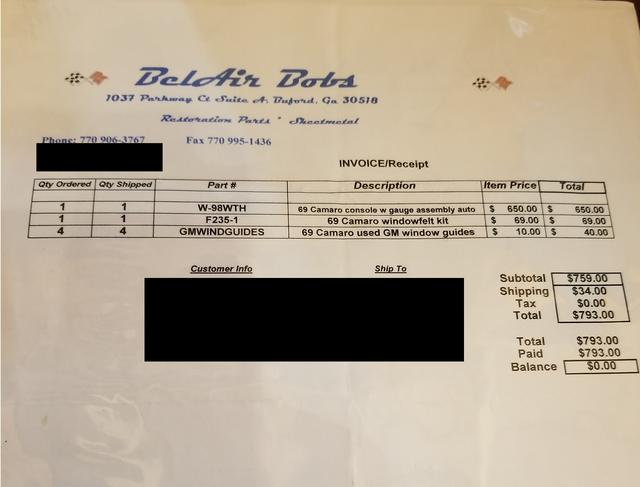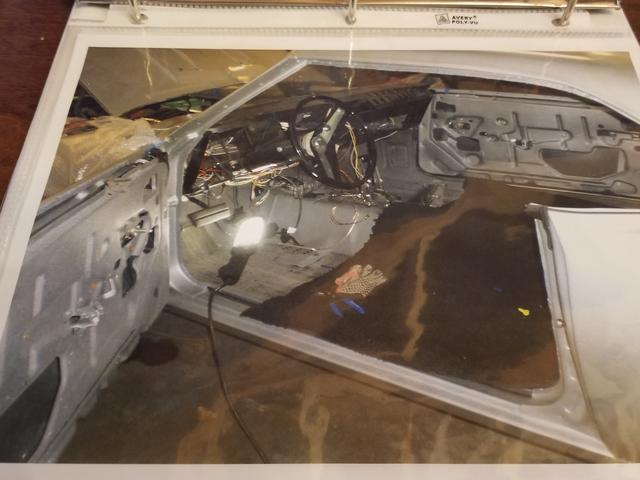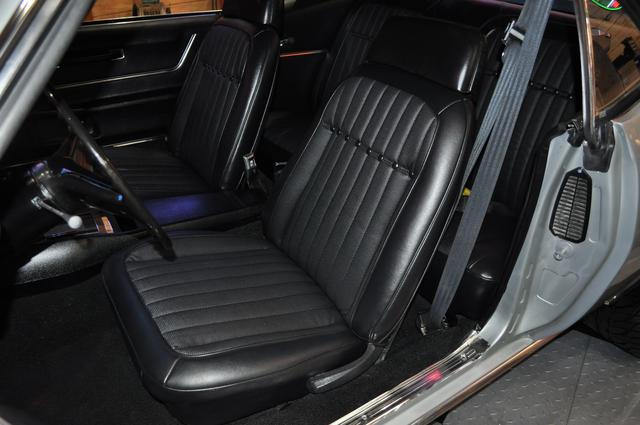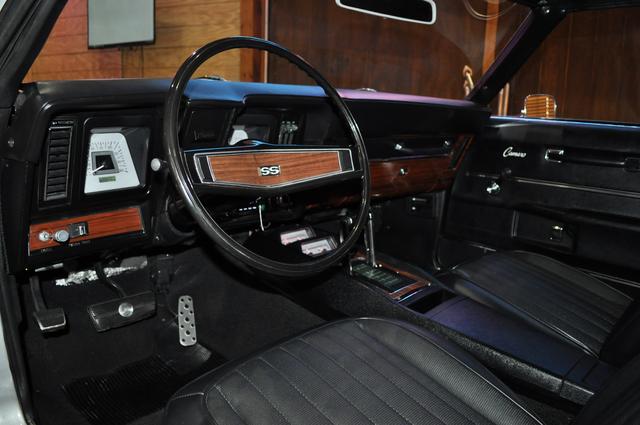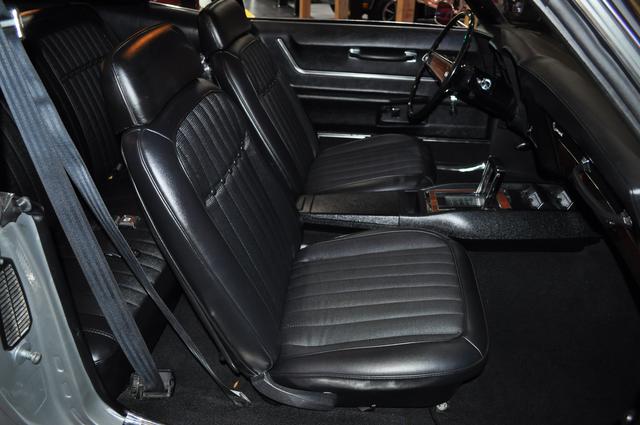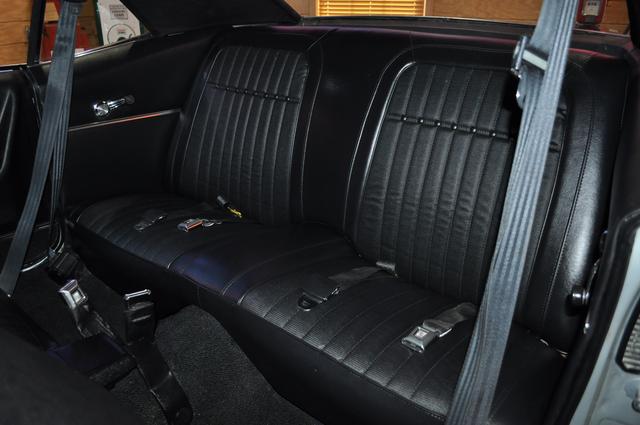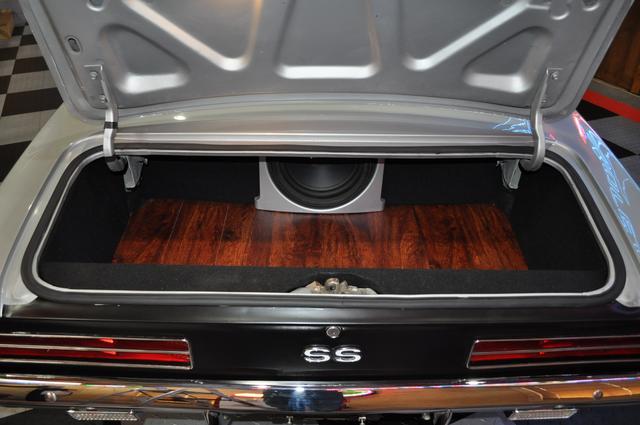 LOOK AT THAT CUSTOM TRUNK!
The Woodgrain Panels inside this trunk were designed to match the Factory Style Cherywood Dash!
Freshly cleaned, de-greased, and detailed underbody giving a fresh clean look!
Custom-Built Moser 12 Bolt Rear End Package:

Eaton Detroit TrueTrac Gear-Driven Differential Carrier (a super reliable gear-driven differential that lets both wheels to spin during a burnout!!)
Moser 33 Spline High Performance Street Axles
All New Bearings were installed from the axles to the pinion gear!
Moser 4.11 P/S Ring and Pinion Gears
Chrome 12 Bolt Differential Cover
This is not just another worn-out factory 12 Bolt that was taken out of another car and rebuilt. Moser actually builds the rear ends from scratch. From the center section and axle tubes all the way to even the lug studs on the axles themselves are all brand new when the rear end is assembled. Again, NO EXPENSE SPARED! See the photo below for the invoice on this Rear End.

Don't believe it? Here it is right from Moser themselves!

"Complete 12 Bolt Built to Order Rear End Packages.
All Moser 12 Bolt Housings are designed and manufactured in the U.S.A. using Moser Engineering owned Casting Boxes.
Package includes: New Moser 12-Bolt Made in the U.S.A. Housing, with OEM located mounting provisions, seamless steel tubing (3" O.D., 1/4" wall), custom alloy axles (30, 33, or 35 spline), bearings, studs, seals, heavy duty retainer plates, new housing ends, t-bolt kit, differential, pinion yoke, ring & pinion, rear cover, set up with Timken bearings."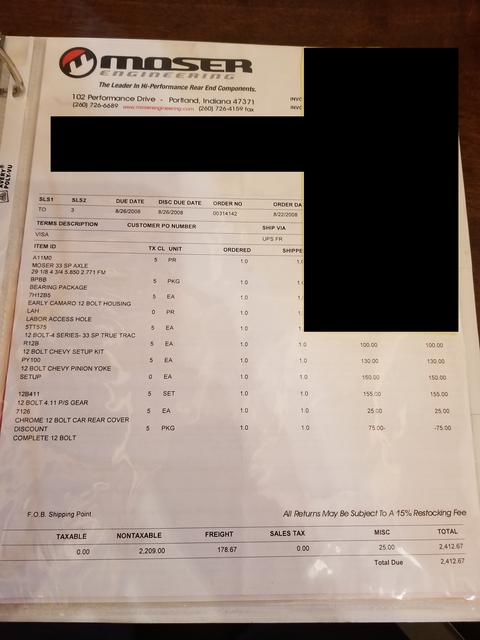 Full 3" Magnaflow Polished Stainless Steel Dual X-Pipe Crossover Exhaust System that gives this LS-Powered Camaro a mean old-school V8 rumble!!
All body mount bushings were replaced from the core support to the rear of the subframe!
Hotchkis Lowering Suspension
Multi-Leaf Springs in the rear and custom sized coil springs in the front that gives this Camaro a sick pro-touring stance!

This kit comes with all new leaf spring shackles and polyurethane bushings for added longevity

Shocks Absorbers on all four corners were replaced during the restoration for a smooth comfortable ride
Just about all front end steering components such as Tie Rod Ends, Ball Joints, Idler Arm, etc. were replaced during restoration that keeps this car going tight around corners
Driveshaft was custom made to mate the longer 4L60E trans to the 12 Bolt Moser rear and was installed with new universal joints and yoke and handles all the horsepower and torque coming from the LS2 Engine like a dream!
Fuel Tank was replaced during the restoration with a fuel-injection compatible fuel tank

Fun Fact:

A standard carbureted engine that is commonly found on '69 Camaro's typically utilizes a mechanical fuel pump that only puts out 6-9 PSI of fuel pressure which is really all a carburetor needs to feed the engine. However, for a fuel-injected engine, an electric fuel pump consistently supplying somewhere around 58 PSI of fuel with a pressure regulator is needed to keep the fuel injectors happy.
However, since we're not always at wide-open throttle, 58 PSI of fuel pressure may not always be necessary. Therefore, a fuel return line is needed to deposit unused fuel back into the tank.
That's where this custom fuel tank comes handy. This not only allows you to run a fuel-injection system in classic cars, it also allows you to achieve better fuel mileage because you are only burning the fuel you need at a given RPM.
It also allows you to be able to drive on an incline or even launch the car without starving the engine which would typically sputter or stall out on a regular carbureted engine with a mechanical fuel pump.

During the rotisserie restoration, the entire underbody and firewall was sprayed with a professional grade bedliner found on pickup trucks to fully protect the car from road debris and even moisture from getting trapped in areas that can cause corrosion and damage.

This is how you know this car is built to drive!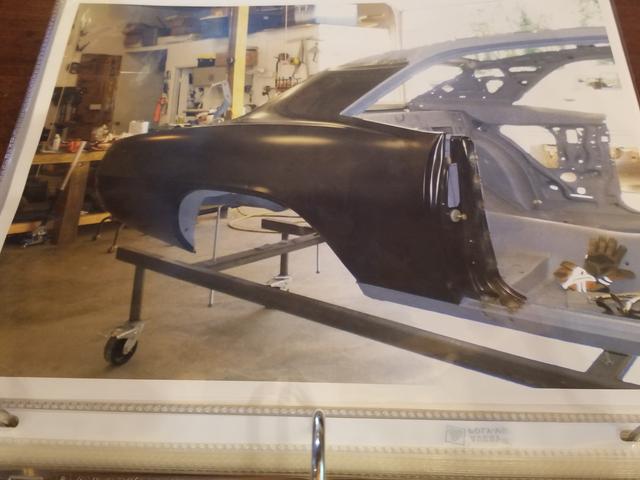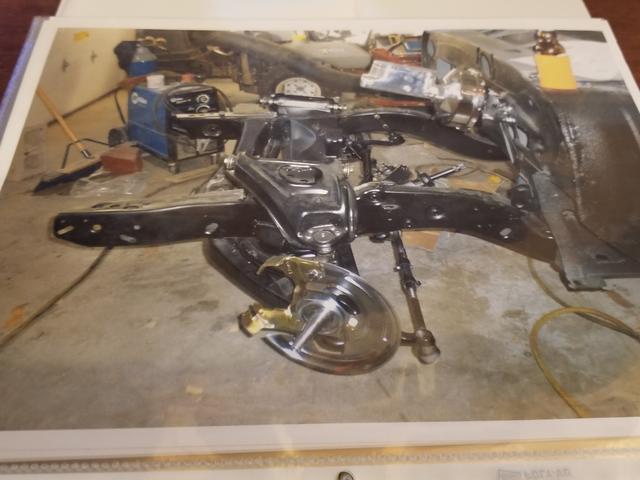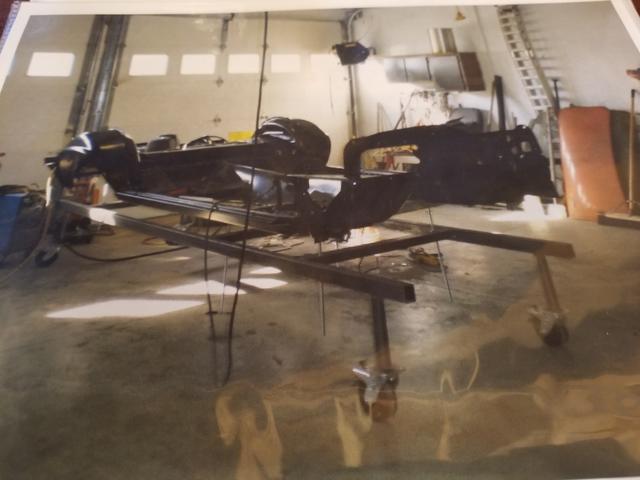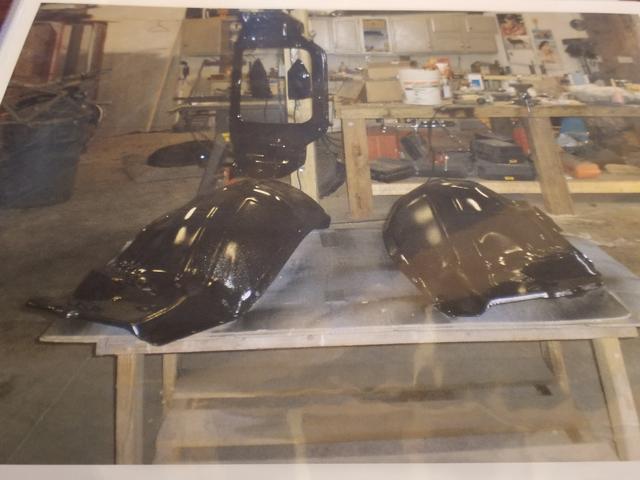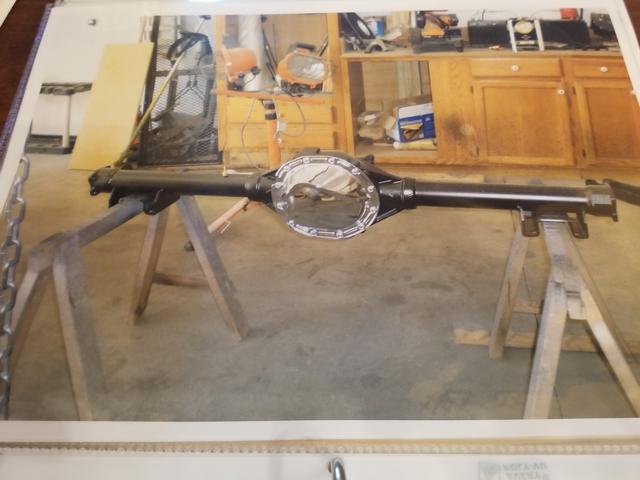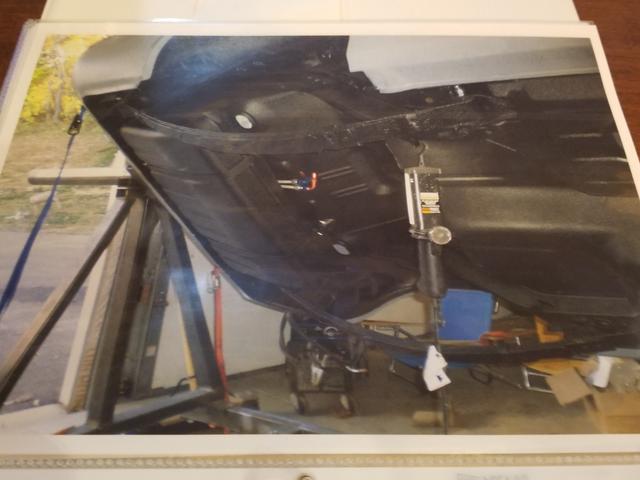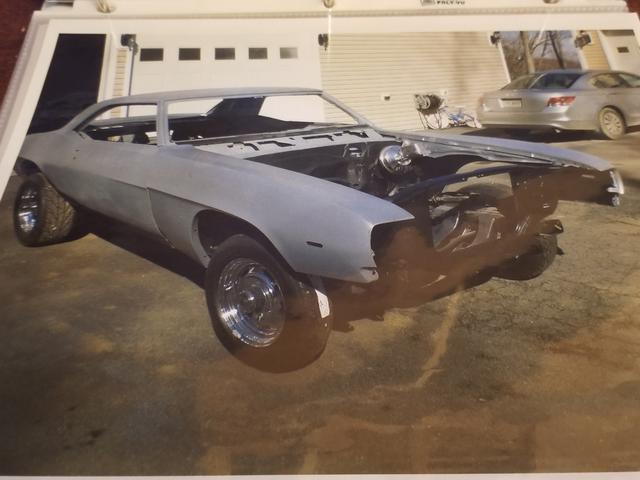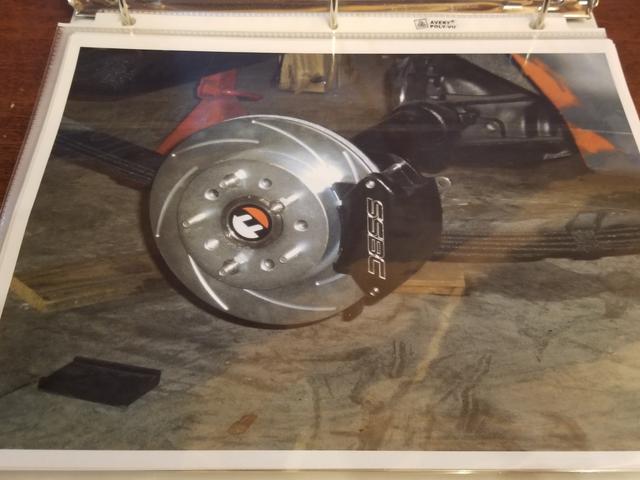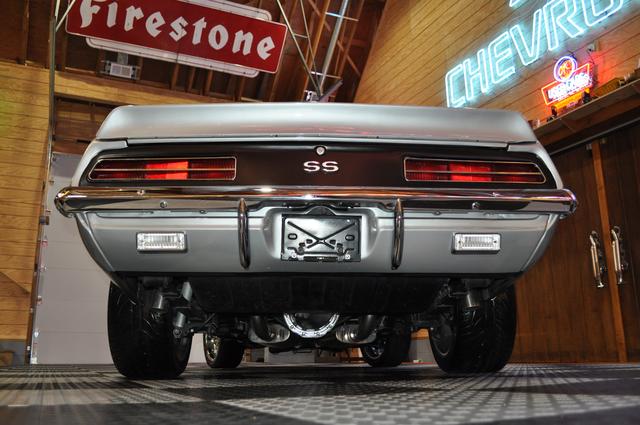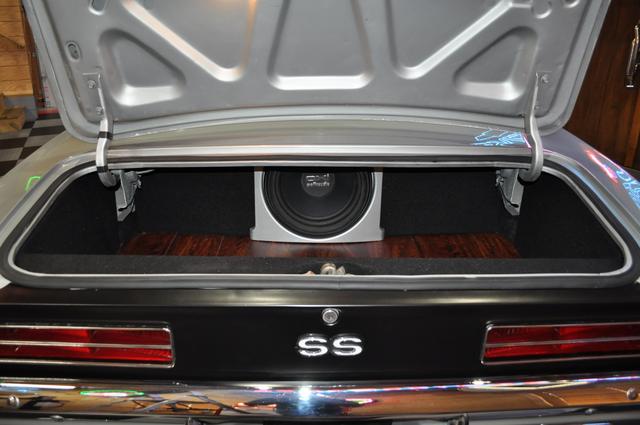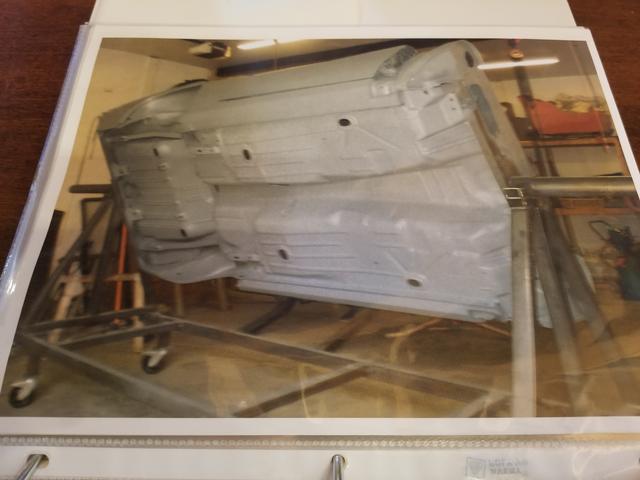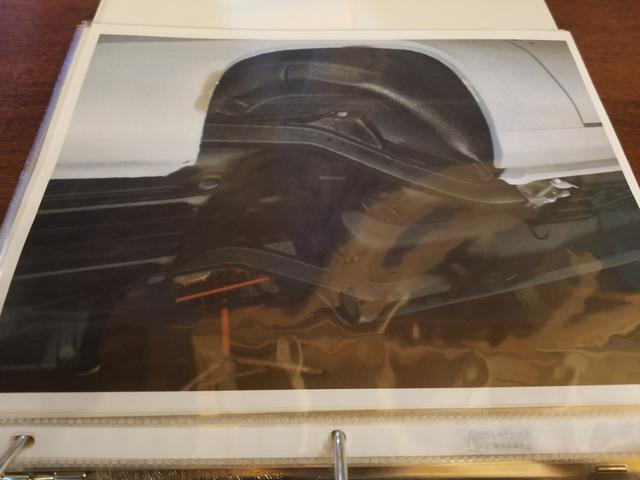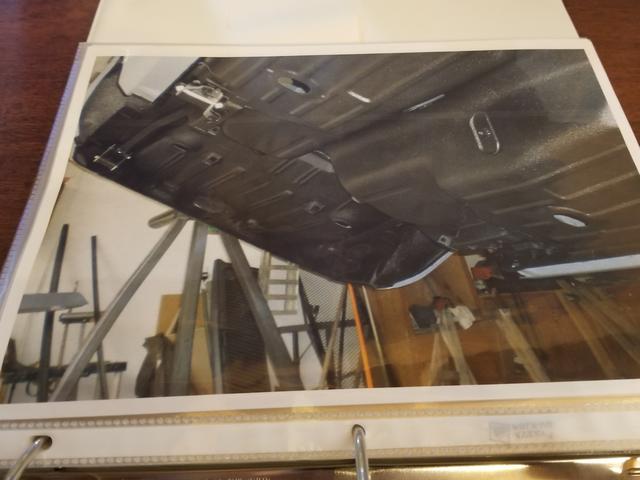 [tab-area5]
Related Listings
NEW ARRIVAL

$97,750

Sold

$36,100

Sold

$35,000

Sold

$54,000

Sold

$57,350

Sold

$36,000