1969 Chevrolet Camaro Z/28 383 Restomod Coupe
The Chevrolet Camaro is an automobile manufactured by General Motors under the Chevrolet brand, classified as a pony car, and some versions also as a muscle car. It went on sale on September 29, 1966, for the 1967 model year and was designed as a competing model to the Ford Mustang. The car shared its platform and major components with the Pontiac Firebird, also introduced for 1967.
First-generation Camaro debuted on a new rear-wheel drive GM F-body platform and would be available as a 2-door, 2+2 seating, coupe or convertible with a choice of 250ci inline-6 and 302ci, 307ci, 327ci, 350ci, or 396ci V8 powerplants. The Camaro was touted as having the same conventional rear-drive, front-engine configuration as Mustang and Chevy Nova. In addition, the Camaro was designed to fit a variety of power plants in the engine bay. The first-generation Camaro would last until the 1969 model year.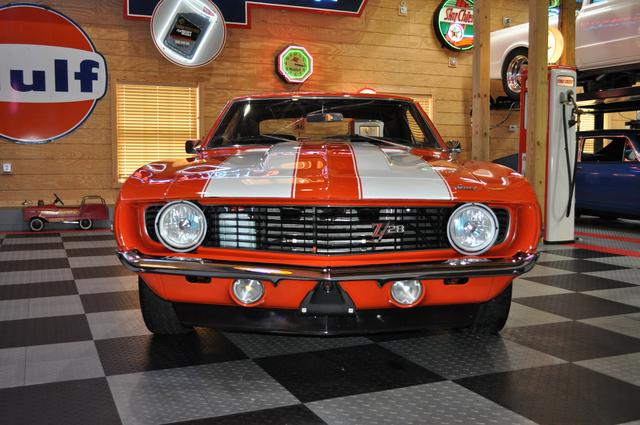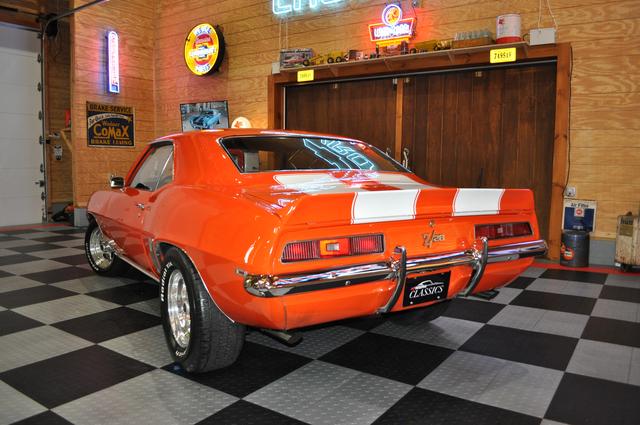 No Reserve Classics is proud to present one beautifully sorted Classic Hugger Orange 1969 Camaro that's powered by a High Performance 383 cu in. Small Block Chevy Power House! Fully custom built by Speed O Motive. It's backed by a Custom Built TCI Turbo 350 Automatic Transmission! Don't underestimate the potency of a Small Block…this power plant is assembled with High Performance Trick Flow G2 Aluminum Cylinder Heads, Forged Crank, H-Beam Rods, Forged Pistons, Comp Cams Solid Lifter Camshaft, and MSD 6AL Ignition. The torque of this engine will keep you pinned to the seats! Despite the talk about its performance capabilities, this car still runs on pump gas and is super street friendly!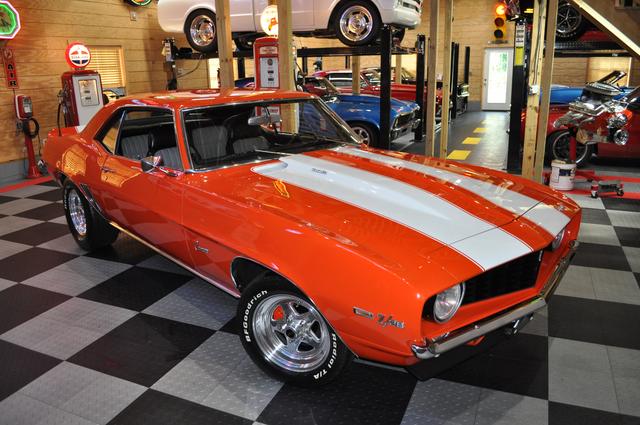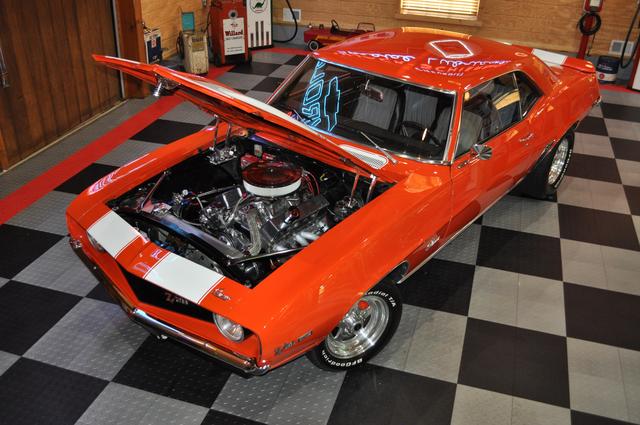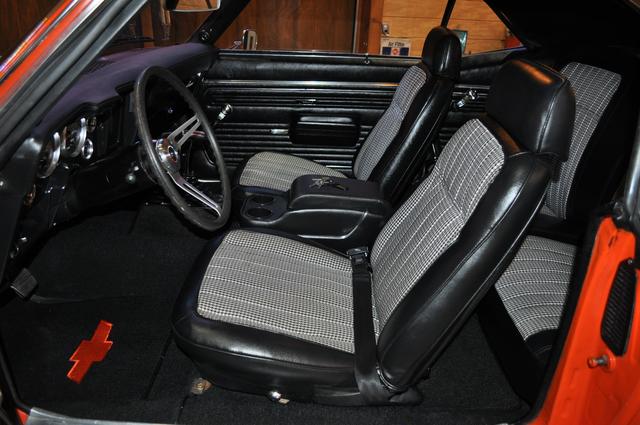 Equipped with Power Steering and Front Disc Brakes, you know you can not only go fast but be able to drive it comfortably like a modern car. The full custom Auto Meter gauge cluster kit makes it so much easier to drive on the road than factory gauges. For one you can now see at night as all of the gauges are backlit with high-powered LED bulbs! They are super responsive and accurate unlike many cars equipped with the factory mechanical gauges that wear out and lose accuracy over the years! Overall, you will find between all of the items in this full extensive description, the massive amount of photos, and the videos, that this car has been sorted just right with the correct parts and components to make this car drive the way it's supposed to! Keep reading to find out why this high performance '69 Camaro is the right choice for you!
Fully Detailed Engine Compartment that makes this car ready and presentable for those fun local car show and cruise nights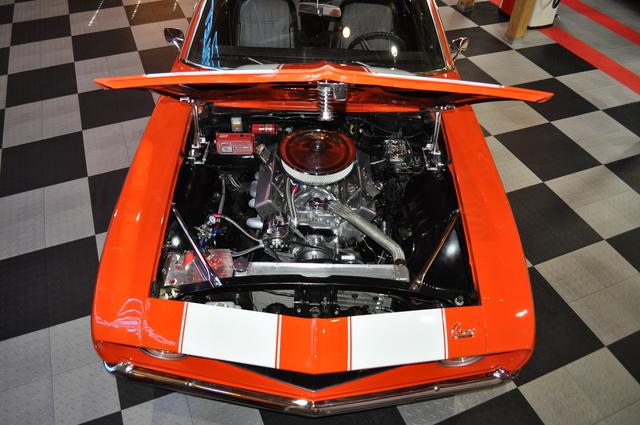 383 Cubic Inch Small Black Chevy Stroker/Bottom End:
Short Block Machined and Assembled by Speed O Motive!

4 Bolt Main Block with ARP Bolts

Increased Strength and Rigidity Needed For High Performance Engines!

4340 Forged Steel Crankshaft

A near-bullet proof crankshaft, along with additional strength and long term durability is the foundation for the amount of power this small block makes!

Balanced Harmonic Balancer

This harmonic balancer was used for to decrease engine vibrations and oscillations for increased engine reliability and performance!

4340 Forged H-Beam Connecting Rods with ARP Bolts

To go along with the crankshaft, the next weakest link in the bottom end WOULD be the connecting rods, NOT IN THIS MONSTER!!

JE Custom Forged Pistons

To complete the Forged, near bomb proof  bottom end, custom forged pistons are used to handle the explosive horsepower that this potent small block produces!

Speed Pro Piston Rings
ARP Head Studs

Second to NONE when it comes to strength and reliability for engine hardware, ARP fasteners were used everywhere possible!

Lifter Valley Glyptal-Sealed

This coating reduces friction, which in turn frees up horsepower!
The main benefit to having this coating applied is to provide longevity and stability for the engine!

7 Quart Capacity Oil Pan with Internal Baffling Tray
High Volume Oil Pump

Maintains a high volume and consistent oil pressure to all of the critical engine bearings and wear surfaces!
Cylinder Heads/Top End:
As every engine builder knows, having a strong bottom end is only part of the package, The Heads/Top End Is Where The Power Is Made!!

With the setup of this engine, horsepower and torque is in abundance!!

Trick Flow G2 Cylinder Heads with Dual Valve Springs

Cylinder Heads CNC Port Matched

CNC Porting allows for a consistent and repeatable porting to each of the ports to make sure that each cylinder is flowing identical to the others, maximizing the horsepower and torque that can be achieved!

Comp Cams Solid Lifter Camshaft (Valve Lash 0.021 Intake and Exhaust)

Solid Lifters are used for high end street and racing engines to maximize power output!
Allows the engine to rev higher and consistently produce maximum power output without the worry of floating a valve like a Hydraulic cam is known for in these engines!

Comp Cams Double Roller Timing Chain

A double roller chain can is used to better control harmonic vibration between the crankshaft and camshaft.

With that, a more stable camshaft/crankshaft timing in the engine is achieved, where even the slightest deviation in timing costs horsepower! NOBODY WANTS THAT!!

Comp Cams High Performance Pushrods

With a custom engine build, the length, strength, and operating frequency of the pushrods must match with the rest of the parts in the valve train, only the best company was used to provide the pushrods for this engine!

Harland Sharp Roller Rockers

This rockers feature full rollers for added strength, lessening of friction from the valve train, all in the name of MORE HORSEPOWER!!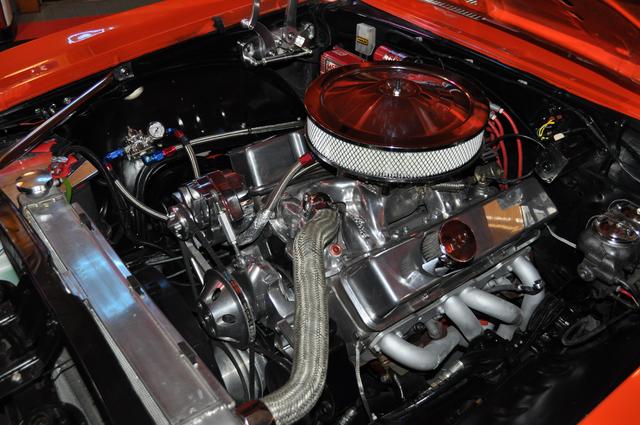 Intake:
Edelbrock RPM Air Gap Polished Aluminum Intake Manifold

The open air space from the Air-Gap design separates the runners from the heat of the lifter-valley cover. So, the air/fuel mixture stays cooler all the way to the heads, which produces a denser charge for more power.

Holley 750HP Carburetor

Optimized street/strip calibration for outstanding throttle response and drivability!
Contoured venturi inlet offers balanced airflow for increased horsepower!
Screw in air bleeds for precision tuning capabilities
Dual feed fuel inlets for constant high volume fuel delivery

This carburetor makes for high horsepower, yet while being tame to drive on the street with easy maintenance, and great tuning capabilities!!
Ignition:
MSD 6AL Ignition Box

Features a Capacitive Discharge Box which provides an extra strong and powerful spark to ignite every horse possible!
Beats any old conventional Points or even HEI Ignition System commonly found on these cars which reduces efficiency and performance.
Additional benefits such as quicker ETs, easier starting, reduced plug fouling, and even increased fuel economy can be expected with the 6AL's intensified high energy multiple sparks!!

MSD Pro-Billet Distributor

Special oil tract improves lubrication to the distributor and camshaft gear.
With easy tuning capabilities and increased oil flow to the distributor and gears helps increase the distributor's service life and reduces friction to increase power!
Lightweight Billet Aluminum Construction saves weight when compared to conventional steel distributors!

MSD Blaster 2 Ignition Coil

Produces high voltage output for stronger and more consistent spark!

MSD 8.5mm Plug Wires with Hot Boots

Highest spark energy transfer
Highest EMI/RFI suppression
Highest horsepower gains possible

The pro-billet distributor, high energy ignition coil, and high performance plug wires combined with the MSD 6AL ignition box, make this is one of the best ignition systems available on the market today!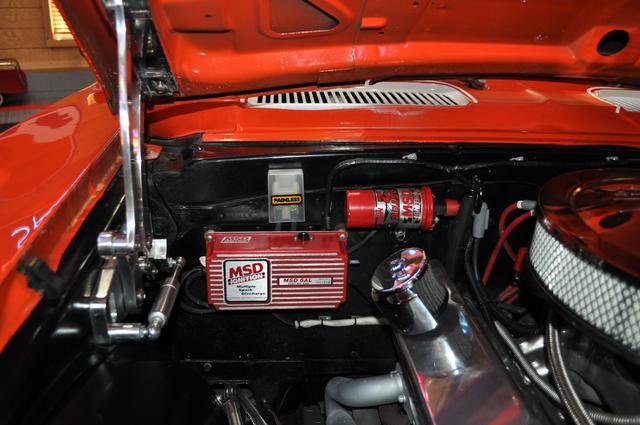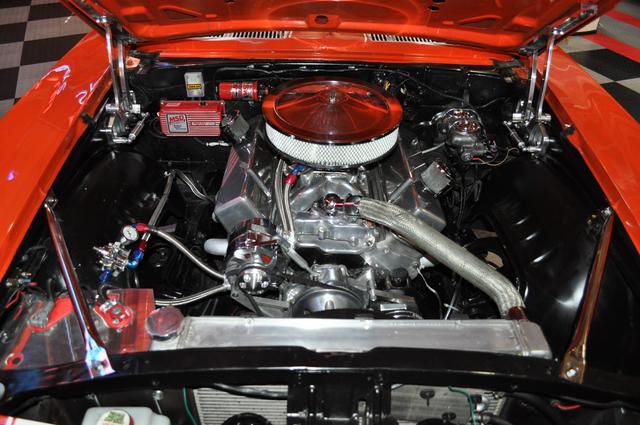 Exhaust:
Hedman High Performance Exhaust Headers

Long Tube Headers with Collectors
Dual 2.5" American Thunder Exhaust System
Show Quality Engine Finishes: 
Aluminum Mechanical Fuel Pump Block Off Plate
Electric Fuel Pump

External, Adjustable Fuel Pressure Regulator

Easy Maintenance, Easy Tuning!!
Stainless Steel Braided Lines with AN Fittings

Custom Chrome Dipstick
Polished Aluminum Valve Covers
Polished Water Neck
Polished Aluminum Water Pump
Polished Aluminum Alternator
Polished Engine Pulley Set
Power Steering that steers this car effortlessly!

High Performance Power Steering Cooler

Keeps the power steering system at the optimal temperature for consist, reliable feedback for those extended drives!

High Performance, Oversized Radiator keeps this engine running cool even on those hot days!

Polished Aluminum Radiator
Polished Aluminum Fan Shroud
Polished Radiator Cap
Complete Coolant Return System

Always maintains the correct coolant level in the engine cooling system for increased reliability and increased performance!

Electric Cooling Fan

Electric fans provide exceptional cooling for the engine coolant, and doesn't waste your horsepower like a mechanical fan with parasitic drag will do!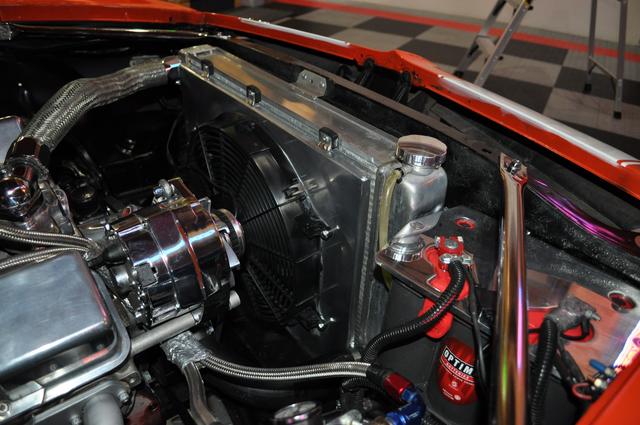 High Quality Chevrolet Pro-Form Air Cleaner
High Quality Chevrolet Pro-Form Engine Breathers

Allows for exceptional engine crankcase breathing to increase horsepower!
The engine bay of this Camaro is nothing but show stopping quality through out!
Engine Bay:
Painless Wiring Harness

Perfectly wired, clean, show car firewall!
Upgraded wiring allows for a clean, fresh beginning for the electrical system, increased reliability and no worries about previous poor quality work that will make you wonder if your lights and other accessories are going to work when you need them to!
Upgraded Fuses and Fuse Box allows for use of modern day Blade Style Fuses as opposed to the older cylindrical glass tube fuses, which makes replacement quicker, easier to locate and replace when needed!!

 Optima Red Top Battery
Polished Billet Battery Tray
Brand New Custom Polished  Billet Aluminum Hood Hinges

No more wobbly hood that leaves you guessing if the hood is going to come crashing down on you!

Chrome Hood Latch
Chrome Master Cylinder Reservoir Cover
Chrome Fender Braces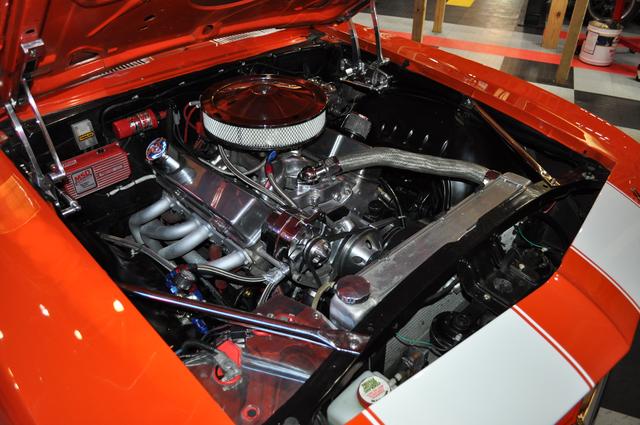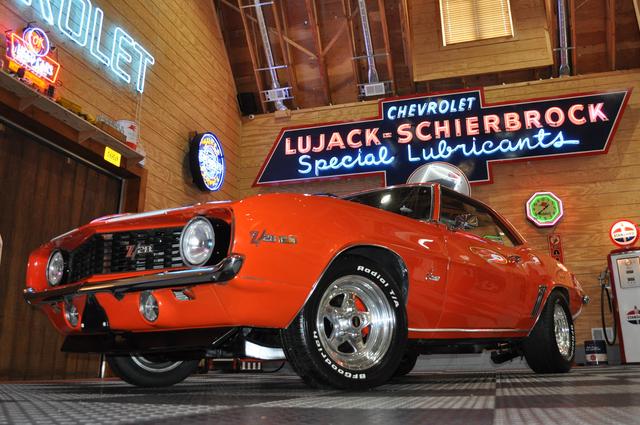 Behind this Potent 383 Small Block is a Monstrous Custom Built  TCI Turbo 350 and Custom Built Drive-Line to handle the torque of this power house!
Monstrous High Performance Custom Built TCI Turbo 350 Automatic Transmission

The best of both worlds! Smooth yet FIRM positive shifts that will get you cruising comfortably down the road or at Wide Open Throttle down the track!
With the manual gear selection feature, up-shifts and downshifts take place right when you move the lever, with no lag or governor override.

Truly the best of both worlds with this transmission!

Some may ask why with all this power a Turbo 400 wouldn't be used? The very answer to that is the simple fact that a TH400 contains very heavy internal rotating parts (cast iron drum) and create an enormous amount of parasitic drag compared to mostly any other transmission available.
Sure...a stock TH400 is well known to be a heavier duty trans than a TH350 right from General Motors but this heavy duty factor was designed more for heavy vehicles that may encounter pulling heavy loads. Overall, they are not a desirable transmission for a street rod or classic Camaro like this.

Only the largest of the GM cars weighing around 5000 lbs had these transmissions in them, along with heavy duty pickups. The half ton Chevy trucks didn't even come with these in them!
A mild built TH350 is far superior to any stock TH400 in every way for about the same cost. Building a TH400 to a high performance handling level is just not practical! All that extra rotating mass kills power, torque, and fuel economy! 

Custom High Performance Transmission Cooler

Maintains and regulates fluid temperature for increased service life of the custom built transmission!

Inland Empire Drive-line Aluminum Driveshaft transfers all of the power produced between the engine and transmission to the upgraded rear axle!
Rear Axle is a 8.5" GM 10 Bolt Rear Axle with Richmond 3.73 Gears and a Detroit Locker that sends power to both wheels during any loss of traction! No one legged burnouts here!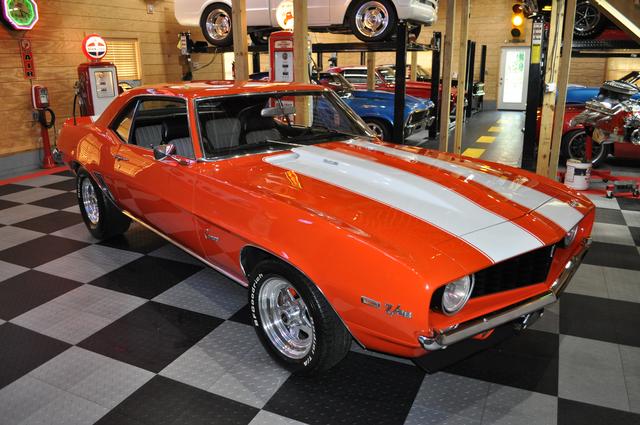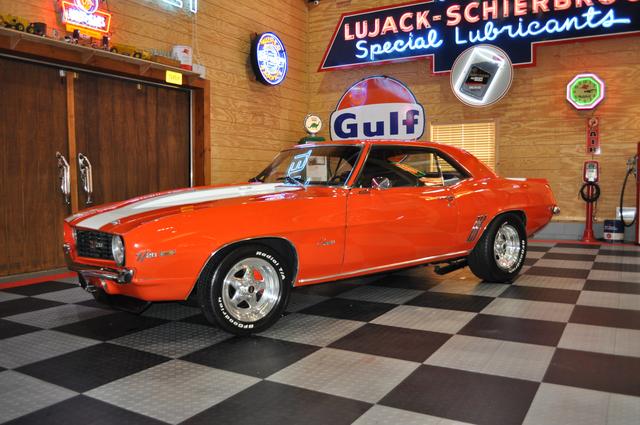 Fully Wet Sanded, Buffed, Polished and Detail!
Beautiful Hugger Orange Basecoat-Clearcoat with White Stripes that shines like a mirror!
Z/28 Trim and Emblems
D80 Front and Rear Spoiler Package
Chrome Front and Rear Bumpers
Deluxe Rear Bumper Guards - Correct for Z/28 Trim!
NEW Smoked LED Headlights
One of the things that most of these cars lack is visibility at night. We just upgraded this car with a super high visibility and high power modern LED bulb and ballast kit!

The great things about these are not only are they super bright but they last a lifetime, require less power to function, and don't get nearly as hot as a standard halogen or sealed beam housing which is what a '69 Camaro came with from the factory.
Not only were the headlight bulbs upgraded, but the ENTIRE HOUSINGS were fully replaced with brand new reflective housings  lit by high power LED's for that modern Pro-Touring look!

LED Headlights are great! But what about those parking lights that sit below the bumper? We didn't stop there...

We removed those ugly dim amber bulbs from the park/turn signal housings and put in custom White/Amber Switchback technology LED bulbs!

A switchback LED bulb is a custom type of light bulb that operates as one color under steady voltage and changes color under pulsating voltage.
When you turn the headlights on this car, you will now have what appears to be fog lights that actually match the same color as the headlights but beneath the bumper! However, hit the turn signal and it flashes amber so you can eliminate the need for a separate housing and still remain street legal.
We see a lot of people change out light bulbs on their daily drivers to white LED's but the problem is in most states you can't have flashing white lights so that's where a switchback style LED works best!!!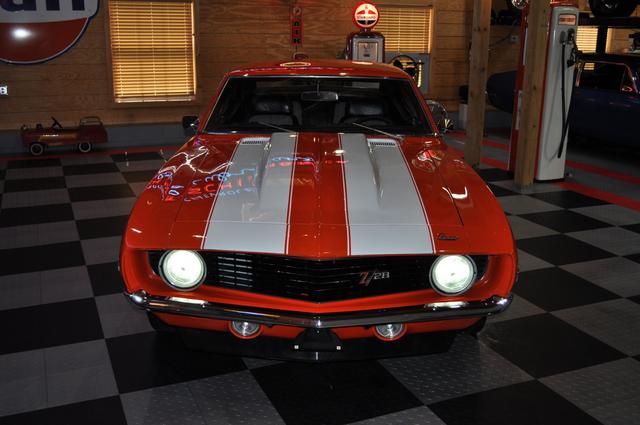 Polished Stainless Steel Windshield Reveal Moldings
All Emblems Present Around the Car Making this Camaro Turn Key and Ready for Local Car Shows!
Dual Side View Chrome Mirrors
Chrome Exterior Door Handles
Factory Style Quarter Panel Trim Louvers - one year exclusive trim option for the Camaro that wasn't used again 'til Generation 5!
2" Cowl Induction Style Steel Hood
Brand New 15" Weld Racing  5-Spoke Polished Aluminum Alloy Wheels with BFGoodrich Radial T/A White Lettered Tires that gives this Classic Camaro that classic muscle car appeal!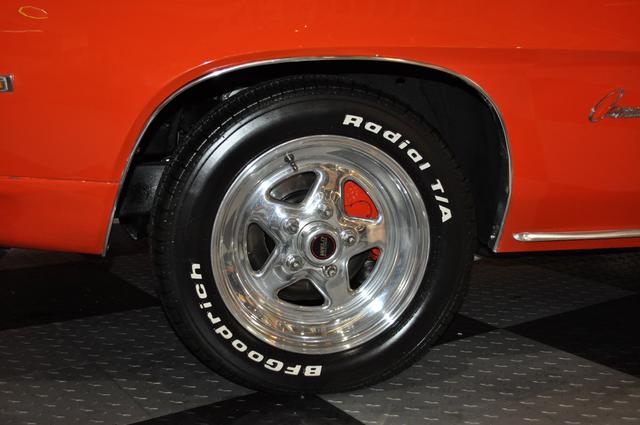 New Window Felts
302 Hood Emblems
All Glass Present and Crystal Clear
Polished Wheel Well Molding Trim
Brand New Polished Drip Rail Moldings
Brand New Polished Rocker Panel Moldings
High Performance Wheel Studs
Front Disc Brakes with Custom Painted Orange Calipers to Match the Body Color
New Quarter Window Rubber Weatherstrip Seals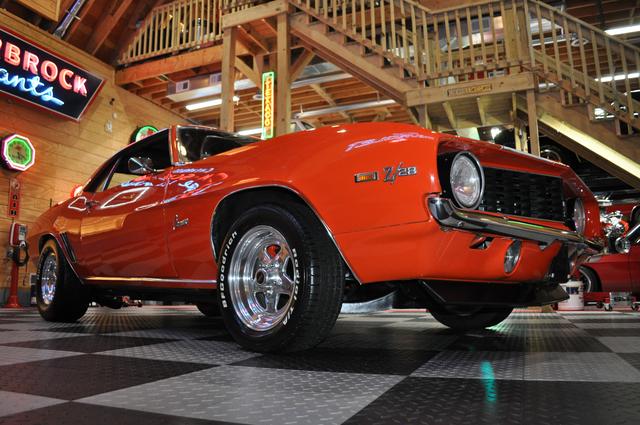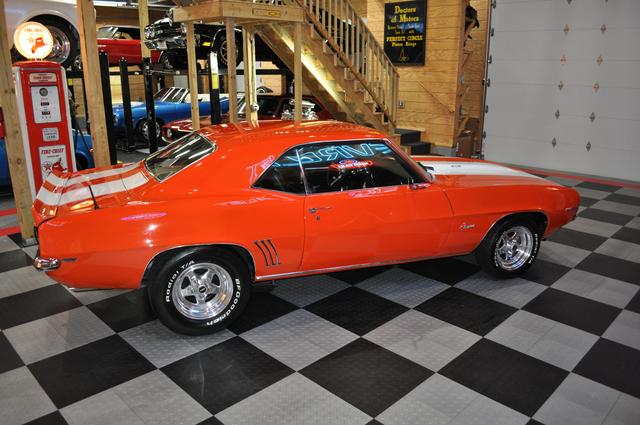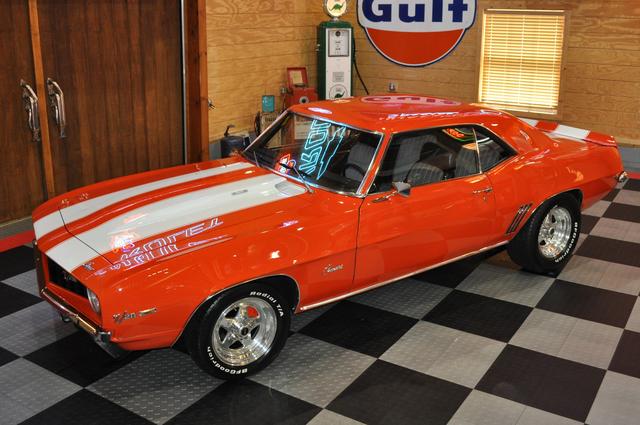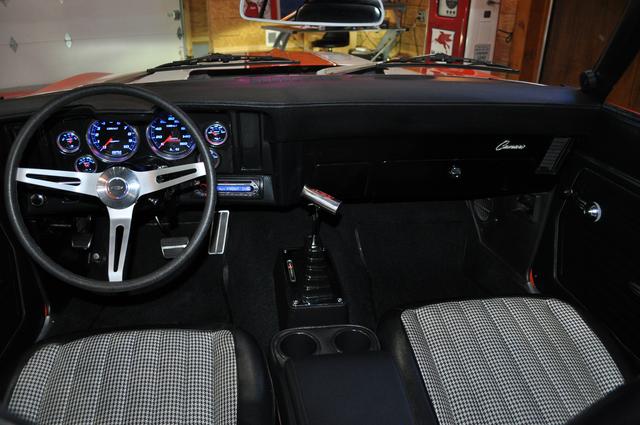 Recently redone black interior with lots of custom features that makes driving your classic '69 enjoyable again!
Deluxe Black Houndstooth Bucket Seats with Headrests that are super comfortable and nostalgic
Black 80/20 Loop 2-Piece Carpeting that has been redone
Custom Smooth Black Leatherette Headliner and Sun Visors that resemble the factory Bedford Grain style but has been updated to a more modern smoother material that is a lot stronger and durable
Not only was the headliner done in a custom black leatherette but the rear package tray shelf panel was done in the same material to keep things consistent and appealing throughout!
Custom TMI Center Console that features two cupholders and a console storage compartment that makes driving a '69 Camaro very practical and enjoyable again!
Complete Custom AutoMeter Gauge Cluster that features a full range of gauges that were never offered in the dash from the factory!

Speedometer, Tachometer, Oil Pressure, Coolant Tempearture, and Voltage are all readily visible in the dash!
All gauges are very accurate and respond instantly! Can't say this about the factory gauges!
Completely LED Backlit for High Visibility during those nighttime cruises

Not only is this car equipped with AutoMeter Gauges, but the entire instrument cluster was replaced with a direct-fit AutoMeter gauge cluster that was designed for a '69 Camaro with these exact gauges to be installed! It's been completely finished off with a Carbon Fiber appeal for that custom look yet fits like it came like this from the factory!
Custom Sony Aftermarket Radio that lets you enjoy playing your music and cruising to your tunes!
This car is also equipped with Kenwood 6x9 Speakers in the rear, a full center dash speaker, and a set of Tweeters up front for a full range of crisp audio!
Recently redone factory style dash pad
Factory Style Comfort Grip Polished Stainless Steel 3-Spoke Steering Wheel with Working Horn!
Custom Hugger Orange Embroidered Bowtie Floor Mats Front AND Rear that keeps this nice Loop Carpeting protected from shoes and debris!
B&M Custom MegaShifter that lets you bang through each gear of its TCI Turbo 350 Transmission without issue!
Door Panels appear to have been replaced and are complete and in nice shape
Factory Style Trunk Mat with Full Size Spare Tire!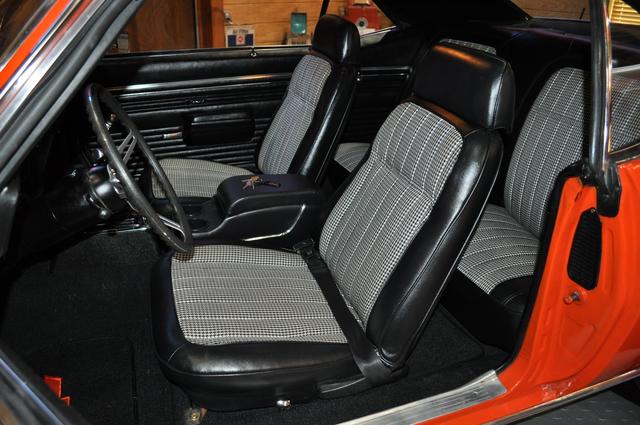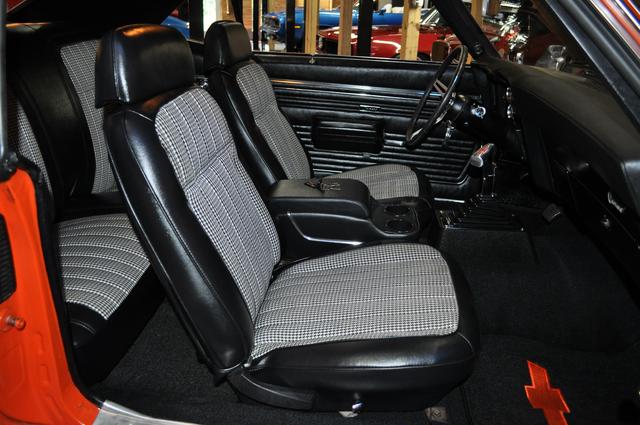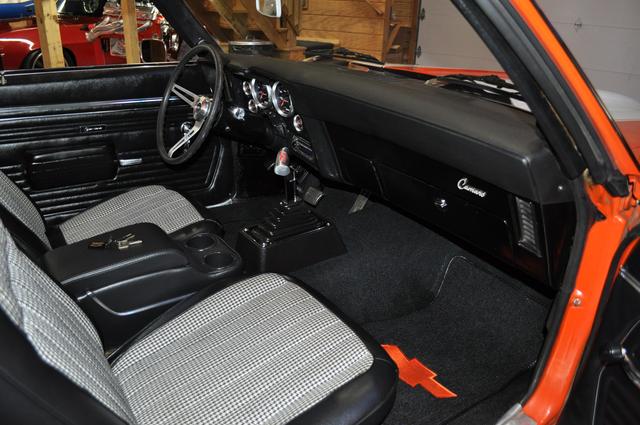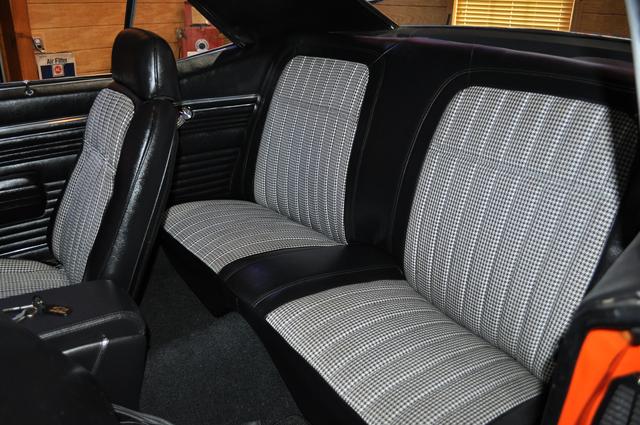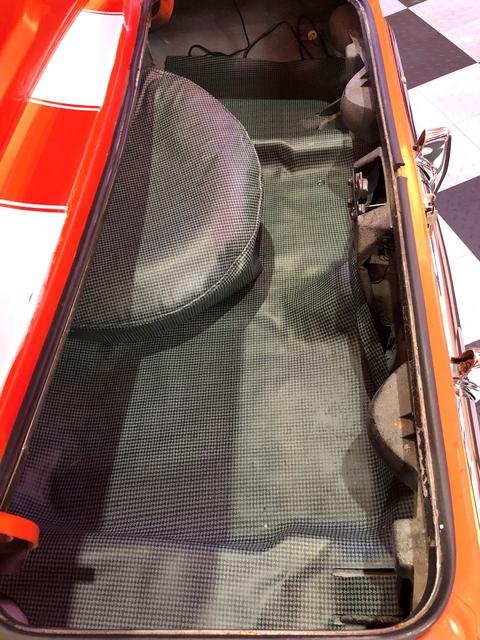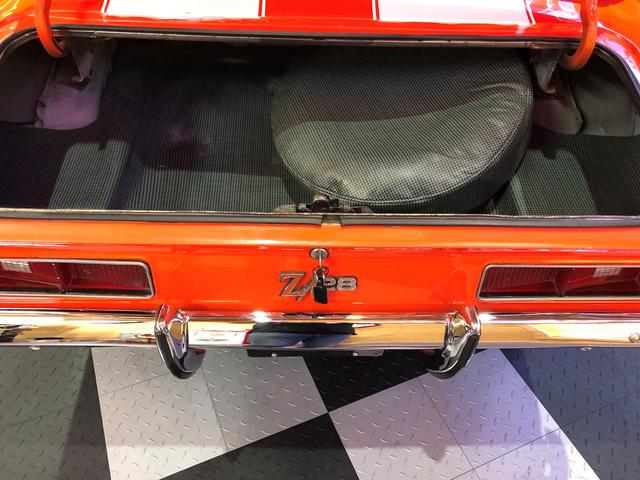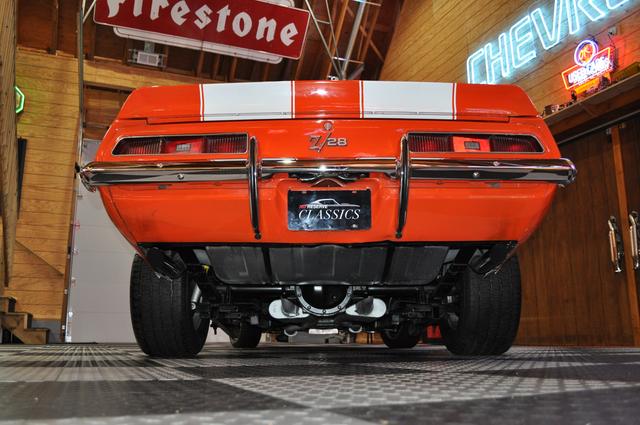 Fully Detailed Underbody with Many New Upgrades and Parts for Ultimate Performance and Clean Appeal!
Flowmaster 2.5" American Thunder Dual Exhaust System with H-Pipe Crossover that lets this Classic American Muscle Car Proudly Scream its Ponies!
Factory Independent Front Suspension that has been completely redone with all new ball joints, and steering components!
Multi-Leaf Rear Suspension that keeps this car planted tight yet still is very comfortable to drive on the road!
Energy Suspension Red Polyurethane Engine and Transmission Mounts that keeps the drivetrain securely connected to the subframe!
Electronically Driven Speedometer means very quick, responsive, and accurate speedometer readings!
Holley Electric Fuel Pump that has been plumbed with Braided Stainless Steel -AN Hoses Throughout for the Best Possible Seal and Fuel Flow!

No rotted old rubber and steel hardline to worry about on this car causing major fuel leaks!

ARP 12-Point Polished Stainless Steel Oil Pan Bolts
High Capacity Internally Baffled 7 Quart Oil Pan
As previously mentioned, this '69 Camaro has been upgraded with an 8.5" 10 Bolt Rear with a Detroit Locker (also known as "Positraction") Differential and 3.73 Richmond Gears.

What does this all mean? It simply means the rear end is strong, has a great gear ratio for quick acceleration and the best of all, this car

SPINS BOTH WHEELS

during a smokey burnout!

High Torque Gear Reduction Style Starter turns this High Performance 383 Right Over without Hesitation!
Also equipped with subframe connectors that strengthens the chassis and body and prevents body flex during turns and acceleration!

This is something all Camaro's (even up to the 4th Generation!) are known to suffer from. Any performance upgrade meant you increased the chance of twisting critical chassis components and flexing the body.
Not to worry, as previously mentioned, the car has been sorted just right with the correct parts and components to make this car drive the way it's supposed to!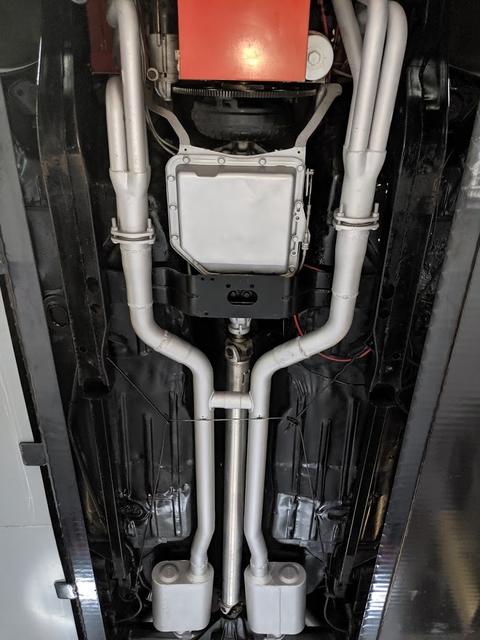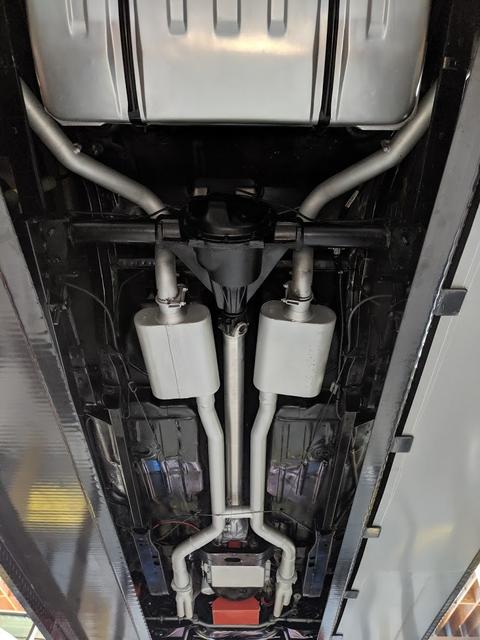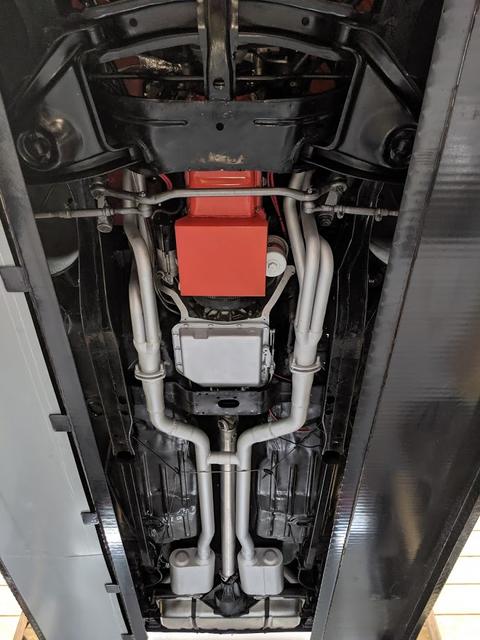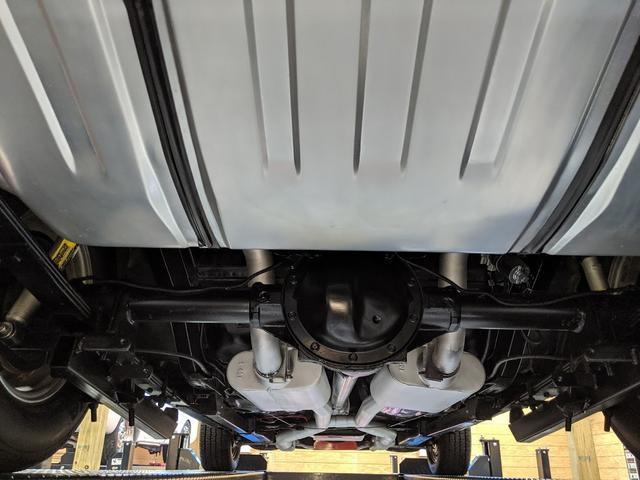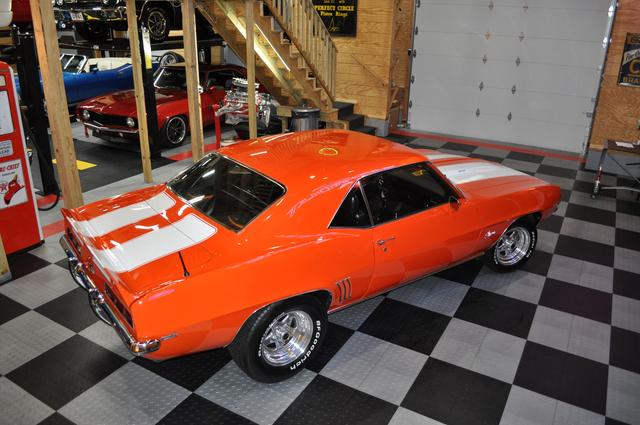 The Takeaway:
Please keep in mind that this car is a complete restomod with none of the factory drivetrain components and therefore cannot verify it to be an original Z/28 born car. Although this car looks absolutely stunning, please understand that this is almost a 50 year old car with imperfections. As with all classic cars, it may need a few odds and ends down the road as you begin to drive it more often but still nonetheless an iconic and one of the most sought-after classic cars that you will be proud to own and very happy to drive in!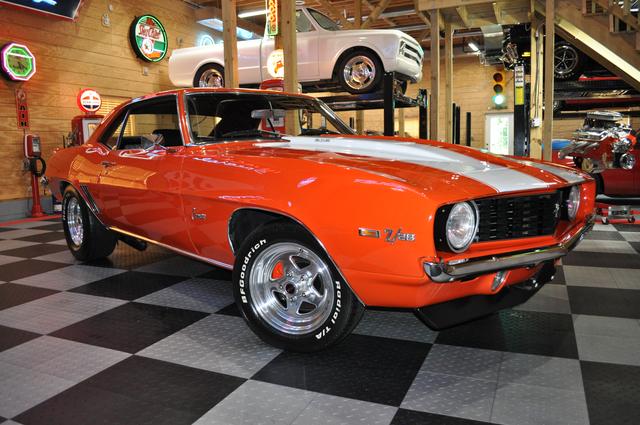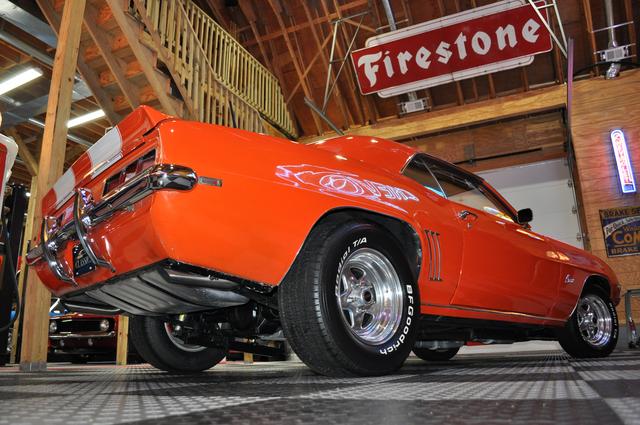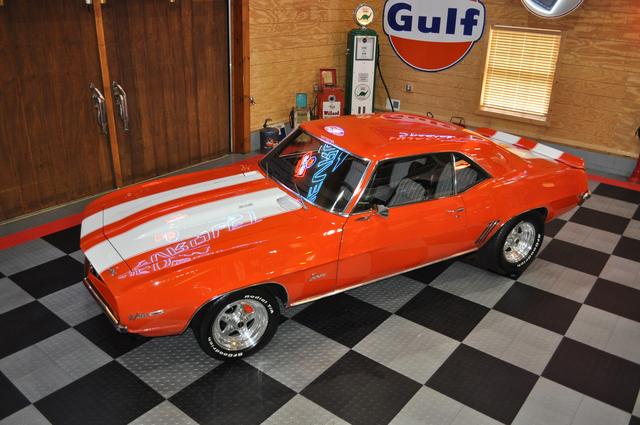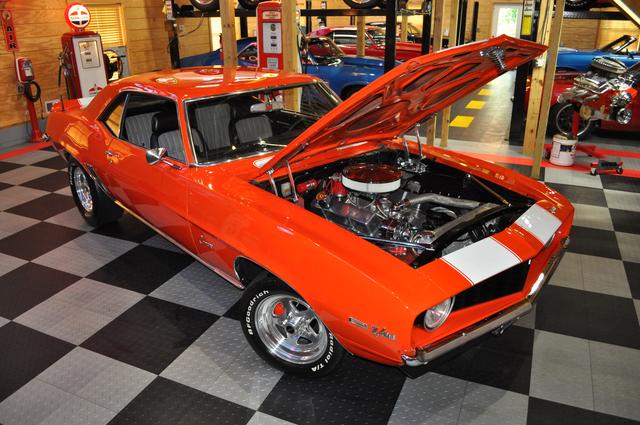 Related Listings
Sold

$50,200

Sold

$36,100

Sold

$35,000

Sold

$54,000

Sold

$57,350

Sold

$40,800