1969 Chevrolet Camaro SS LS1 Pro-Touring Restomod Coupe
No Reserve Classics is proud to present to you this frame off restored Pro-Touring 1969 Camaro! Always dreamed of owning a classic and iconic American Muscle Car with the sound and performance of a new Corvette? Well you're in luck because this Camaro is that exact car!
We CONFIDENTLY encourage this car's new owner to drive it back home whether it be the next town over or across the country from New Jersey to California as it was built EXACTLY for that purpose! It drives and handles like an absolute dream…a dream you can own!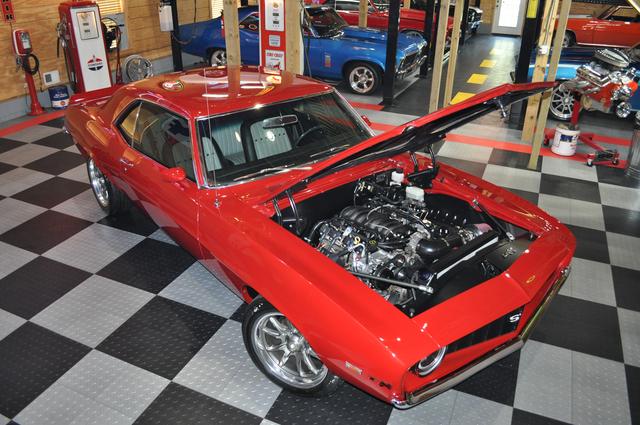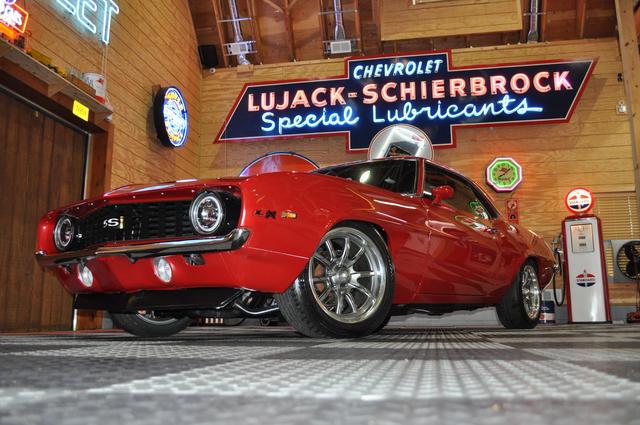 Powered by a High Performance Upgraded Fuel Injected 5.7L LS1 Engine and a Tremec T56 6-Speed Transmission, this car well exceeds the Torque/Horsepower of a Big Block yet has the highway fuel mileage of a modern car! Quietly cruise in 6th Gear or drop it down in 2nd or 3rd and throw you and your passengers back into your seats upon wide open throttle! Quick acceleration and amazing handling/performance is one of the perks of having a FACTORY ALL ALUMINUM LS Engine with a OBD II ECU/Computer System to keep it running top notch.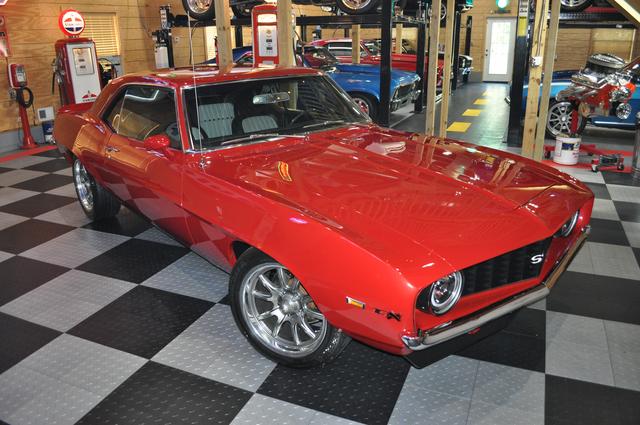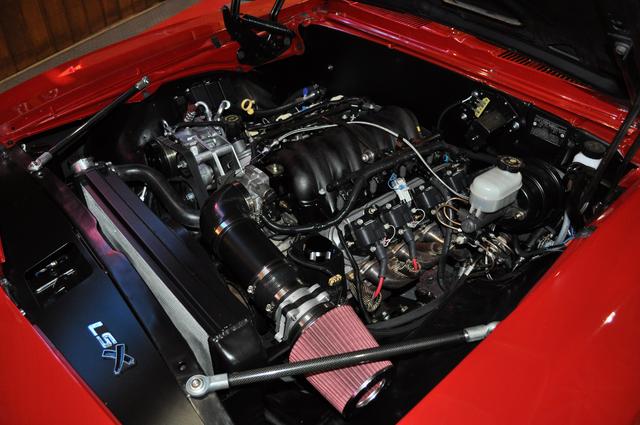 Comfort is not even a question about this car. All New Vintage Air Ice Cold Air Conditioning is present along with Power Windows, All New Suspension FRONT TO REAR, Modern Power Steering, 4-Wheel Power Disc Brakes, and a Completely Refurbished Houndstooth Bucket Seat Interior. This car truly drives, handles, and feels like a new car BUT has that classic, old school muscle car stance and appearance.
Below are select photos from this car's massive frame off restoration! Not only is a flash drive with a complete album of photos included with the purchase of the car, but a heavy 3″ Thick Binder full of documents and receipts that were saved during the restoration is included!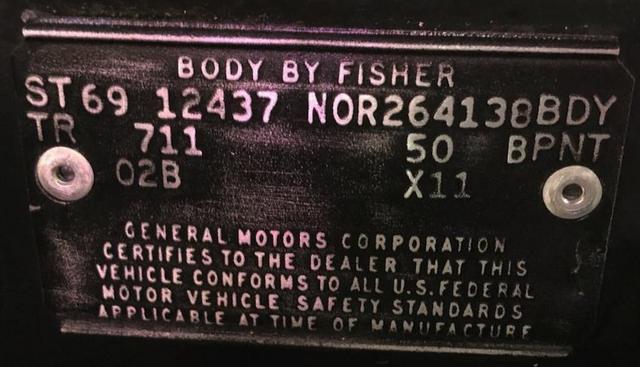 ORIGINAL 124 V8 – X11 Code – 1969 Camaro!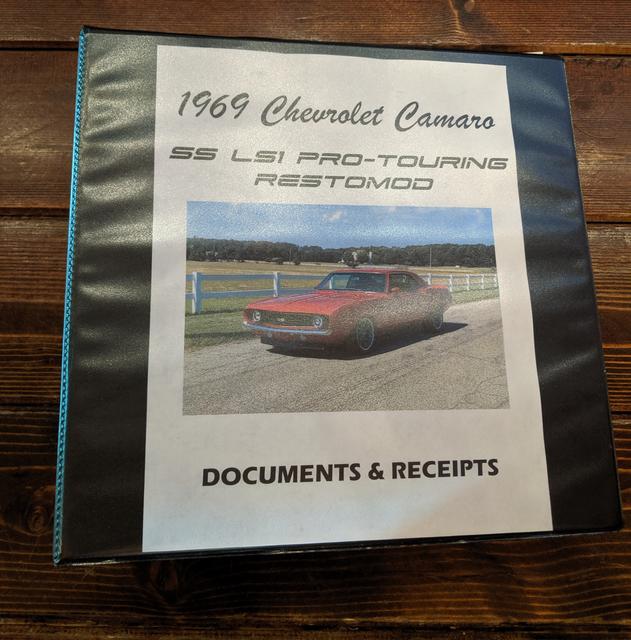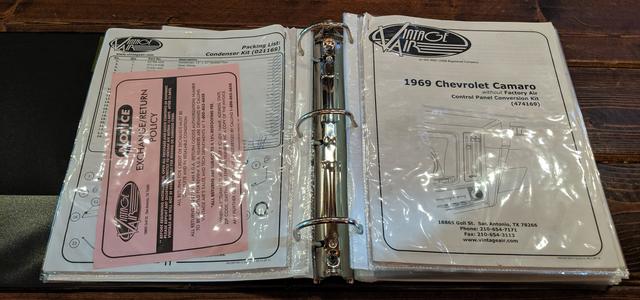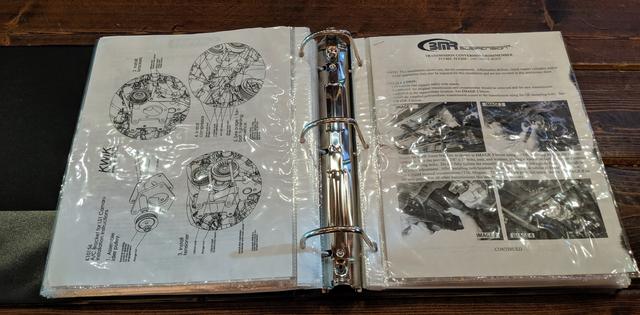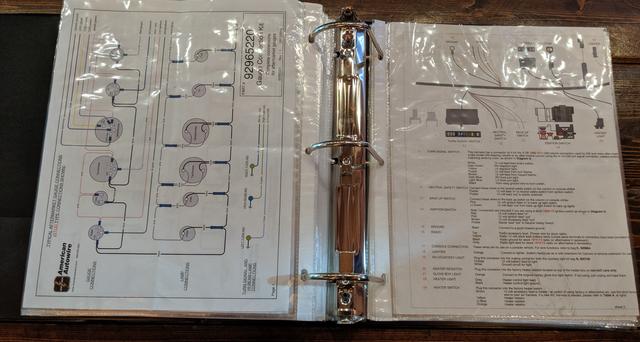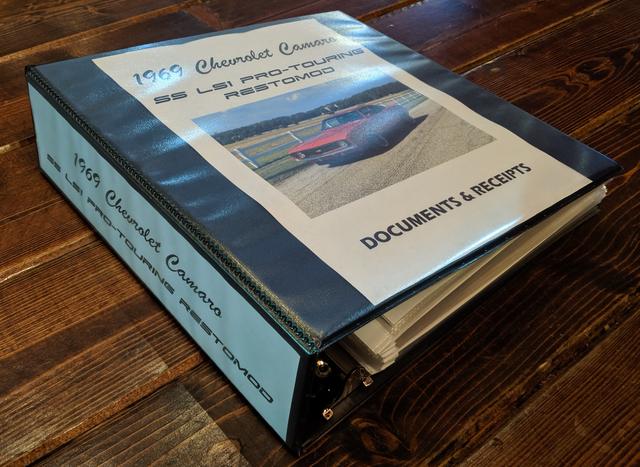 FULLY DOCUMENTED FRAME-OFF NUT/BOLT RESTORATION PHOTOS: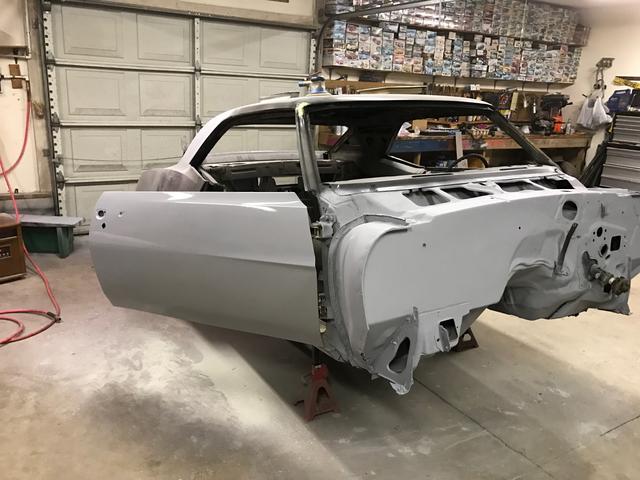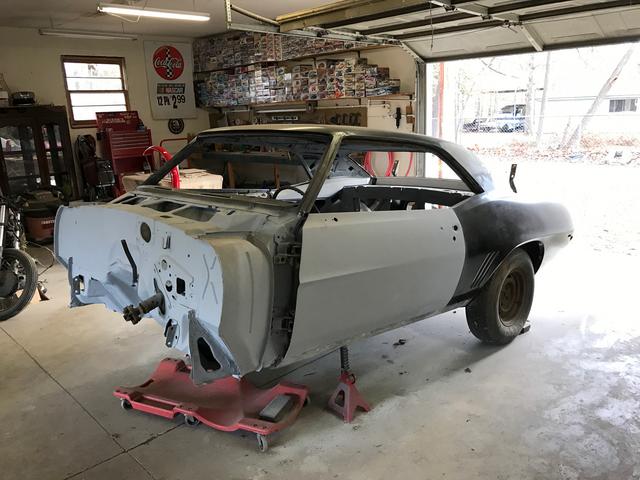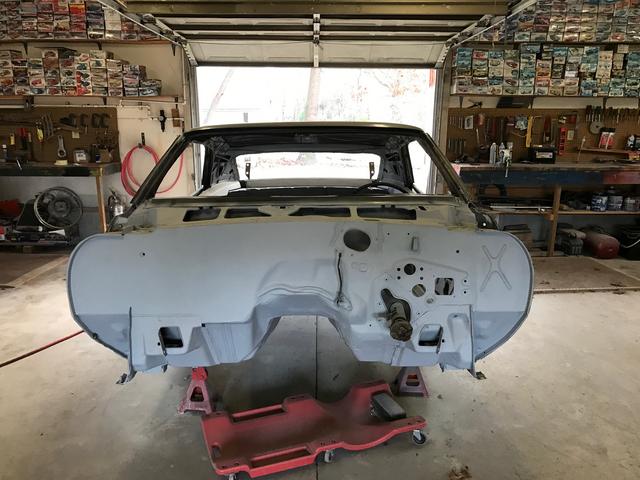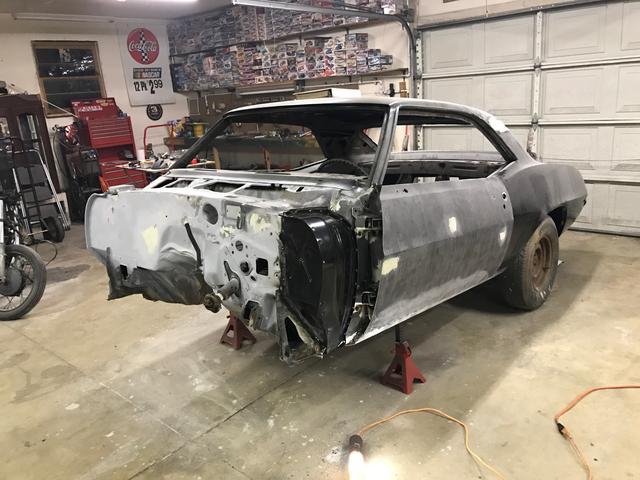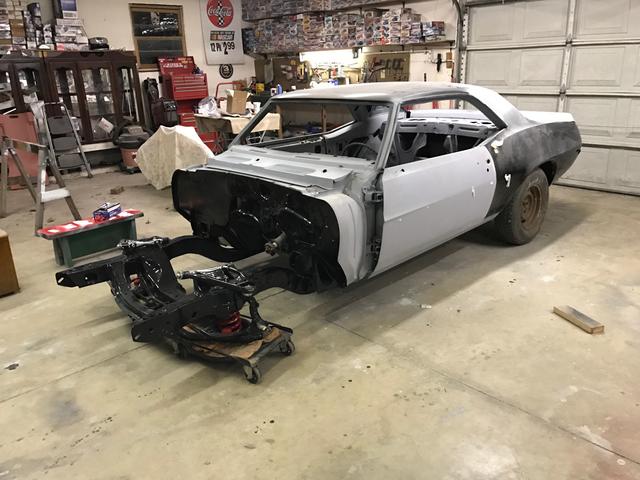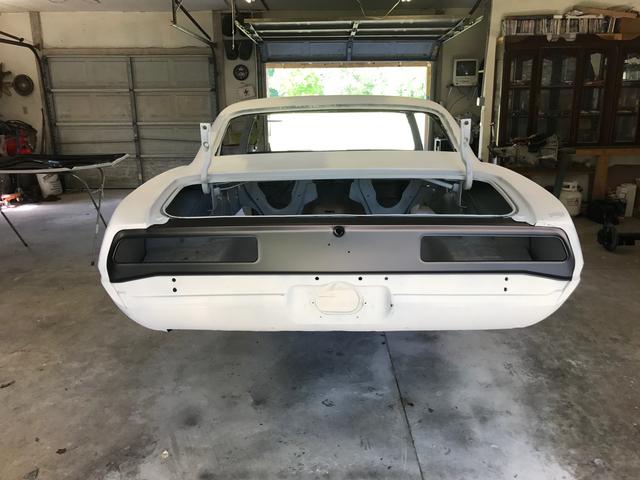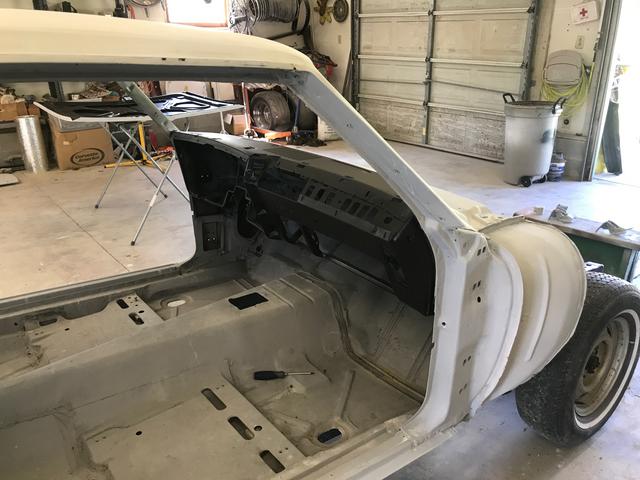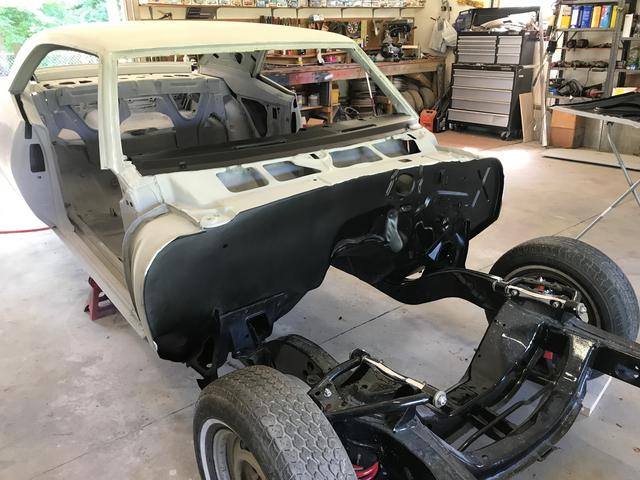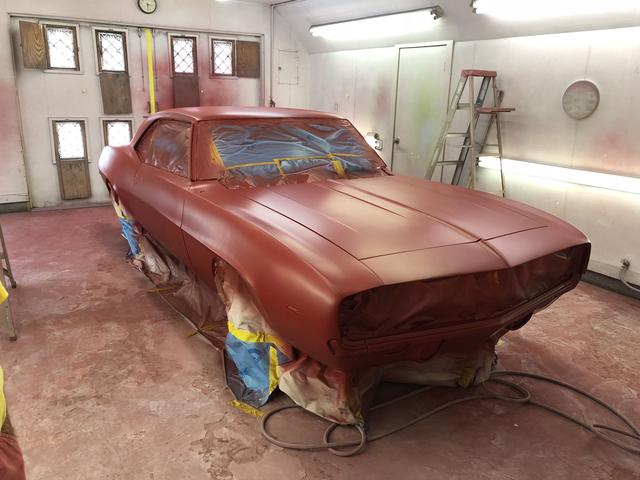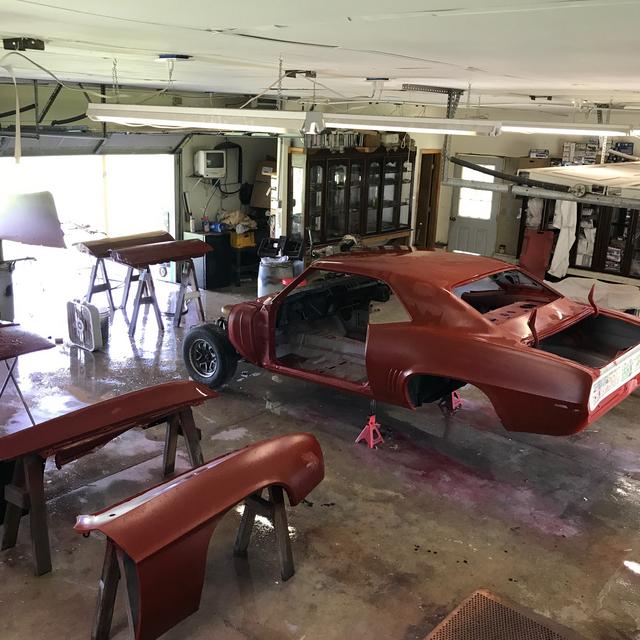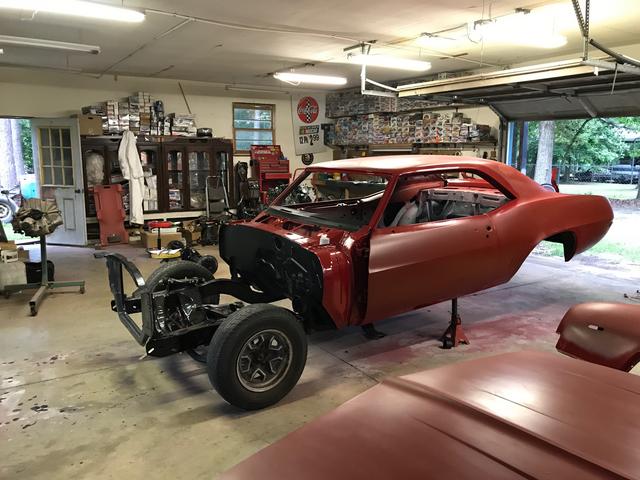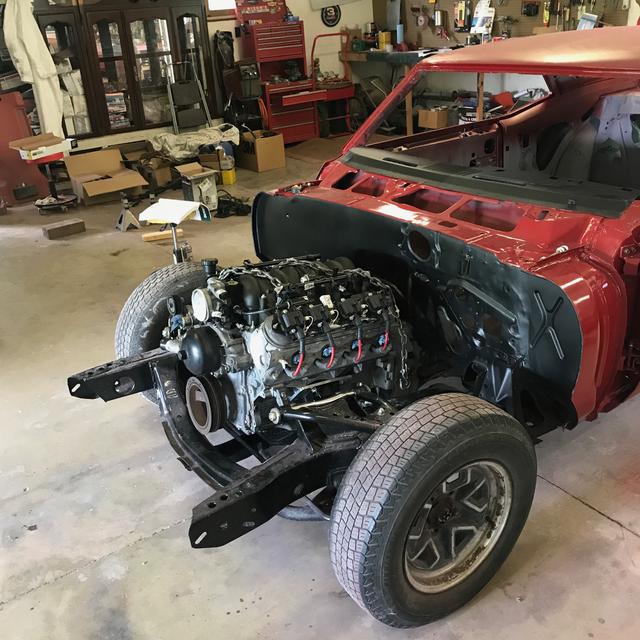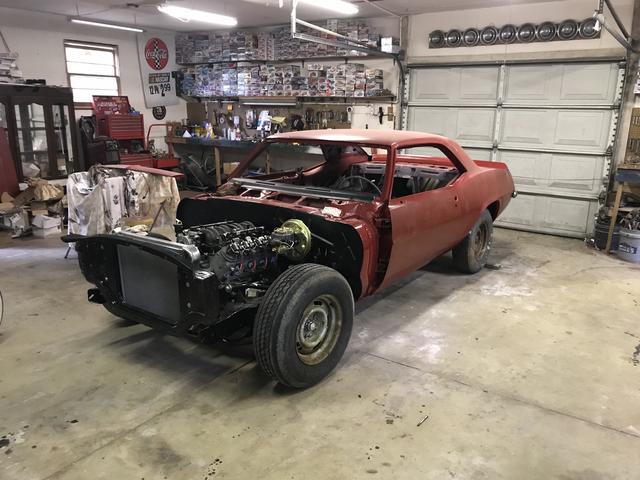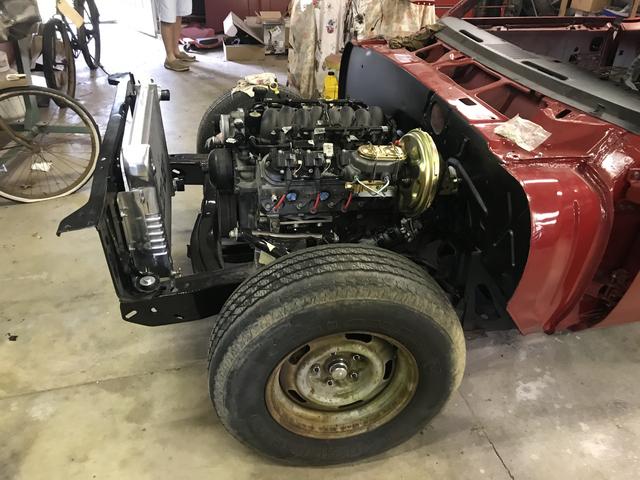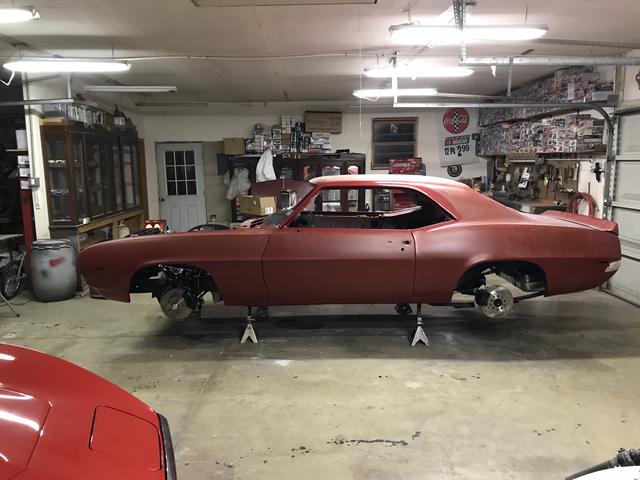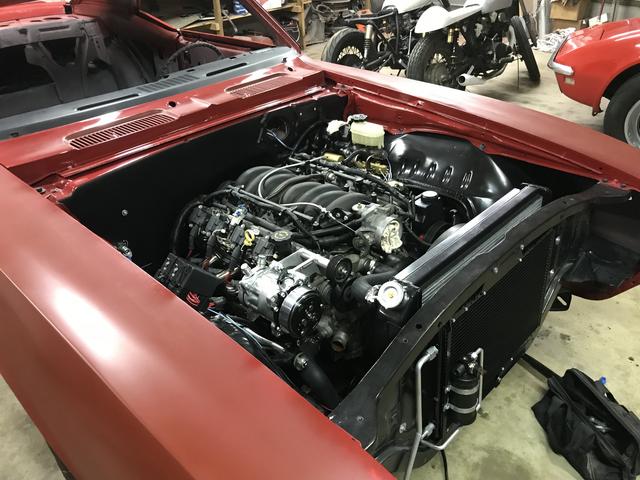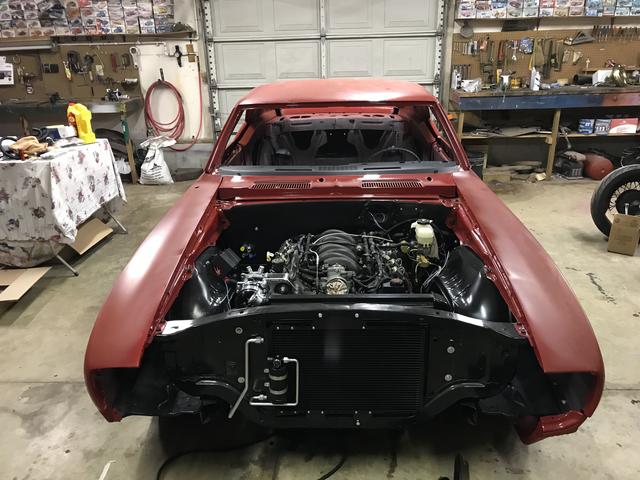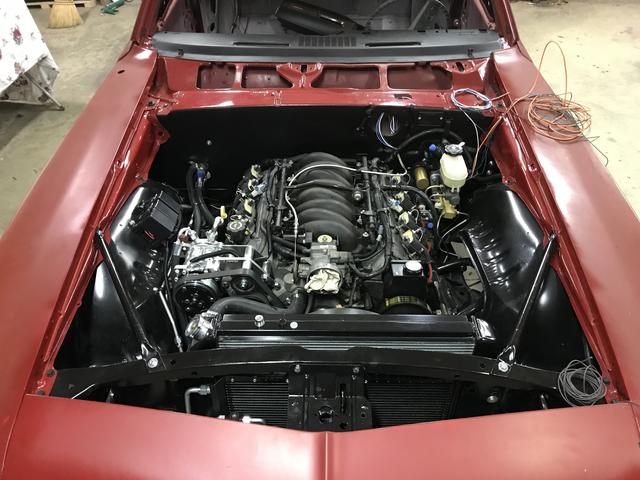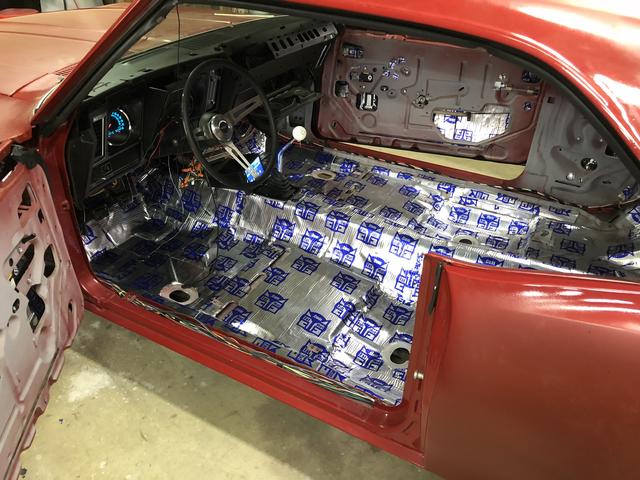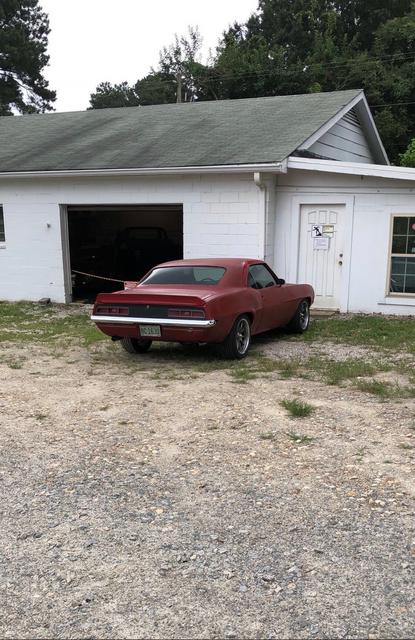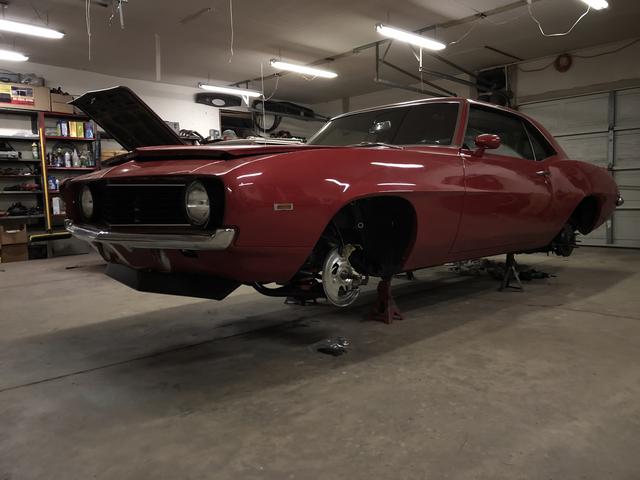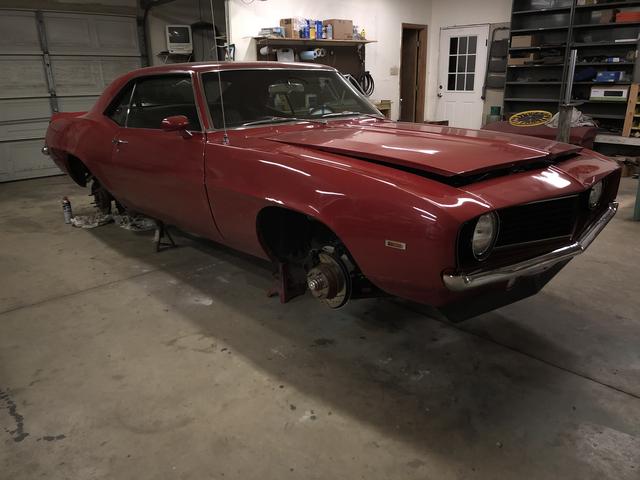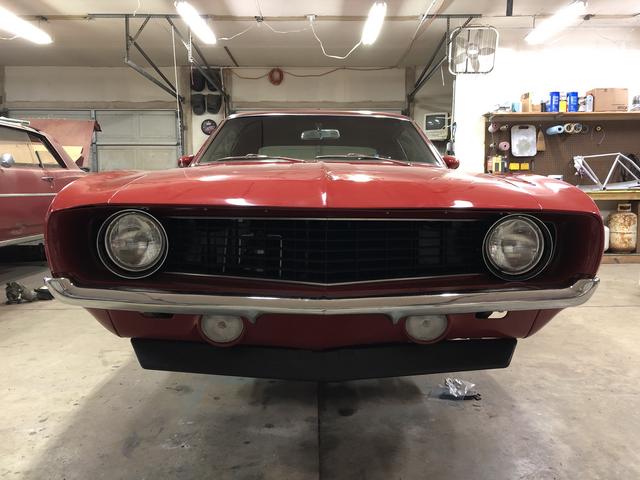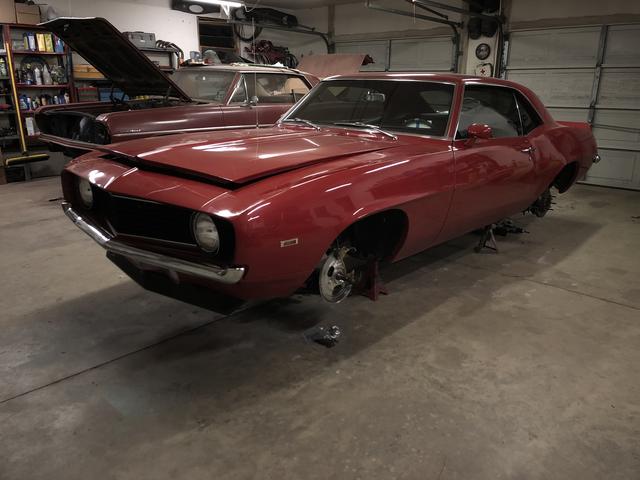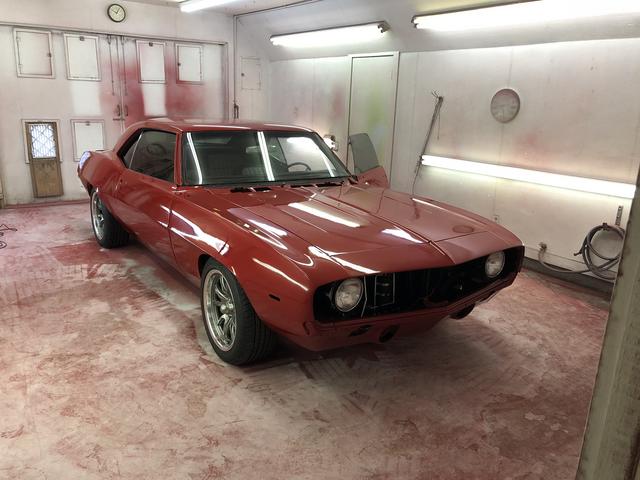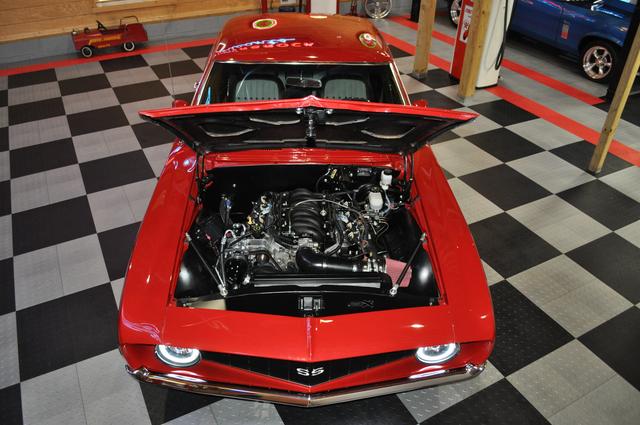 Fully Detailed Engine Compartment with an absolutely exquisite attention to detail!

During the restoration, this car received a customized firewall that is seldom seen on even some of the most baddest builds out there just because of how much work it is! The entire firewall was smoothed out and flattened for that ultimate modern appearance.

It complements this LS1 Engine Bay just right. No more factory wavy sheet metal with those unappealing cutouts and uneven surfaces. Only the areas that were utilized for equipment such as the wiper motor and hydraulic fluid cylinder were cut into.

This firewall isn't just some cheap glue-on type panel that you can obtain for less than $100. This panel was professionally welded and installed before any paint/body work was completed. It's so clean it almost appears as though this car received a smooth firewall right from the GM Factory back in 1969!

High Performance 5.7L ALL ALUMINUM LS1 Engine:

High Performance Upgraded Camshaft Design/Specifications that produces a lot more power than factory!

Overall this engine is set lower in the chassis to improve center of gravity

This isn't your basic factory LS motor from a Chevy Tahoe or GMC Suburban...this is a real ALL ALUMINUM LS1 that was fully upgraded to produce A TREMENDOUS AMOUNT of RELIABLE Torque and Horsepower!

Not to mention you can cruise on the highway in 6th Gear and get excellent fuel mileage. 

Large weight reduction in the Aluminum LS1 versus the older cast iron Small Block and Big Block engines these cars are typically equipped with

Less weight, increases overall vehicle performance, and has an impressively large improvement on how this Camaro now drives!!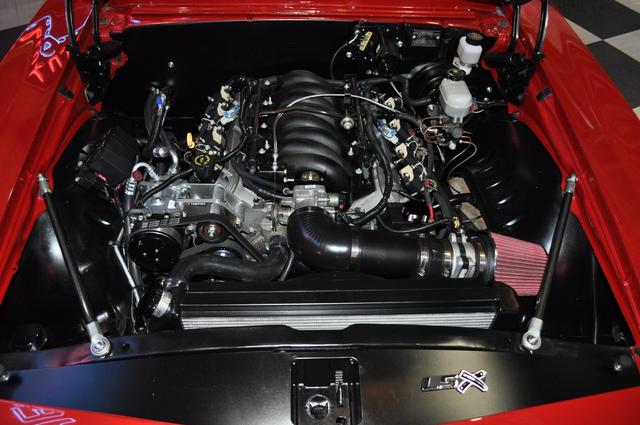 Tremec T56 6-Speed Manual Transmission that sandwiches a Hydraulically Operated Clutch!:

This LS1 is mated to a modern day Tremec T56 6-Speed Gearbox

Such a night and day difference between the clunky 3/4 speeds of the 1960's and the crisp, clean, and positive response of the modern day gearbox!

The additional gears help in making this Camaro not only a serious performer, but also getting great fuel mileage while cruising!

The Hydraulically Operated Clutch makes shifting through this 6-Speed and absolute breeze!!!

Increased reliability, easy maintenance, and great clutch modulation!!

Lokar Adjustable Throttle Cable

Instant connection between the driver's foot and the engine

Braided Stainless Steel Sheathing

No floppy throttle pedal that has you guessing and decreases throttle response times!

A lot of drivers typically prefer the throttle by cable version as opposed to drive/throttle by wire because of the instantaneous and crisp throttle response you would get with a mechanical throttle blade. There is no hesitation whatsoever with this car's acceleration! When you press the gas, this car GOES!

Another great key feature of the LS Platform is the modern Coil Over Plug design which allows for increased performance, additional tuning and easy maintenance!

No more messing with sloppy, poor performing distributors, or points systems of the 1960's!!

Kwik Performance LSx Air Conditioning Compressor Bracket

Allows for a perfect mounting of the Vintage Air Compressor with a show quality design!

Thermostatically Controlled Electric Cooling Fan which provides greater reliability, yet, is electrically powered, which no longer robs your engine of horsepower!!

Custom Mandrel-Bent Stainless Steel Full Length Exhaust Headers

Long tube headers allow for a greater performance and a more equalized performance from the engine, while enhancing the amazing thunderous roar from this small block!

Solid Motor Mounts were installed to provide a lower installation height of this LS1, giving a better center of gravity, and a solid mounting for the engine!

Polished Billet Aluminum Engine Mounting Plates

Holley Short Sump Oil Pan

This oil pan allows for additional ground clearance while yet making sure there is oil always available at the pick up to prevent oil starvation and engine failure!

Spark Plug Boot Protectors

Protects and insulates the spark plug wires from hot exhaust manifolds!

Modern Power Steering System with Type II Series Pump

Modern Serpentine Accessory Belt System - no more slipping v-belts that takes away performance from your accessory drive

ALL NEW Power Steering Hoses

Brand New Bosch AGM Premium Gel-Cell Battery that will provide years upon years of trouble free startups!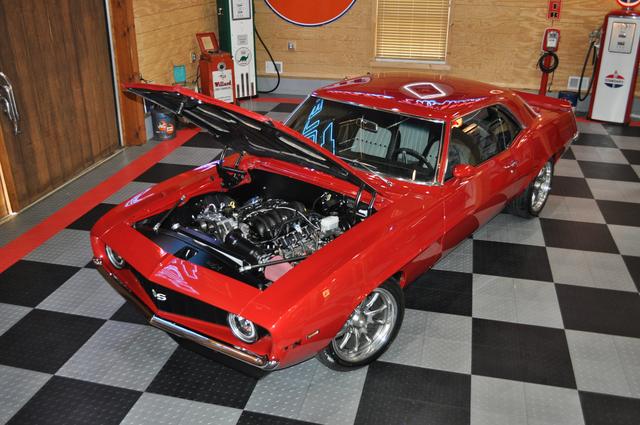 Complete American Autowire Wiring Harness

To help mate this modern LS1 to the 1969 Camaro is an upgraded engine wiring harness to take advantage of not only the newer drivetrain, but also the greatly improved reliability of the modern wiring in today's vehicles!

This wiring system replaces all of the old, questionable and unreliable wiring of the 1960s with modern day reliability!!

NEW Under Cover Innovations Front Engine Bay Filler Panel that we custom powdercoated Black to neatly match the rest of the engine compartment!

Increases performance by forcing air flow through the radiator to reduce engine temperatures while giving the engine bay that clean, sleek show car appearance!

We didn't stop there, we added a custom yet subtle Black/Gray LSx Emblem on the filler panel that proudly tells everyone peaking underneath the hood what powers this totally wicked 1969 Camaro!

Over-Sized High Performance Aluminum Radiator keeps this ALL ALUMINUM LS1 running cool on those hot summer days!

Custom Painted Black

Blacked Out Modern Midnight Series Appeal!

NEW Custom Black Aluminum Coolant Over-Flow Catch Can

NEW Billet Specialties Radiator Cap

Custom Carbon Fiber Fender Braces that add additional lightweight support to the front end of this Camaro!

Vintage Air Air Conditioning and Heating System

One of the largest improvements since the yesteryear's cars has been the improvement in the heating and air conditioning systems.

This Vintage Air System is using the best of today's technology and brings it into this Camaro!

The Vintage Air system has a very clean installation for a show quality finish and without the unsightly evaporator boxes of the 1960's!

The system in this car has no problems creating ice cubes on the hottest days, providing exceptional heat during the cold winter months, allow this Camaro to be a truly year-round vehicle!

NEW March Performance A/C Clutch Pulley Cover

NEW Black Billet Power Steering Cap

Tilton 75 Series Brake Master Cylinder

Detroit Speed Tilton Clutch Master Cylinder

Tilton is one of the world's leaders when it comes to performance components and reliability, which is why this system was chosen for the brake and clutch hydraulics!!

Power Steering Box made by the well known manufacturer - Power Steering Gear

The upgraded steering box greatly reduces the amount of sloppy free-play which plagued all of the old muscle cars and left you guessing which way the car was going to turn!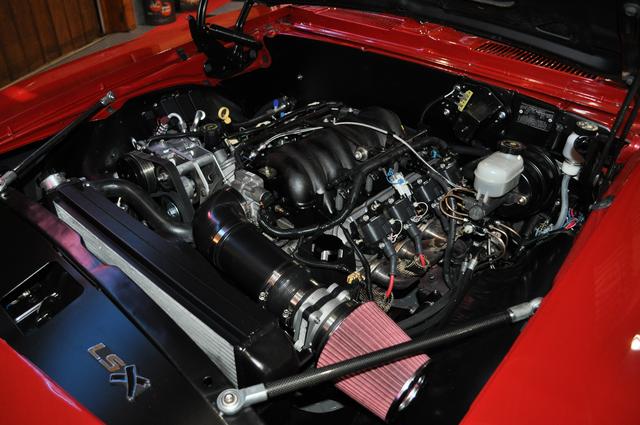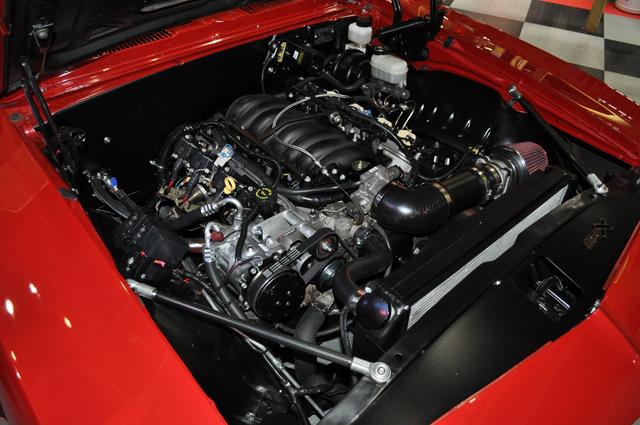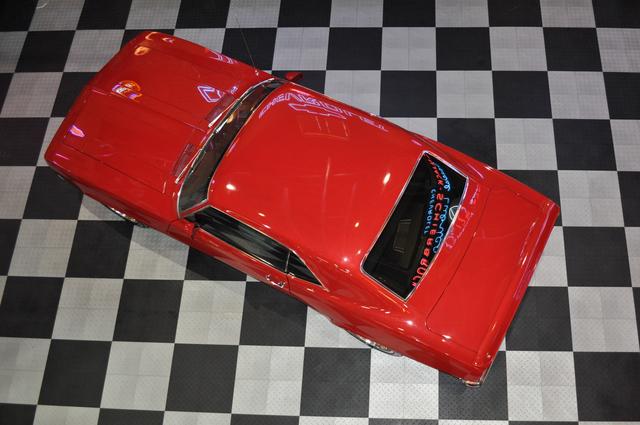 Redline Pearl Metallic Basecoat-Clearcoat Body Color that just underwent a complete Wet Sand, Buff, Polish, and Detail to Shine Like GLASS!!

We went with a theme on this car that we like to describe as "Less is More". We kept the trim off the sides of the car that you would typically see on a '69 Camaro and made very subtle changes!

The only emblem you will find on the side of the car is a Brand New Custom LSx Badge on the Front Fenders! It was finished in a Red and Black Appearance for that ultimate modern appeal!

Between the Custom painted Bullet Side View Mirrors, the Anthracite Wheels, and the Tinted Windows, this car still retains the factory beautiful steel body lines of a '69 Camaro but has the accents of a new Corvette sports car!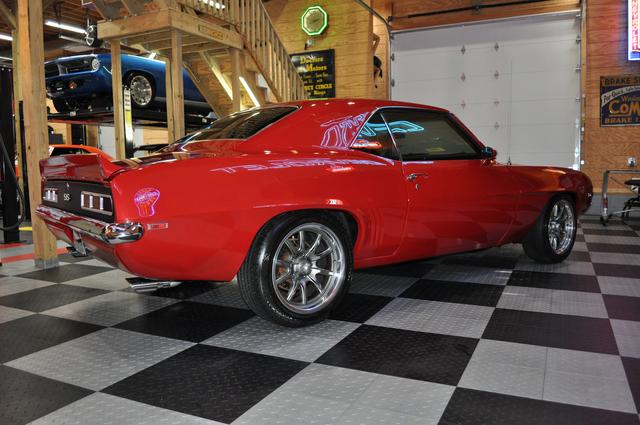 NEW Custom Smoked LED Headlights with Halo Ring Daytime Running Light!

One of the things that most of these cars lack is visibility at night. We just upgraded this car with a super high visibility and high power modern LED bulb and ballast kit!

The great things about these are not only are they super bright but they last a lifetime, require less power to function, and don't get nearly as hot as a standard halogen or sealed beam housing which is what a '69 Camaro came with from the factory.

Not only were the headlight bulbs upgraded, but the ENTIRE HOUSINGS were fully replaced with brand new reflective housings  lit by high power LED's for that modern Pro-Touring look and modern visibility on the roads!
LED Headlights are great! But what about those parking lights that sit below the bumper? We didn't stop there...

We removed those ugly, dim amber bulbs from the park/turn signal housings and put in custom White/Amber Switchback technology LED bulbs!

A switchback LED bulb is a custom type of light bulb that operates as one color under steady voltage and changes color under pulsating voltage.

When you turn the headlights on this car, you will now have what appears to be fog lights that actually match the same color as the headlights but beneath the bumper! However, hit the turn signal and it flashes amber so you can eliminate the need for a separate housing and still remain street legal.

We see a lot of people change out light bulbs on their daily drivers to white LED's but the problem is in most states you can't have flashing white lights so that's where a switchback style LED works best!!!

BRAND NEW Eddie Motorsports Polished Billet Aluminum Smoked Tail Light Bezel Assemblies

Factory Appeal yet completely customized from the smooth flat lenses to the CNC Cut Billet Trim!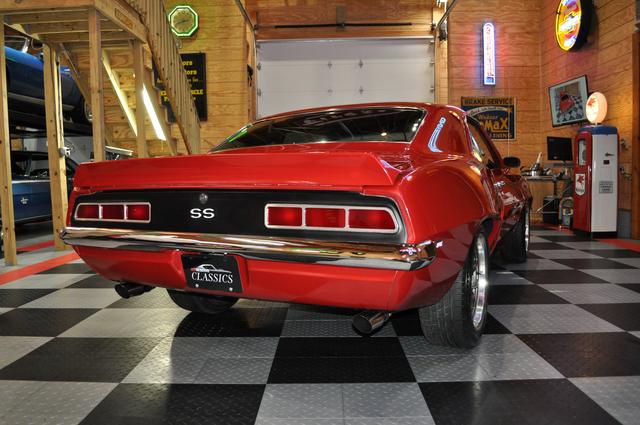 Not only were the Tail Lights smoked but so have the windows! We just laid a brand new set of tints for your front and rear windows so you and your passengers can enjoy driving in your custom 1969 Camaro without the sun glaring in your face!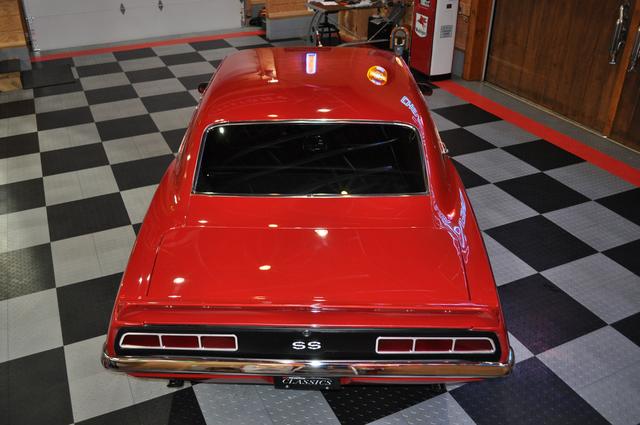 NEW Upper Windshield Reveal Molding

Custom 17" Pro-Touring Multi Spoke Wheels with an Anthracite Face and Polished Lip that complements the lowered stance on the car!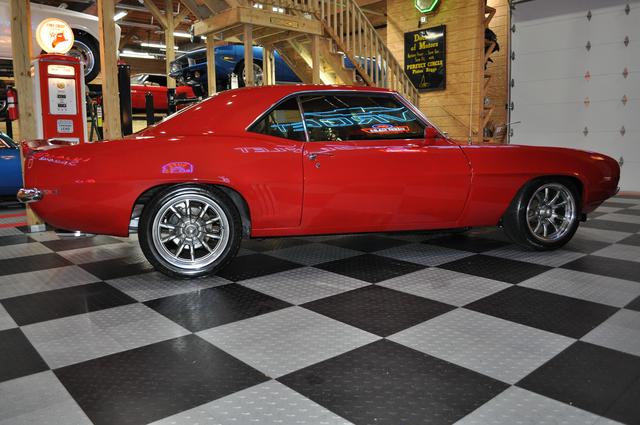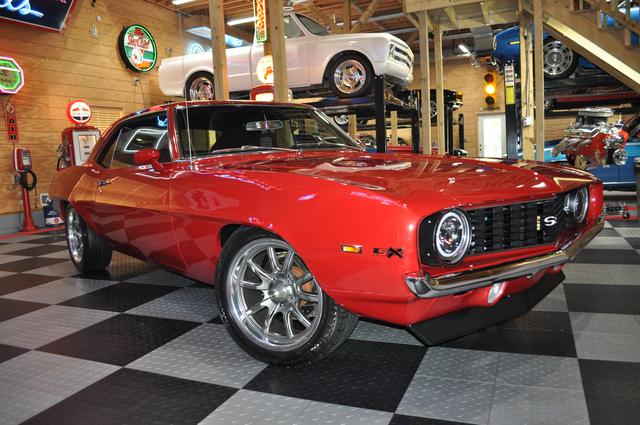 NEW Custom Polished Stainless Steel Exhaust Tips with NEW Clamps

NEW Weatherstripping Seals Throughout to keep this Camaro sealed up!

Dual Bullet Style Side View Mirrors that are painted to match the body color

With most of these single mirrored vehicles, reversing can be some what challenging with lack of visibility, with a dual mirror setup, it makes reversing and seeing what is around your Camaro a lot easier!

Lowered Suspension that gives this car a very sleek, clean, yet aggressive appearance - shows this car means business whether it is cruising down the road, or just looking fast sitting still!

"Race" Style Lug Nut Studs

Makes wheel changes quicker and easier, less chance of damaging the threads!

D80 Spoiler Package

Completes the highly desirable aggressive appearance these Camaro's deserve!

NEW SS Badges on the Front Grille and Rear Panel

Custom Blacked Out Tail Panel adds just the right modern appeal to the body of this car. Originally an option with a Big Block equipped car, this LS1 Camaro puts out more power than any Big Block car would have from the factory so it only made sense to paint it black!

Soff Seal Body Bumper Kit

This kit provides the correct small little details that is so often over looked during restorations - no details were spared in this restoration!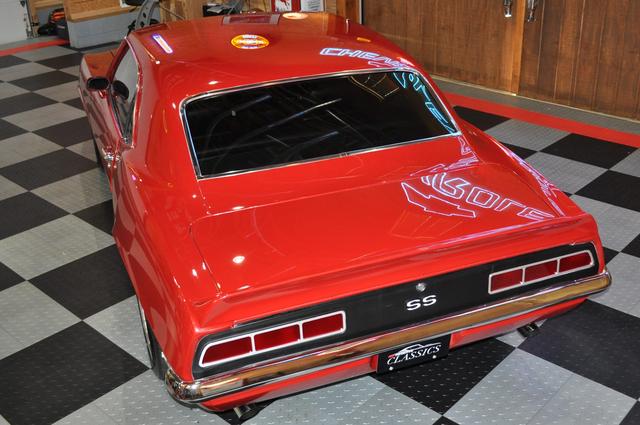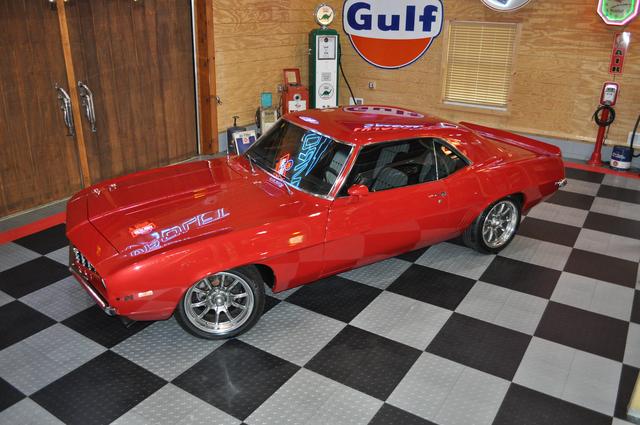 Fully Detailed

Deluxe

Houndstooth

Interior that has been fully redone from head to toe and is truly mint!

Deluxe Houndstooth Front Bucket Seats

Beautifully restored seats bring back the awesome look of the 1960's seats yet has all new foam and cushioning for modern comfortability

NEW Factory Style Headrests

Brand New Morris Classic Concepts 3-Point Should Harness Seat Belts

These seat belt sets are pull-tested to 3,000 pounds of force to ensure their quality and compliance with the Federal Motor Vehicle Safety Standards

These cars were very rarely equipped with Shoulder Harnesses from the Factory and the ones that did have them worked very poorly! These Morris Classic Seat Belts fit and secure you to your seat like a modern day car.

Most of the cars from this era were equipped with lap belts which offer very little upper body protection in the event of a collision. We're very proud to offer this car to you with modern safety equipment!

Rarely do we find cars with windows that actually roll up and down with the hand operated Window Cranks. This car was taken to a step above with a complete NU-Relics Power Windows Upgrade for the modern convenience of flipping a switch for lightning fast windows!

No more having to hand wind crank windows while driving! Flip a switch and you're in business!

Complete NVU (New Vintage USA) – Phoenix Gauge Cluster that is fully compatible with the Engine's  Computer System to get the most accurate information available!

High-tech mini-OLED displays give the optimal amount of information you need at a quick glance!

Open OBD II Port for easy diagnostic hookup just like a modern car!

Factory Style Black 80/20 Loop 2-Piece Carpeting that was completely replaced throughout!

Factory Style Floor Mats were also installed to protect your nice new carpeting from dirt and debris from shoes!

Factory Style Black Bedford Grain Headliner and Sunvisors that were replaced and done to perfection!

Factory

Style Comfort Grip Steering Wheel with Correct Polished Stainless Steel Spokes and Chevy Bowtie Horn Cap 

Fully Working Horn!

OER GM Restoration Parts Certified Reproduction Dash Pad

Sony XAV-AX1000 Double DIN Touch Screen Radio with Apple Carplay Hookup for easy access to music, navigation, and other apps on your phone! No longer do you have to hold the phone and drive...click a button and talk to your friends and family right over your car's speakers and microphone JUST LIKE A NEW CAR!

Features Bluetooth Radio, Handsfree Bluetooth Phone, AM/FM, Aux, and USB Ports for a full range of connectivity options!

This Radio wasn't just thrown in the car carelessly...it was precision mounted in a BRAND NEW Custom Made ABS Formed Center Console that meets the design specifications for a '69 Camaro but with the provision for a radio like this!

If that's not custom...what possibly is?!

Alpine Subwoofer that provides a crisp low frequency to any music or audio being played! Powered by an Alpine MRV-M500 Amplifier

JBL GT7 Series Interior Speakers keeps the sound crisp and clear for every note!


NEW Door Lock Rings

NEW Windlace Door Seals

NEW Door Jamb Seals

NEW Rear Package Tray Corner Trims

Complete Vintage Air - Air Conditioning and Heating System that has no problems creating ice cubes on the hottest days or providing exceptional heat during the cold winter months which allows this Camaro to be a truly year-round vehicle!

One of the largest improvements since the yesteryear's cars has been the improvement in the heating and air conditioning systems.

This Vintage Air System is using the best of today's technology and brings it into this Camaro!

The Vintage Air system has a very clean installation for a show quality finish and without the unsightly evaporator boxes of the 1960's!

Features all new components from your control panel and knobs to your hidden evaporator unit to the drier, condenser, compressor, barrier-type hoses, modern R-134A Refrigerant, Compressor Oil, down to the O-Rings!

Any of these cars from the factory with A/C were equipped with the unobtainable R-12 Refrigerant which the average consumer cannot purchase any longer from the auto parts store. Not to worry! As previously mentioned, this kit uses ALL R-134A Components for ease of maintenance and will meet local, state, and federal regulations!

Custom 6-Speed Shift Pattern Emblem

Factory Style Hurst Shifter with Custom 6-Speed Shift Knob!


Repops Window Felts

Considered to be the best in the industry for quality felt kits!

Fatmat Interior Sound Deadening

Installed through the entire inside cabin and doors!

Installed to reduce rattles, road and outside noise, while insulating the vehicle, and dramatically improving the sound system!

This is exactly what you're looking for in a restored restomod!

NEW USB Charging Port Socket that allows you to charge your Apple/Android smartphone, MP3 player, and other USB power digital devices with ease!

NEW Alien Enclosures Custom Trunk Finishing Trim Panels that was installed with custom black vinyl and Houndstooth Accents to match the interior just right!

Reduces road noise transmitted through the trunk area

Since the battery was relocated to the trunk, how does one jump the car if the battery dies? Simple! No need to take apart the entire trunk! Just connect your cables to the positive and negative terminals that were mounted on the right hand side of the trunk panel. These are directly linked to the battery and will jump the car with ease just in case your battery dies.

Not to mention this battery is BRAND NEW!

We didn't just throw in a cheap Walmart Battery...only a top of the line Bosch AGM Gel-Cell Battery was used for YEARS UPON YEARS of trouble free starting and operation!

A custom show car finish to the normally unsightly trunk areas.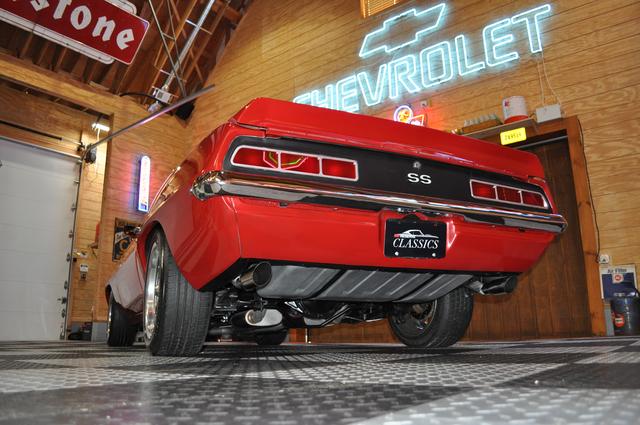 Fully Cleaned and Detailed Underbody with a massive amount of custom upgrades and options that brings this car to the 21st century!

Energy Suspension Red Polyurethane Transmission Mount

ALL NEW Body Bushings

Updated Chassis hardware throughout

You don't have to worry about questionable 50 year old hardware holding this chassis together!

ALL NEW Suspension Bushings from Front to Back and Top to Bottom!

Upgraded Tubular Control Arms with ALL NEW High Performance Control Arm Bushings and Upper/Lower Ball-Joints that keeps the front end tight and stiff without affecting comfortability one bit!

Updated drag link assembly and components with all new tie rod ends, idler arm, pitman arm, and steering box!

This car steers effortlessly and is very responsive!

This is something a 50 year old car typically neglects to have...

Custom Red Powdercoated Front Lowering Springs

As previously mentioned, this car is indeed equipped with 4-Wheel Power Disc Brakes that stops this car on a dime!

Also features all new parking brake cable components that has been customized to work with the Rear Disc Brake Setup!

High Performance Drilled and Slotted Brake Rotors

All New Brake Lines FRONT TO REAR!

No 50 year old rusty brake lines ready to blowout on you!

Custom Built High Performance Driveshaft takes the power straight from the Transmission and links it to your Rear End without any sloppiness or hesitation!

Multi Leaf Spring Rear Suspension that has been upgraded with custom spring rate leafs and ALL NEW Shackles and Bushings for optimal handling and comfort

Braided Stainless Steel Front Brake Hoses

New Shocks Front and Rear

Upgraded Front and Rear Sway Bars with Polyurethane End Links and Bushings that keeps all four tires planted on cornering!

This upgraded suspension gives this Camaro that true Restomod, aggressive stance, while increasing the handling performance!

 2.5" X-Pipe Crossover Dual Exhaust System with Custom Polished Stainless Steel Exhaust Tips that let's this high performance '69 Camaro sound like a C6 Corvette!

See our test drive video to listen as to just how perfect this exhaust note is!

Russell High Pressure Fuel Lines Front to Rear keeps this LS1 plumbed consistently and reliably

External Inline Fuel Filter catches any dirt or debris from today's gasoline

Upgraded Fuel Sender Unit that allows this LS1 and Custom Phoenix Gauge Cluster to work just right!

Tanks Inc. GPA Series Fuel Pump sends the speed juice directly to the engine for optimal performance!

These components increase the reliability, ease of maintenance and peace of mind knowing that the fuel system has been fully sorted and ready to feed the LS1 for more power!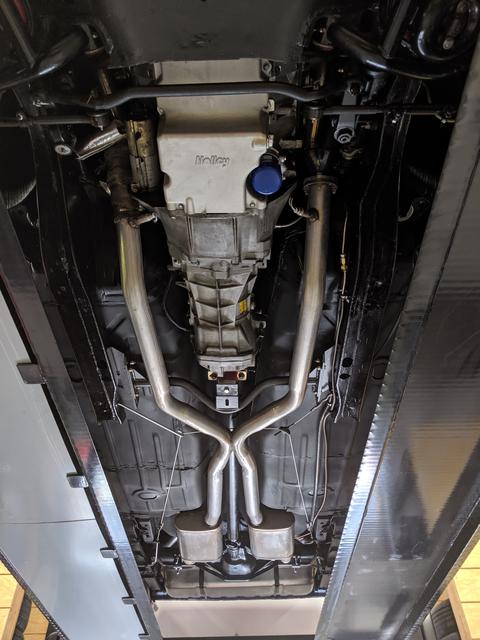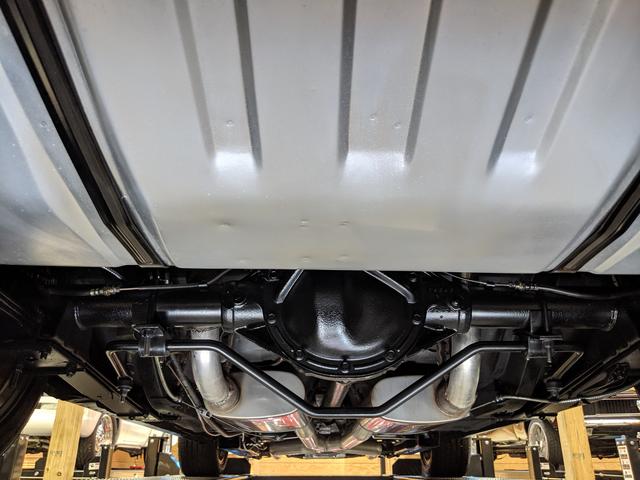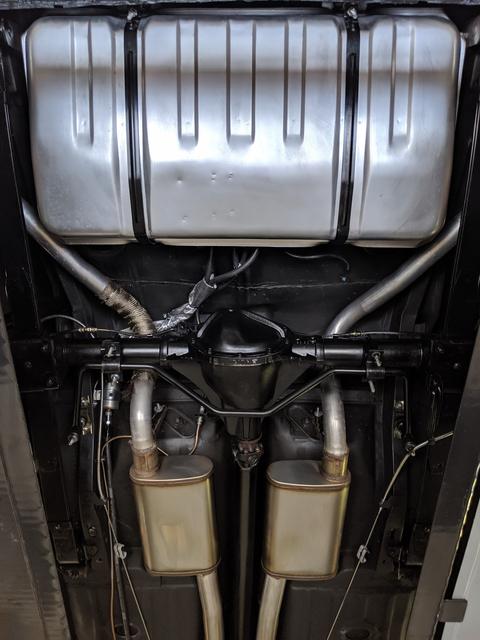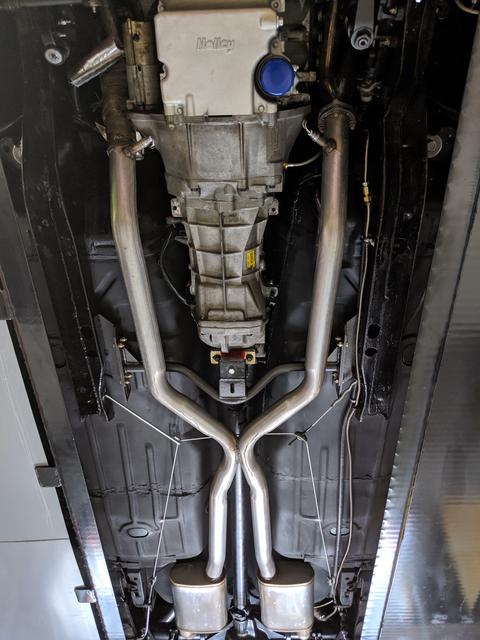 Please keep in mind that this car is a complete restomod with none of the factory drive-train components and therefore cannot verify it to be an original SS born car. Although this car looks absolutely stunning, please understand that this is still a 50 year old car with imperfections as it was restored to be DRIVEN. As with all classic cars (especially those that have been recently restored), it will need odds and ends down the road as you begin to drive it more often but still nonetheless an iconic and one of the most sought-after classic cars that you will be proud to own and very happy to drive in!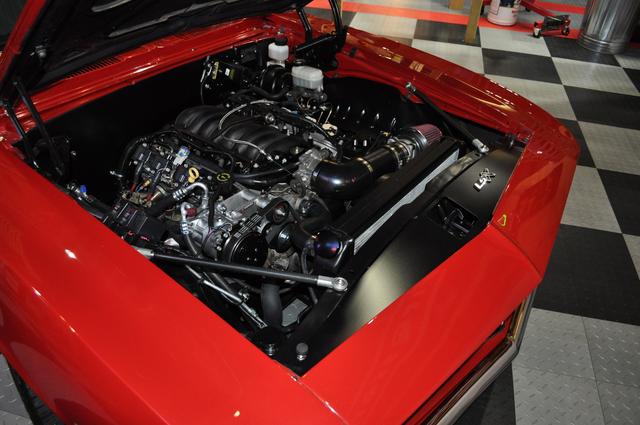 Related Listings
Sold

$50,200

Sold

$36,100

Sold

$35,000

Sold

$54,000

Sold

$57,350

Sold

$36,000

Sold

$40,800