1969 Chevrolet Camaro SS 350 Tribute - Documented Survivor - Coupe
The Chevrolet Camaro is an automobile manufactured by General Motors under the Chevrolet brand, classified as a pony car, and some versions also as a muscle car. It went on sale on September 29, 1966, for the 1967 model year and was designed as a competing model to the Ford Mustang. The car shared its platform and major components with the Pontiac Firebird, also introduced for 1967.
First-generation Camaro debuted on a new rear-wheel drive GM F-body platform and would be available as a 2-door, 2+2 seating, coupe or convertible with a choice of 250ci inline-6 and 302ci, 307ci, 327ci, 350ci, or 396ci V8 powerplants. The Camaro was touted as having the same conventional rear-drive, front-engine configuration as Mustang and Chevy Nova. In addition, the Camaro was designed to fit a variety of power plants in the engine bay. The first-generation Camaro would last until the 1969 model year.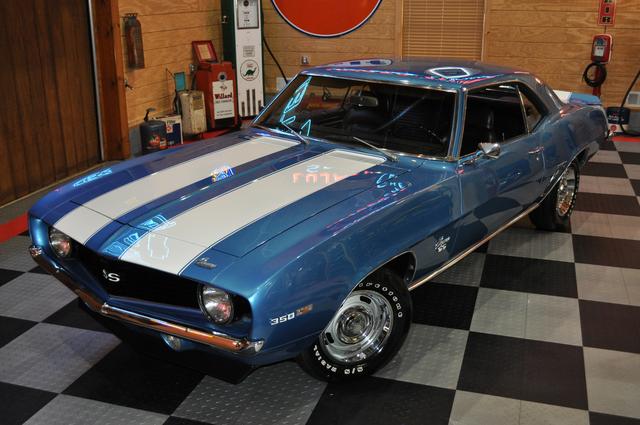 New arrival here at No Reserve Classics. This 1-Owner fully documented '69 Camaro SS 350 Tribute is now up for sale and ready for its new home. Born as an original X11, 124 V8 Car painted Code 71 Lemans Blue, this is not something you will see everyday. Especially one with the original dealer contract, Protect-o-Plate, and owner's manual! They say behind every classic is a great story to be told. This Camaro definitely lives up to that saying! This car only has 88,000 original miles on the odometer making this 50 year old car a true survivor. Powered by its all original 307/Powerglide drivetrain combination, this car is as genuine as you can get. This is your chance to own something very unique and rare that will separate you from just about anything else on the market.
Here is the original owner of the car!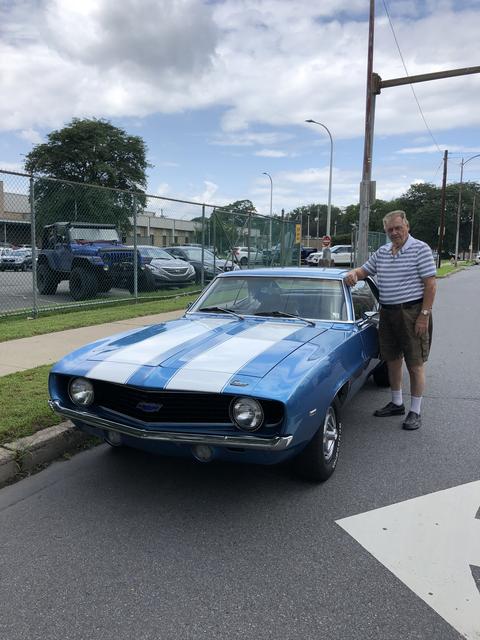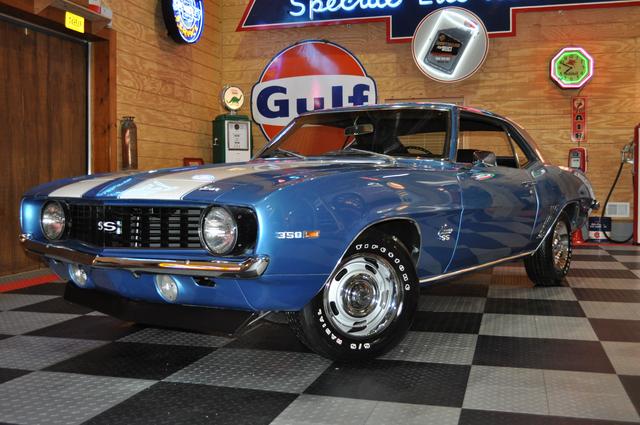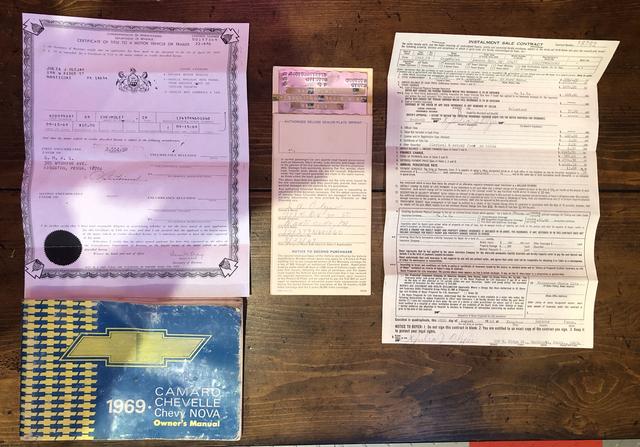 Here is an upclose photo of the Trim Tag on the Firewall.
As you can tell the original rivets with a 'dab' of seam-sealer is still present on each of them to indicate that this car is 'Genuine GM'!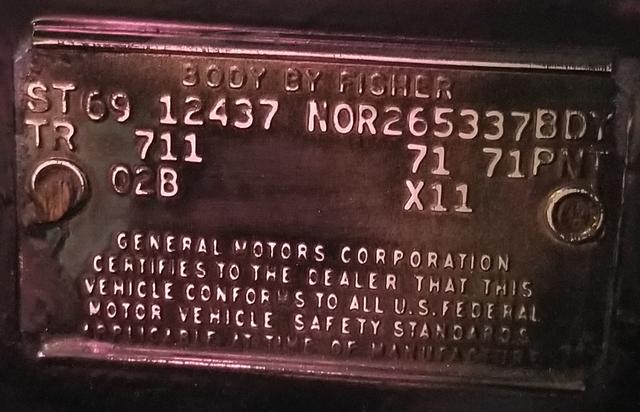 Most importantly, here is the Protect-o-Plate that shows all of the drivetrain codes for the car as well as the original purchaser's information. For those of you who do not know what this is, it is a metal warranty plate that you would show to a service adviser at a dealership if you needed to bring your car in. It was a rudimentary way that proved you own the vehicle!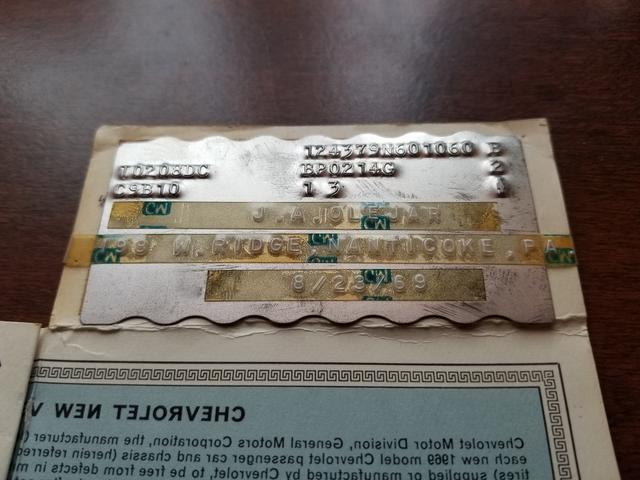 (The image was horizontally reversed so you can read the information)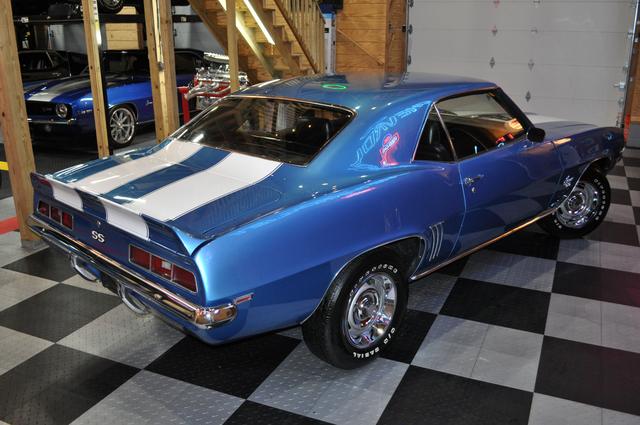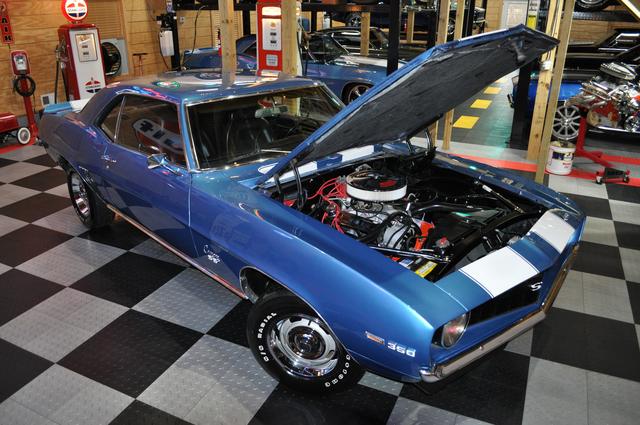 The Takeaway:
To briefly sum this car up, this 1969 Camaro is truly extraordinary and one of a kind. You won't find anything this remarkable as often as one might think or hope. These cars were not worth much back in the day and were traded very often between many different owners over the years. Engines blew up and the cars either sat and rotted away or a giant drag-racing Big Block thrown in and botched. The owner took good care of the car and drove it very frequently as one would over the course of 50 years!
With all that being said, this car is an original Pennsylvania car that has never underwent a restoration. It has seen road salt and does have imperfections such as rock chips, scratches, bubbles, etc. This car is the perfect candidate for someone looking to restore to an all original survivor car or to take to the next level and craft a pro-touring build or even a budget-built restomod! As with all classic cars, it may need a few odds and ends down the line however we would still be very proud to own this unique piece of history.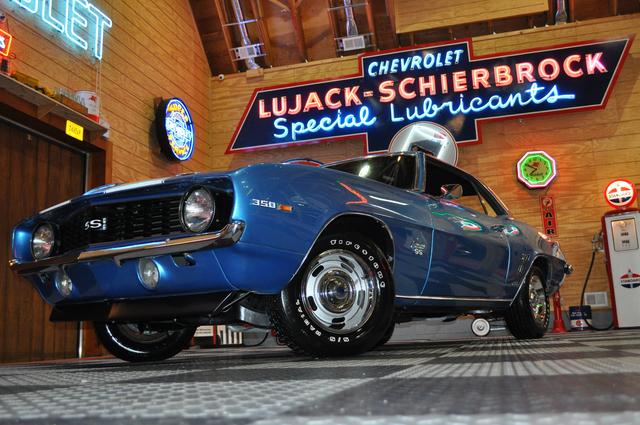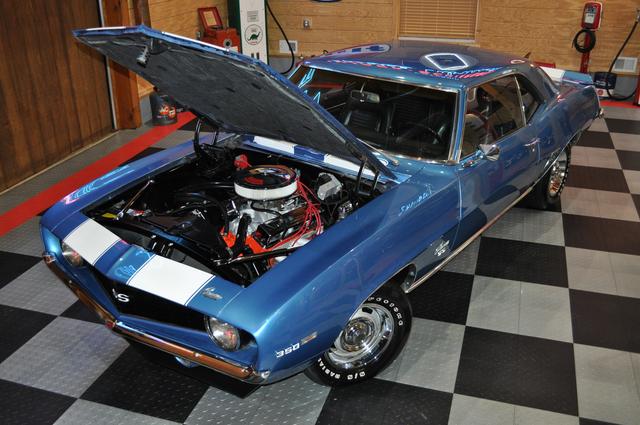 Freshly detailed engine compartment with lots of new accessories and appearance options
Dressed as an 350/300hp engine compartment, this Camaro is powered by its original 307 Small Block Chevy that starts up and runs great! (See our video to see and hear this car start up and rumble!)
Edelbrock 1406 Performer 600 cfm Mechanical Secondary Carburetor with Electric Choke that starts this engine right up and feeds it just what it needs
Edelbrock Dual Plane Aluminum Intake Manifold

Improves intake flow, cooling capabilities, and overall reduces weight when compared to the factory cast iron manifold.

MSD Pro-Billet Distributor
MSD Blaster SS Ignition Coil
MSD Red Plug Spark Plug Wires
Super crisp throttle response is what you would expect with the MSD Ignition and Edelbrock Carburetor/Intake Manifold!
Brand New Chrome Tall Valve Covers
Moroso Perm-Align Valve Cover Gaskets
Brand New Chrome Air Cleaner and Filter Element
Brand New 350/300hp Tribute Air Cleaner Decal
Factory N40 Optioned Power Steering that steers this car effortlessly!
Brand New Chrome Master Cylinder Cap
Brand New Upper & Lower Radiator Hoses with correct GM Stampings
Brand New Correct GM Ribbed Heater Core Hoses
Chrome Fender Braces
ACDelco 12v Battery
Delco Alternator
Long Style Water Pump
Chrome Breather Cap
Mechanical Fuel Pump
Brand New Hood Insulation Pad
Brand New Hood Adjusters
Lever-Style Steam Release 16 psi Radiator Cap
Engine Compartment was just detailed and painted semi-gloss black for that ultimate fresh appearance!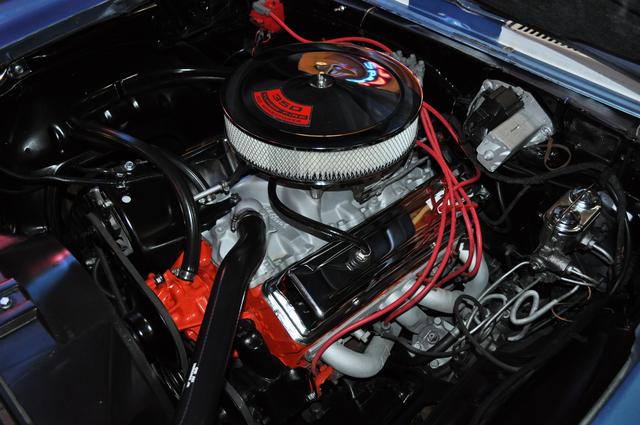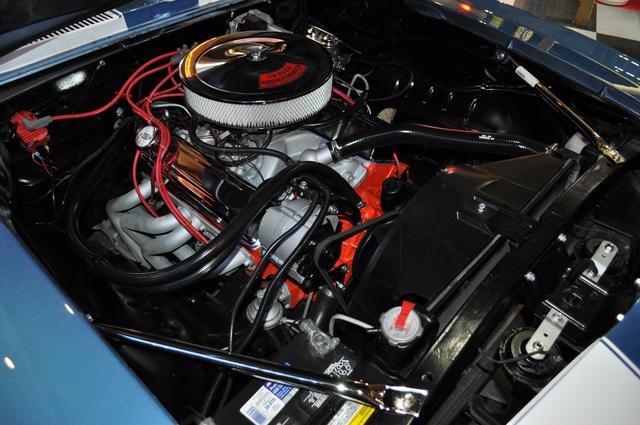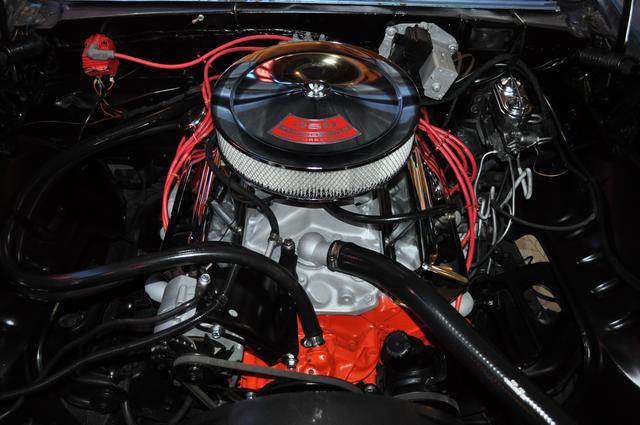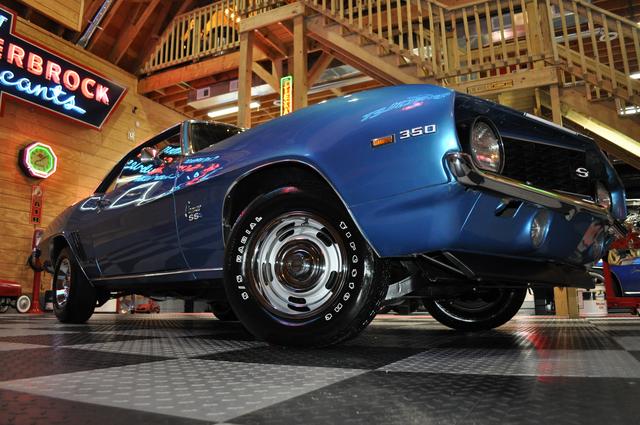 Freshly detailed exterior that makes this car shine like new. All paint work was detailed with a full buff, compound, polish, and wax! The chrome and trim underwent hand polishing to bring out the beautiful luster that classic cars are known for.
This car is an Original and Factory Born Code 71 LeMans Blue painted car! It still retains this color and over the course of its life was given a beautiful basecoat-clearcoat repaint with white stripes.

This is arguably one of the most desirable colors that a 1969 Camaro is known for.
It's becoming more and more scarce to find classic cars that are painted their original color. Let alone a popular one like LeMans Blue!

Original X11 Code Car
Factory style 14" GM Rally Wheels with vintage Firestone Radial S/S Radial White Lettered Tires
Brand New Chrome Trim Rings
Dressed as an SS 350 Tribute with all new emblems
Brand New Rocker Panel Moldings
Brand New Wheel Well Opening Trim on all four corners
Rear Chrome Bumper Guard Package
As explained in the video, the front windows line up very well against their quarter window seals.

A lot of times when they're improperly adjusted there's a massive gap or the front window will make contact against the chrome molding on the quarter window. These kind of details are important when looking to purchase a classic.

Brand New Chrome Driver's Side, Side View Mirror
Headlights (High and Low Beam) - Fully Working!
Turn Signals on all four corners - Fully Working!
Sidemarker Lights - Fully Working!
Brake Lights - Fully Working!
Front and Rear Parking Lights - Fully Working!
Hazard Lights - Fully Working!
How many 1969 Camaro's can you find for an affordable price like this with as many working components as this particular one? Not many at all!!!
All the trim is present around the car and was just hand polished - from the drip rail moldings to the front and rear windshield moldings, quarter window moldings, shark-fin quarter panel louvers, front and rear chrome bumpers, etc.
Even the lock cylinders for the doors and truck are present
Overall a very complete car!!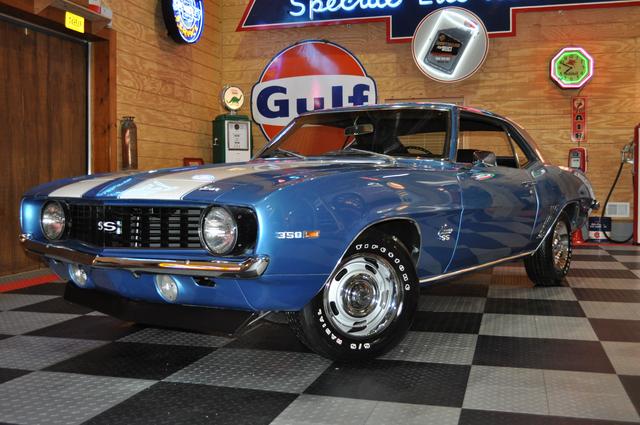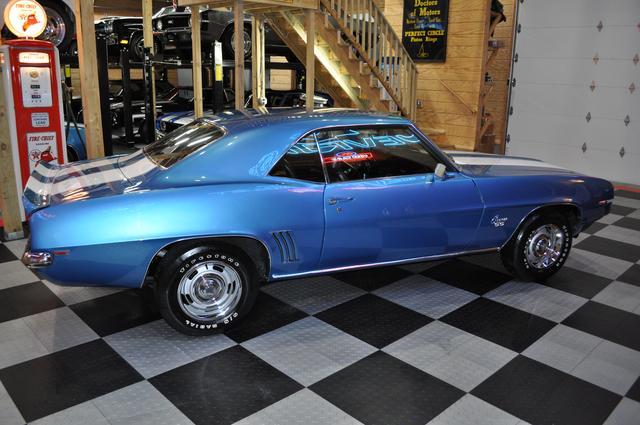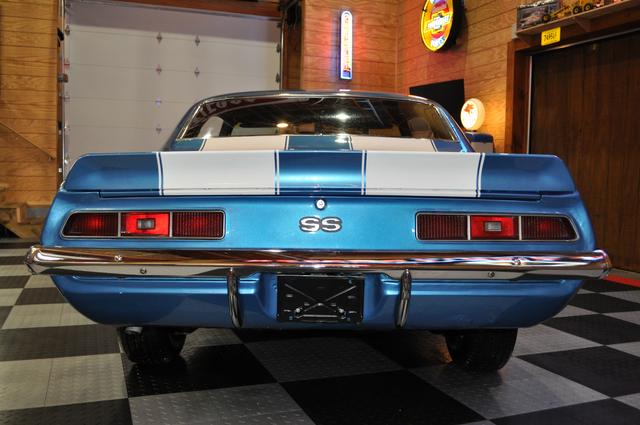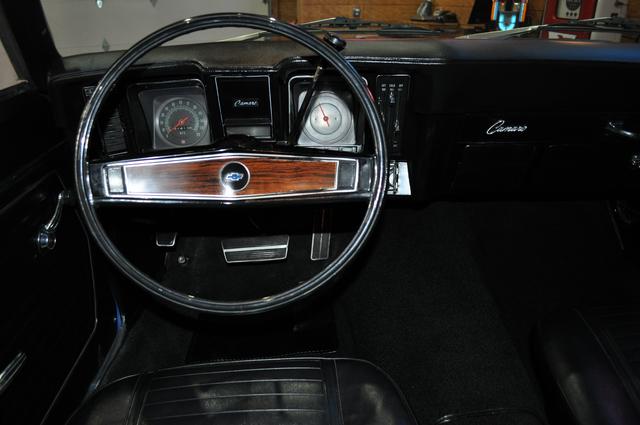 Freshly detailed interior that is very functional and clean with many new and original components
Black Bucket Seats with headrests that are super comfortable

One of our employees is 6'5" and has said this car is one of the few that he did not feel crammed when sitting in the driver's seat. It fits super well and everything is in reach.

Door panels are all present with all trim, door handles, and window cranks
Black Factory Style 2-Piece 80/20 Loop Carpeting
Working Emergency/Parking Brake
Body by Fisher Aluminum Carpet Sill Plates
Working High Beam Floor Dimmer Switch
All sun visor and rear view mirror equipment still in place!
All factory pedal trim is present and is in nice shape - Gas Pedal, Brake Pedal, and Parking Brake Pedal!
Factory Steering Wheel that is complete with Chevrolet Bowtie center Emblem and woodgrain trim
JVC AM/FM Radio that works phenomenal and sounds great with its rear deck speakers!
Retrosound Digital Low Profile Antenna
Headliner is in nice shape with minimal wrinkles as you can see in the photos below!
Even the door buzzer is still working!
Fully working Interior Dome Light
Oil Pressure, Temp, and Gen Warning Lights still working!
Turn Signals and Indicator Lights still working!
Working windshield wipers
Headlight switch still fully functional!
High Beam 'Bright' Indicator Light still works when dimmer switch is pressed!
Glove box opens and closes smoothly and insert is still present
Working Courtesy Light switch! 

This is the switch that turns the dome light on when a door is opened or the headlight switch knob is turned all the way counter-clockwise.

Trunk has just been repainted with the correct spatter paint just like original! (See photos below)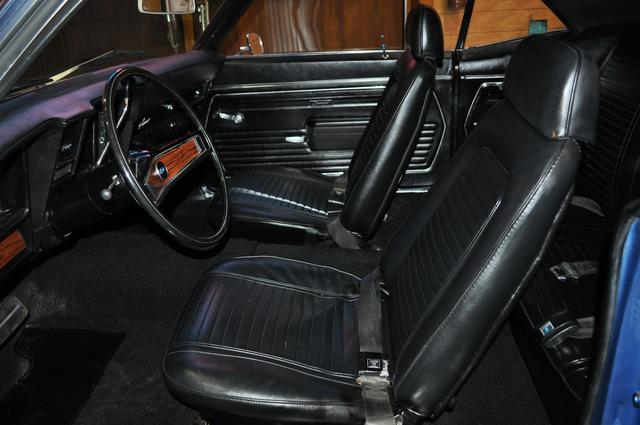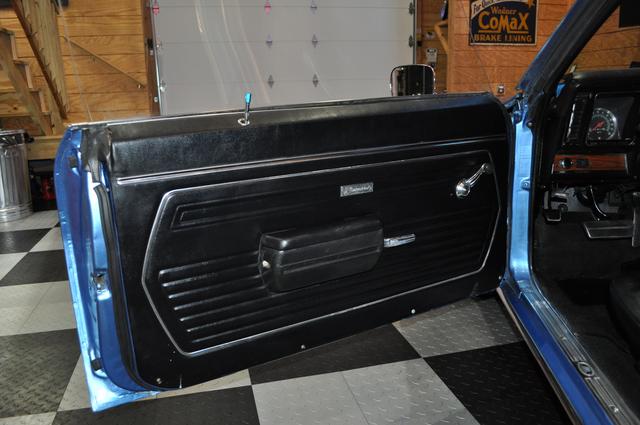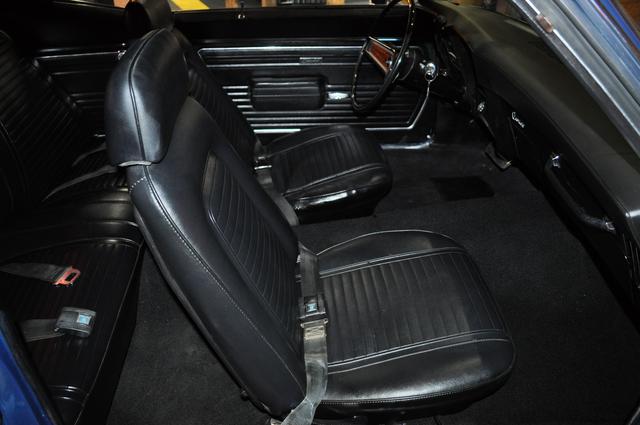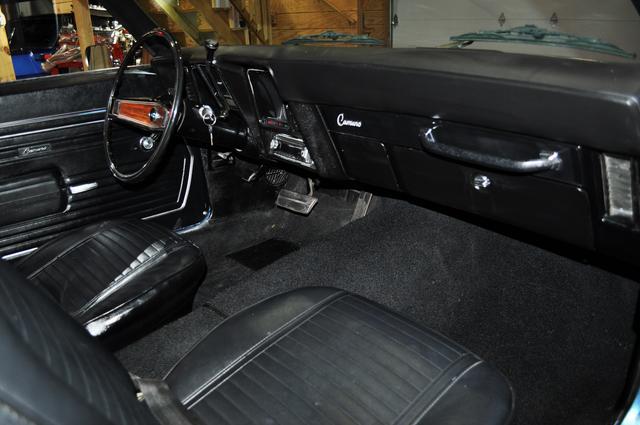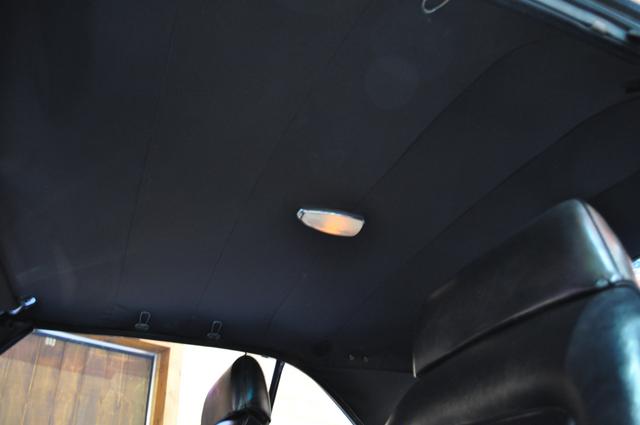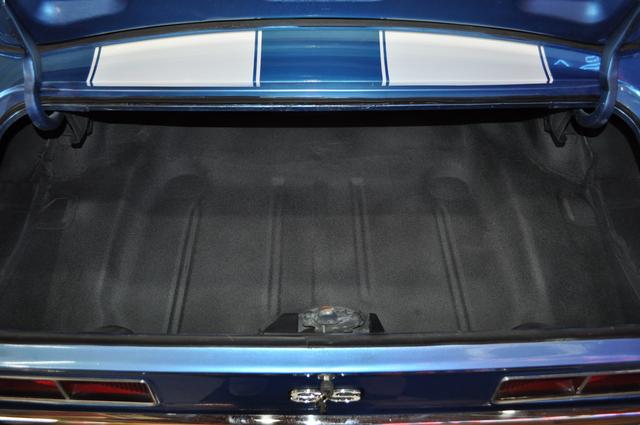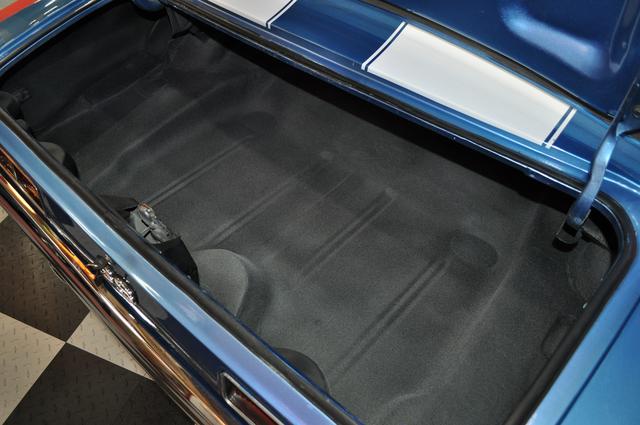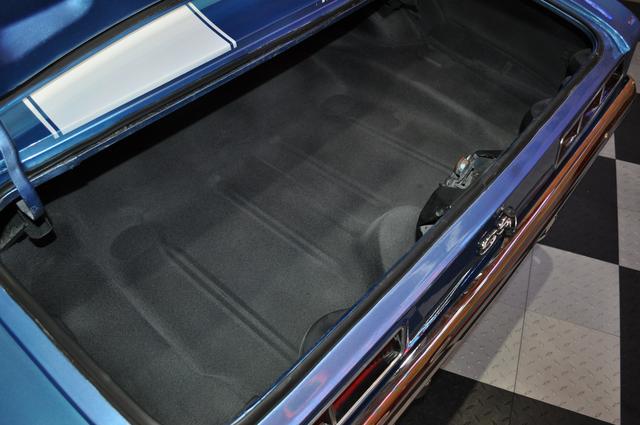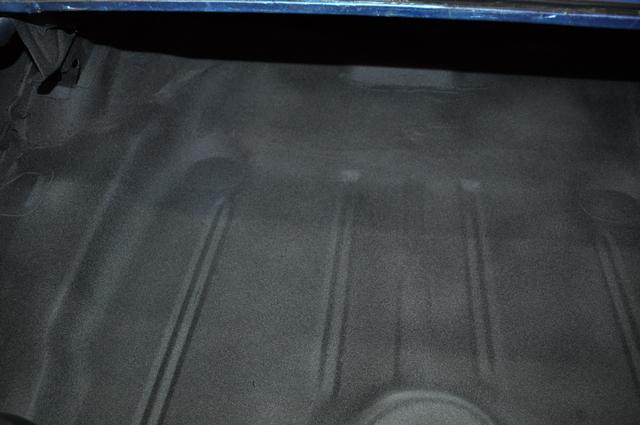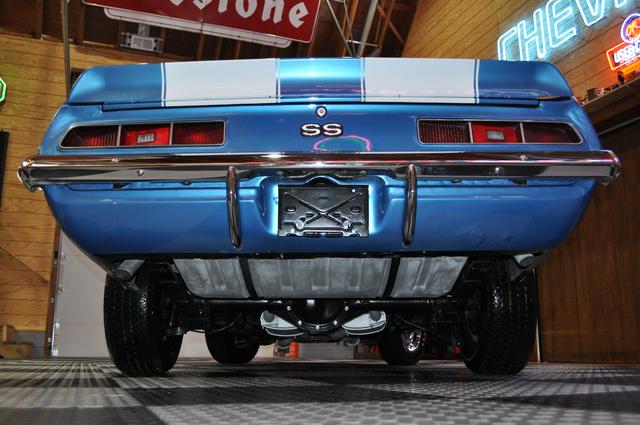 Fully, freshly detailed, and undercoated underbody that appears to be super clean
Full Length Performance Exhaust Headers that lead into a true dual exhaust system that has that smooth classic American V8 rumble that everyone loves!
Factory Stamped Steel Powerglide Transmission Pan with Drain Plug
Multi-Leaf Spring Rear Suspension
Torque Converter Inspection Dust Cover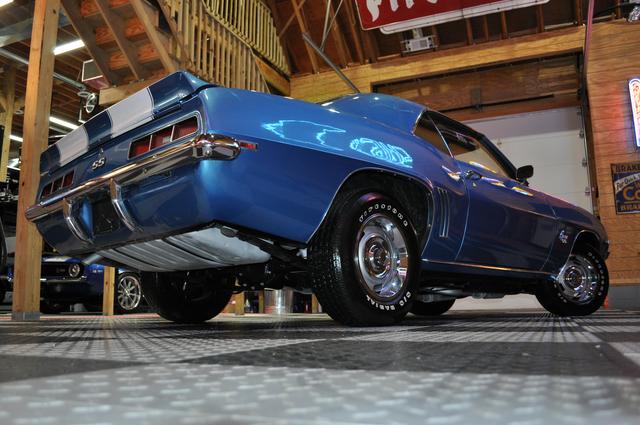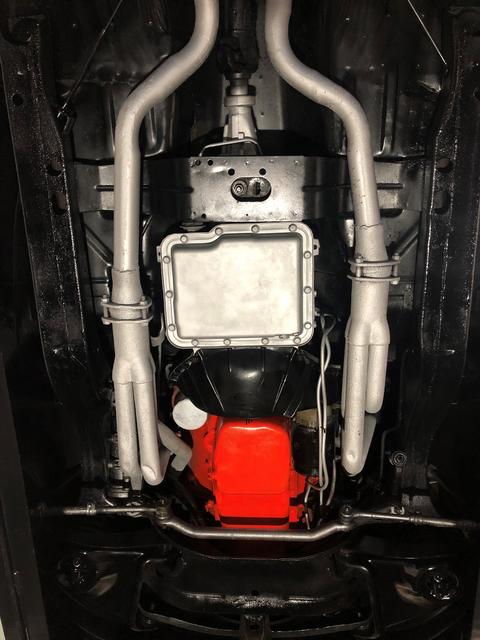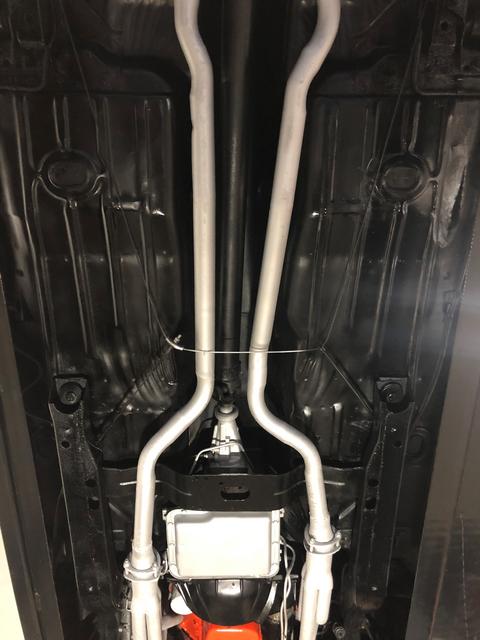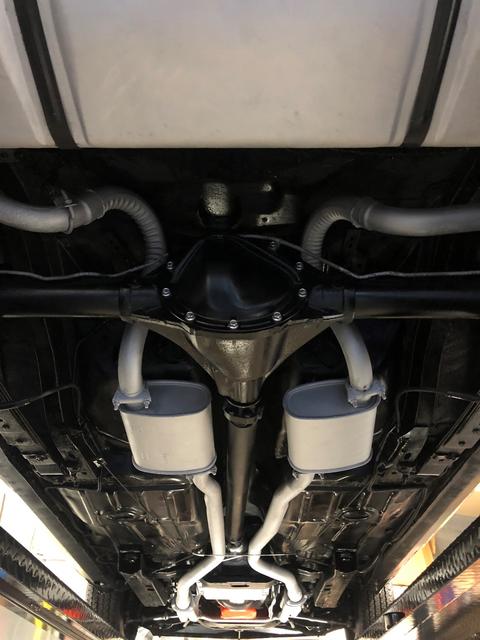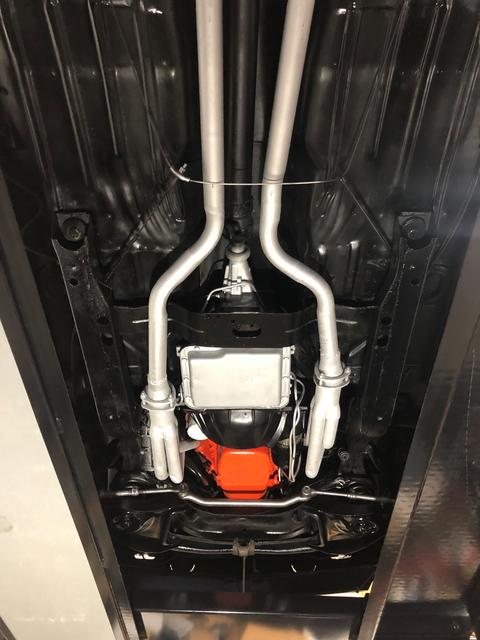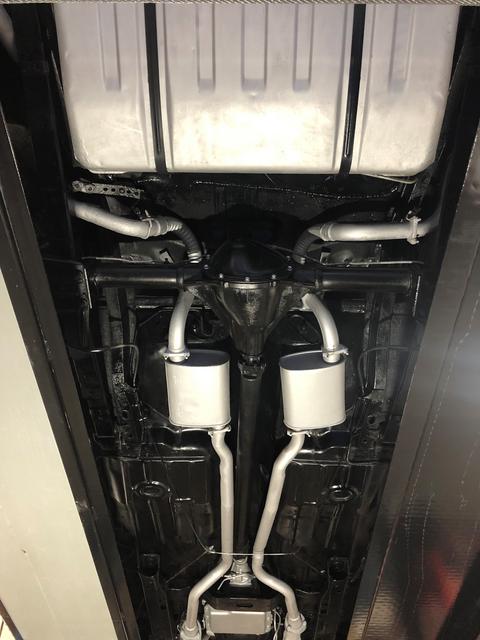 [tab-area5]
Related Listings
Coming Soon!

$39,995

Sold

$35,000

Sold

$54,000

AVAILABLE

$84,995

Sold

$57,350

Sold

$36,000

Sold

$40,800

Sold

$42,600