1969 Chevrolet Camaro SS 350 Pro-Touring Restomod Coupe
The Chevrolet Camaro is an automobile manufactured by General Motors under the Chevrolet brand, classified as a pony car, and some versions also as a muscle car. It went on sale on September 29, 1966, for the 1967 model year and was designed as a competing model to the Ford Mustang. The car shared its platform and major components with the Pontiac Firebird, also introduced for 1967.
First-generation Camaro debuted on a new rear-wheel drive GM F-body platform and would be available as a 2-door, 2+2 seating, coupe or convertible with a choice of 250ci inline-6 and 302ci, 307ci, 327ci, 350ci, or 396ci V8 powerplants. The Camaro was touted as having the same conventional rear-drive, front-engine configuration as Mustang and Chevy Nova. In addition, the Camaro was designed to fit a variety of power plants in the engine bay. The first-generation Camaro would last until the 1969 model year.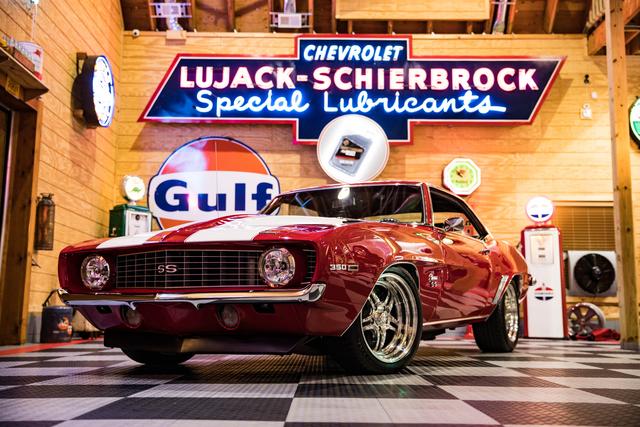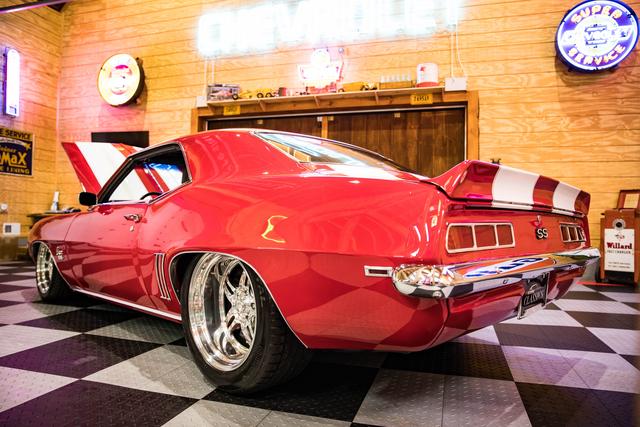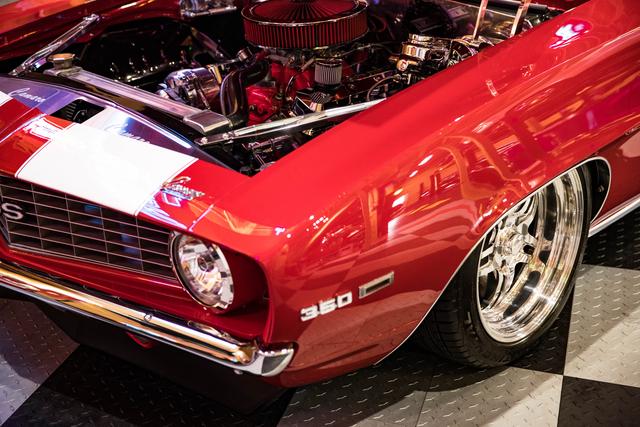 You're looking at a real unique work of art here.
This is not just another Camaro with cool shiny wheels…This car has got everything a Pro-Touring enthusiast could ask for! From a high performance dyno tuned 350 Small Block Chevy Crate Engine, to a 700R4 Overdrive Automatic Transmission, 12 Bolt Posi Rear End, Full Custom Interior, RideTech Air Suspension, Hydraulic Rack and Pinion Steering System, and 4 Wheel Power Disc Brakes, this car has the comfort of a luxury Mercedes, but speed and handling like a new Corvette! Interior is decked out with custom fully adjustable vinyl bucket seats, center console with a Pioneer Touchscreen Radio, Custom AutoMeter Gauges, and topping it off with a full sound system that cranks high and sounds amazing!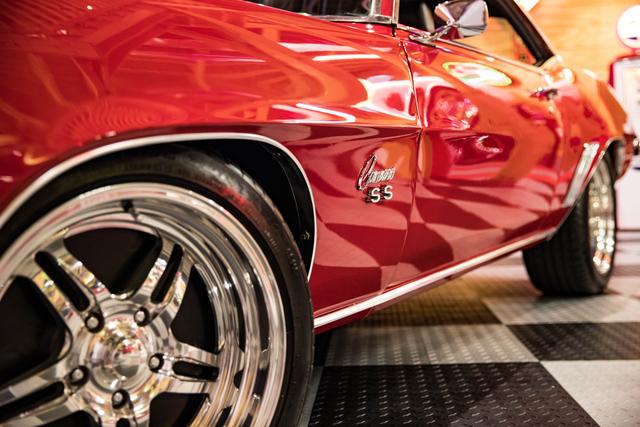 Included in the sale is a 3″ thick binder full of documents and receipts from many of the new custom parts and accessories used across the build. The entire engine was also documented with a dyno sheet and chart that shows the real power this engine produces! See 'Under the Hood' for more details.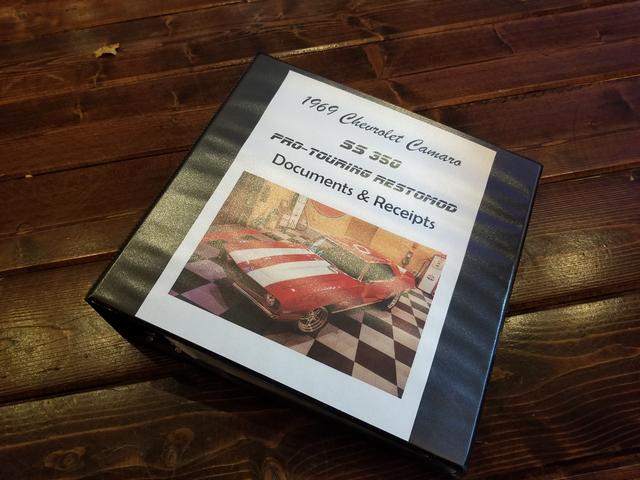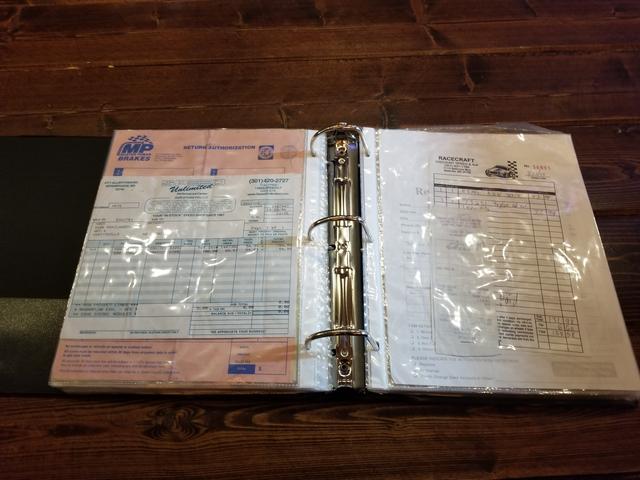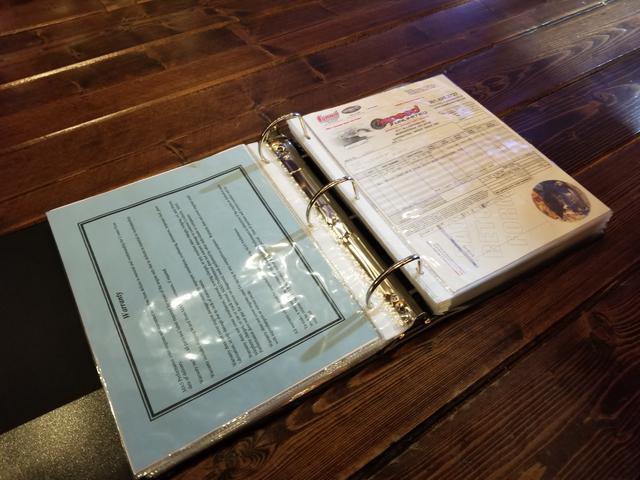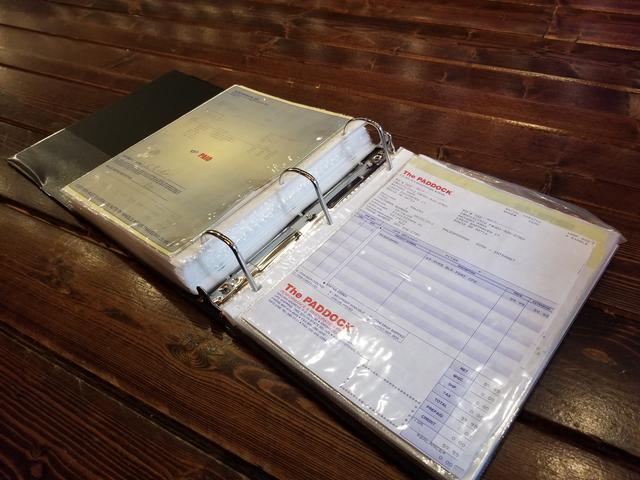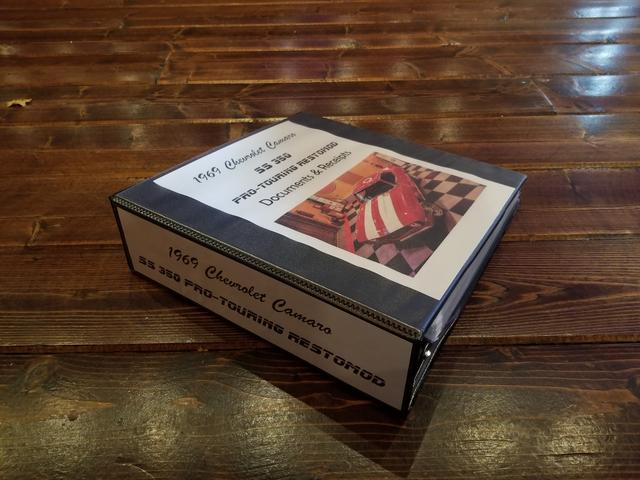 Don't stop here at the Overview, keep reading as there is a plethora of information on this car!
To briefly sum this car up, this 1969 Camaro is the quintessential classic muscle car that you've been looking for. Whether you have a collection that you want to add this car to or take it out cross country driving, you bet this super highly optioned Pro-Touring Camaro is for you! Not to mention newer modern cars just can't compete with the gulping sound this High Performance 350 Chevy V8 makes!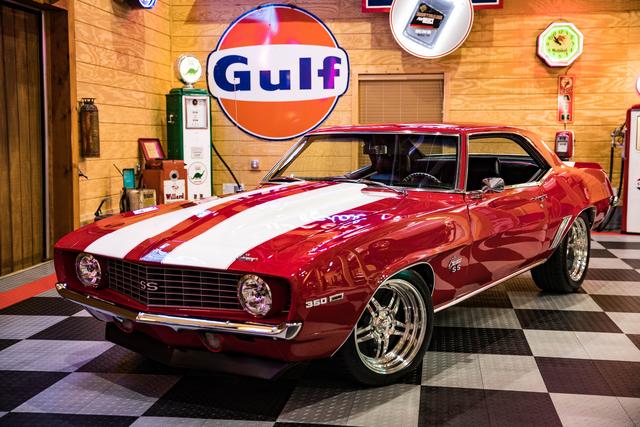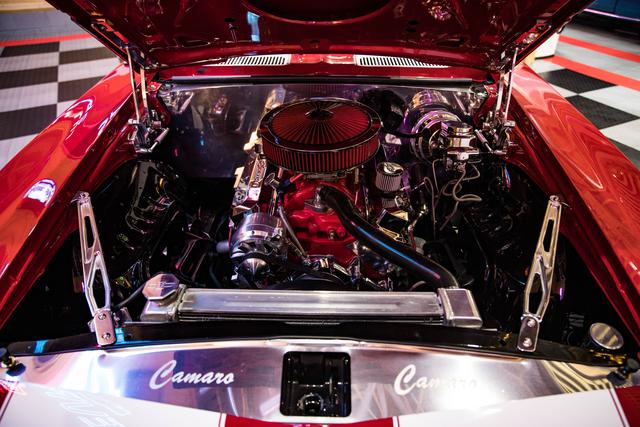 We encourage any potential buyers to please visit this car (if possible) as seeing it in a picture is just not going to do this car justice. Please understand that this Camaro was never fully restored and has some imperfections such as bubbles, scratches, rock chips, etc. The car was built with the primary focus on being able to comfortably drive all the time.  As with all classic cars, it may need a few odds and ends down the road as you begin to drive it more often but we would still be very proud to drive this car every day and know for sure you would be too.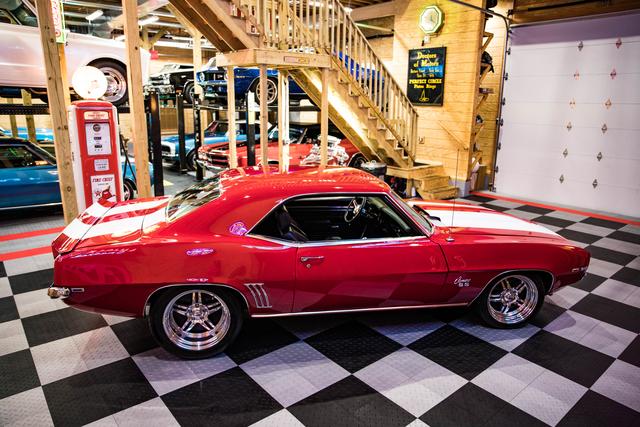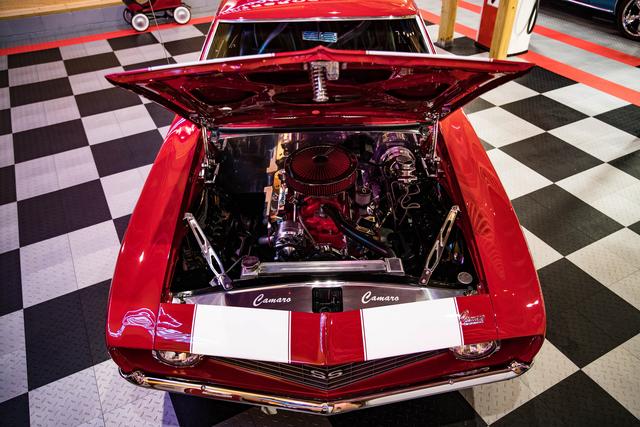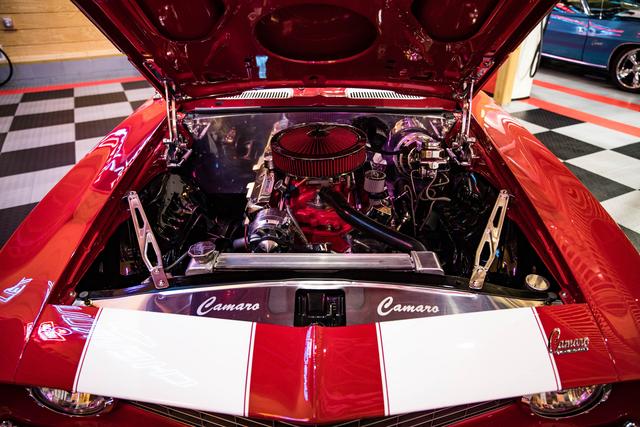 Fully Detailed Show Stopping Engine Compartment with many cool custom features and billet accessories that will separate this car from the rest at any car show!
The engine was even painted in a high temperature urethane paint to match the same color as the outside of the car to  add to that super sweet engine compartment!
Fully Custom CNC Cut 1/4" Thick High Polished Billet Aluminum Firewall Panel that shines like a mirror and fits so well it looks like the factory installed it!!!

 

 

 

 

High Performance Chevy 350 Crate Engine that was fully built, documented, and dyno tuned by MAS Performance Racing Engines.

This engine was dyno'd at 424.3 horsepower at 5800 RPM's and 424.8 lb/ft of Torque at 4800 RPM's. As light as this engine weighs, this engine can run circles around any Big Block that a '69 Camaro would've come with from the factory!

Fully Built 700R4 4-Speed Automatic Transmission that makes driving on the highway at 65-70 MPH super easy like a modern car!

Best thing about using a Trans like this is you have a very powerful first gear (3.06 first gear ratio) that gives you tons of torque multiplication the moment you hit the gas from a stop but can cruise quietly down the road like a regular modern car.

Normally 60's-70's GM cars are equipped with a TH350 or TH400 transmission which have a 1:1 final gear ratio which does not cruise well at high speeds as the engine revs very high! This was compensated by going with a higher (numerically lower) rear gear ratio but then you'd have  a lot less torque.

Fully TIG Welded High Performance Multi-Core Aluminum Radiator with a high speed thermostatically-controlled electric fan that keeps this car running cool on a hot summer day!

This fan is completely adjustable so if the car is running a bit too hot turn the knob to the left. If it's running too cold, turn it to the right! 175-200 is optimal.

High Performance External Transmission Cooler

Most cars have the transmission fluid lines running to let the radiator cool the fluid which can cause major problems down the road. If the barrier between the engine coolant and transmission fluid leaks, it will destroy the Transmission.

Engine coolant is mixed with water and water is a Transmission's worst enemy. Once water gets into the transmission fluid and mixes inside of a transmission, it dissolves all of the clutch adhesive and corrodes all of the components such as the valve body and steels. This ultimately results in Transmission failure and will require that it'd be dropped and completely rebuilt.

The builder of this Camaro thought two steps ahead and knew that an external cooler is the best option for this transmission. Not only does it protect you from transmission failure, it is also much more efficient as the fluid actually circulates in between all of the fins providing much better and quicker cooling to the fluid.

Edelbrock E-Tec 170 High Performance Aluminum Cylinder Heads that were polished as you can see from the engine compartment photos

Having Aluminum Cylinder Heads makes a world of difference compared to a Cast Iron Cylinder Head. You're shaving half the weight off the top end of the engine! This makes an enormous difference in acceleration, MPG's, and even suspension handling characteristics!

Not to mention Aluminum doesn't hold in heat like cast iron does!

This increases thermal efficiency and results in lower operating temperatures which lowers the possibility of the engine overheating!

 

 

Edelbrock Performer RPM Air-Gap Vortec Style Dual Plane Intake Manifold that provides excellent mid-range torque and horsepower.

What would've come in a raw silver Aluminum color, even the intake was painted the same red color as the rest of the engine and body color! Now that's custom!

Forged Pistons - a much stronger bottom-end component than factory cast pistons or even the hypereutectic pistons (fancy name for cast pistons with added Silicon) that are on the market!

Holley 4-Barrel Carburetor with Vacuum Secondaries and Electric Choke makes cold starts and cruising down the highway a breeze!

 

 

Freshly tuned engine with all new spark plugs as well as a carburetor and timing adjustment

MSD Pro-Billet Distributor with Vacuum Advance

MSD Blaster 2 Ignition Coil

Two Brand New Optima Red Top Batteries Located in the Trunk keeping this Camaro's entire electrical system consistently powered!

Taylor Cable Custom Red Spark Plug Wires

Brand New Chevrolet Proform Parts Chrome Centerbolt Valve Covers with the custom engraved and painted Chevrolet logo and Chevrolet Bowtie!

Brand New Fel-Pro Performance Valve Cover Gaskets

Brand New Edelbrock Pro-Flo Chrome/Red Air Cleaner

 

 

Brand New Proform Parts Chevrolet Bowtie Chrome Valve Cover Element-Style Breather

 

 

Custom Polished Billet Aluminum Smooth Spark Plug Wire Loom Separators

March Billet Aluminum Dual Serpentine Pulley System with all Custom Clear Powdercoated Polished Billet Aluminum

All pulleys are made of Polished Billet Aluminum that were again Clear Powdercoated for super easy maintenance!
Polished Billet Aluminum Crankshaft Pulley
Polished Billet Aluminum Power Steering Pulley
Polished Billet Aluminum Water Pump Pulley and Nose Cover
Polished Billet Aluminum Alternator Pulley and Nose Cover

Polished Billet Aluminum Alternator Bracket

4-Wheel Power Disc Brakes that stop this '69 Camaro like a brand new Corvette!

Brand New Chrome Master Cylinder, Brake Booster, and Proportioning Valve that keeps these 4-Wheel Disc Brakes fed with lots of highly pressurized brake fluid!

Unisteer Hydraulic Power Rack and Pinion Steering System that gives the ultimate comfort of driving on the road. No more constantly correcting yourself while driving.

Makes turns with just a single finger!!!

Unisteer Braided Stainless Steel Power Steering Hoses with High Pressure Anodized Aluminum -6AN, -8AN, and -10AN Hose End Fittings

Brand New Hood to Cowl Seal

High Performance Ceramic Coated Short Length Exhaust Headers that provide Maximum Torque and Horsepower

Polished Aluminum High Flow Mechanical Fuel Pump

Liquid Filled Fuel-Line Local Fuel Pressure Gauge

Even the bolts in the surrounding areas of the engine compartment are custom button-head Stainless Steel bolts for that super clean modern look.

No ugly rusty hex-head bolts around here!

Brand New Chrome Hood Latch

All New Upper & Lower Radiator Hoses

Unisteer High Strength Adjustable Rack and Pinion Steering Shaft Kit

Even the Underside of the Hood was painted the same as the body color to match!!!

Brand New Pro-Touring Style Custom High Polished Billet Aluminum Hood Hinges with modern Gas Struts

No more worn out weak hood springs that don't keep the hood up! These work much smoother and look a lot better than some old set of rusty springs!

 

 

 

Braided Stainless Steel Fuel Pump to Carburetor Fuel Line with High Pressure -6AN Anodized Aluminum Hose End Fittings

Brand New Eddie Motorsports High Polished Billet Aluminum Fender Braces

 

Brand New Tuff Stuff Performance Chrome Aluminum High Flow High Performance Water Pump keeps this engine consistently flowing with engine coolant without lugging around a heavy cast iron pump!

Brand New March Performance High Polished Clear Powdercoated Billet Aluminum 140 Amp Alternator

Yes, you read that right...even the Alternator was crafted from a chunk of billet!! No cheap NAPA Brand $50 replacement Alternator was used here. This Alternator costed over $350 and is only made of the highest quality internal components.

Features an Internal Voltage Regulator for simple installation!

Chrome GM Type II (TC Series) Power Steering Pump - same type of Power Steering Pump found on new LS Engines

A lot more compact, efficient, and better performing unit than that old antiquated Saginaw Power Steering Pump that was found on the factory engines

Polished Billet Aluminum Remote Power Steering Reservoir

Undercover Innovations High Polished Billet Aluminum CNC Machined Radiator Core Support Filler Panel with Custom 'Camaro' Engravings for that ultimate Restomod appearance

Professionally Painted Gloss Black Radiator Core Support and Inner Fenders that all shines like a mirror the moment you pop that hood open!

Custom Fabricated & TIG Welded High Polished Billet Aluminum Hex Shaped Radiator Overflow Tank

Billet Engine Oil Dipstick

Billet Transmission Fluid Dipstick

Braided Electrical Ground Strap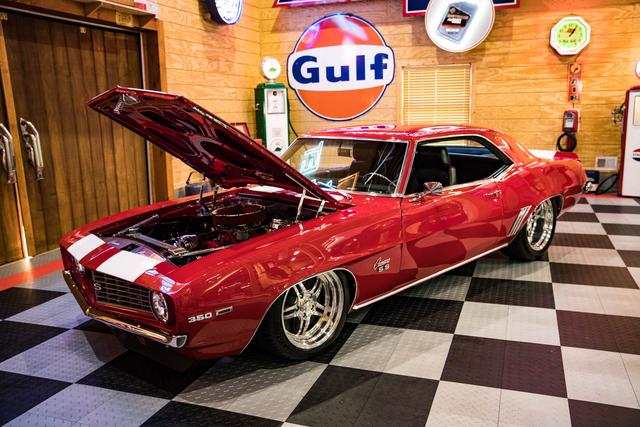 Fully detailed exterior (multi-stage wet-sand, buff, compound, polish, and wax) that brings out the shine on this beautiful car!
Basecoat-Clearcoat Vibrant Saronno Red Paint with Painted White Stripes (Beneath the Clear!) that looks absolutely stunning!
All of the bright chrome trim around the car has just been hand polished to restore the beautiful lustrous shine these classic cars are known for
Brand New Front and Rear Chrome Bumpers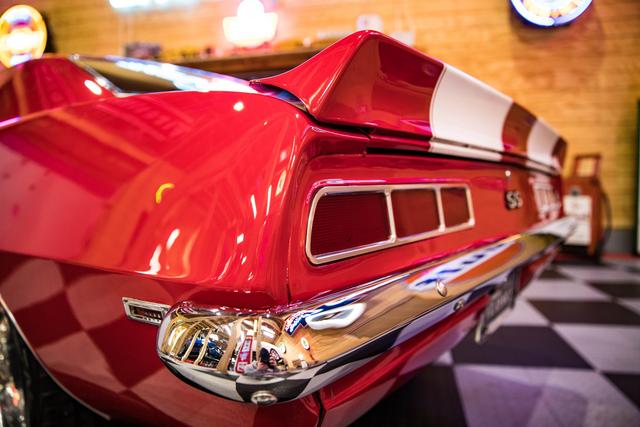 Brand New OER GM Restoration Parts Certified Polished Stainless Steel Bumper Bolts
Brand New 350 Front Fender Emblems
Brand New Polished Rocker Panel Moldings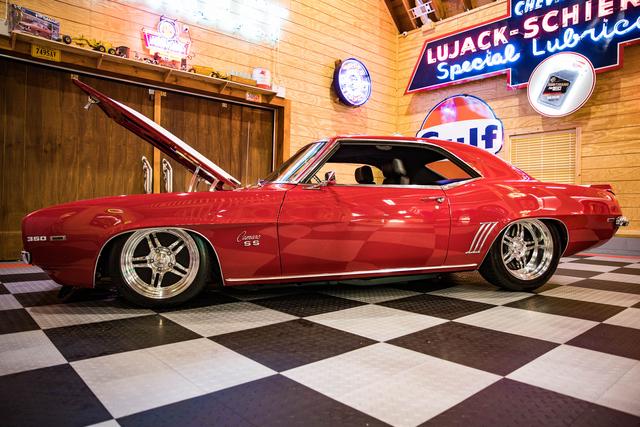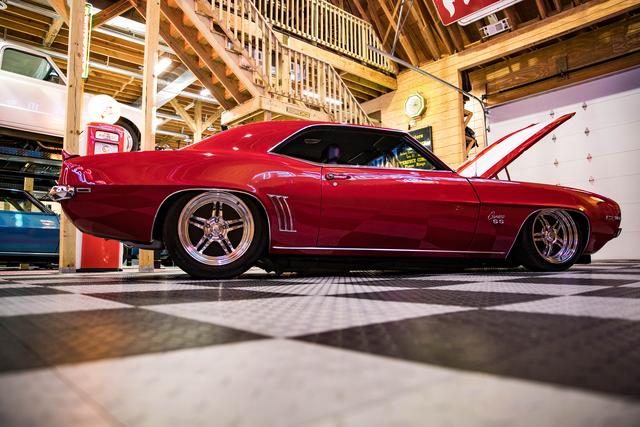 Brand New Chrome Door Handles
Freshly Painted Red Grille Surround - Not left in black or gray primer like most people do when replacing these! Painted to match!!!
Custom Chrome Antenna Base
17" & 18" Billet Specialties Street Smart-Challenger Series Custom Crafted CNC Machined 2-Piece Forged High Polished Billet Aluminum Wheels All wrapped in Continental Extreme Contact Tires for that ultimate Matchbox Pro-Touring appeal

While the front wheels are 17", the rear wheels were custom made in an 18" diameter with a high offset for that large lip. This is what really pronounces the custom look on this car
Not to mention the fat tires in the rear make this car look like it's ready for some drag racing!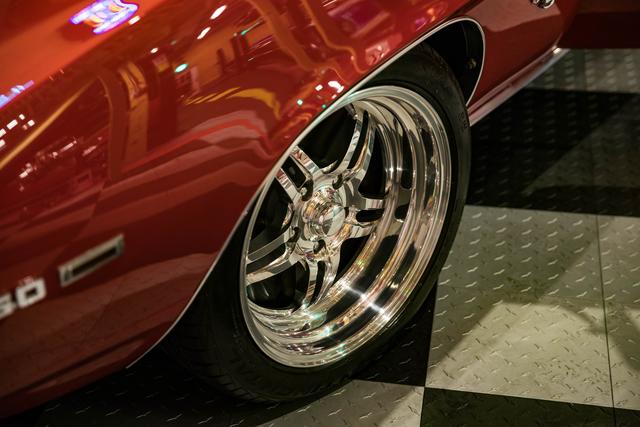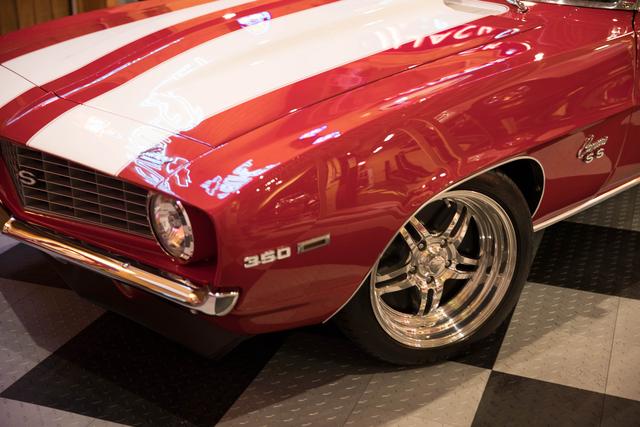 High Polished Billet Aluminum Trunk Hinges with Stainless Steel Struts that open and close very smoothly. This is the perfect combination with the Billet Hood Hinges that were also installed in the car as previously mentioned.
Custom Polished Door Ledge Reveal Moldings adds the icing to the cake with all the beautiful chrome and bling this car is equipped with.
All Windshield Reveal Moldings (Front & Rear) as well as the Drip Rail Moldings were just hand polished and shine wonderfully
Brand New Polished Wheel Well Trim
High Polished Billet Aluminum Tail Light Bezels with Smooth Custom Lenses for that perfect Restomod look!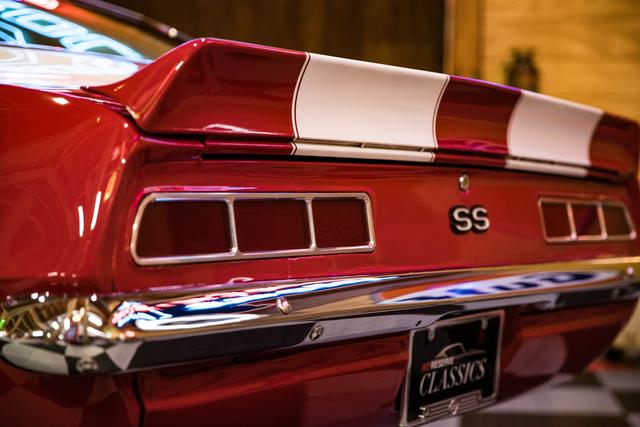 One of the things that most of these cars lack is visibility at night. We just upgraded this car with a super high visibility and high power modern LED bulb and ballast kit!

The great things about these are not only are they super bright but they last a lifetime, require less power to function, and don't get nearly as hot as a standard halogen or sealed beam housing which is what a '69 Camaro came with from the factory.
Not only were the headlight bulbs upgraded, but the ENTIRE HOUSINGS were fully replaced with brand new reflective housings that also have Halo rings lit by high power LED's for that modern Pro-Touring look!

We even added Brand New Eddie Motorsports High Polished Billet Aluminum Headlight Ring Bezels to break the Red Grille Up and add some Billet to the Front End! Beautiful CNC Cut Billet MADE IN USA!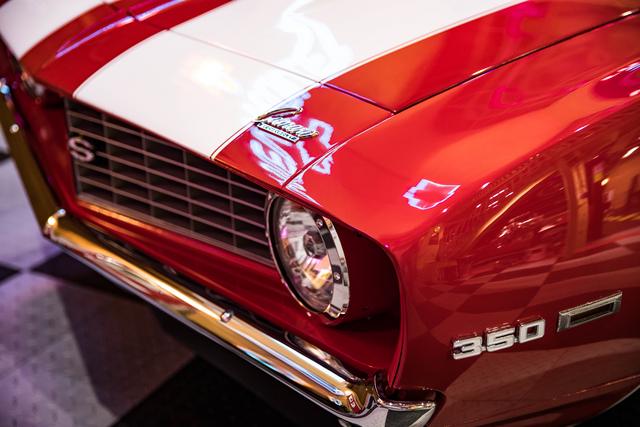 Brand New Polished Stainless Steel Windshield Wiper Arms & Factory Style Anco Wiper Blades with Polished Stainless Steel Trim
Custom High Polished Billet Shark Fin Quarter Panel Louvers

This was the first and only year that Camaro's came with this slick design on the quarter panels. It wasn't until the 5th Generation Camaro that a slightly altered design was used again making the '69 Camaro so unique from any other year.

Custom High Polished Billet Aluminum SS Rear License Plate Frame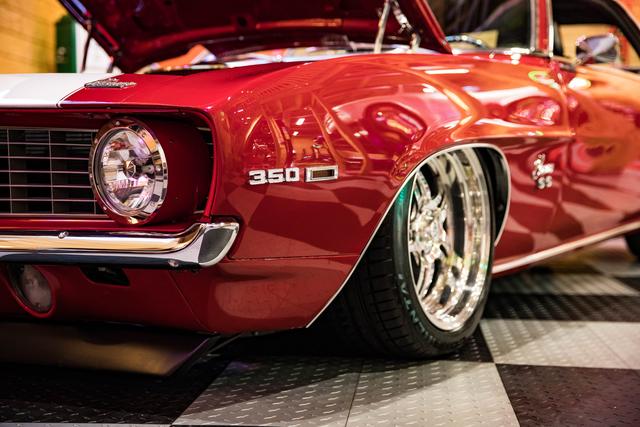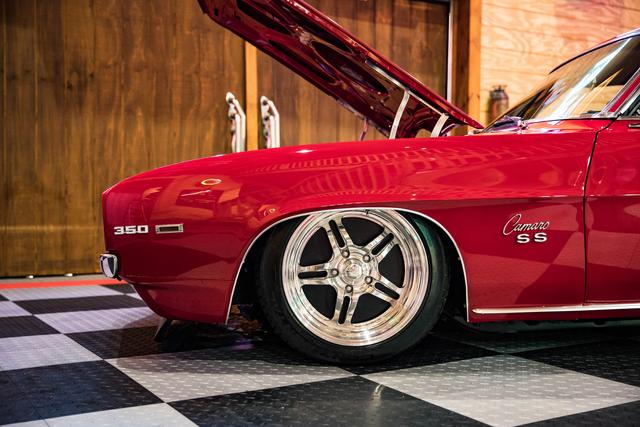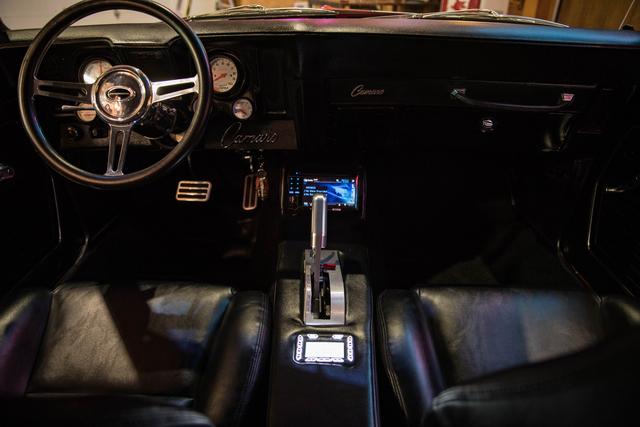 Fully Customized Black Interior with tons of upgrades that beats any factory interior! Not to mention it has just been freshly cleaned and detailed.

The entire interior was built with so many custom aftermarket parts and accessories that it really brings this car up to speed (no pun intended) for the modern 21st Century!

Custom Black Vinyl Bucket Seats with headrests that feature excellent back support and full adjustability back and forth as well as up and down! So comfortable we would be happy to drive cross country in these seats!

They recline as far back and as far forward as you want and are literally the perfect one size fits all seat for tall, medium, or short people!
Buying a '69 Camaro with factory seats can be tricky for taller folks as they sit high and do not slide back much making it uncomfortable to drive.
This car has the best functional seats we've ever seen!

Even the Rear Bench Seat was wrapped in the same super comfortable Black Vinyl as the fronts!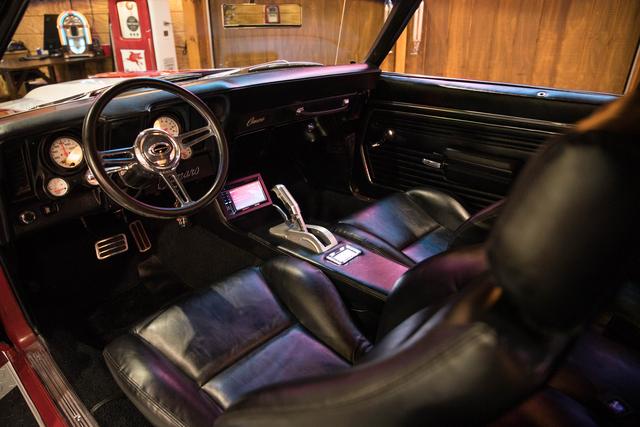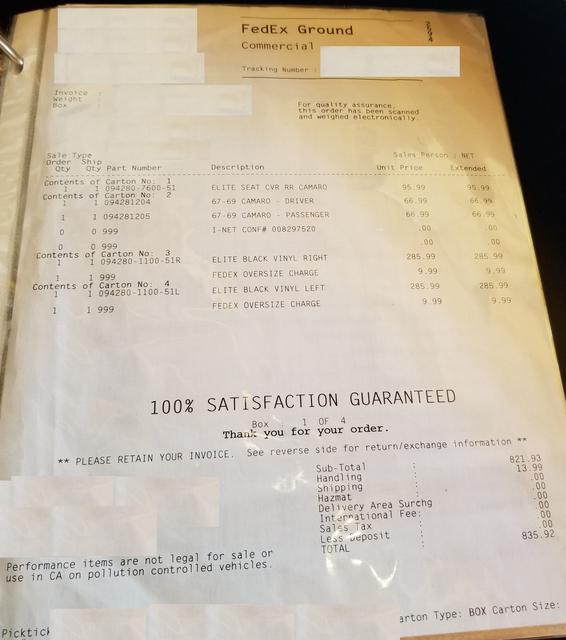 Factory Style Black Standard Door Panels Front and Rear that are in nice shape
Flaming River Custom Polished Stainless Steel Tilt Steering Column for all those tall guys out there! If you're tall and worried about fitting in a Camaro, don't stop here. One of our employees is 6'5" and fits in this car no problem! 
Between the fully adjustable seats and tilt steering column, we're pretty sure if you're as tall as Shaquille O'Neal, you'll still fit!
Custom Molded Center Console with a Pioneer Double DIN Touchscreen Radio, B&M Pistol Grip 4-Speed Automatic Shifter, as well as a Ridetech Air Ride Digital Computer Screen that allows you set ride height on each corner with the touch of a button!!

Wrapped in the Same Beautiful Black Vinyl as the Seats!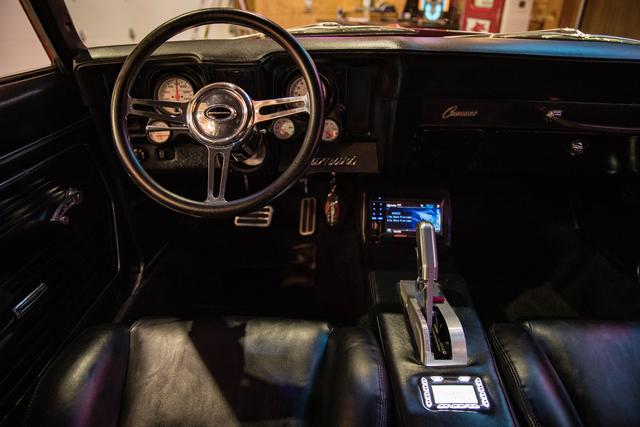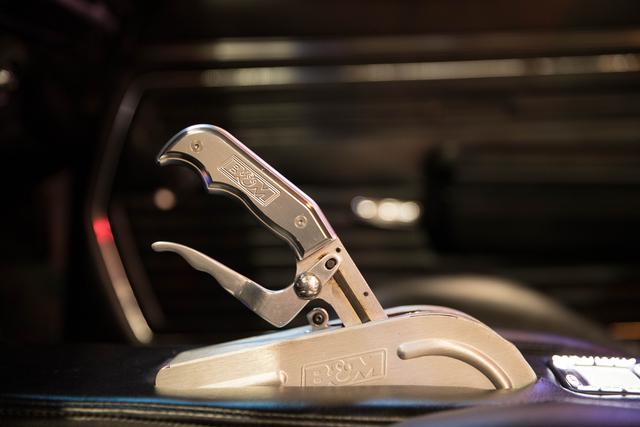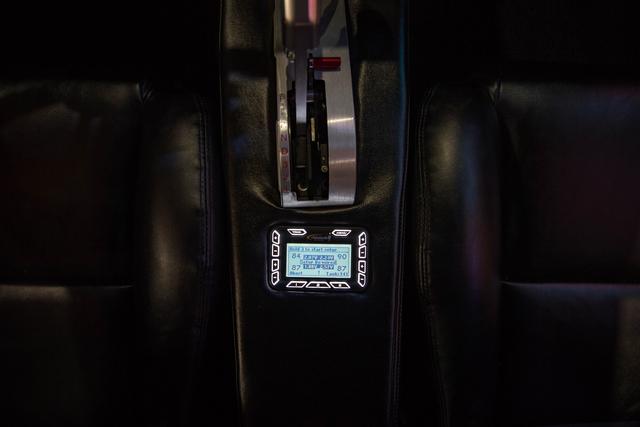 Brand New Body By Fisher Polished Aluminum Carpet Sill Plates
Brand New Custom Billet Window Cranks
Custom AutoMeter 6-Gauge Enclosed Gauge Cluster with AutoMeter Phantom Gauges that all work phenomenally! Such an improvement over factory...these gauges are very precise, respond quick, and are electrically controlled for improved accuracy. All of the sending units for the gauges are electrical which means no fluids circulate inside the car and possibly spring a leak overtime.

They are also backlit when the headlights are powered so you can read your gauges on those nighttime cruises which was something these Camaro's lacked the ability of from the factory.
Speedometer and Tachometer are your main large gauges on the left and right and your smaller gauges below are Fuel, Volts, Temperature, and Oil Pressure.

Unless you purchased the Center Console Rally Gauges in 1969, you did not get this much information from factory gauges. You had Speedometer, Fuel Level, and just warning lights.
These gauges actually tell you what temperature and Oil Pressure your engine is running at as well as battery voltage!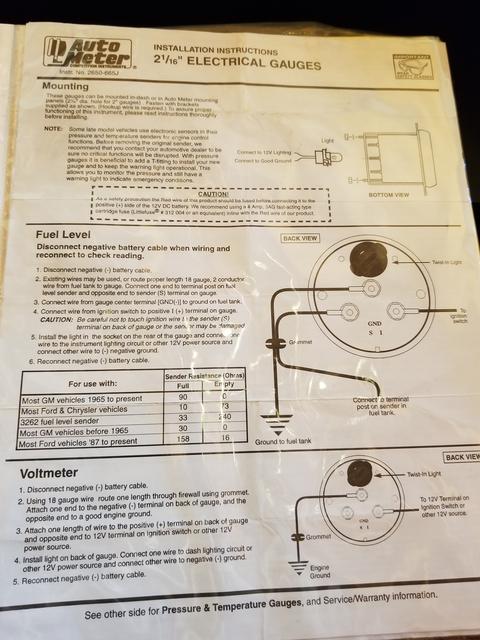 Brand New Black Vinyl Package Tray Cover
Brand New AMI Styling High Polished Ball-Milled Billet Aluminum Rear View Mirror Enhances Visibility and adds a sharp look to the car!
Brand New TMI Black Vinyl Sun Visors
Brand New Classic Headquarters GM Restoration Parts Certified Chrome Sun Visor Brackets
Brand New Sun Visor Bushing Tips
Brand New OER GM Restoration Parts Certified Door Jamb Windlace
Pioneer Double DIN Touchscreen High Performance Bluetooth, AM/FM, AUX/USB Radio was installed with this car that is fully compatible with your smartphone device (iPhone's and Androids!) or even works super well with some of the older MP3 players such as an iPod or Zune!

This system sounds ABSOLUTELY AMAZING. Only the highest quality speakers and subwoofers were used during the customized installation.

Billet Specialties High Polished Custom Crafted CNC Machined Billet Aluminum Steering Wheel with a super comfortable Black Vinyl Grip that looks sharp and grips in your hands well!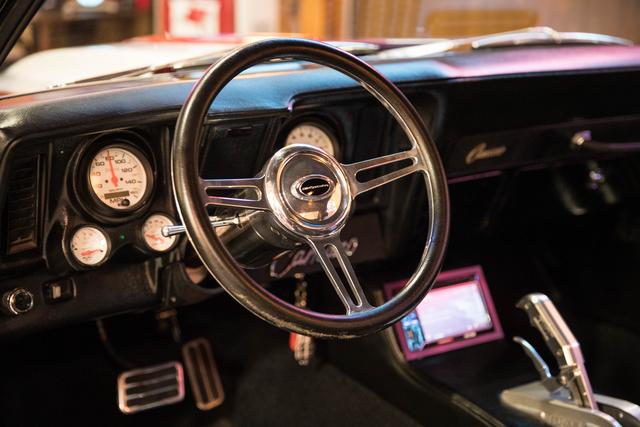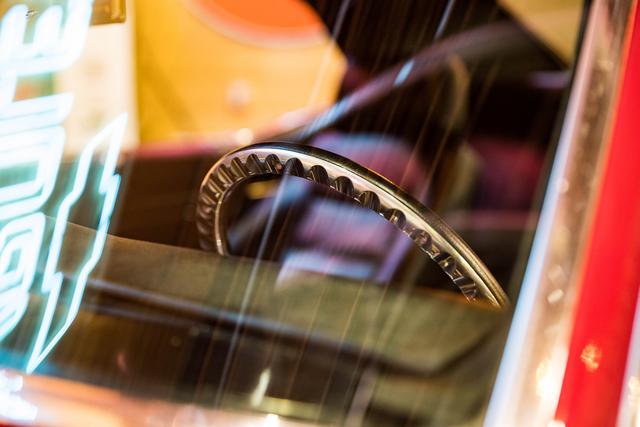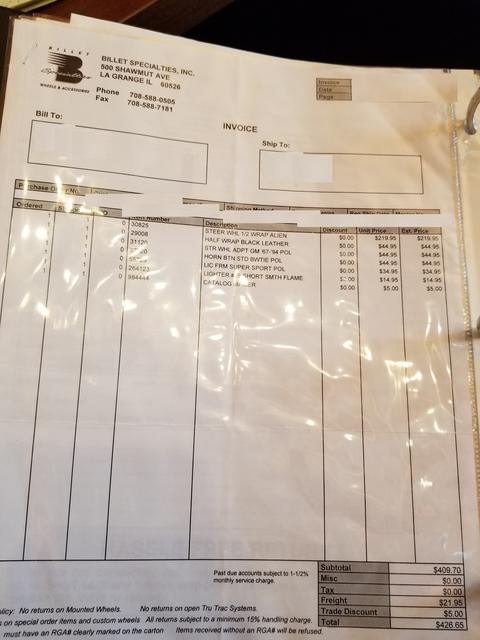 Kenwood 4-Way 6x9 Rear Package Tray Speakers that sound super crisp and provide excellent sound quality on every frequency level from Low's, Mid's, and High's! Dual Tweeter Function!!
The trunk was fully upholstered and customized with Two Kenwood 10" Subwoofers encased in the same custom Black Vinyl as the inside of the car. All of the panels were custom-fit and wrapped on thick plywood for extra strength and rigidity. These subwoofers are super powerful and give the best bass and low sound frequencies we have ever come across in a classic car.
Powered by a Kenwood 1800W Max Power Single Channel Amplifier, you bet these Subwoofers are made to crank high without hesitation!

Features Bass Boost and full adjustability!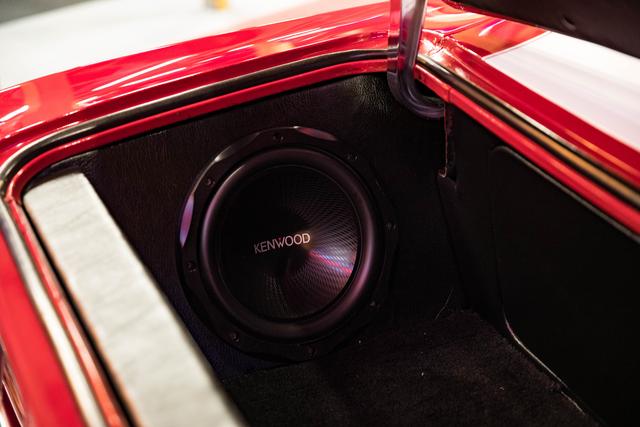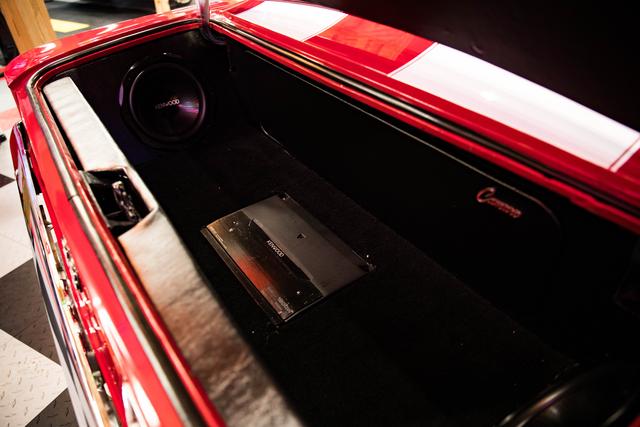 As previously mentioned, this car does have Two Brand New Optima Red Top Batteries Located in the Trunk that are keeping this Camaro's entire electrical system consistently powered!
Brand New Polished Billet Aluminum Gas Pedal Assembly
Brand New Polished Billet Aluminum Brake Pedal Pad
Brand New Brake Pedal Arm
Brand New Steering Column Cover
Black Factory-Style 80/20 Loop 2-Piece Carpeting that is in very nice shape
All seat belts are in place front and rear keeping you, your friends, and/or family safe while driving your new classic Camaro!
Brand New Alien Enclosures Black Vinyl Wrapped Trunk Deck Lid Cover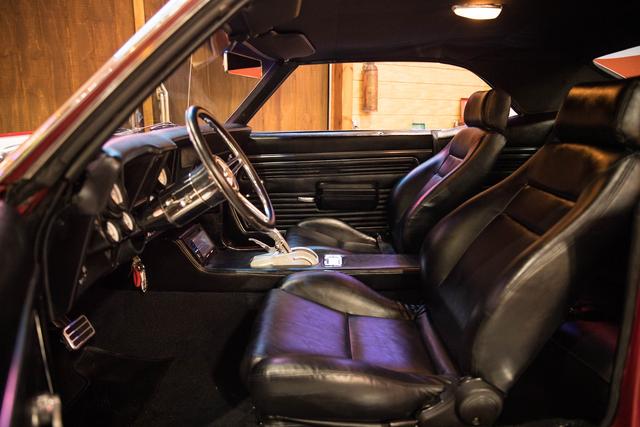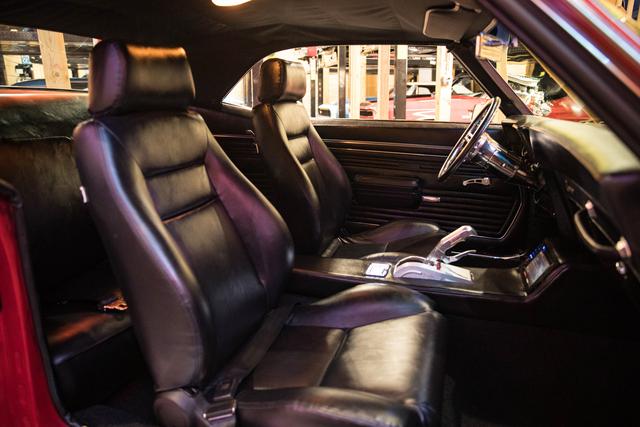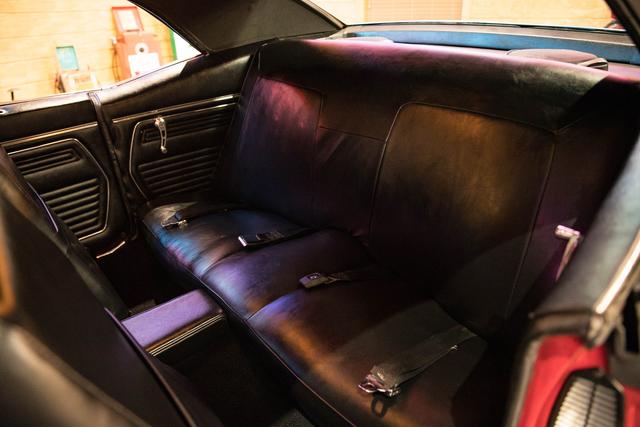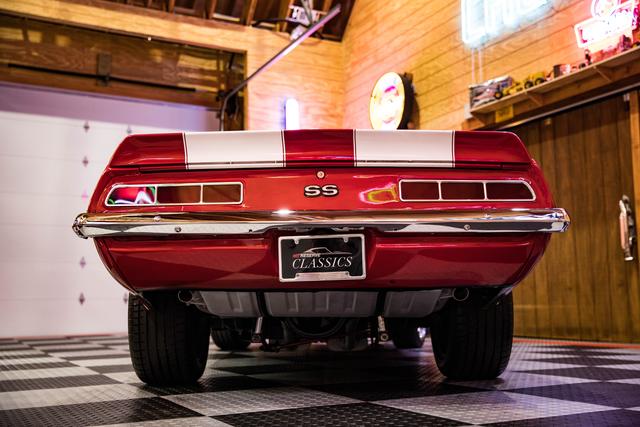 Freshly cleaned, de-greased, and detailed underbody giving a fresh clean look!
All of the floors were fully sanded down and painted black for that smooth super clean finish.
All brand new suspension components with so many custom upgrades throughout you'll be surprised that you're driving in a 50 year old car when you go around tight corners!
As previously mentioned, this car is equipped with 4-Wheel Power Disc Brakes that stop this '69 Camaro like a brand new Corvette!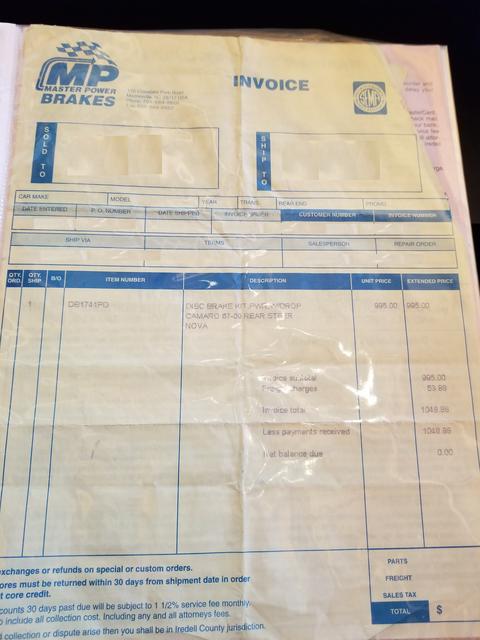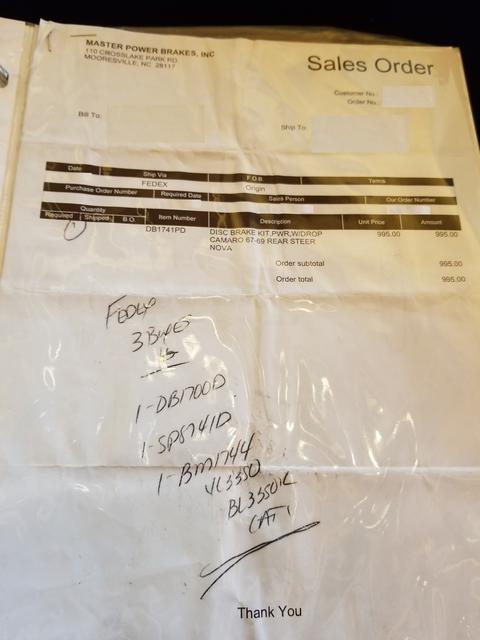 Fully Welded Subframe Connectors
Stainless Steel Brake Lines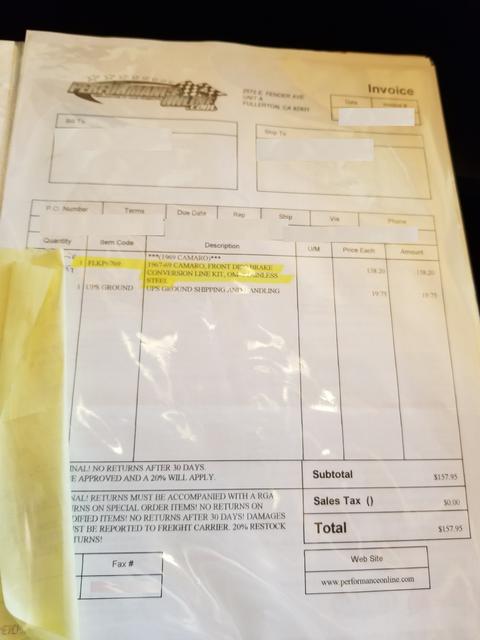 Ridetech Air Ride Technologies Fully Custom Air Bag Suspension System with a Custom 4-Link Rear Suspension that is fully controlled by a simple easy to use touchscreen controller located on the center console inside the car.

Super simple to use and lets you set the ride height by a single touch of a button
Coil Overs are yesteryear's technology...no longer do you need to get underneath the car with a spanner wrench to adjust the coil overs to set your ride height!!!
The entire ECU was just replaced with a brand new system to ensure make sure this Air Bag System is performing optimally without any issues.

Brand New RideTech 327 Series Gearless Air Compressor was also installed as well as many of the air pressure lines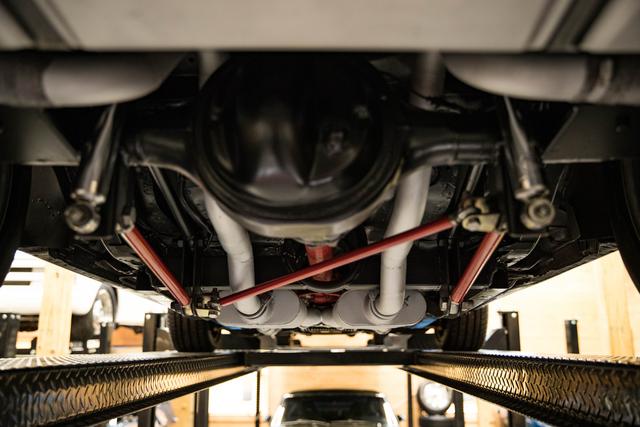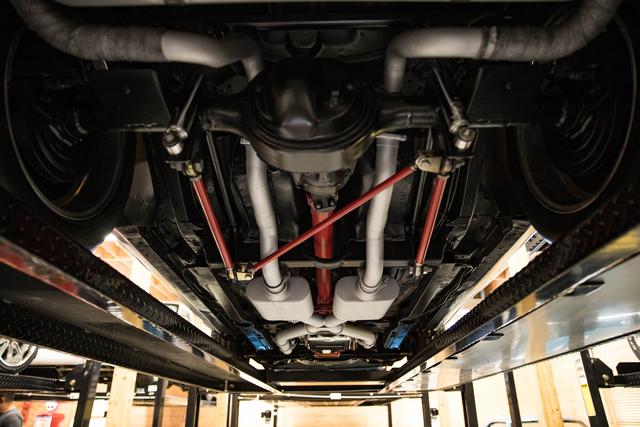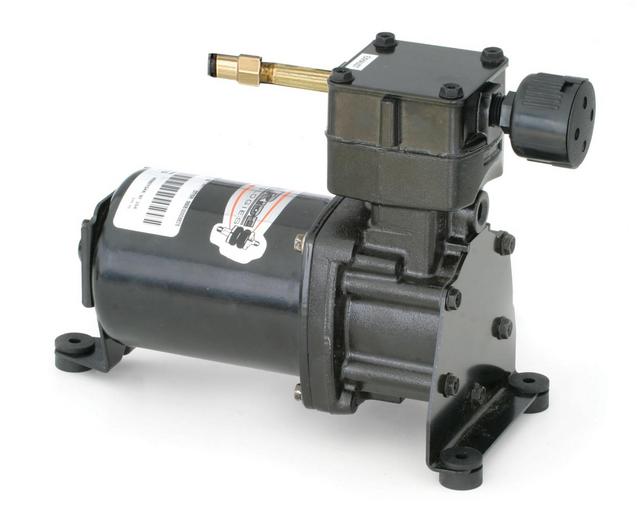 As previously mentioned, this car is also equipped with Hydraulic Power Rack and Pinion Steering System that gives the ultimate comfort of driving on the road. No more constantly correcting yourself while driving.

Makes turns with just a single finger!!!

Brand New Chrome Torque Converter Cover
Chrome 700R4 Transmisison Pan
All Body Mounts/Subframe Bushings were replaced with PST Polygraphite Body Mounts!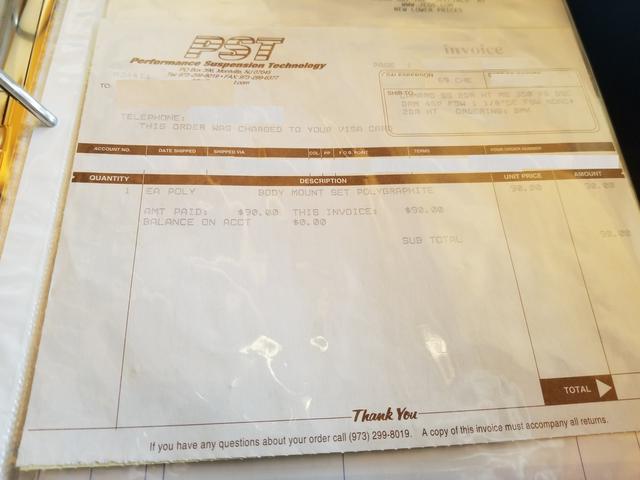 Fully Mini-Tubbed Rear Section lets you fit super large tires without any intense rubbing like the factory wheelhouses permit
Custom Painted Engine Oil Pan and Transmission Case same color as the rest of the engine and exterior of the vehicle!
Custom Welded Driveshaft Safety Loop
Custom Painted Red Lower Control Arms and 3.5" Driveshaft
Polygraphite Upper and Lower Control Arm Bushings restore the longitudinal performance of the control arms and keep this car's suspension operating freely without binding.
All upper and lower ball joints were replaced when the suspension was serviced keeping this car super tight and in control on the road
Custom Upgraded Large Tubular Front Sway Bar with all new end links and bushings keeps these tires planted around turns!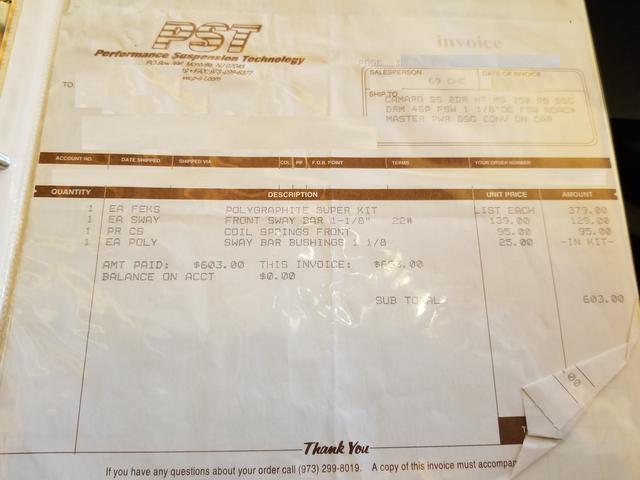 Fully Custom Chrome Rear Shocks by Pro Shocks
Ford 9" Posi Rear that was custom built with shortened axles and axle tubes from the factory size width to accommodate the deeper offset on the rear wheels which allows you to run that super large lip without sticking it out a mile wide past the edge of the quarter panel like an off-road truck would have. THIS IS CUSTOM!

Yes! It is a posi rear! No embarrassing one-legged single wheel burnouts from this Camaro!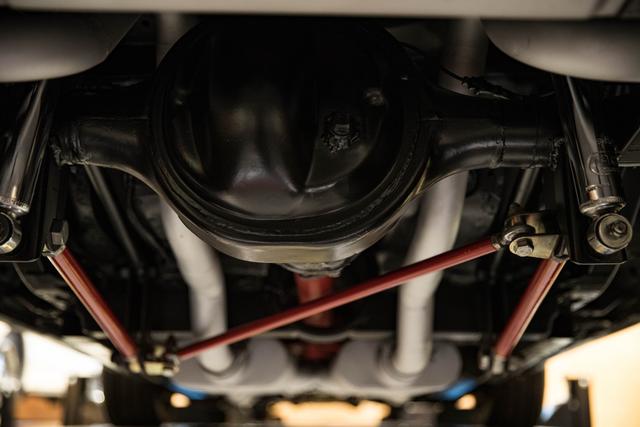 Jegs High Performance High Torque Mini Gear Reduction Style Starter

Much better style starter than the factory heavy and clunky direct drive starters. These require a lot more amperage to spin the engine and generally don't crank it nearly as fast as a Gear Reduction style starter. They weigh almost 2-3x as much as well.
These antiquated pieces of junk belong in the trash and NOT on this Camaro!!!
2.5" X-Pipe Mandrel Bent Custom Welded Exhaust System with Flowmaster 40 Series Mufflers that makes this car sound as amazing as any V8 equipped Classic American Muscle Car should! Nice and loud on the outside but super quiet on the inside!!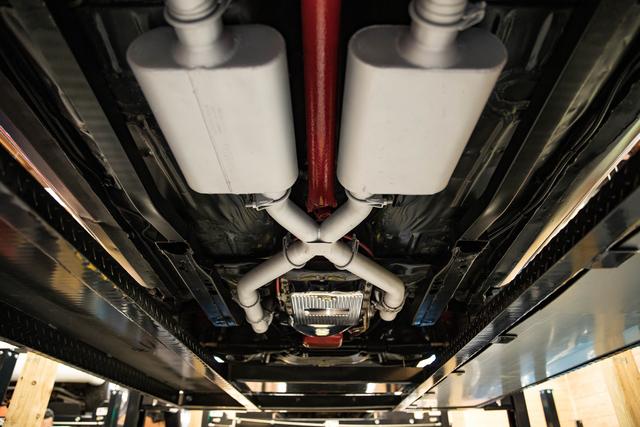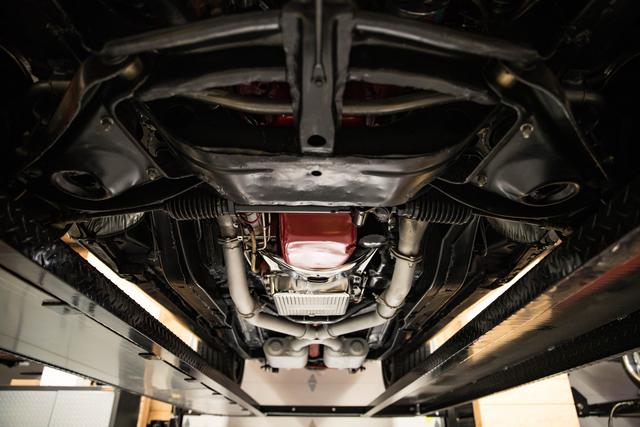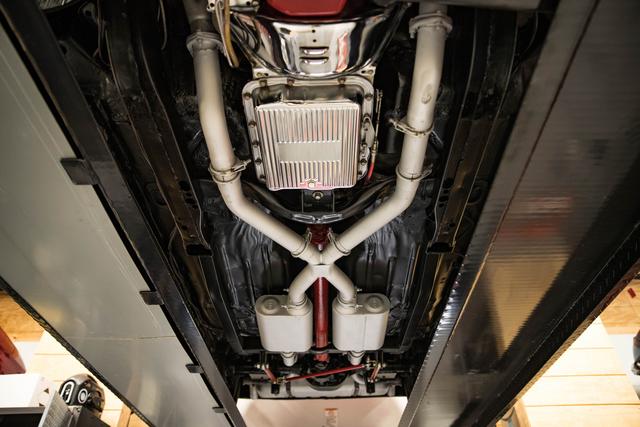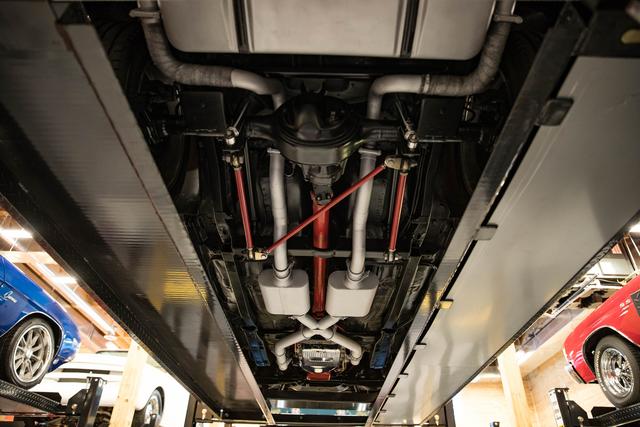 [tab-area5]
Related Listings
NEW ARRIVAL

$97,750

Sold

$36,100

Sold

$35,000

Sold

$54,000

Sold

$57,350

Sold

$36,000