1967 Chevrolet Camaro RS/SS 350 Convertible
The Chevrolet Camaro is an automobile manufactured by General Motors under the Chevrolet brand, classified as a pony car, and some versions also as a muscle car. It went on sale on September 29, 1966, for the 1967 model year and was designed as a competing model to the Ford Mustang. The car shared its platform and major components with the Pontiac Firebird, also introduced for 1967.
First-generation Camaro debuted on a new rear-wheel drive GM F-body platform and would be available as a 2-door, 2+2 seating, coupe or convertible with a choice of 250ci inline-6 and 302ci, 307ci, 327ci, 350ci, or 396ci V8 powerplants. The Camaro was touted as having the same conventional rear-drive, front-engine configuration as Mustang and Chevy Nova. In addition, the Camaro was designed to fit a variety of power plants in the engine bay. The first-generation Camaro would last until the 1969 model year.
Ever dreamed of owning a cool classic muscle car that you could enjoy driving everyday? Well you're in luck because No Reserve Classics is listing this beautiful and very highly optioned 1967 Chevrolet Camaro RS/SS 350 for a NO-RESERVE auction that does just that! This is the perfect choice for that individual who wants a highly-collectible classic car to bring to car shows with the family and be proud to own. The moment you step inside the driver's seat of this car, you feel like you entered a time machine back to 1967. This car features a very unique and nostalgic design between the finned engine compartment dress up all the way to the Cragar Wheels. This old school themed Camaro truly defines the definition of the muscle car era. These kinds of cars are disappearing every day so don't miss out!
Don't forget to watch our walk-around video below!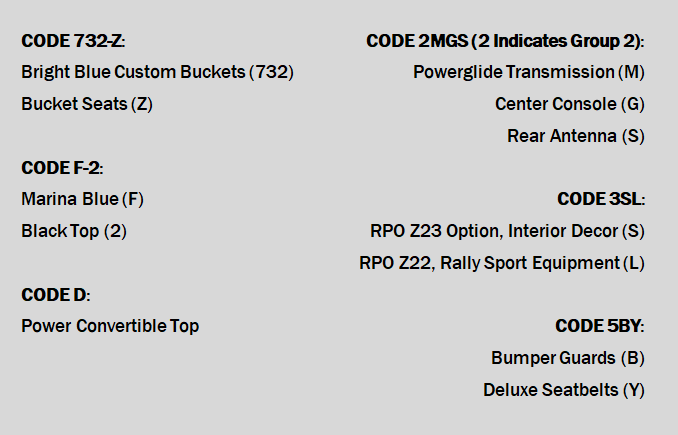 As you can see, this '67 Convertible was born from the factory as a very highly optioned car!
To sum this car up, this 1967 Camaro Convertible is overall a great simple everyday cruiser and is a very comfortable car to take on long drives with the top down. Although this car is very complete and presents/drives beautifully, please keep in mind this Camaro is a 50 year old classic car with an older paint job that you will find some imperfections in (such as some bubbling). Also, we cannot verify this car to be a factory-born true RS/SS 350, RS, or SS 350 as we do not have any of the original paperwork such as a build sheet, protect-o-plate, etc. As with all classic cars, it may need a few odds and ends down the line as you begin to drive it more often. However, we would still be very proud to own and drive this car every day and know for sure you would be too.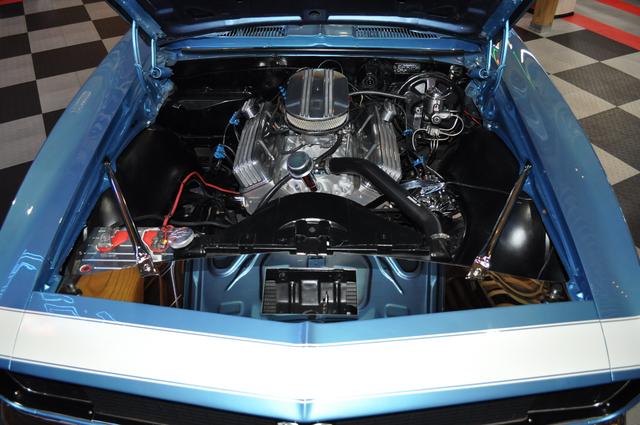 Engine compartment was just completely detailed and cleaned with MANY new parts and accessories
All the engine compartment wiring was loomed in order to keep everything nice and neat and protected from heat and debris.
The powerhouse of this Camaro is a retro-themed 327 Small Block Chevy that was just completely tuned up and overall is a smooth running engine.

Fresh Fluids, Oil, Plugs, Wires, etc.

Engine runs with a Brand New Holley Street Avenger Series 4160 600 CFM Vacuum Secondary Polished Aluminum Carburetor with Electric Choke that starts up painlessly! No thumping on the gas so much it floods the engine out like most improperly tuned carbureted engines you will find these days.
Car is backed by a Powerglide Automatic Transmission that cruises super nice down the highway and shifts through all gears properly.
Brand New High Performance Optima Red Top Battery that was encased in a beautiful ball-milled polished billet aluminum battery tray
Brand New Cal-Custom Finned Aluminum Valve Covers, Air Cleaner, and Custom Finned Breathers 
Brand New Moroso High Performance Perm-Align Valve Cover Gaskets keeps these valve covers sealed and dry as a bone!
Even the underside of the hood was painted to match the body color to make all of these new accessories pop at car shows!
High Performance Edelbrock Aluminum Intake Manifold
Trick Flow 175 Aluminum Cylinder Heads that provides excellent torque and horsepower and even adds fuel mileage to the car due to the reduced weight when compared to similar Cast Iron Heads
High Flow Holley Mechanical Aluminum Fuel Pump
Power Brake System with Brand New Chrome Master Cylinder Cap and Stainless Steel Brake Lines!
Ceramic Coated Exhaust Headers were installed on this 327 which allows this engine to breath much better than cast iron exhaust manifolds which hold in heat and don't flow as well. Improves fuel mileage, horsepower, and torque significantly!
Brand New Chrome Alternator
Chrome Alternator Brackets
Brand New Pump to Carb Fuel Line and Fuel Filter
Brand New Trans-Dapt Billet Engine Oil Dipstick
Brand New Wet Sump Oil Pump and Pickup Kit
Accel 12v Ignition Coil & Vacuum Advance Distributor Ignition System
Hood Hinges were even painted to match the color of the car!
Brand New Custom Finned Aluminum Engine Oil Pan & High Performance Fel-Pro 1-Piece Oil Pan Gasket
Custom Beautifully Polished Stainless Steel Radiator Core Support Filler Panel
Brand New Chrome Fender Braces
Brand New High Performance Optima Red Top Battery that was encased in a beautiful ball-milled polished billet aluminum battery tray
Brand New Hood Adjusters
Brand New Hood to Cowl Seal
Brand New GM Stamped Upper & Lower Radiator Hoses
Brand New Chrome Hood Latch
A Power Steering System was installed on this car making it super easy to drive unlike many cars that still have manual steering systems
Radiator Core Support was nicely repainted semi-gloss black just like original
Brand New Billet Specialties Polished Aluminum Bowtie Radiator Cap
Brand New Modern Wolo Horns were installed so other drivers can hear you!
Brand New Chrome Water Neck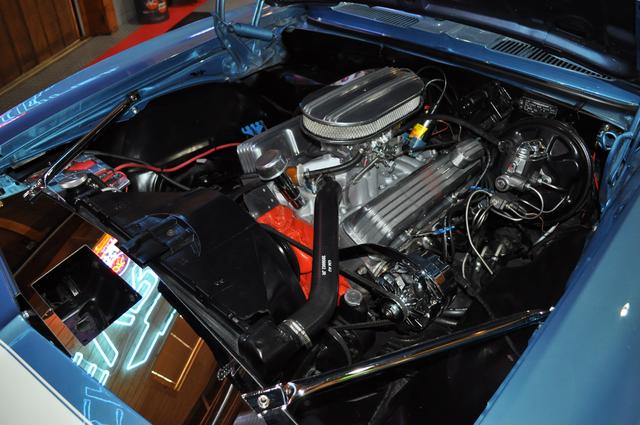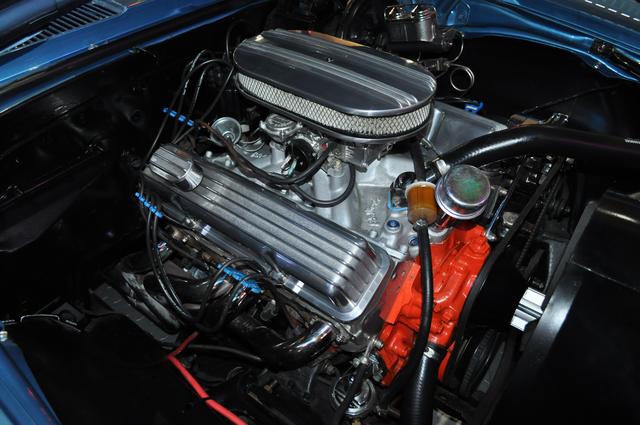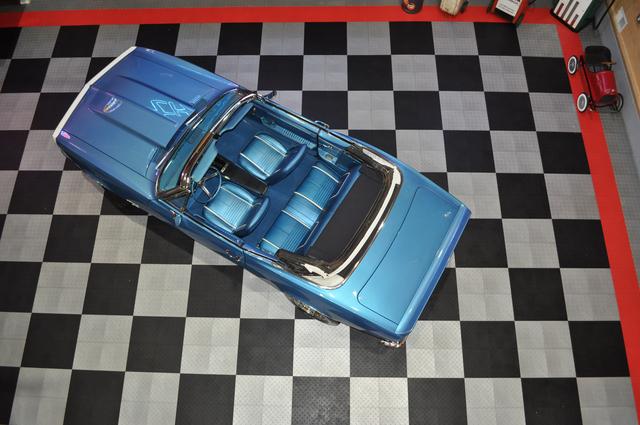 Fully detailed exterior (multi-stage wet-sand, buff, compound, polish, and wax) that brings out the shine on this beautiful car!
Beautiful Code F Marina Blue Paint with a white bumblebee stripe just like factory! Such a beautiful color combination for a '67 Camaro!
A lot of the trim/chrome around the car was replaced and just all hand-polished to shine like a mirror!
Full RS Trim around the car including the correct RS Tail Lights & Reverse Lights as well as the correct Hideaway Headlight System!
RS/SS 350 Trim
Completely Brand New White Convertible Top!!! No foggy rear window or torn stitching found here!
Brand New Power Convertible Top Hydraulic Motor from Real Deal Steel!
Yes, this car is equipped with a POWER CONVERTIBLE TOP!!

Something that many modern cars aren't even equipped with. Flip a switch and you're in business. 
No need to get out of your comfortable front bucket seat to fold it down!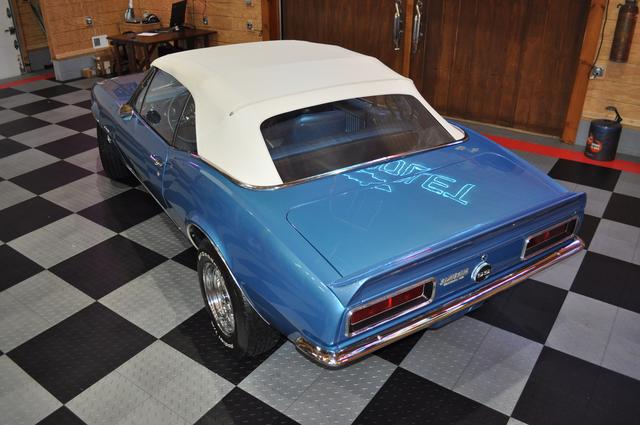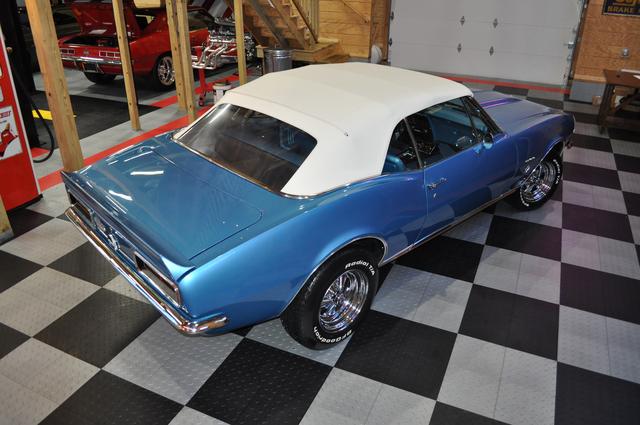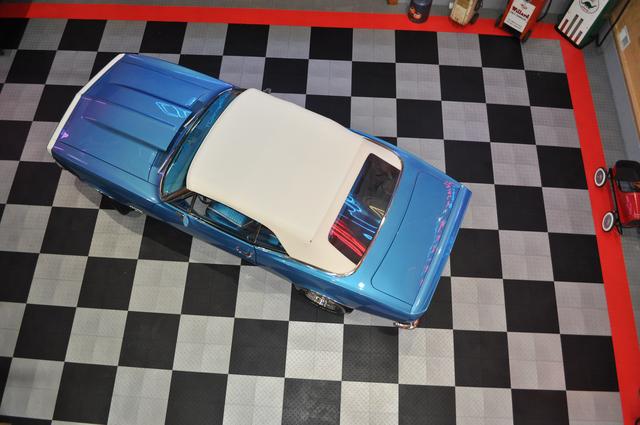 Brand New Polished Stainless Rocker Panel Moldings
Brand New SS Front Grille Emblem
All Brand New GM Restoration Parts Certified Fender Emblems
Classic 15" Chrome Cragar Wheels Wrapped in BFGoodrich Radial T/A White-Lettered Tires that look stunning which gives this car that perfect muscle car stance that everyone loves.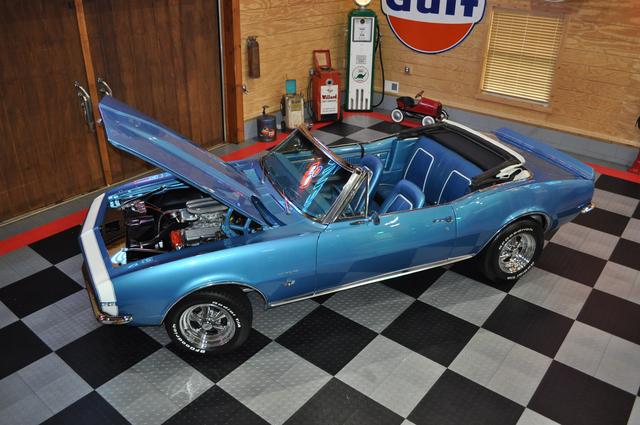 Brand New 2" Steel Cowl Hood!!

Even the underside of the hood was painted the same color as the exterior in basecoat/clearcoat which is typically left in EDP/Primer Black and oxidizes over time.

Full Brand New D80 Front and Rear Spoiler Package
Brand New RS Reverse Light Lenses & Gaskets
Brand New Trunk Lock Cylinder
Brand New Front Spoiler Brackets
Correct Rally Sport Side Body Moldings
Brand New LH Headlamp Mounting Bucket, Retainer Ring, & Adjustment Hardware
Brand New Door Weatherstrip
Brand New Convertible Top Weatherstrip
Brand New Trunk Weatherstrip
Polished Stainless Steel Wheel Well Opening Moldings
Brand New Polished Stainless Steel Front Windshield Moldings
Front and Rear Chrome Bumpers were just fully polished to shine like a mirror!
Brand New Factory-Style Wiper Arms and Blades
DOT Approved Front Windshield with Tinted Visor for those bright sunny days
Brand New Chrome Exterior Door Handles
Brand New Chrome Factory-Style Round Side View Mirrors with Bowtie Chevy Emblem
New Convertible Top Header Moldings
Brand New Window Felts (typically dry-rotted in most cars this age)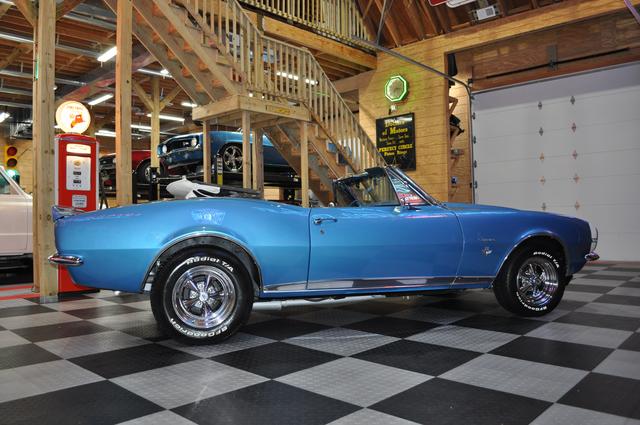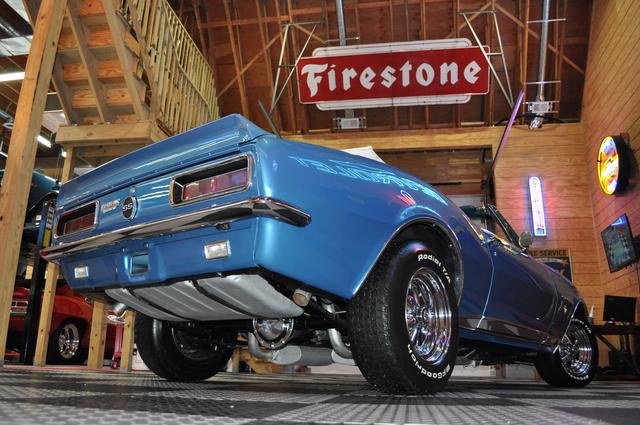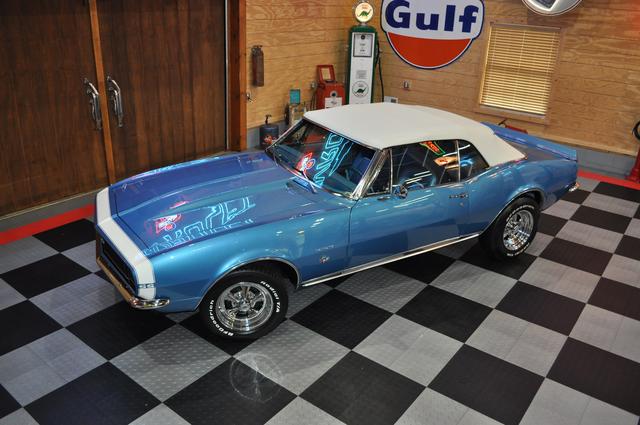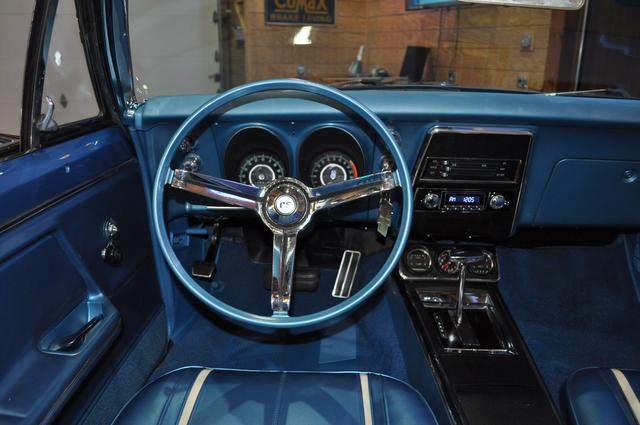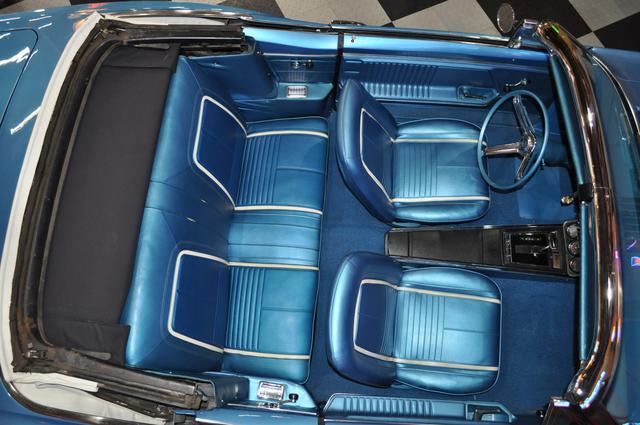 Beautiful Code 732 Deluxe Blue Vinyl Bucket Seat Interior that looks stunning and is super comfortable. The nostalgia hits you the moment you sit in the driver seat!
The Front Bucket Seats are a pleasure to sit in and comfortable for long distance driving.
Deluxe Door Panels that are complete with the correct trim
Brand New Blue Factory-Style Vinyl Dash Pad!
Brand New Passenger Side Armrest Base
Beautifully Freshly Redone Carpeting that retains the factory 80/20 Loop 2-Piece style! Only OER Authorized Carpeting was used for true authenticity!
Brand New RetroSound AM/FM Radio with Aux Input for your smartphone devices (iPhone/Android) and iPod/MP3 players! This radio at a glance has a factory Delco radio look to it but upon closer inspection, you will find this LED backlit radio was built to fit a factory '67 Camaro dash without any hacking or modifying like almost all cars we have seen come with. This radio and sound system works wonderfully and sounds amazing especially as you're cruising down the road.

Upgraded Phoenix Gold Speakers

Retains Body By Fisher Polished Aluminum Carpet Sill Plates
Brand New Rear View Mirror
Brand New Oil Gauge Line
Brand New Complete Center Console Wiring Harness
Brand New Center Dash Panel
Fully Operational Parking Brake
Factory-Style Steering Wheel with RS Horn Cap. FULLY WORKING HORNS! Loud enough for others to hear you!
Gauge Cluster features a fully working 120 MPH Speedometer as well as a factory tachometer/RPM gauge which was a rare option for Camaro's. 

This is correct for cars equipped with a Center Console Gauge Option as the Fuel Gauge was relocated from the dash to the console and a Tachometer took its place.

Highly Sought-After Center Console with Console Gauges and an Automatic Shifter (only year of the Camaro with this shifter design!)

Brand New Water Temperature Gauge
Brand New Ammeter Gauge
Brand New Oil Pressure Gauge
Brand New Fuel Level Gauge
ALL NEW GAUGES ARE GM RESTORATION PARTS CERTIFIED!

Chrome A-Pillar Moldings Option
New Pillar Post Weatherstripping
Brand New RH Deluxe Door Panel Molding
Even the dimmer switch still works!
ALL BRAND NEW WINDOW CRANKS!
BlueFactory Style Sun Visors still in place
Dash Gauge Lights working great!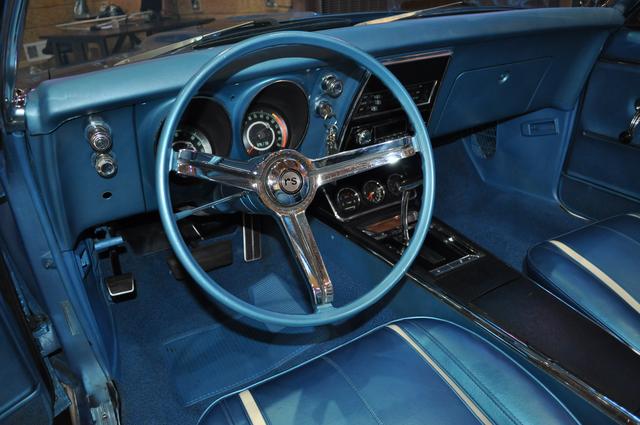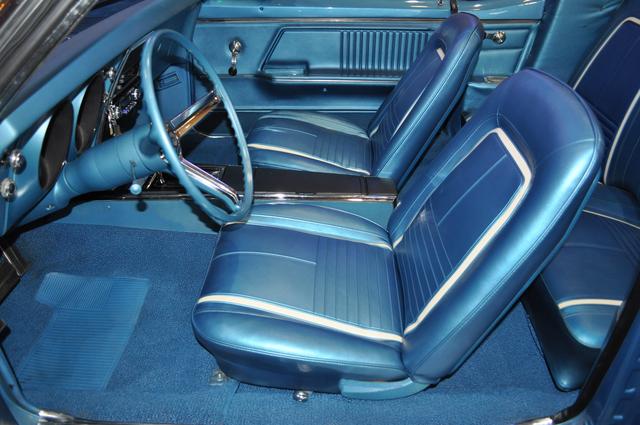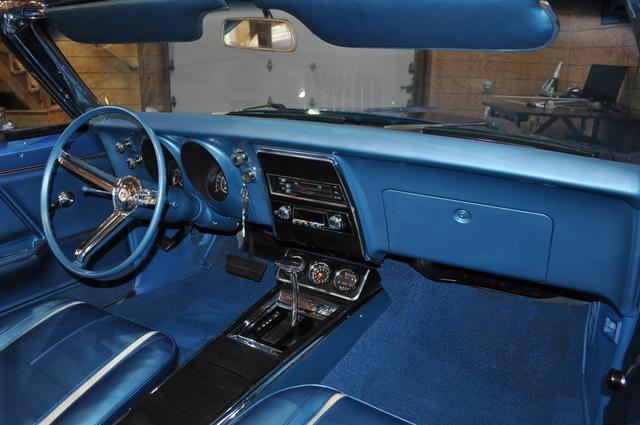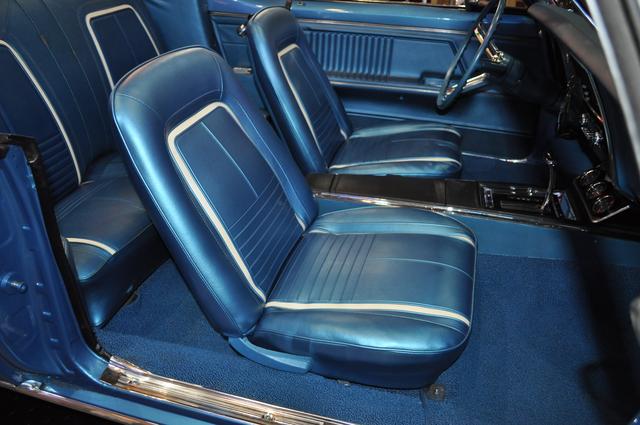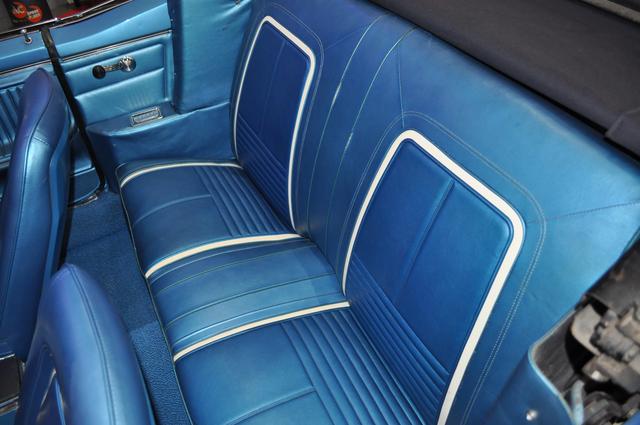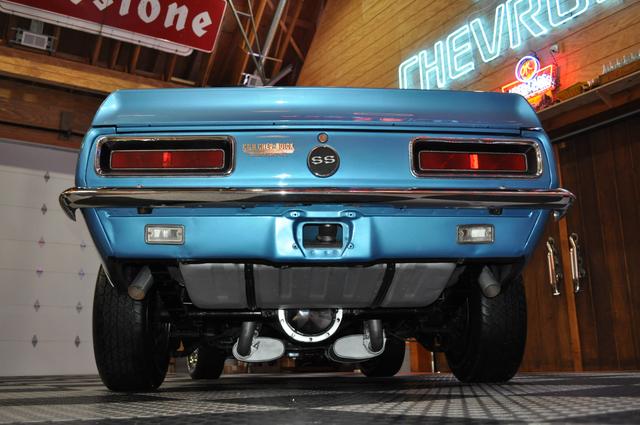 Undercarriage has just been cleaned, de-greased, and detailed giving a fresh clean look!
Multi-Leaf spring rear suspension that is firm yet very comfortable on the road
This car is equipped with a Power Brakes System that was recently serviced with many new brake components!
Brand New High Performance Finned Aluminum Oil Pan for good looks and better oil temperature control!
Brand New Chrome Differential Cover
Chrome Convertible Floor Pan Brace
You even receive a full size spare wheel and tire! No steel wheel here...you get a Cragar and a BFGoodrich Radial T/A White Lettered Tire just like you have on the car now! See photo below!
Also looking in the trunk you will find the original 'cocktail shakers' or more formally known as the vibration dampeners that help strengthen the body/chassis of convertible unibody cars like these Camaro's. 

It is super rare to find cars with these still installed as they are very valuable and were typically taken out and resold.

High Performance Ceramic-Coated Headers that lead into a 2.5" Dual Exhaust System that gives this engine that raw classic V8 rumble that everyone loves! 

Brand New Tailpipe Section!

Trunk was completely sanded down, degreased, and repainted with the factory-style spatter paint. See photos below! VERY CLEAN TRUNK FOR A CAR THAT IS OVER 50 YEARS OLD!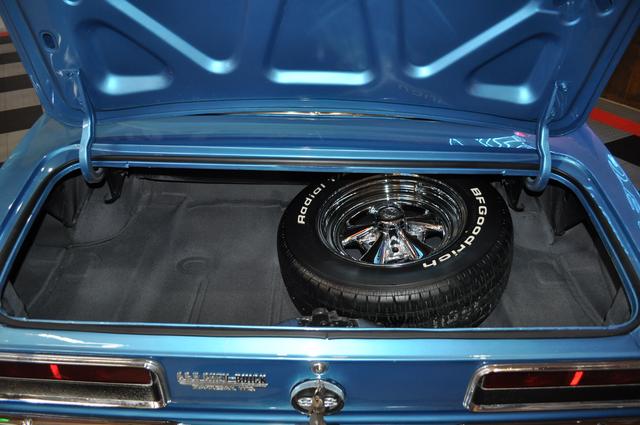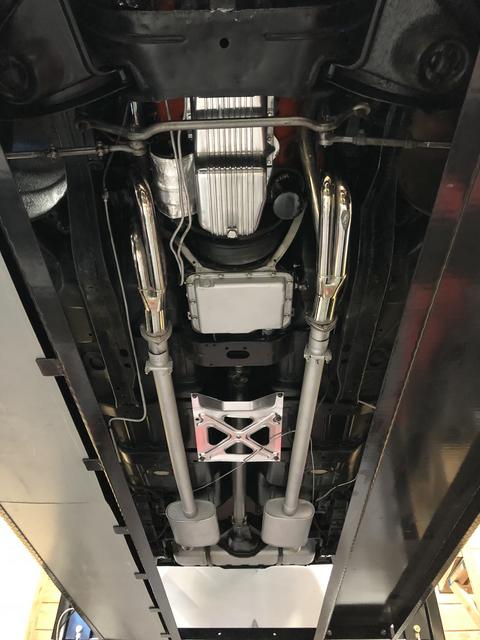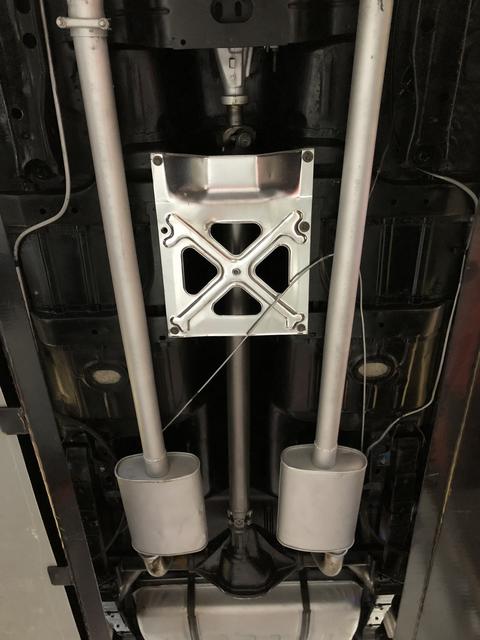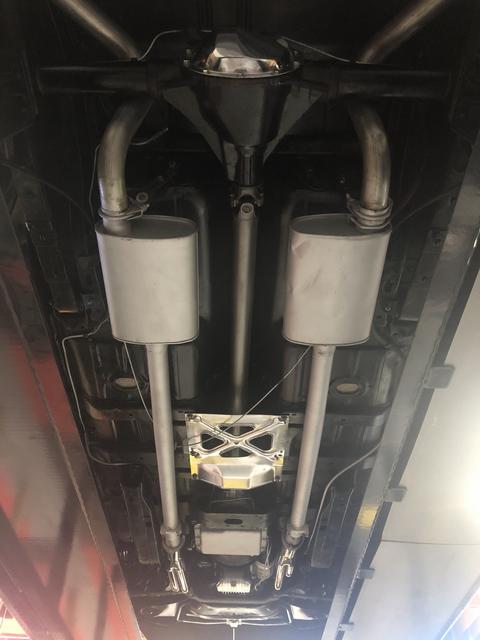 [tab-area5]