1967 Chevrolet Camaro SS 502 Restomod Convertible
The Chevrolet Camaro is an automobile manufactured by General Motors under the Chevrolet brand, classified as a pony car, and some versions also as a muscle car. It went on sale on September 29, 1966, for the 1967 model year and was designed as a competing model to the Ford Mustang. The car shared its platform and major components with the Pontiac Firebird, also introduced for 1967.
First-generation Camaro debuted on a new rear-wheel drive GM F-body platform and would be available as a 2-door, 2+2 seating, coupe or convertible with a choice of 250ci inline-6 and 302ci, 307ci, 327ci, 350ci, or 396ci V8 powerplants. The Camaro was touted as having the same conventional rear-drive, front-engine configuration as Mustang and Chevy Nova. In addition, the Camaro was designed to fit a variety of power plants in the engine bay. The first-generation Camaro would last until the 1969 model year.
AVAILABLE NOW!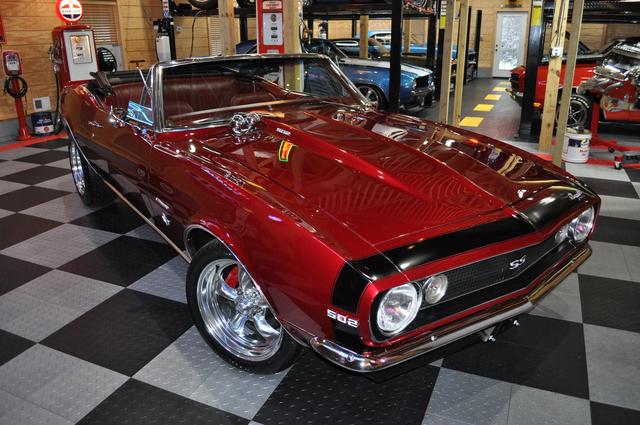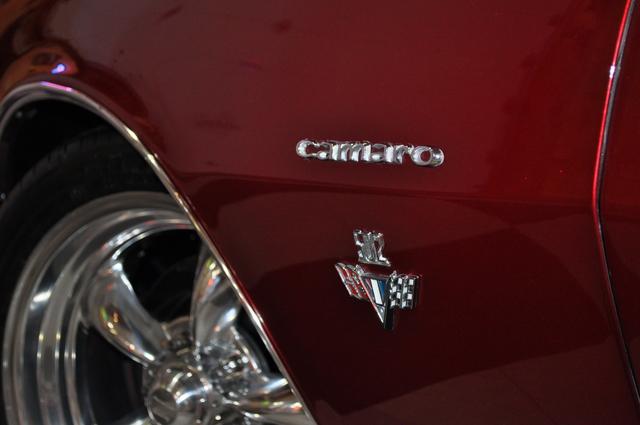 This '67 Camaro Convertible is one fast and extremely fun car to drive! Powered by a gulping Chevrolet Performance Parts HT502 Big Block Chevy and backed by a high performance TH400 transmission, this car lives in Torque City and is built to roast tires and look classy doing so. There's truly no Replacement for Displacement. Drop it in Drive and it is still a blast to cruise down the road with the convertible top down. The Candy Apple Red paint on this car shines like glass especially in the sun and with the ground thumping dual exhaust, you bet you'll get a thumbs up everywhere you go! There is a ton of awesome features inside, outside, and all around this beautiful Camaro. We are really sad to see this car leave us, but so excited to see its new owner have as much fun driving and blazing down streets as we did.
Why are you stopping here?! Keep reading this ad to see how this car is absolutely nothing like you've seen before!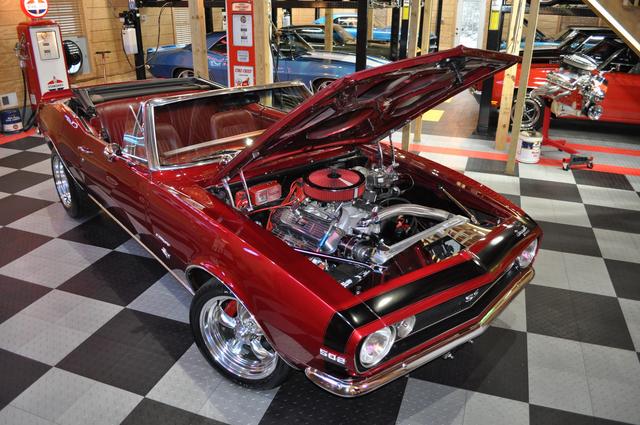 To briefly sum this car up, this 1967 Camaro Convertible is the quintessential classic muscle car that you've been looking for. This car is truly and utterly amazing for anyone who wants to combine a super sweet flashy muscle car that looks like a toy matchbox car with a super powerful yet street friendly and fun 'cruisable' drivetrain! Not to mention newer modern cars just can't compete with the gulping sound this High Performance 502 Chevy Big Block V8 makes!
We encourage any potential buyers to please visit this car (if possible) as seeing it in a picture is just not going to do this car justice. However, please understand this Camaro was never fully restored and has some imperfections such as bubbles, scratches, small rock chips, etc. The car was built with the primary focus on being able to drive all the time without worrying too much about parking next to someone or driving on the highway with other cars.  As with all classic cars, it may need a few odds and ends down the road as you begin to drive it more often but we would still be very proud to drive this car every day and know for sure you would be too.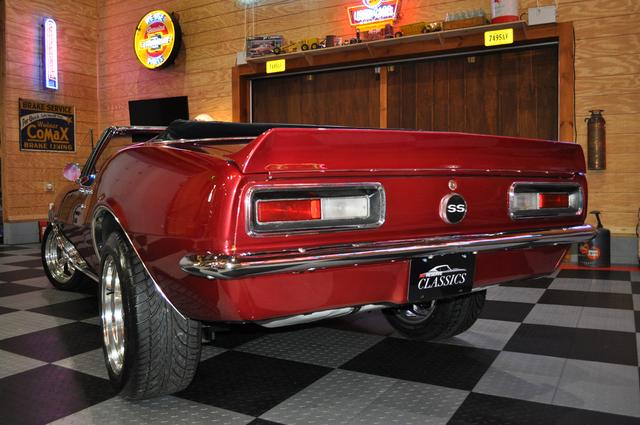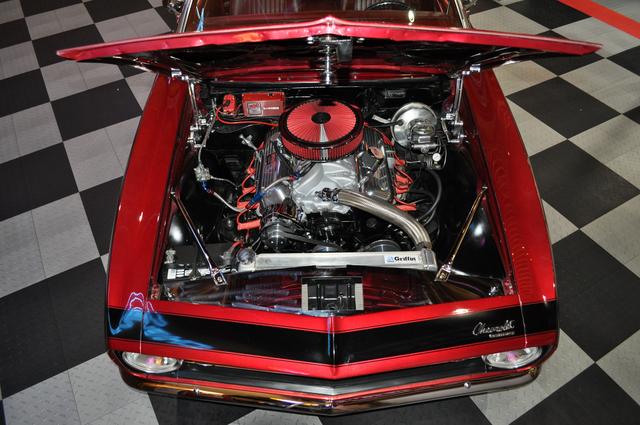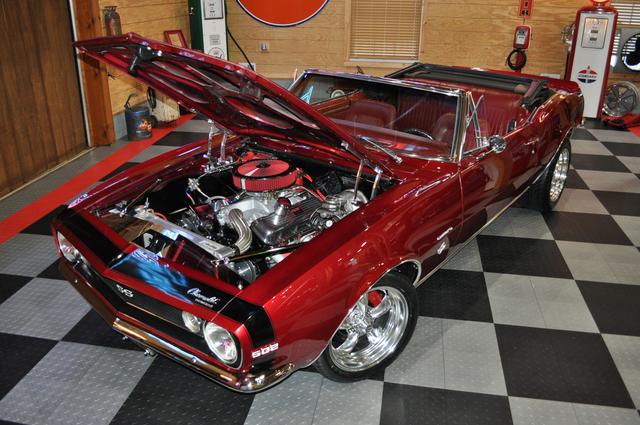 Fully Detailed Show Stopping Engine Compartment with many cool custom features and billet accessories that will separate this car from the rest at any car show!
The engine was even painted in a gloss black high temperature urethane based paint to add that beautiful show ready finish without easily chipping like engines painted with a cheap $4 rattle can do.
Chevrolet Performance Parts 502 Cubic Inch Crate Engine that features a late model Gen VI Big Block with 4-Bolt Mains and 1 Piece Rear Main Seal

With over 500 lb/ft of torque and over 450 Horsepower, you bet this engine is built for cruising the streets like a boss!
Chevrolet Performance Hydraulic Roller Tappet Camshaft for added lifespan and higher performance

No cheap flat tappet cams were used in this crate engine.
These types of cams are outdated and typically used in light budget builds. When it comes to oil changes they are higher maintenance and generally offer shorter lifespans when compared to a Roller Cam like the one this engine features.
Flat Tappet Lifters are known to run flat if you do not use a special Zinc-Based Mineral Oil and will cause you a world of problems overtime.
Small details like this are what separates this car from everything else out there on the market!!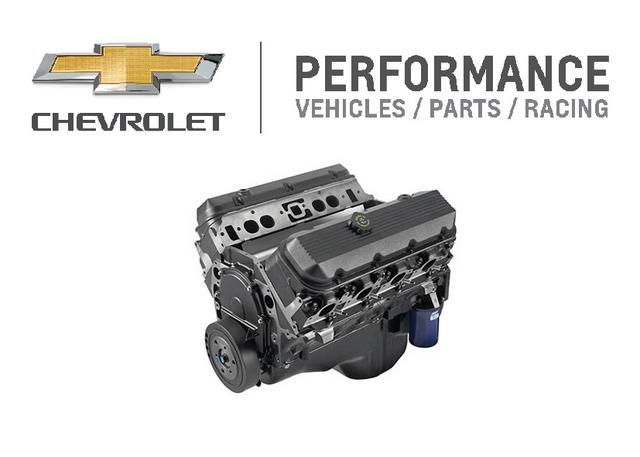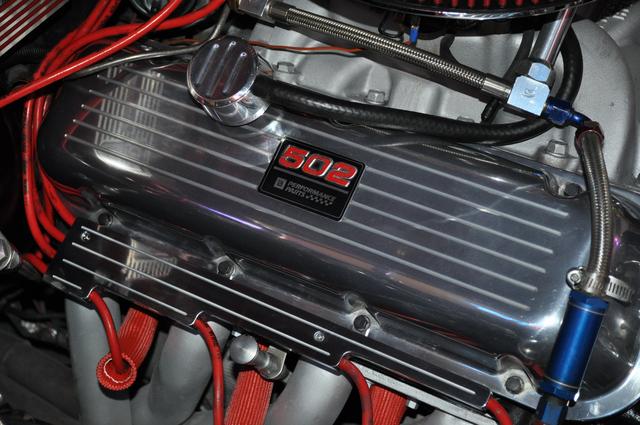 This engine was tuned to start right up and accelerate without any hesitation! No poorly tuned super rich/lean carburetors here causing cold start problems
Edelbrock Performer RPM Aluminum Intake Manifold saves weight off the front end, provides better cooling (compared to a cast iron intake) and lots of extra midrange power!
Holley 4-Barrel Vacuum Secondary Carburetor with Electric Choke makes cold morning starts super easy and painless!
MSD 6AL Ignition System enhances your spark to prevent misfiring under hard acceleration or high RPM's!

See it on a lot of cars but what does it exactly do? In short summary, it sends an extra spark after the initial firing to ignite any possible unburned fuel in the combustion chamber.
Stands for "Multiple Spark Discharge". This system allows for a much finer tuning capability as well as higher tolerances when it comes to camshaft and ignition timing as well as air/fuel ratio. Overall gets engines to run a lot more reliably especially if it is being driven throughout different environments with different climates, atmospheric pressure, and altitudes.
Features an adjustable rev limiter as well!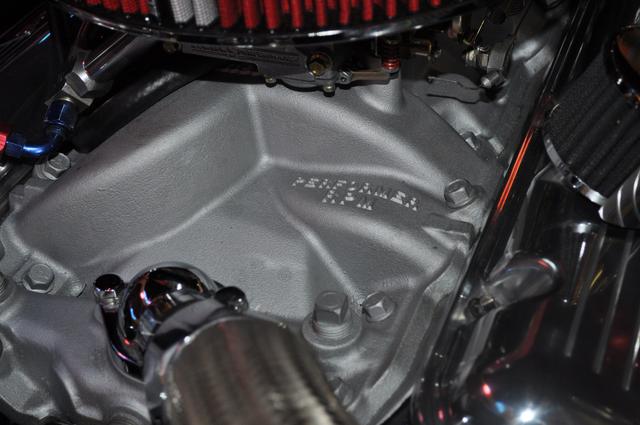 MSD Pro-Billet Distributor 
MSD Blaster SS Electronic Ignition Coil (beats those old oil-filled canisters that are notorious for randomly failing!)
Front Power Disc Brakes with SSBC Fully Adjustable Proportioning Valve and Brake Pressure Dial Indicator Gauge! This car stops incredibly fast!!!
Equipped with a complete Power Steering System that really makes driving a 50 year old car fun and easy again.

No manual steering on this car that will give you a painful forearm workout like many you will see on the market!

Brand New Pro-Touring Style Custom High Polished Billet Aluminum Hood Hinges with modern Gas Struts

No more worn out weak hood springs that don't keep the hood up! These work much smoother and look a lot better than some old set of rusty springs!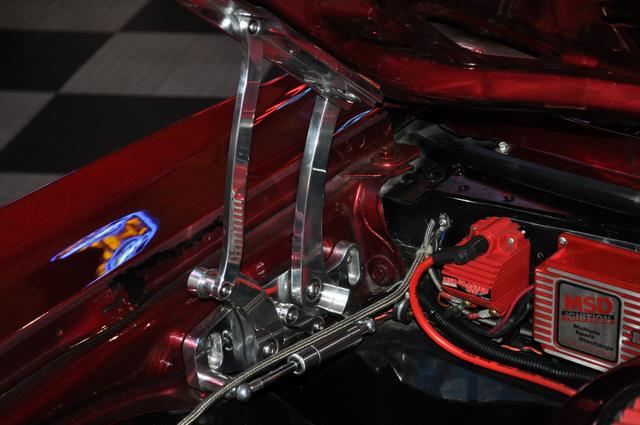 Custom Dual Serpentine Based Front Accessory & Pulley System

Provides better belt contact to prevent slipping and a much higher lifespan when compared to traditional v-belt systems that squeak, squeal, and slip all the time!

Features all Polished Billet Aluminum Pulleys for lightweight performance and an overall sweet custom look!

Polished Billet Aluminum Two-Groove Crankshaft Pulley
Polished Billet Aluminum Water Pump Pulley
Polished Billet Aluminum Power Steering Pulley
Polished Billet Aluminum Alternator Pulley
Polished Billet Aluminum Alternator Pulley Nose Cover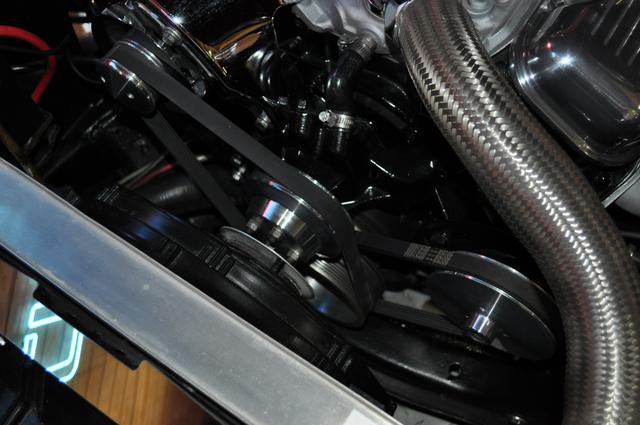 Chrome Water Neck
High Output Chrome Alternator and Fan
Griffin Performance Fully TIG Welded High Performance Multi-Core Aluminum Radiator with a high-speed electric fan that keeps this car running cool on any hot or cold day!

Electric Fan is thermostatically controlled and fully adjustable which will keep this engine running at any temperature you'd like!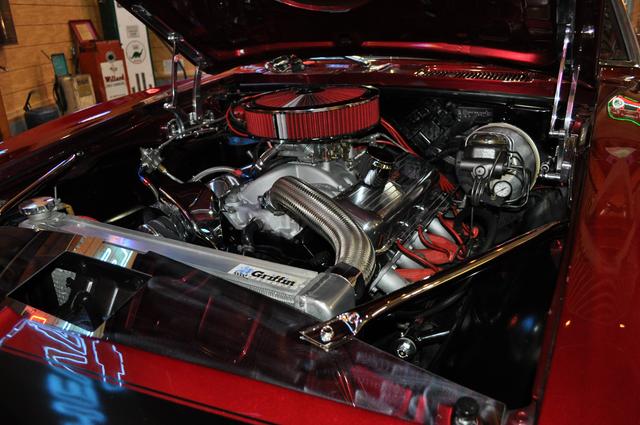 Holley Blue Series High Flow Electric Fuel Pump
Fully Adjustable High Performance External Fuel Pressure Regulator
Braided Stainless Steel Fuel Lines Throughout Many Areas of the Car keeping this fuel system plumbed for any amounts of pressure!
High Performance Anodized High Pressure -AN Hose End Fittings
Brand New Chrome Fender Braces and Chrome Hex Head Bolts
Even the Underside of the Hood was painted the same as the body color to match!!! This is something that is most commonly left in EDP Primer when replaced which eventually rusts as there is almost no barrier to protect the bare metal!
Brand New Custom Polished Stainless Steel Filler Panel that really dresses up this engine compartment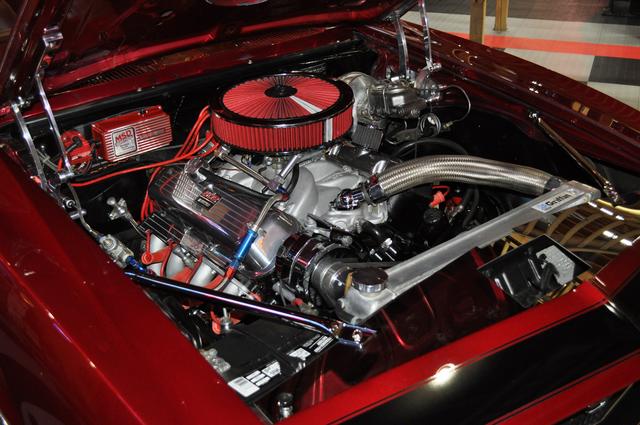 Beautiful Polished Ball-Milled Aluminum Valve Covers with GM 502 Valve Cover Decal
K&N Open Element Valve Cover Breather
Polished Ball-Milled Aluminum Valve Cover Breather & PCV Valve Combination
Billet Aluminum Engine Oil Dipstick
Billet Aluminum Automatic Transmission Fluid Dipstick
Brand New Edelbrock Pro-Flo Red/Chrome Air Cleaner
Lokar Braided Stainless Steel High Performance Throttle Valve (TV) Cable provides crisp downshifts and linear throttle response!
Braided Stainless Steel Throttle Cable and Chrome Bracket Retainer
Hooker Competition Full Length Exhaust Headers scavenges exhaust gasses to enhance engine performance and reliability!
Brand New Polished Billet Aluminum Ball Milled Spark Plug Wire Loom Separators
Brand New Red Spark Plug Wire Boot Protectors
Braided Stainless Steel Upper Radiator Hose with Chrome Hose Ends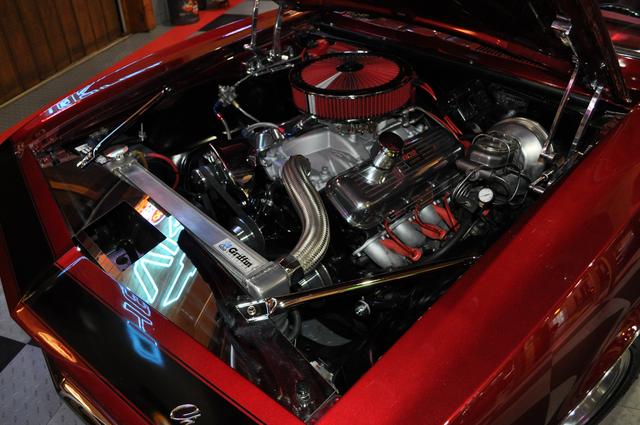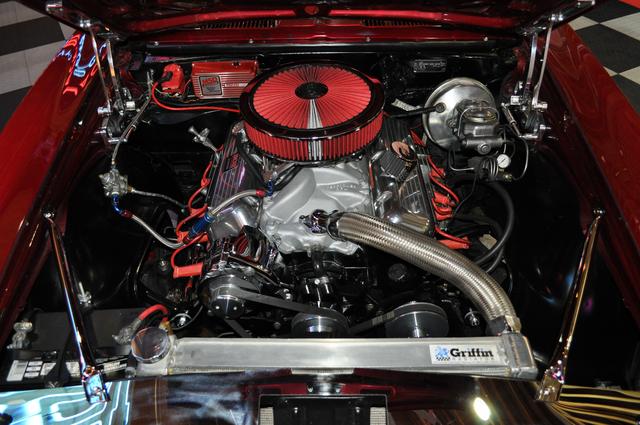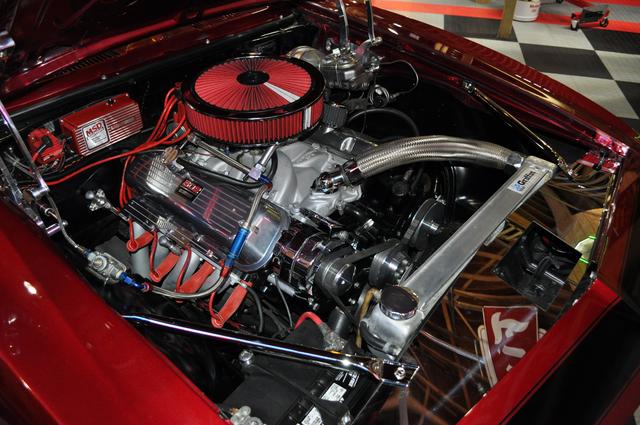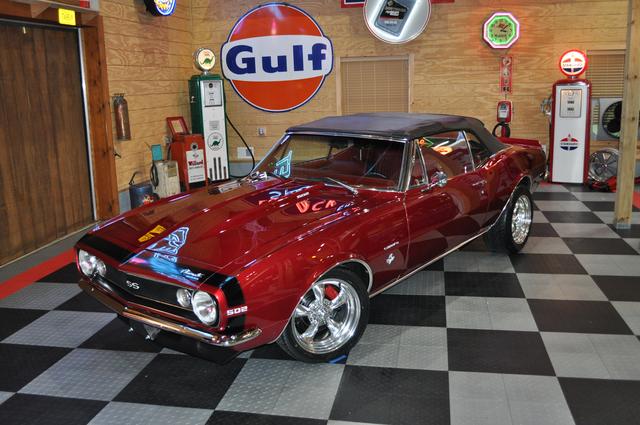 Fully detailed exterior (multi-stage wet-sand, buff, compound, polish, and wax) that brings out the shine on this beautiful car!
Basecoat-Clearcoat Vibrant Candy Apple Red Paint with a Fresh Black Bumblebee Stripe that looks absolutely stunning! Put this car outside on a sunny day and it'll catch anyone's eye down the road or even at a car show!
Brand New 17" American Racing Polished Torq Thrust Wheels with Brand New Ultra High Performance Tires on all four corners that gives this car that true matchbox toy looking stance that everyone loves!

Wheels and Tires were fully balanced using adhesive wheel weights on a high speed Roadforce Balancer
Brand New Valve Stems and Chrome Caps were installed during the mounting and balancing procedure and consistently hold air
BRAND NEW Lug Nuts were also installed!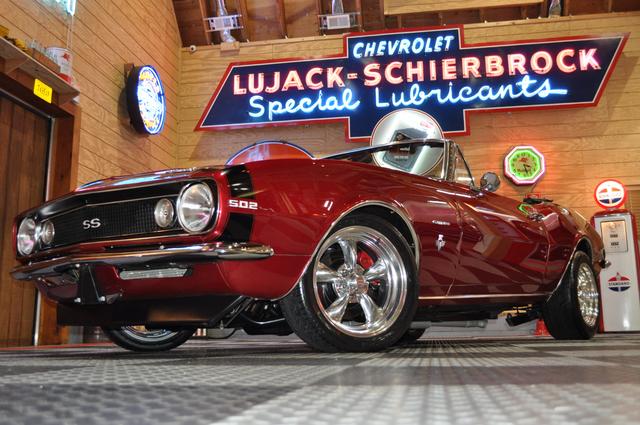 All chrome and related bright trim was just fully hand polished to reveal its beautiful lustrous reflective shine that these classic cars are known for
Black Convertible Top that folds up and down with ease
All exterior lights around the car such as headlights, reverse lights, turn signals, hazard lights parking lights, and tail lights are fully working around the car! Even the darn license plate light works!

If you know classic cars, you know it is one of the rarest things to find one with fully AND properly working exterior lights.
Electrical problems are so common in these cars because the wiring becomes damaged over the course of its life. This car was upgraded with a full modern wiring harness and fuse panel which means all new wiring throughout!

One of the things that most of these cars lack is visibility at night. We just upgraded this car with a super high visibility and high power modern LED bulb and ballast kit!

The great things about these are not only are they super bright but they last a lifetime, require less power to function, and don't get nearly as hot as a standard halogen or sealed beam housing which is what a '67 Camaro came with from the factory.

Chevrolet Bowtie Etched Factory-Style Chrome Side View Door Mirrors on BOTH doors!
Brand New 502 Front Fender Emblems
Custom 502 Hood Emblems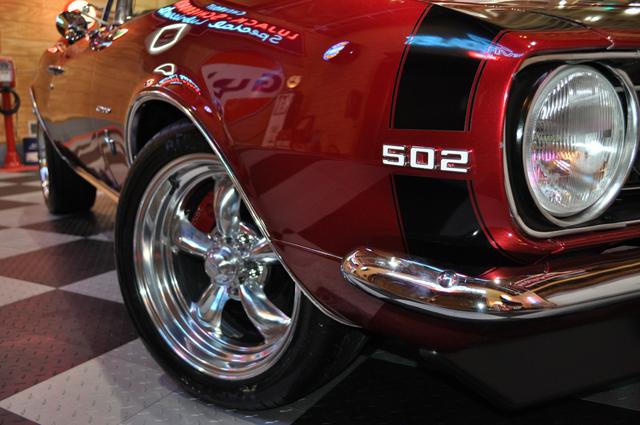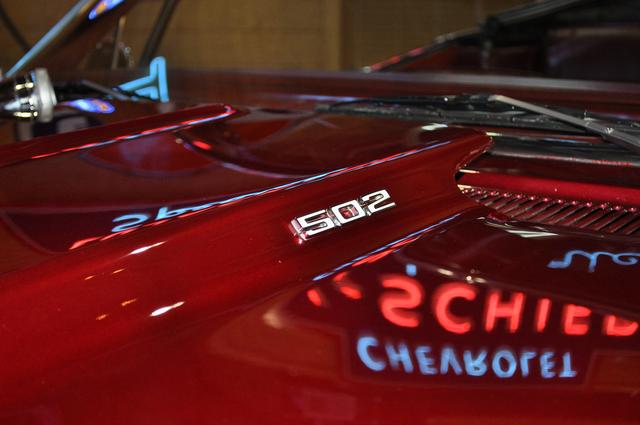 Where the side fender emblems are located on a 1967 Camaro, they would ordinarily say 'camaro' and have crossflags with the engine displacement. Normally looking like this...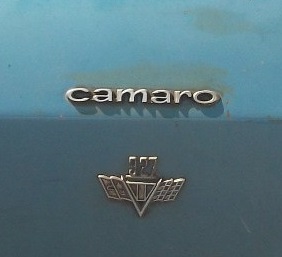 Nope! No 327 Small Block in this Camaro. We upgraded the badge to something that the factory never made for this car but is something custom available on the market for the 1967 Camaro. It is the 502 cubic inch Fender Emblem that lets you proudly represent your Big Block without ruining the factory appearance! Small detail but it's the details that matter.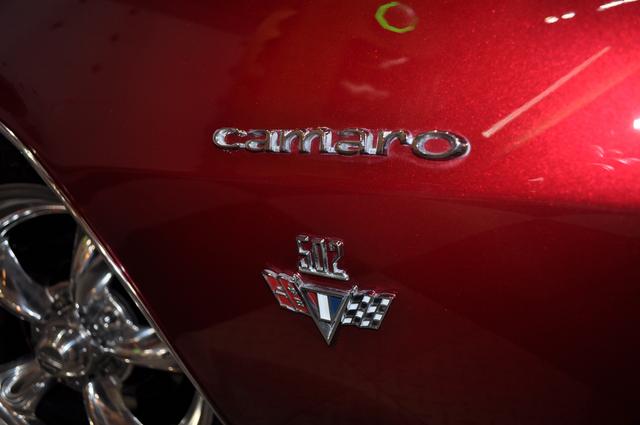 Brand New Polished Rocker Panel Moldings
Brand New Chrome Exterior Door Handles
Freshly Painted SSBC Red Calipers with Custom Silver Lettering!

These high power SSBC Front Disc Brakes stop this car super quickly without any hesitation!

Brand New Door Jamb Weatherstripping Seals
2" Steel Cowl Induction Style Hood
Custom AutoMeter Oil Pressure and Fuel Pressure Gauges on the Cowl Grille for that Classy yet High Performance Look and Function!

Fully Working!!!
Braided Stainless Steel Lines for that extra custom touch and better protection!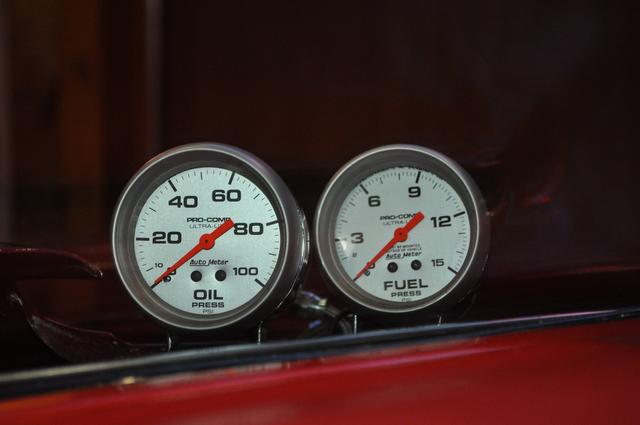 Polished Stainless Steel Wheel Well Opening Moldings
Fully Working Vent Windows!

Only year of the Camaro to be equipped with these vent windows! No other year Camaro had these from the factory making the 1967 unique from any other year!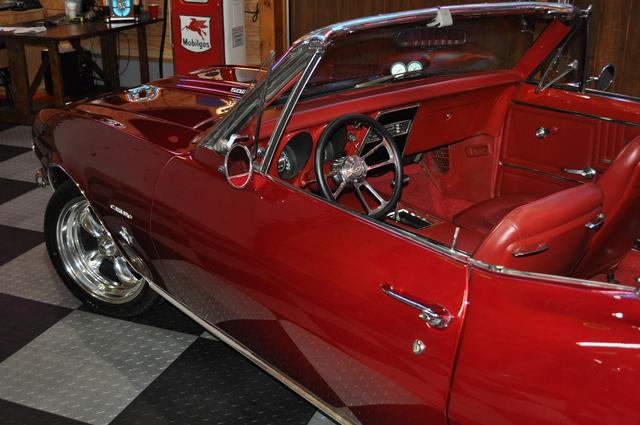 Factory Style Chrome & Black Tail Lamp Bezels
Chrome Front and Rear Bumpers Both Present and Shine Like a  Mirror in Excellent Shape!
D80 Spoiler Package with Brand New Front Spoiler
SS Rear Fuel Cap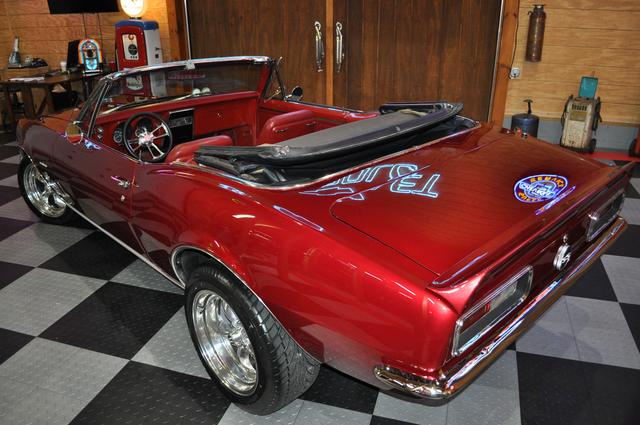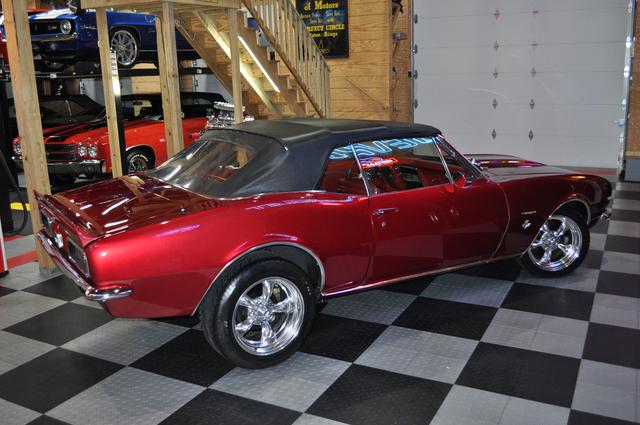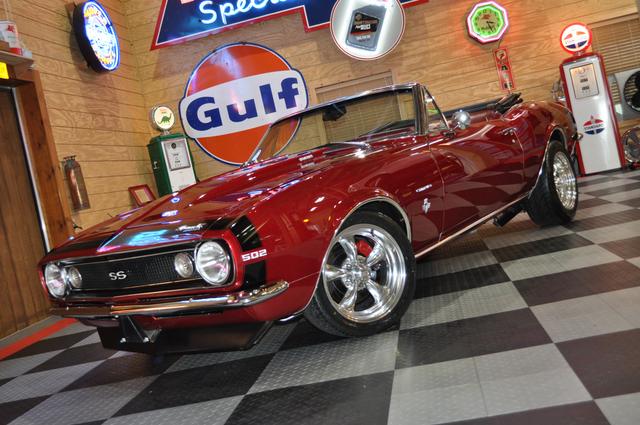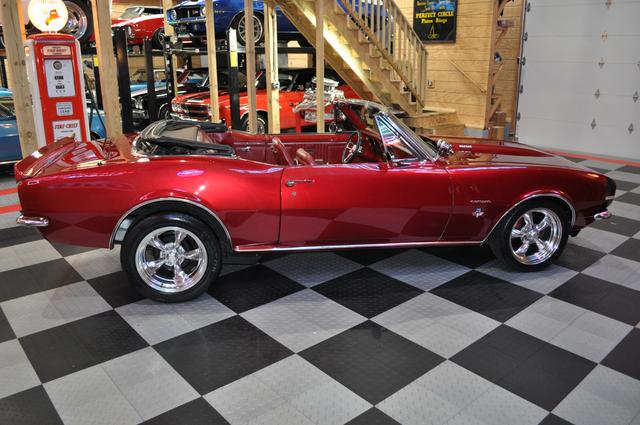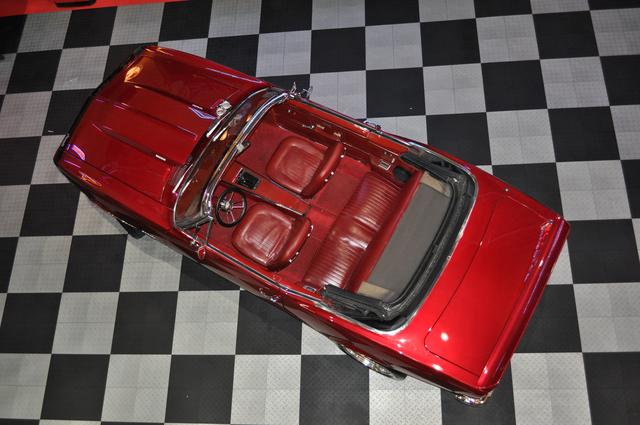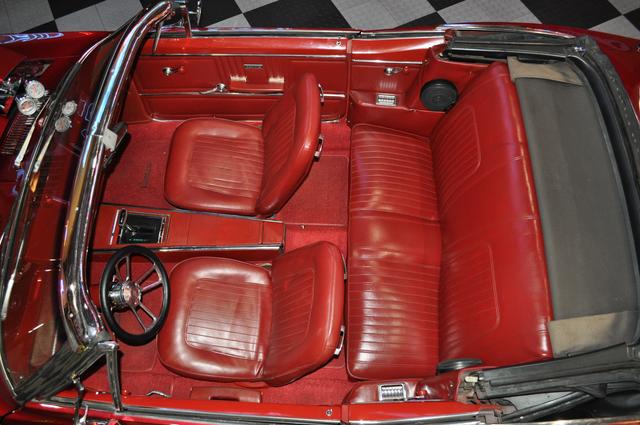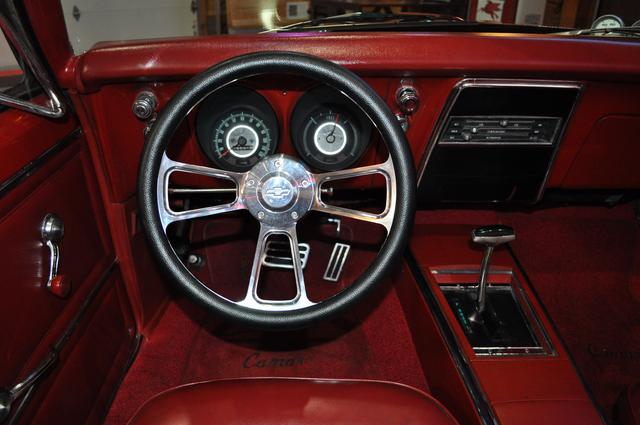 Beautiful Code 741 Standard Red Interior that was just detailed and freshened up! It looks astounding and even gives you that definitely gives you nostalgia when you step inside.
Super comfortable Strato-Bucket Front Bucket Seats that make those long cruises fun and enjoyable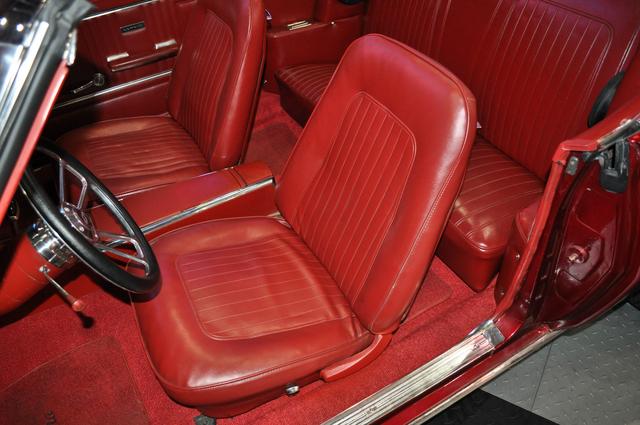 Red 80/20 Factory-Style 2-Piece Loop Carpeting looks very nice and fits well
Correct Red Vinyl Dash Pad that looks to have been recently replaced

Super expensive part to replace on this car especially in Vinyl!!

Highly Desirable and Sought After Exclusively Designed Center Console! This center console and shifter were unique to the 1967 Camaro which again separates this model from anything else that was ever produced from the factory.
Brand New Custom High Polished Billet Aluminum Throttle Assembly, Gas Pedal, and Bracket with Cable!
Brand New Custom High Polished Billet Aluminum Brake Pedal Cover/Pad with High Grip Rubber Inserts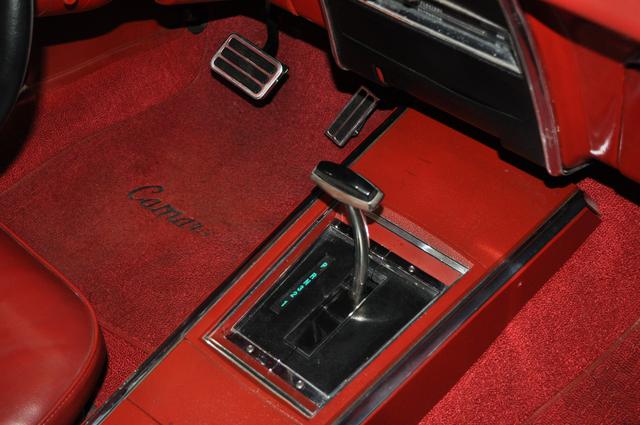 Custom Embroidered Camaro Floor Mats that were upholstered with the exact same color and loop style carpet as the carpet on the floor!
Brand New 'Body by Fisher' Door Carpet Sill Plate Protectors
Brand New Black Vinyl Wrapped Custom High Polished Billet Aluminum Steering Wheel with a Fully Working Chevrolet Bowtie Engraved Horn Cap!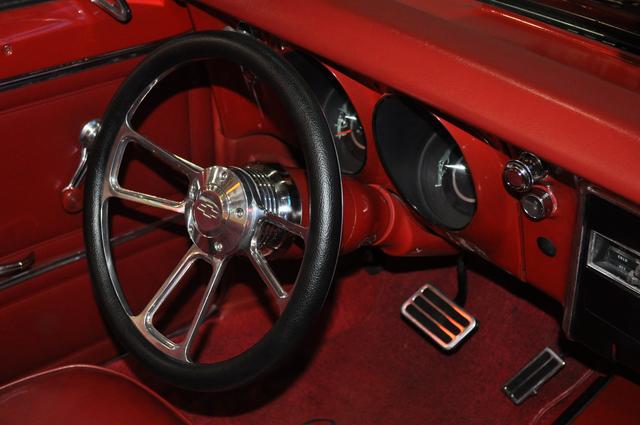 Original Factory Style Standard Red Vinyl Door Panels that are complete with all the correct beautiful lustrous trim and look great!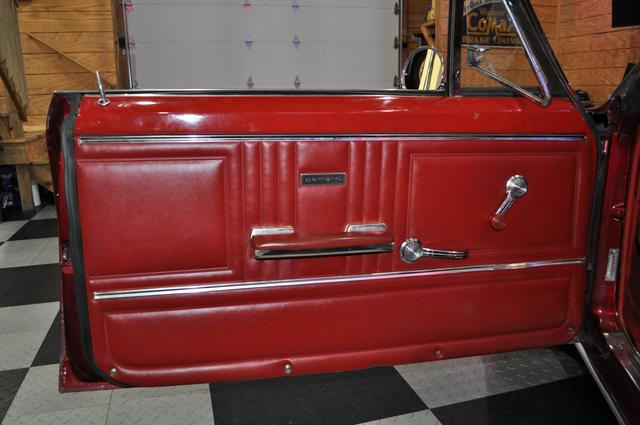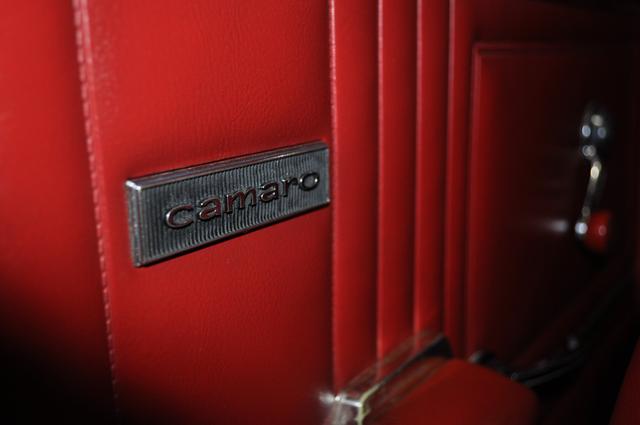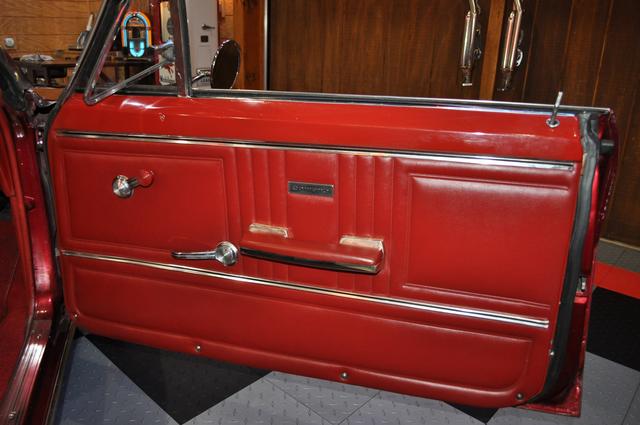 Complete Aftermarket Fuse Panel and Wiring Harness!!

All brand new wiring is why lots of things such as all of the lighting on the exterior of the car as well as the gauges are fully working!
This fuse panel is a modern style system that uses blade-style fuses rather than the old glass tubes which ensures a safe closed connection and consistent operation. The fuses are clearly labeled and are super easy to replace just like a new car! 

Fully Working Speedometer and Fuel Gauge
Entire Trunk was painted with the correct OER Reproduction Enamel Spatter Paint just like factory! See photos below
Also looking in the trunk you will find the original 'cocktail shakers' or more formally known as the vibration dampeners that help strengthen the body/chassis of convertible unibody cars like these Camaro's. 

It is super rare to find cars with these still installed as they are very valuable and were typically taken out and resold.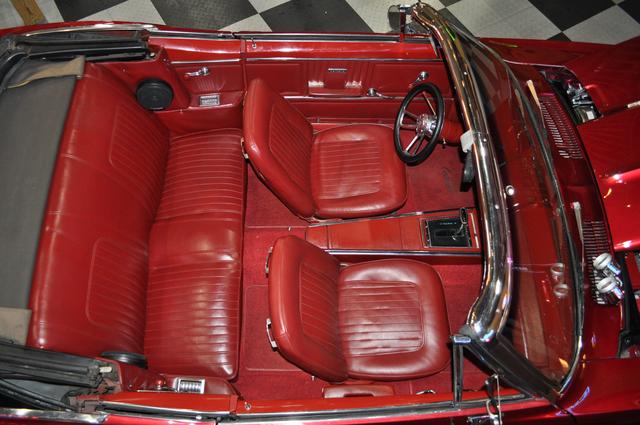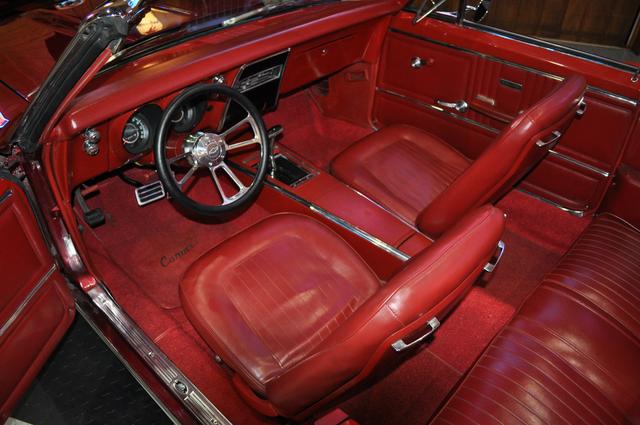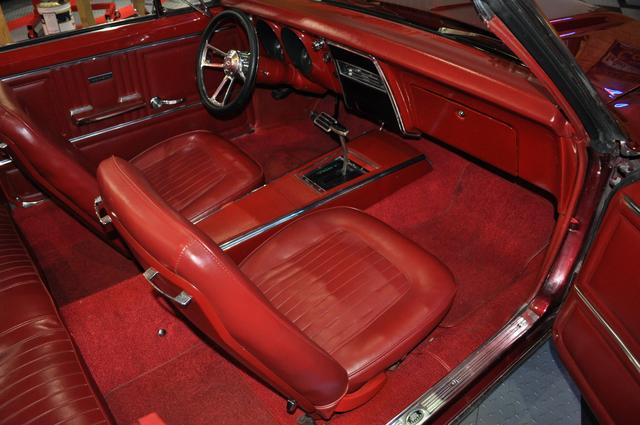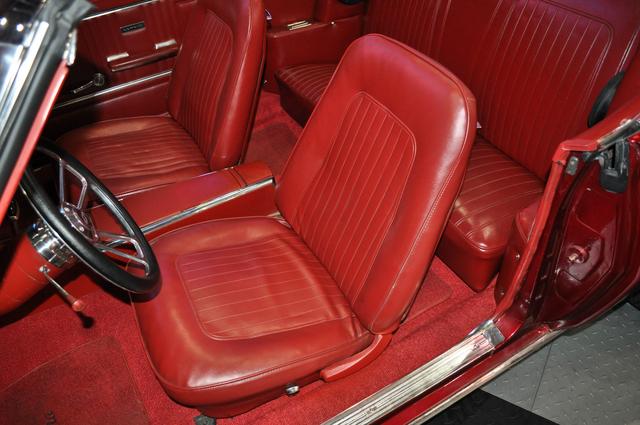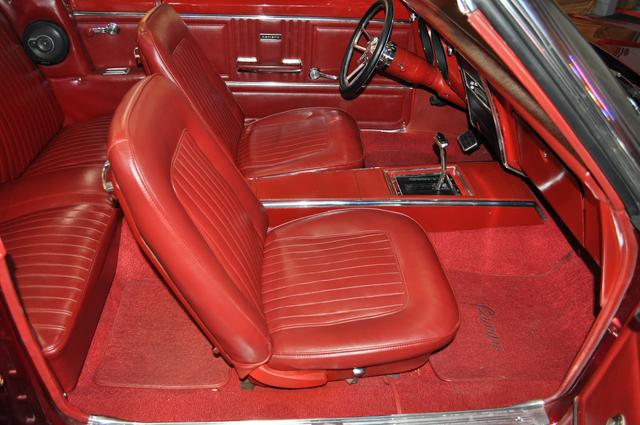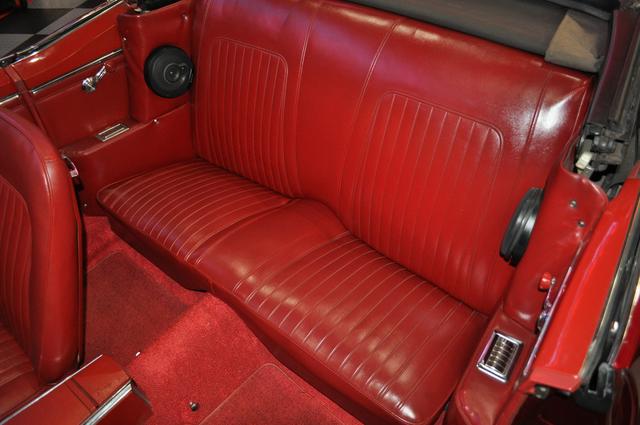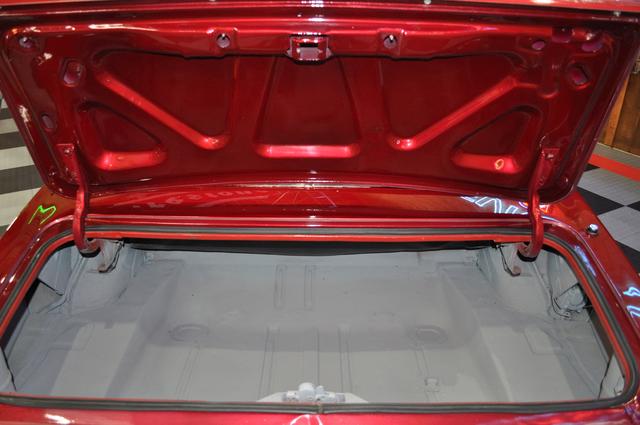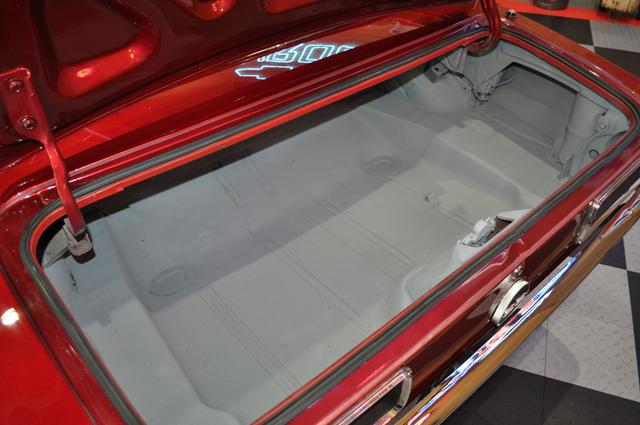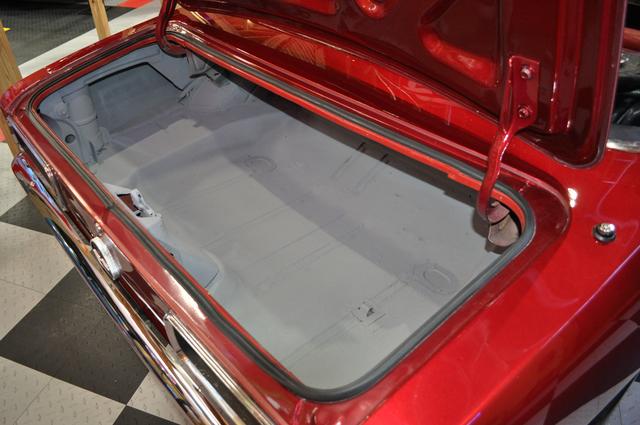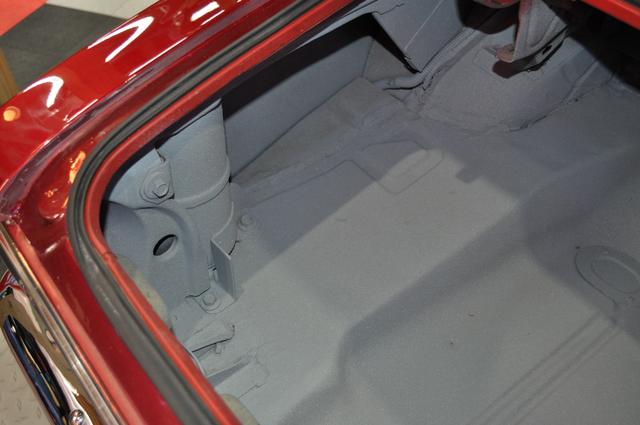 THIS IS THE 'COCKTAIL SHAKER'!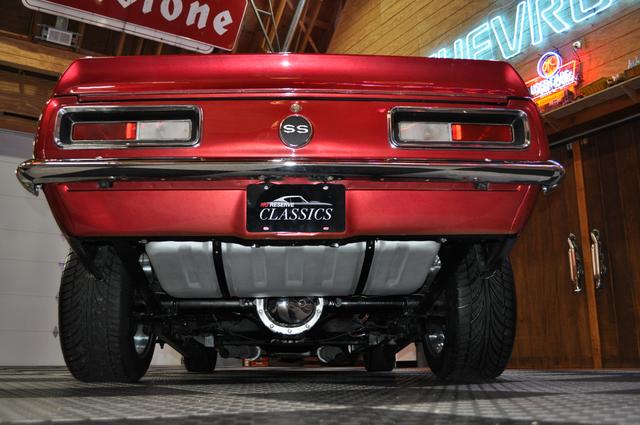 Freshly cleaned, de-greased, and detailed underbody giving a fresh clean look!
Tubular Upper and Lower Control Arms that are finished in a beautiful Black Powdercoating that truly enhance the handling of this car making it more comfortable and allow the wheels to grip the road a lot better.

This is done by changing the suspension geometry to allow for more wheel caster which provides high speed stability and improves the steering wheel's self-straightening after making a turn.
Polyurethane Bushings and Bump Stops for Added Performance and Longevity
These A-Arms are full replacements that come with all new ball-joints and control arm bushings already pre-installed and ready to go!

All tie rod ends were replaced keeping the steering wheel super tight.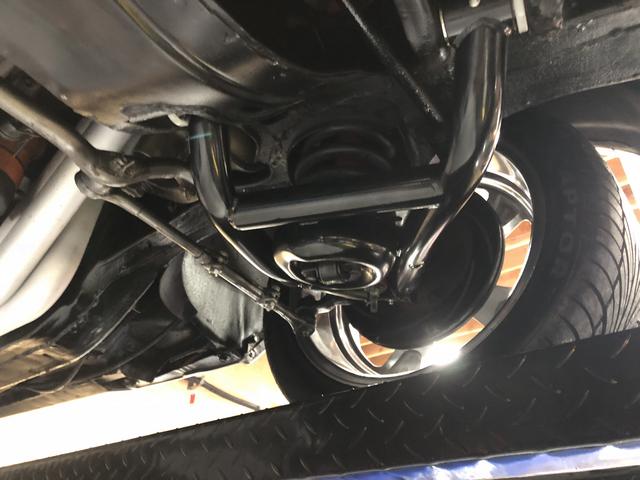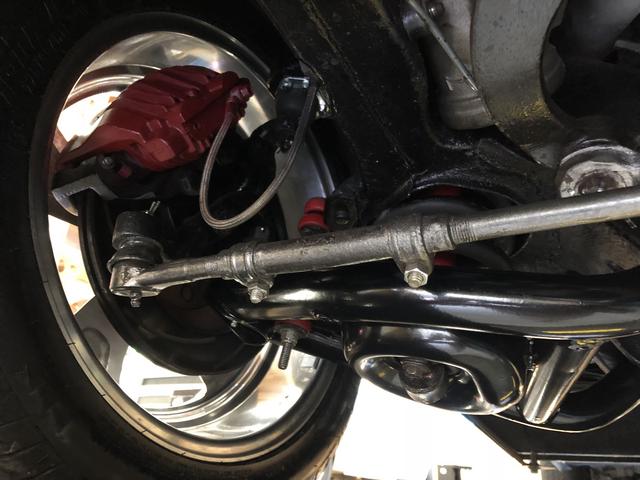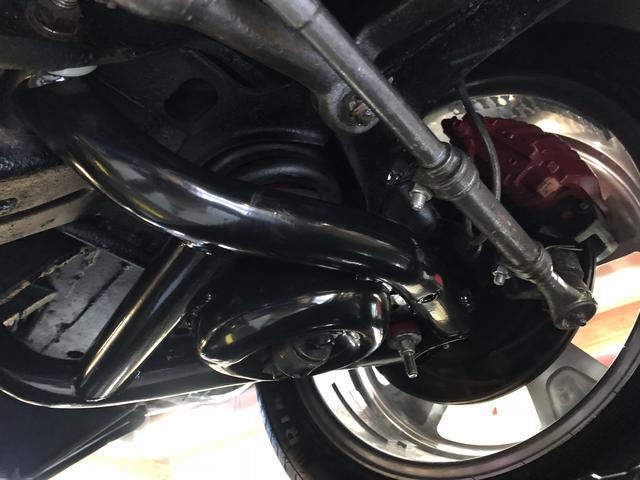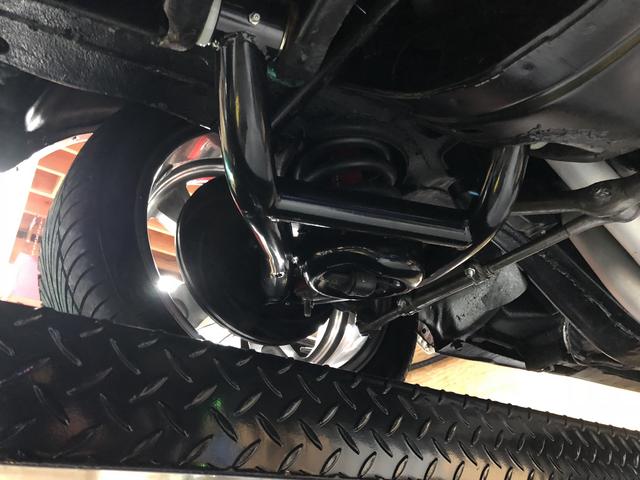 Brand New Quick Ratio Power Steering Gear Box that makes steering this Big Block Equipped 50 Year Old Camaro a Breeze!

No Manual Steering or an old and worn out power steering box that has a ton of play and leaks like a sieve.

Brand New Chrome Torque Converter & Flexplate Dust Shield Cover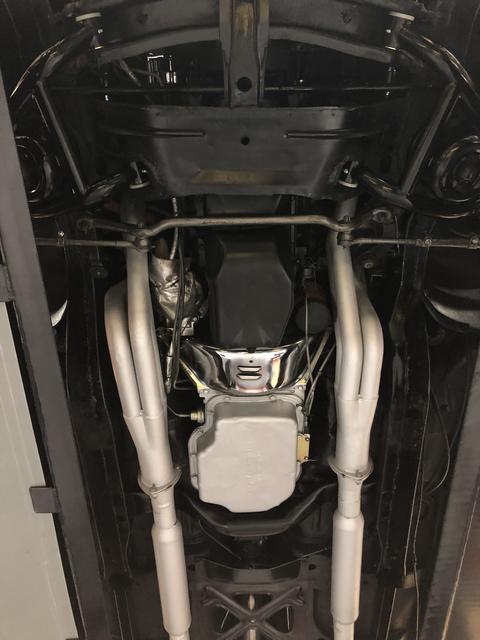 Mono Leaf Spring Rear Suspension with High Performance Traction Bars that glides smoothly across today's roads yet still let's the rear wheels grip the road around turns and plant during hard launches!!
Chrome Differential Cover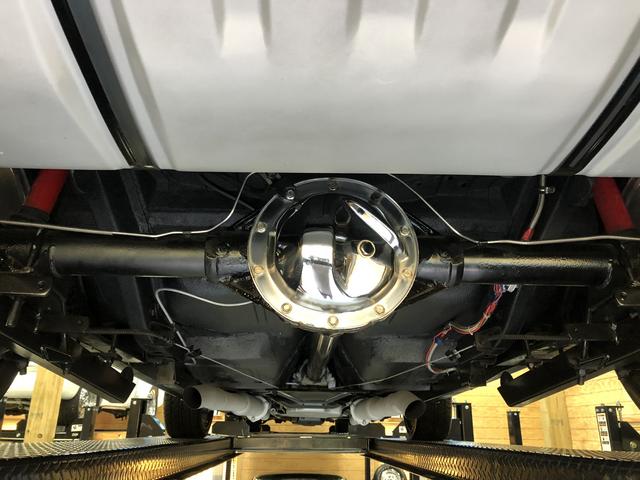 Ultra High Strength Subframe Connectors! 

Not sure what these are or their purpose?
Subframe Connectors were not something you found from the factory and quite honestly it should have been included on their higher horsepower packages. Due to the fact that these cars were not produced as full-frame cars like the A-Bodies were, the weak point on a Camaro was the space between the end of the front subframe and beginning of the rear suspension. There was nothing connecting these two points besides a section of 16-gauge sheet metal for the floor.
Running an engine that produces a high amount of horsepower/torque will create massive body flex which can in turn cause a critical structural-integrity issue.
Not to worry! This '67 Camaro in particular was upgraded with subframe connectors (which you can see in the photos below) to allow this car to properly handle the power of its Earth-Shattering Chevy Performance 502 Big Block!

Edelbrock High Performance Shock Absorbers
Freshly Painted Fuel Tank that will keep it protected from road debris
Underbody was just professionally sprayed with a ultra high strength and corrosion resistant bed liner spray. This is NOT a cheap bedliner coating you spray from a rattle can or roll on. This is the same kind of product that companies like Linex and Rhino Liner use to spray heavy duty work trucks and off-road vehicles. It's meant to take a real beating!

A lot of folks like a nice gloss or semi-gloss black painted underbody and while there is nothing wrong with that, this coating is the best option for those that want to get into this car and drive the heck out of it without having to worry about any dirt, debris, or water getting onto the floors and damaging them.
Water and road salt were these car's worst enemies but having an extra barrier like this really makes a difference when you plan to drive the car. Even if you don't plan on driving the car any time besides a nice day, it's nice to know you can!

Brand New Convertible Floor Pan Brace
2.5" Dual Exhaust System with Turbo-Style Mufflers that was fully welded together and pounds the ground with its Earth-Shattering High Torque and Lopey 502 Big Block Chevy! This engine breathes fire and sounds as amazing as a Classic High Performance American Muscle Car should sound with this exhaust system!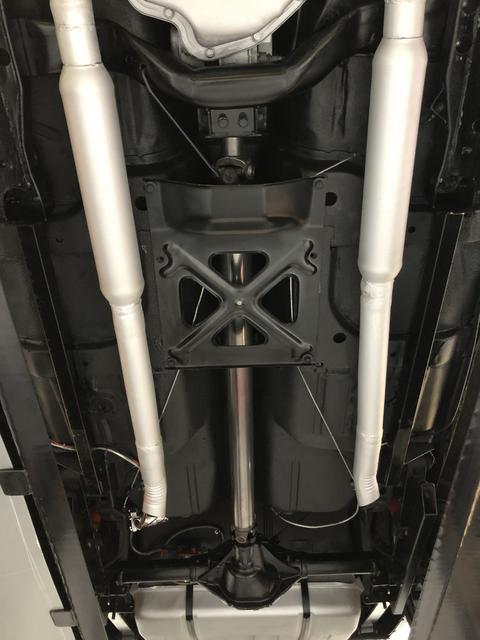 As previously mentioned, this car IS equipped with a Full SSBC Front Power Disc Brake System that stops this Big Block Camaro just as well as a modern car!

Featuring Custom Red Painted High Performance Calipers and Brake Pads and a Slotted Multi-Piece Rotor, you bet this car can handle and stop on a dime.

Braided Stainless Steel High Pressure Brake Hoses
Stainless Steel 2-Piece Rear Axle Brake Line
Brand New Custom High Performance Driveshaft with Ultra High Strength Universal Joints that were Made in the USA! Made to handle torque!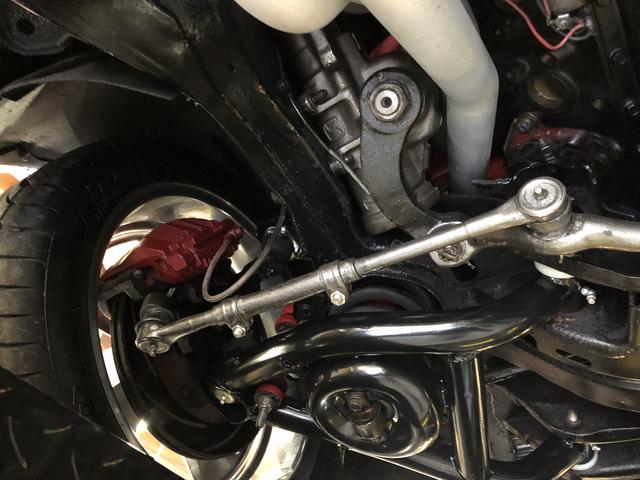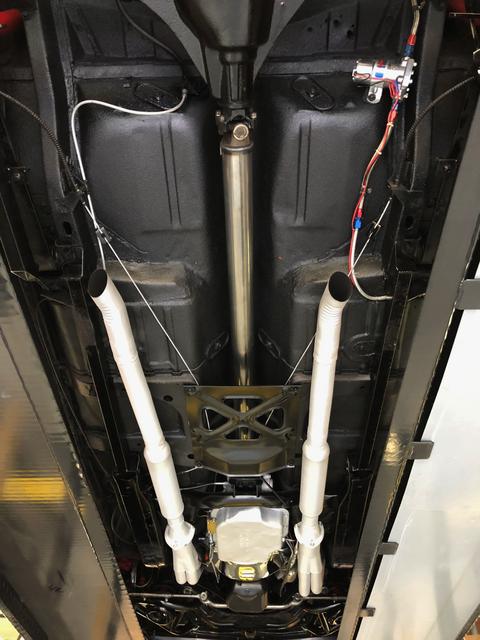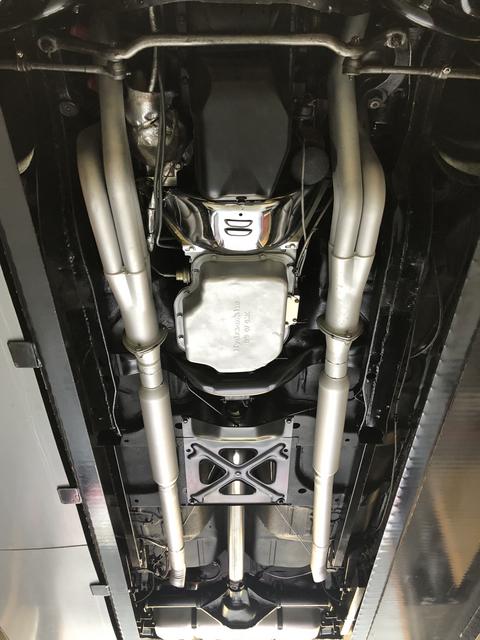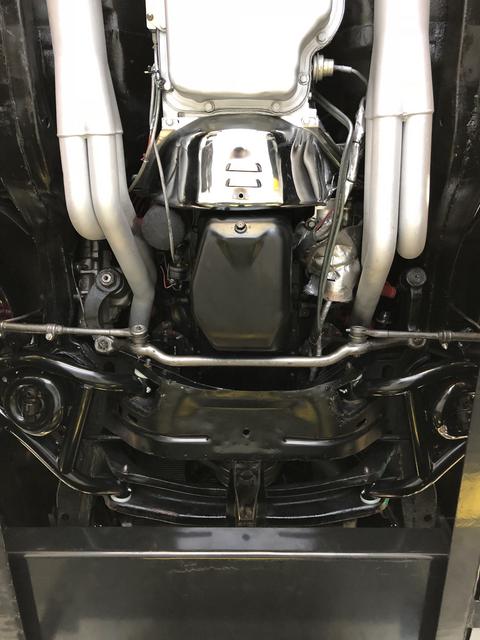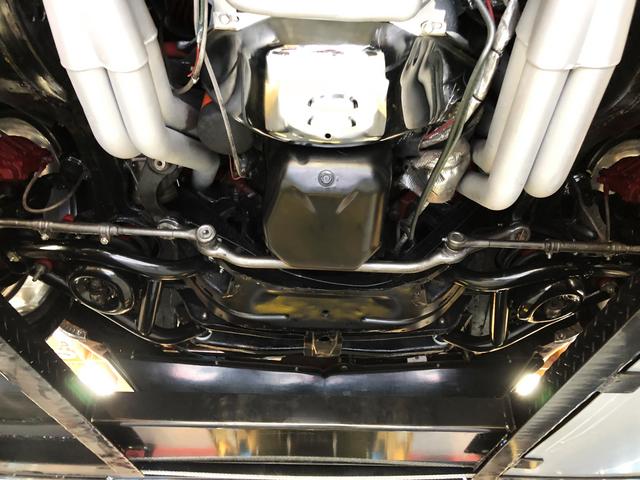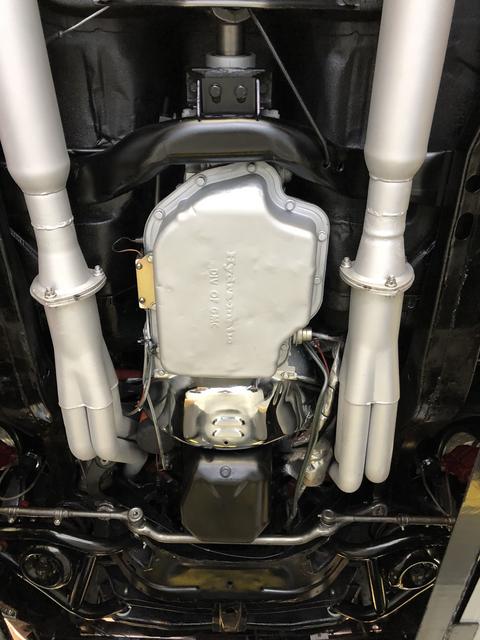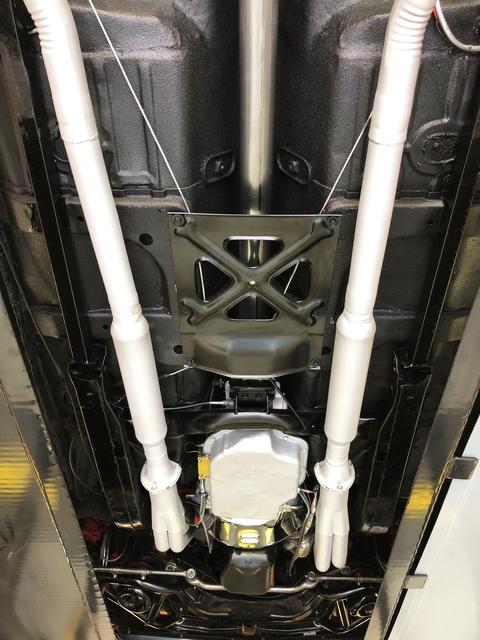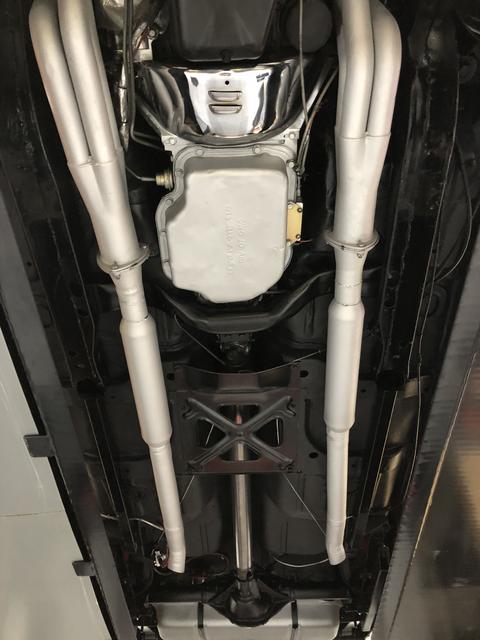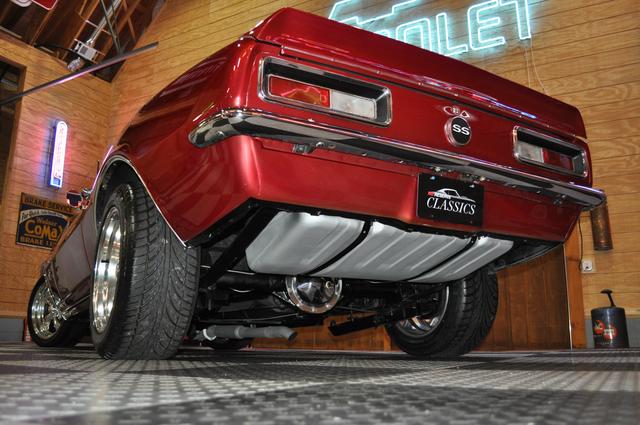 [tab-area5]