1969 Chevrolet Camaro SS 350 Restomod Convertible
The Chevrolet Camaro is an automobile manufactured by General Motors under the Chevrolet brand, classified as a pony car, and some versions also as a muscle car. It went on sale on September 29, 1966, for the 1967 model year and was designed as a competing model to the Ford Mustang. The car shared its platform and major components with the Pontiac Firebird, also introduced for 1967.
First-generation Camaro debuted on a new rear-wheel drive GM F-body platform and would be available as a 2-door, 2+2 seating, coupe or convertible with a choice of 250ci inline-6 and 302ci, 307ci, 327ci, 350ci, or 396ci V8 powerplants. The Camaro was touted as having the same conventional rear-drive, front-engine configuration as Mustang and Chevy Nova. In addition, the Camaro was designed to fit a variety of power plants in the engine bay. The first-generation Camaro would last until the 1969 model year.
Ever dreamed of owning a cool classic car that you can just drop the convertible top on those nice sunny days, drive down the shore, and have a good time with the family? Well you're in luck because No Reserve Classics is listing this beautiful 1969 Chevrolet Camaro SS 350 Convertible for a NO-RESERVE auction! The epitome of a beach cruiser, this Camaro has a stance just like a matchbox car and is just a blast to drive. Featuring a 5-Speed Tremec Transmission and a 350 Chevy V8, this car quietly cruises on the highway unlike many 4-Speed cars which do not have the extra overdrive gear making it super easy to drive. This is the car that you will turn heads and drop jaws left and right with. Bear with us as we try to go through all of the great things about this car in a short listing.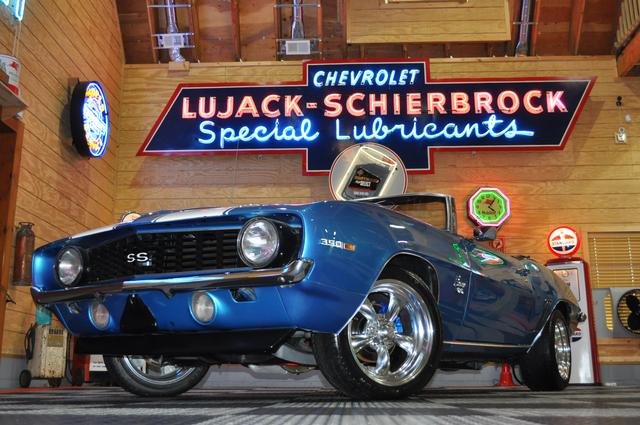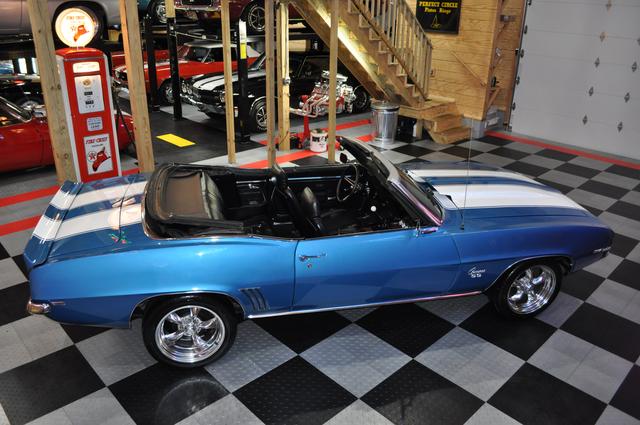 To briefly sum this car up, this 1969 Camaro is the quintessential classic muscle car that you've been looking for. Whether you have a collection that you want to add this car to or take it down the shore with the top down, this car is the perfect candidate. Not to mention you can't ask for anything better than an old-school muscle car with the gulping sound of American Chevy V8! We encourage any potential buyers to please visit this car (if possible) as seeing it in a picture is just not going to do this car any justice. Although it is a beautiful restoration, please understand that this car was not restored just yesterday and may have some imperfections. Also, we cannot verify this car to be a factory-born true SS as we do not have any of the original paperwork such as a build sheet, protect-o-plate, etc. As with all classic cars, it may need a few odds and ends down the line as you begin to drive it more often. However, we would still be very proud to own and drive this car every day and know for sure you would be too.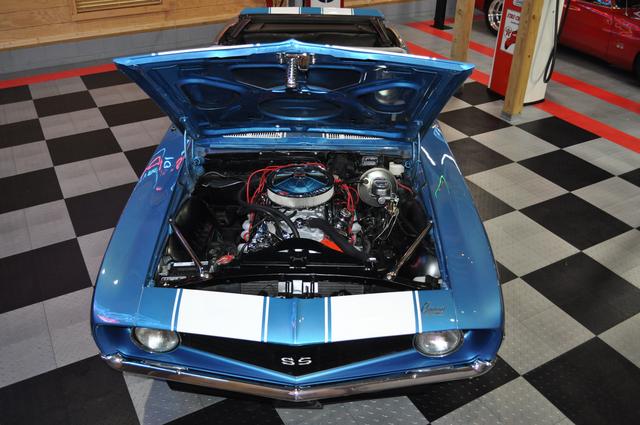 Engine compartment was just completely detailed and cleaned with MANY new chrome accessories for a custom restomod appearance
The powerhouse of this Camaro is a 350 Small Block Chevy that was just completely tuned up and overall is a very strong and smooth running engine.
A Brand New Holley 4160 600cfm Vacuum Secondary Carburetor with Electric Choke and adjustable float has been installed on this car making starting up and driving your dream classic car as easy as can be!
Car is backed by a Tremec 5-Speed Manual Transmission that cruises super nice down the highway. Having that overdrive gear really helps bring the RPM's down at higher speeds giving you better gas mileage
This car also has a Hydraulic Clutch (with fluid reservoir) which is super easy to drive and gives a new meaning to driving a classic car everyday.
Brand New Chrome Fender Braces
Brand New 110A Chrome Alternator
Brand New Proform Dress-Up Kit that includes brand new chrome Chevrolet valve covers and a brand new 14" chrome Chevrolet air cleaner that adds a very nice touch to the engine bay
Bosch Platinum Battery with quick disconnect battery terminal ensures quick easy startups and reliable electrical function
Chrome Engine Oil Dipstick
Weiand Intake Manifold
Power Front Disc Brake System with high output master cylinder and 9" brake booster that stops on a dime!
Full Length Exhaust Headers were installed on this 350 which allows this engine to breath much better than cast iron exhaust manifolds which hold in heat and don't flow as well. Improves horsepower/torque significantly!
Mallory Electronic Distributor and Ignition System with Vacuum Advance
New Upper Radiator Hose and Heater Core Hoses
New Windshield Washer Fluid Reservoir
DOT Approved Front Windshield with Tinted Visor
MSD Red Spark Plug Wires
Power Steering System is very tight and makes this car super easy to drive unlike many cars that still have manual steering systems
Chrome Timing Chain Cover
Brand New Chrome Hood Latch
Brand New Chrome Alternator Bracket
Chrome Spark Plug Wire Loom Separators
Chrome Water Neck/Thermostat Housing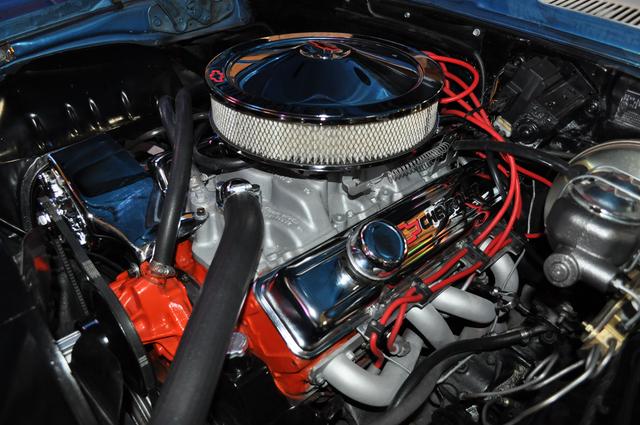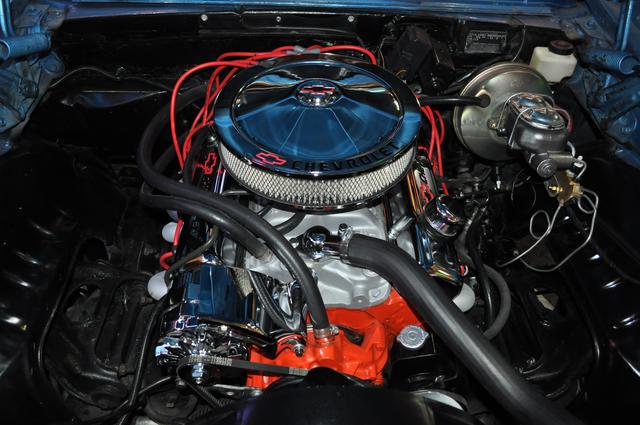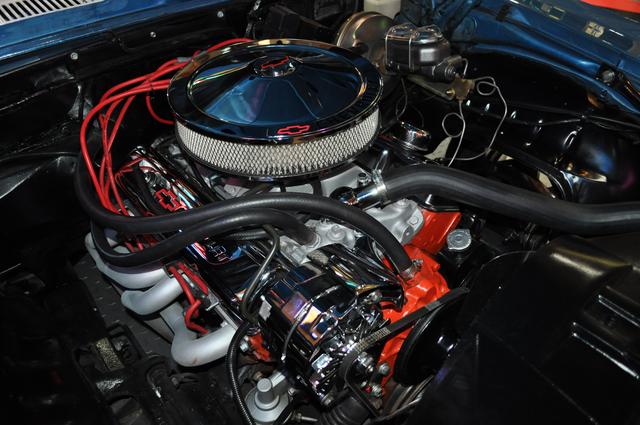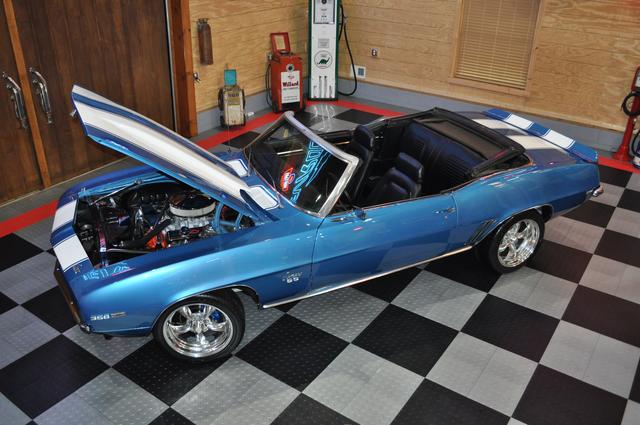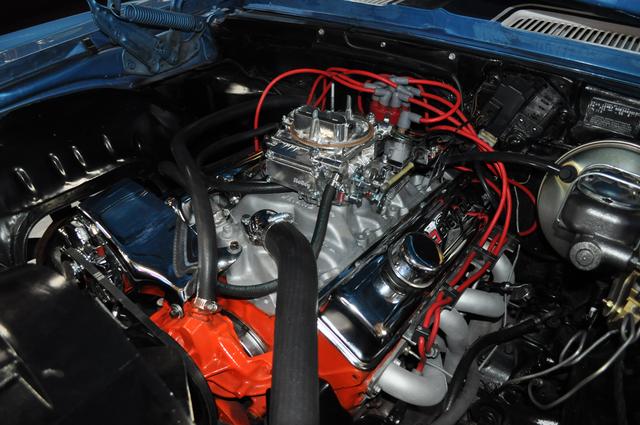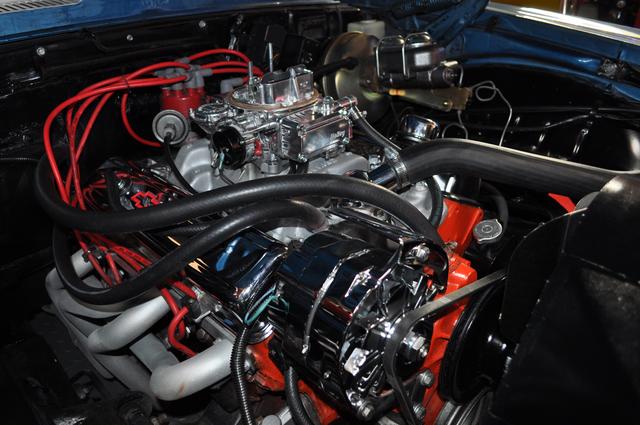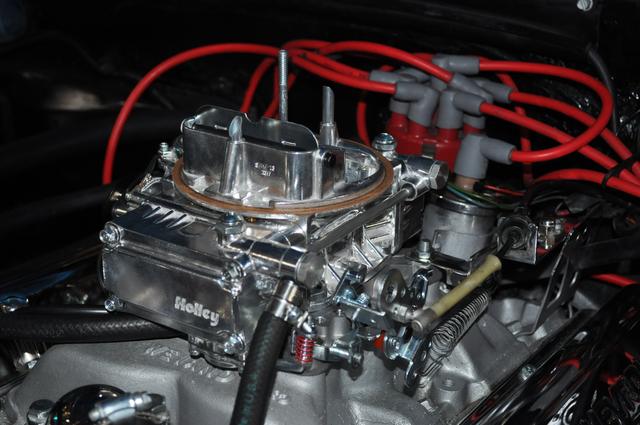 LOOK AT THAT BRAND NEW POLISHED HOLLEY CARBURETOR!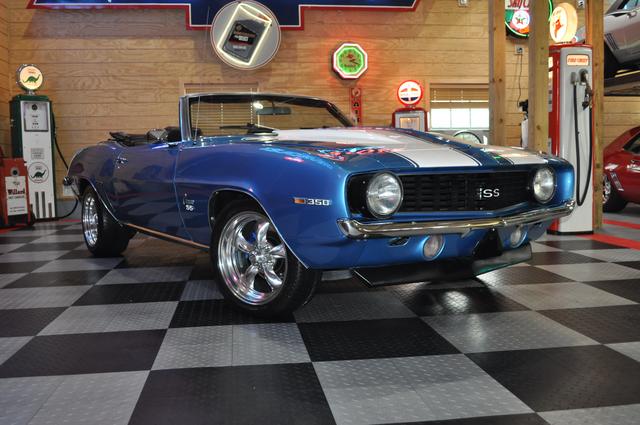 Fully detailed exterior (multi-stage wet-sand, buff, compound, polish, and wax) that brings out the shine on this beautiful car!
Lemans Blue Paint with white stripes painted way beneath the clear. Such a popular and desirable color for a '69 Camaro and this one shines like glass!
All trim/chrome around the car was just hand polished to shine like a mirror!
SS 350 Trim
Front grille surround was painted same color as the car which is uncommon but correct. When replaced, many people leave the grille in primer black which quickly gets dirty and tends to fade. This was car is not the case!!
BRAND NEW 17" Staggered American Racing Polished Torq Thrust Wheels with BRAND NEW Ultra High Performance Summer Tires front and rear that presents this car with the perfect matchbox muscle car stance and allows you to drive on today's roads with modern tire technology.

Wheels and Tires were fully balanced using adhesive wheel weghts on a high speed Roadforce Balancer
Brand New Valve Stems and Chrome Caps were installed during the mounting and balancing procedure and consistently hold air
BRAND NEW Lug Nuts were also installed
Full Wheel Alignment was also completed to ensure long-lasting tire life

Polished Stainless Steel Wheel Well Moldings
Brand New SS Front Grille Emblem
Even the underside of the hood was painted the same color as the exterior in basecoat/clearcoat which is typically left in EDP/Primer Black and oxidizes over time.
D80 Front and Rear Spoiler Package
Fully Working Headlights and Tail Lights
Front Power Disc Brake Kit with Solid Rotors and Custom Painted Blue Calipers that stop on a dime!
Polished Stainless Steel Convertible Pinchweld Moldings
Brand New Rear Chrome Bumper Guards
Brand New Front and Rear Chrome Bumpers with all new Polished Stainless Steel Carriage Bolts
Black Vinyl POWER Convertible Top that was just serviced with a brand new pump and motor assembly. This is a super rare luxury option that even many newer cars don't even come with! Flip a switch and you're in business!
Brand New Polished Stainless Steel Rocker Panel Moldings
Brand New Passenger Side View Mirror and Gasket
Brand New 350 and SS Front Fender Emblems
Brand New Chrome Exterior Door Handles
All door Window Felts are present and in nice shape
Brand New SS Tail Panel Emblem
Polished Stainless Steel Front Windshield Moldings
Retains the Quarter Panel Shark Fin Louver Trim pieces

This was the first and only year that Camaro's came with this slick design on the quarter panels. It wasn't until the 5th Generation Camaro that a slightly altered design was used again making the '69 Camaro so unique from any other year.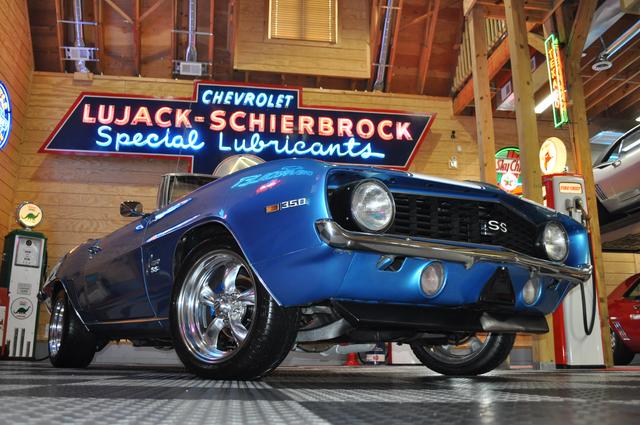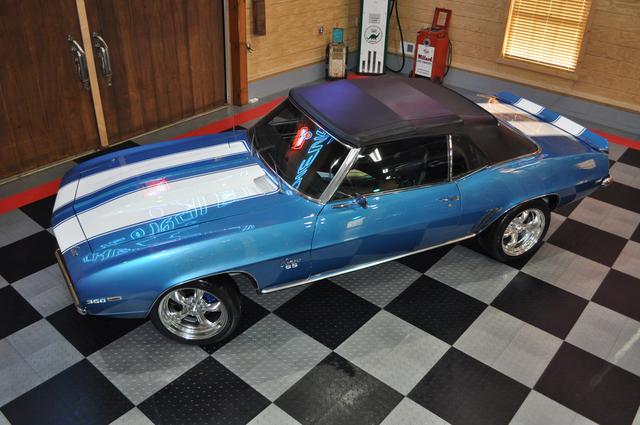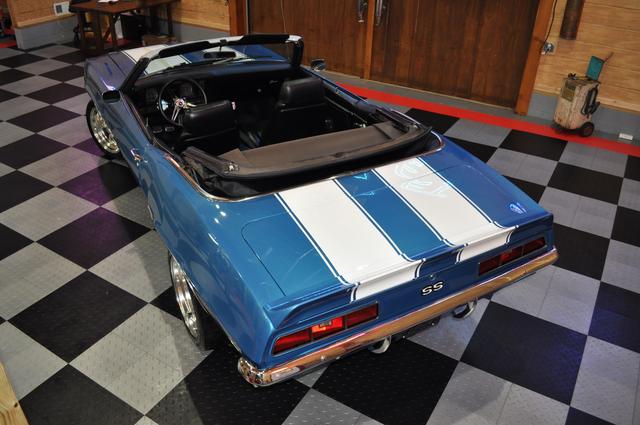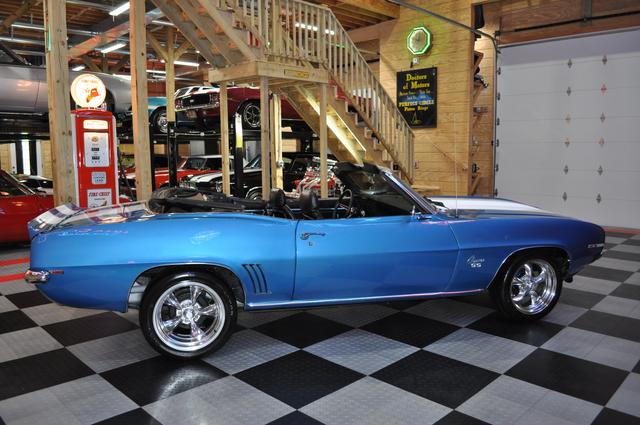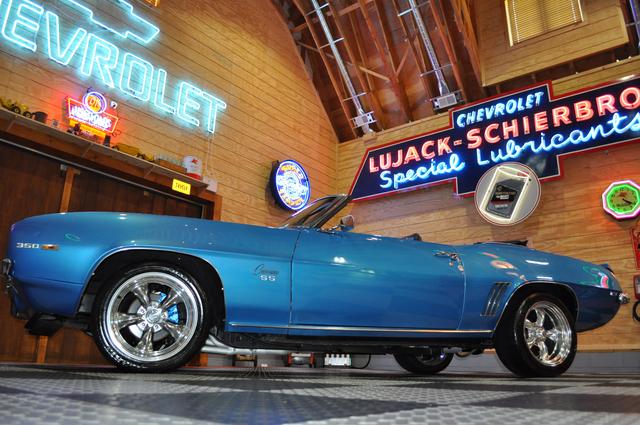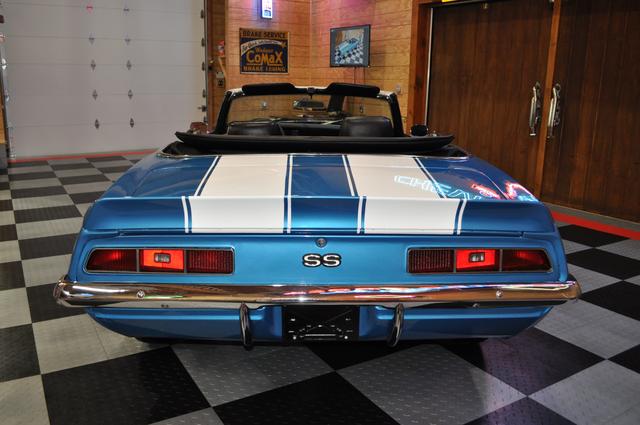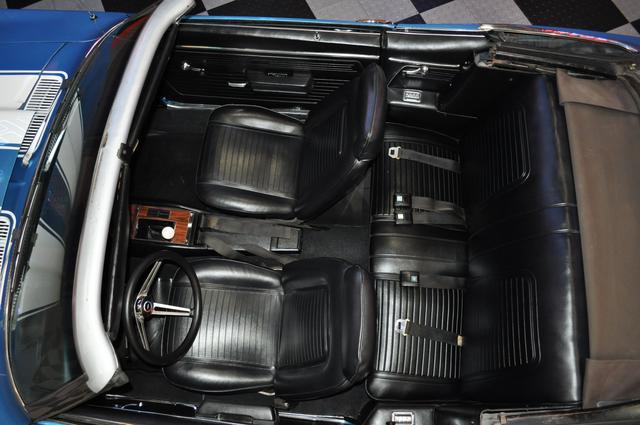 Code 711 Black Interior that is very nicely redone with many new components and was just freshly cleaned and detailed!

Overall, a very nostalgic feeling interior that is very pleasant to drive in

Re-Upholstered and Re-Foamed Standard Black Front Bucket Seats with Headrests that are a pleasure to sit in. They are super comfortable and were redone very nicely with new foam and covers.
Brand New Black Vinyl Dash Pad
As previously mentioned, this car is equipped with a SUPER RARE Power Convertible Top that was just serviced with a brand new pump/motor assembly and works phenomenal. No more getting out of the car to fold the top down...flip a switch you're ready to for crusing on those sunny days!
All pedals (accelerator, brake, clutch, and parking brake) have correct rubber pads and trim
Door Buzzer still works amazing when door is opened/closed with the key in the ignition. We rarely ever come across a car with fully working door buzzers.
Polished Aluminum Carpet Sill Plates
Fully Working Turn Signal Indicator Lights
Brand New Steering Column Cover
Black Vinyl Sun Visors still in place
In the glove compartment, you will find a 1969 Camaro Owner's Manual just like you would've gotten back when the car was first purchased!
Brand New Grant Polished Stainless Steel 3-Spoke Steering Wheel with a very nice black vinyl grip

Glove Box still retains the insert compartment and there you will find the 1969 Camaro Owner's Manual!

Rare Original-Style Camaro Black Floor Mats keeps the nice loop carpeting clean and free of rips!

Highly Sought-After Center Console with Custom 5-Speed Hurst Floor Shifter and Brand New 5-Speed Shifter Knob
Original GM Lap Seat Belts are all present with retractors in the front!
Brand New Bosch Gauge Cluster with Oil Pressure, Volts, and Coolant Temp gauges for close monitoring
Brand New Custom Pioneer AM/FM Radio with CD and Smartphone/iPod/MP3 hookup that sounds great! Works well with any device with an aux input and even has a USB port on the face of the radio! The radio is even custom LED backlit so you can see all of the buttons on those night cruises.
Brand New Bosch Tachometer RPM Gauge that works very well!
Correct Code 711 Standard Black Door Panels with Arm Rests and chrome trim that look great!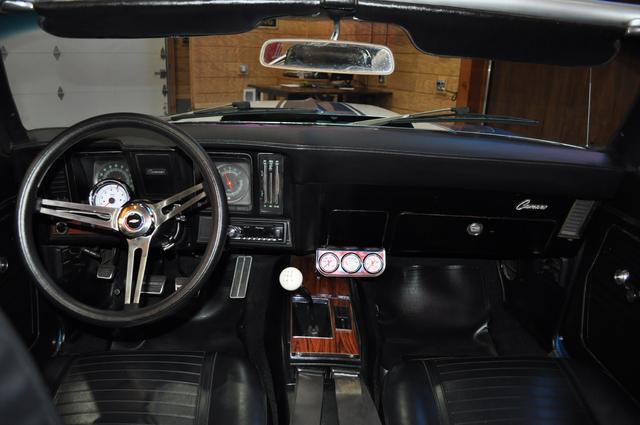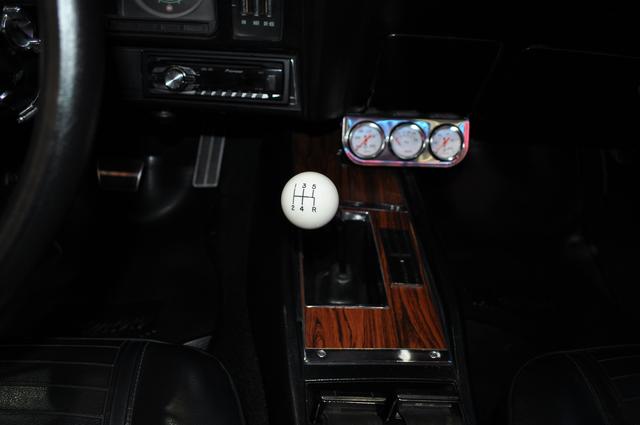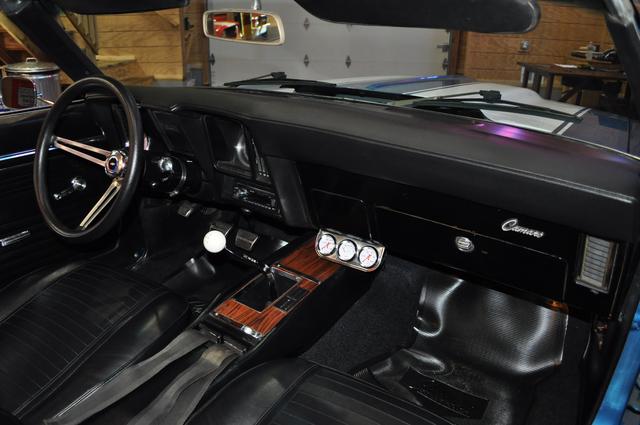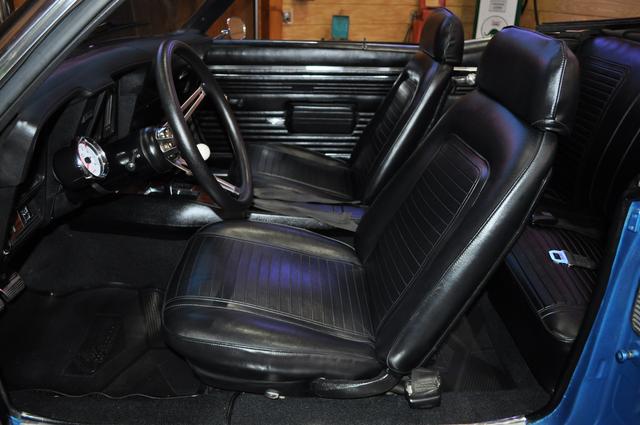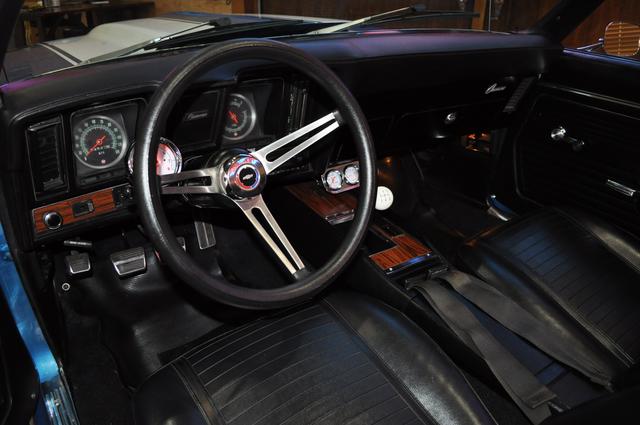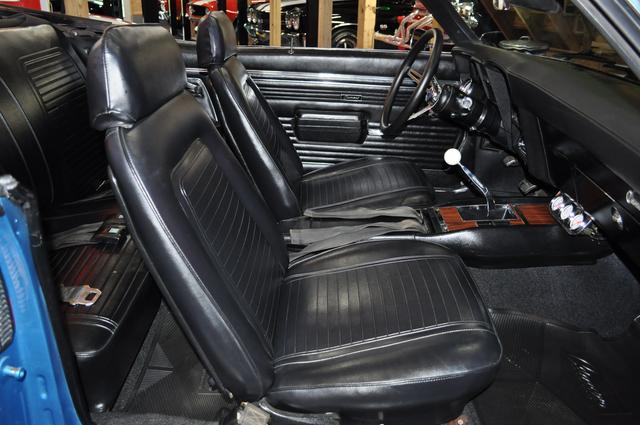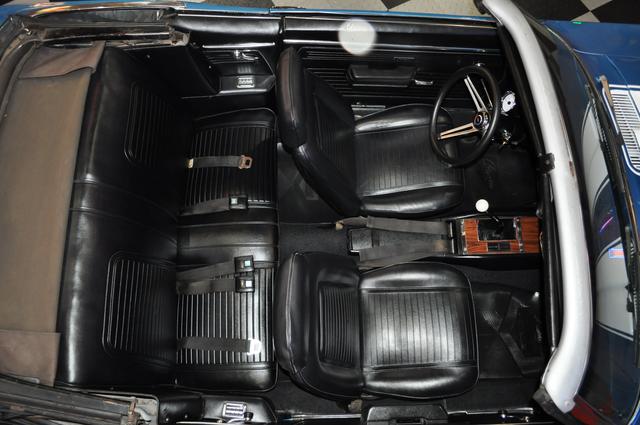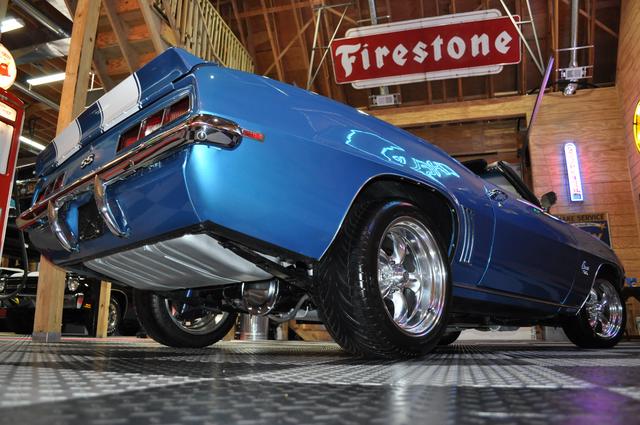 Undercarriage has just been cleaned, de-greased, and detailed giving a fresh clean look!
Multi-Leaf spring rear suspension that is firm yet comfortable on the road
Trunk was painted with the correct original style spatter paint and looks great!
SFI 6.1 Approved Blowproof Bellhousing
Black Powdercoated Transmission Crossmember with black oxide high strength trans mount fasteners to keep this Tremec 5-Speed securely in place
Chrome Differential Cover
A Rear sway bar was installed which is a newer custom aftermarket design that was never found from the factory on these cars. This addition helps prevent body roll/flex in the rear which was a huge problem for these cars back in the day.

Flowmaster Dual Exhaust System with Full Length Exhaust Headers that gives this car that classic and raw V8 rumble!

New Driveshaft Built and Balanced by South Shore Bearing out of Massachusetts with high performance universal joints!
Fuel Tank was painted silver for a bright finish
Braided Stainless Steel Clutch Linkage
Lots of new Front End Suspension Components keeps this car driving super tight around corners!
This car was also upgraded with subframe connectors that, along with the rear sway bar, adds a lot more integrity to the body over factory!
Also looking in the trunk you will find the original 'cocktail shakers' or more formally known as the vibration dampeners that help strengthen the body/chassis of convertible unibody cars like these Camaro's. 

It is super rare to find cars with these still installed as they are very valuable and were typically taken out and resold.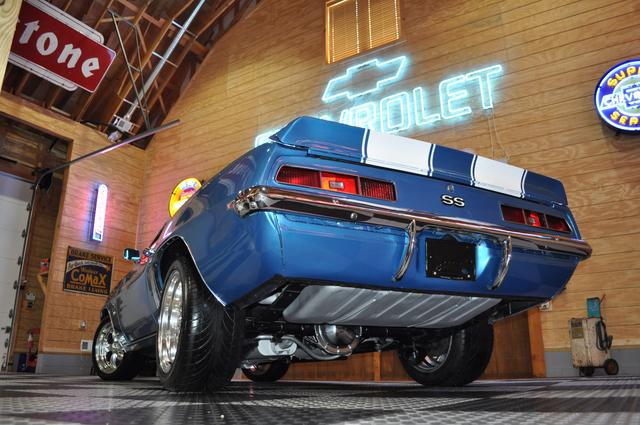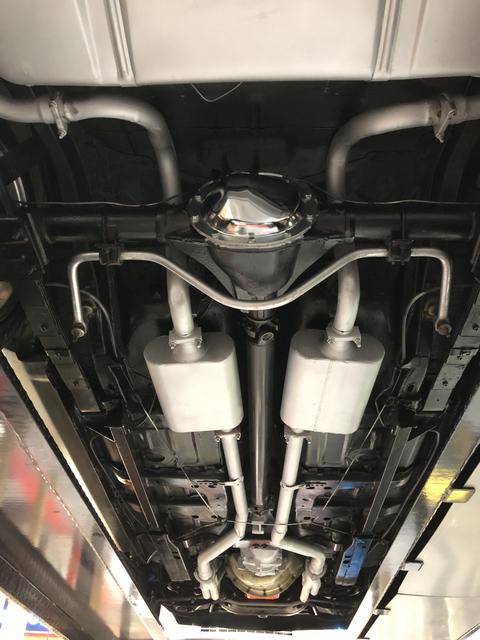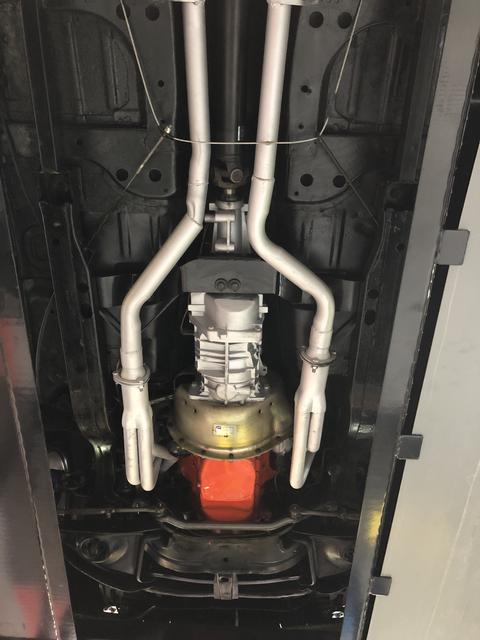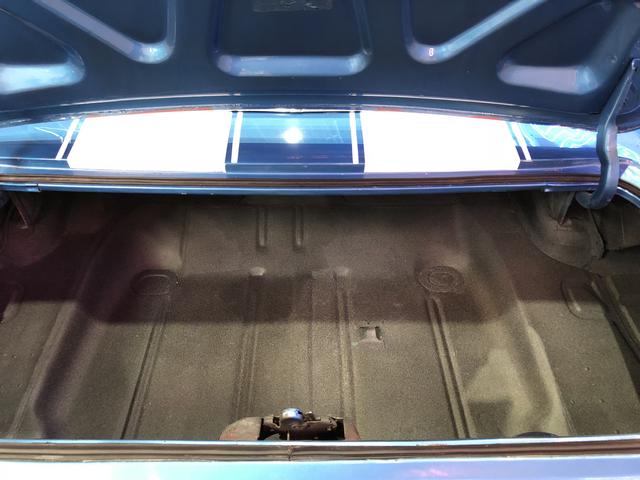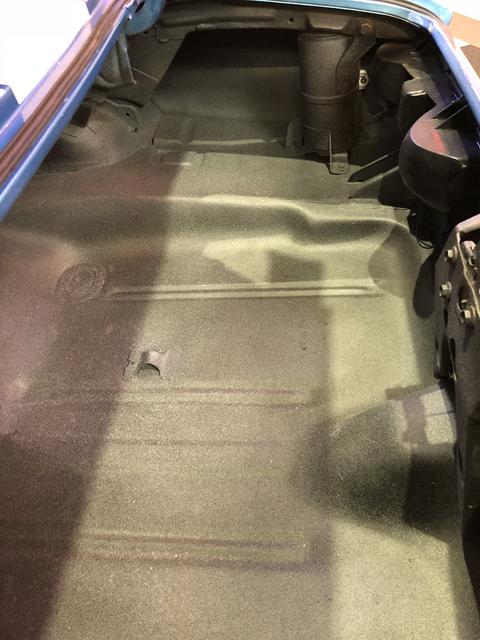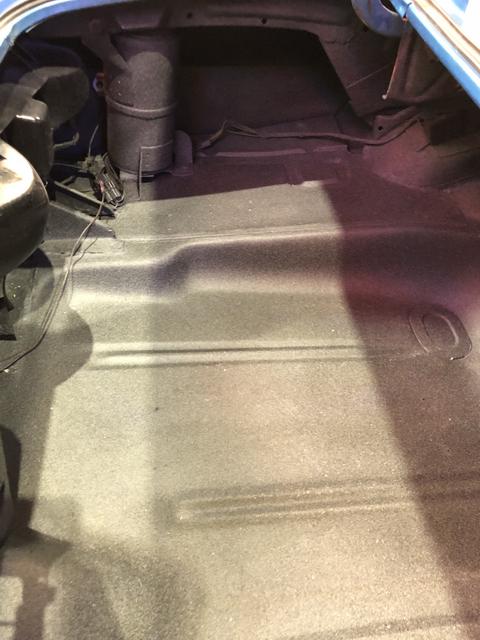 [tab-area5]
Related Listings
AVAILABLE

$69,995

Sold

$35,150

Sold

$37,550

Sold

$41,300

Sold

$50,000

Sold

$49,150

Sold

$35,600

Sold

$35,700